After the mammoth amount of chocolate I ate last weekend you'd think I would be a walking talking chocolate bar by now, especially after the week i've had! But alas, here I am – human form n'all.
Whilst the week has been bitter sweet I did get to attend an amazing event held by Tefal in Islington, London on Thursday. We got our hands on their product, the Actifry and whipped up some healthy recipes using it. I admit, I was dubious at first – I've never been one for those kind of gadgets but the Actifry really did work! However, that's for another blog post…
So yes, after a heavy chocolate weekend last week I decided to whip up something savoury for the blog this week. Savoury but goooood. As Saturday rolled around, I found myself craving pizza, real bad. Like, really really bad. I wanted carbs and lots of them! So after a quite(ish) day I decided to get my cooking hat on in the evening and whip up my very own pizza from scratch! Yup, I made this bad boy – dough n'all.
A lot of people assume that making your own pizza is very time consuming (heck, I even thought that too). However, by the time I made the dough, cooked the sauce, prepped the toppings and cooked the pizza itself, my mum's takeaway was still on it's way. So yup, this pizza is done and dusted by the time you would even have to wait for one!
The dough itself is pretty glorious too, even if I do say so myself. It can be whatever you want it to be – thin and crispy or thick and crust based. Personally, I'm a thick kinda pizza girl and this just hit the spot.
But the pizza as a whole, well it was something else – let me tell you that. I kept the theme breakfast like, mainly because it had one heck of a #yolkporn going on. But damn, when you get your slice of pizza and dip it in that yolk all sorts of crazy, magical things happen. But i'll let you find that out for yourself. Of course, you can add whatever kind of toppings you like but if you do anything then just keep that egg!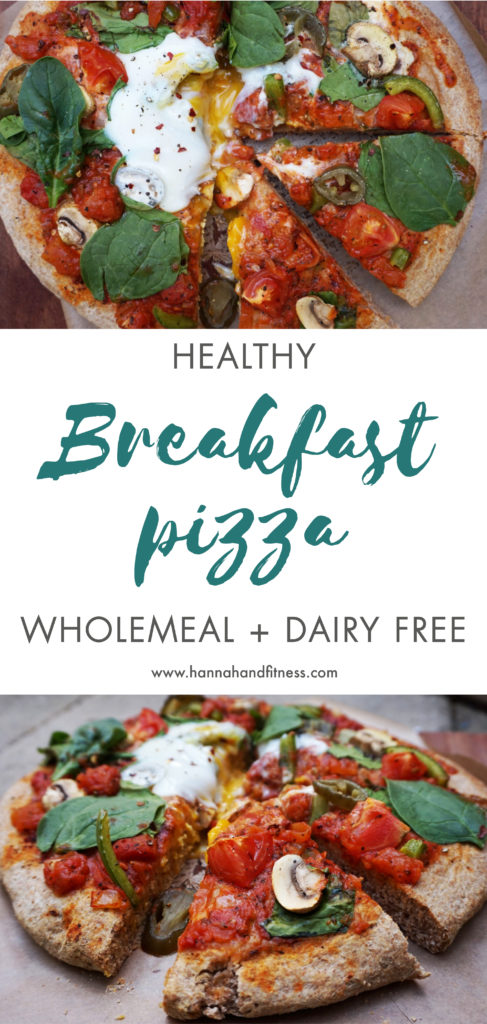 Bon appetite…
Ingredients
Dough
I used Cookie&Kate's 'The Easiest Whole Wheat Pizza Dough Recipe' using wholemeal flour and 1 tsp xiteyol and no cheese.
Sauce
3/4 can chopped tomatoes
1 tsp basil
1 tsp oregano
Pinch salt
1 tsp xiteyol
1 tbsp tomato puree
2 garlic cloves diced
Half onion thinly diced and chopped
Topping
1 egg
Half green pepper (thinly sliced)
3 mushrooms sliced
Tomatoes
Handful spinach
1 tsp olive oil
1/2 tbsp Jalapeños
Method
Begin by pre-heating your oven to gas mark 9.
Start by making your dough – following Kate's instructions.
Once the dough is ready leave it to rise in a bowl covered with cling film on top of the oven.
Whilst your dough is rising (ever so slightly) you can make your sauce.
In a pan add all the sauce ingredients (except puree), bring to the boil, stir and then leave to simmer for 10-15 minutes. Add in the puree 5 minutes before the sauce is cooked.
On a floured surface place your dough and roll out to your desired pizza base. Bear in mind the dough will slightly rise if you've used self raising wholemeal flour (I did). Oil the pizza base and then top the pizza with your desired toppings and then crack the egg in the middle of the pizza.
Grab a well oiled and floured baking tray and slide your pizza onto it. Place at the top of your oven and cook for 10-15 minutes. This varies on oven temperature and how well you like your egg cooked.
Once your pizza is cooked remove from the oven and serve straight away. Make sure you dip those slices into the yolk. It's the best bit!
PS, make sure you're signed up to my blog (home page, right side column) because I'm sharing something exciting with you all this week!
,
x