It's exactly one week until Christmas and I've been a busy bee in the kitchen whipping up some Christmas treats. First came the healthy gingerbread men, then came the mince pie crumble and now I'm finishing off with a traditional Christmas cake recipe for you all.
I'll be the first to admit that i'm no Christmas Cake lover, though. In fact, I avoid it when possible! However, this recipe had my family and I won over. It's less heavy, rich and intense than your Christmas cake but still contains all the important spices and festive fruits. It's actually a remake of last year's healthy Christmas cake recipe. This time round I've used a lot less sugar (a sugar free alternative) and made some other less obvious tweaks and in my opinion, it worked out just as great! I absolutely adored my Christmas cake recipe last year but unfortunately my imagery wasn't so pro and so I had to do something with it again this year.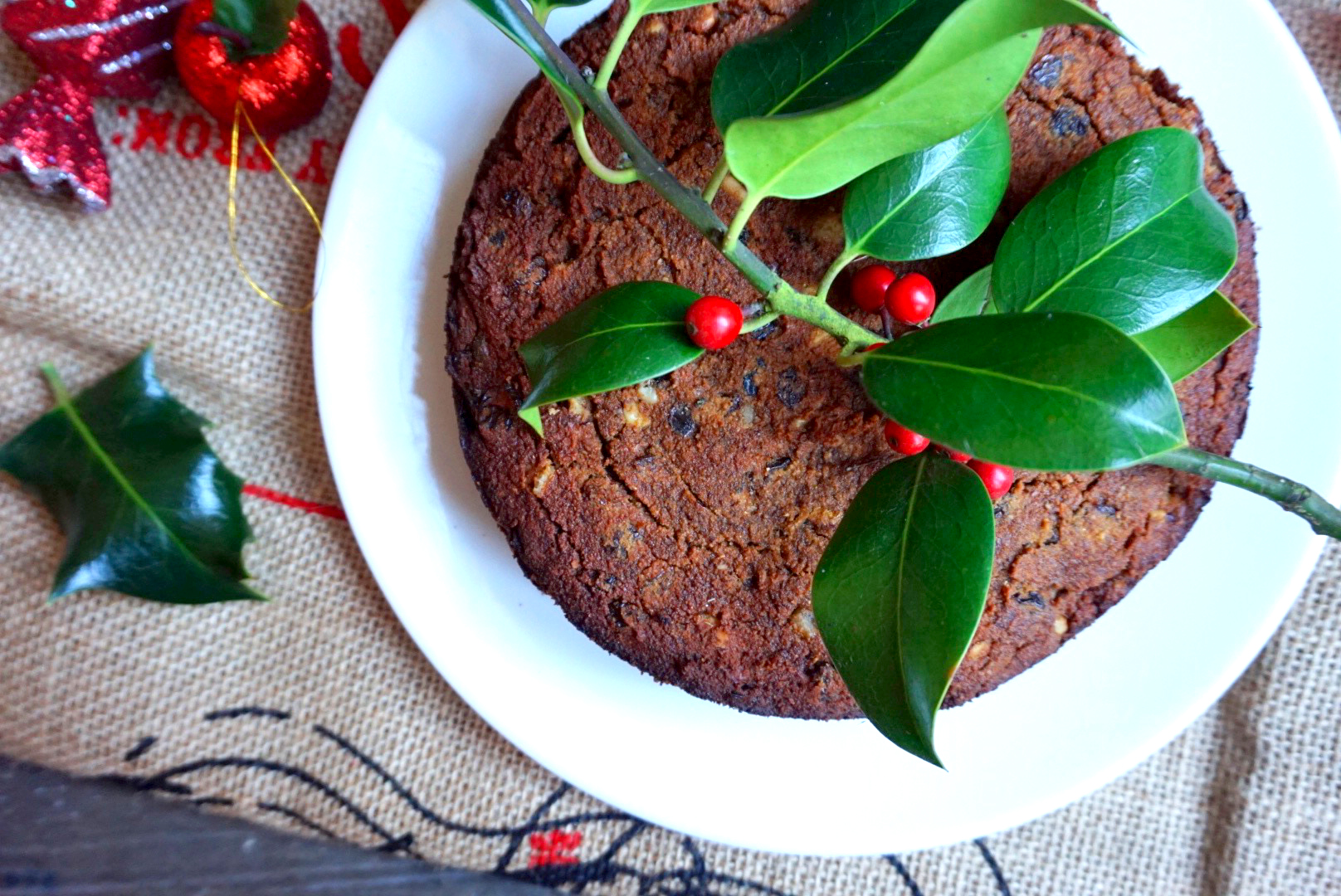 Like last year, we're using this recipe on Christmas day, as well as serving up the traditional Christmas cake. Food coma or what?! But that's what I love about Christmas Day, eating all the foods until you feel sick and then requesting the cheese and cracker platter 3 hours later. Sound familiar?
This recipe tastes just like the traditional Christmas cake – minus the brandy, hefty amount of calories and bloating! It's full of Christmas spice, moist and of course, fruity! Plus, it's gluten free. Please, if you make anything this Christmas to fool your family into thinking it's the real thing… then give this one a go! It's amazing and I am obsessed.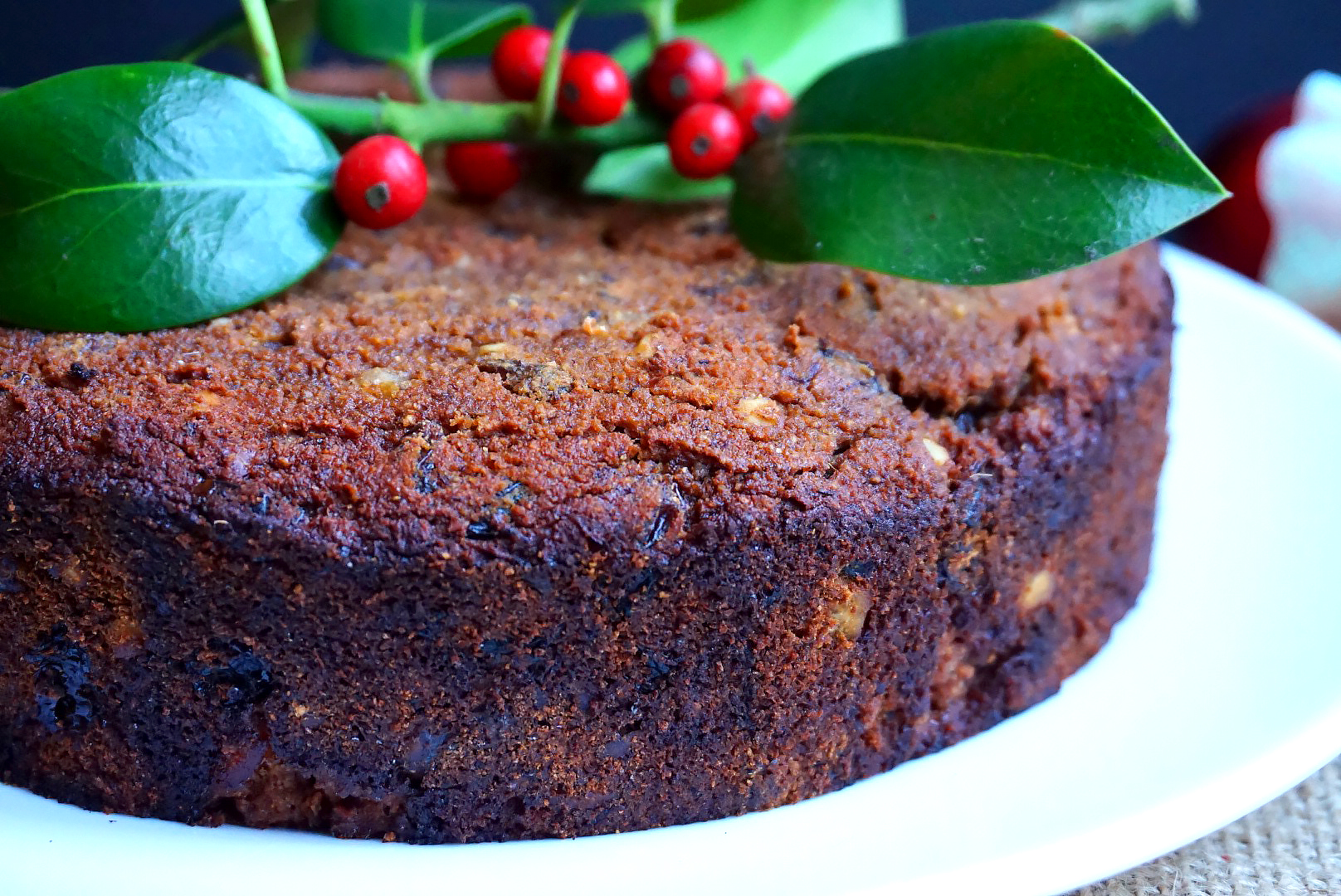 With that said, I'll be posting once more this week and then it's Christmas for me! I've decided to take some time off over the Christmas period. 1) because I bloody deserve it and 2) it's the holidays! So until my next post, it will be a manic week of last minute Christmas shopping, food preparation, searching for my ultimate sparkly Christmas jumper and trying my very best not to overdose in chocolate and mince pies (which I'll 98% positively fail at).
Enjoy the recipe!
Healthier Traditional Christmas Cake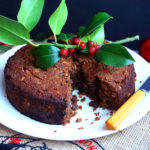 Print This
Ingredients
200g mixed fruit

100g chopped dates

150g walnut pieces

Juice of an orange

100g Sukrin Gold

1 ripe banana

80g coconut flour (I used Sukrin's)

2 tbsp almond flour (I used Sukrin's)

2 1/2 tsp mixed spice

1/4 tsp cloves

4 eggs

1 tsp baking soda

1 tsp vanilla extract

Pinch salt
Instructions
Begin by pre-heating your oven to gas mark 4. Grease a cake tin and place to the side.
In a pan place your mixed fruit, dates, walnut pieces and the juice of an orange and bring to the boil.  Once boiled, remove from heat, cover and place to the side.
In a bowl blend together Sukrin Gold and a banana. Add the dry ingredients (except the baking soda) to this mix and then add the eggs one by one.
Once done,  add the baking soda to the fruit mix and then add the fruit mix to the gold and banana mix. Stir the mixture together until everything is combined and then spoon into your baking tray and even out.
Bake for 50 minutes. You know you'll cake will be done if you can insert a knife into the middle and it comes out clean. If not, cook for a few more minutes. Once cooked, remove from the oven and leave on the side to cool and serve when desired!
Pin this recipe to save for later…