I won't lie. I could, hands down, eat a whole batch of these sweet buns in one sitting. They are just that good.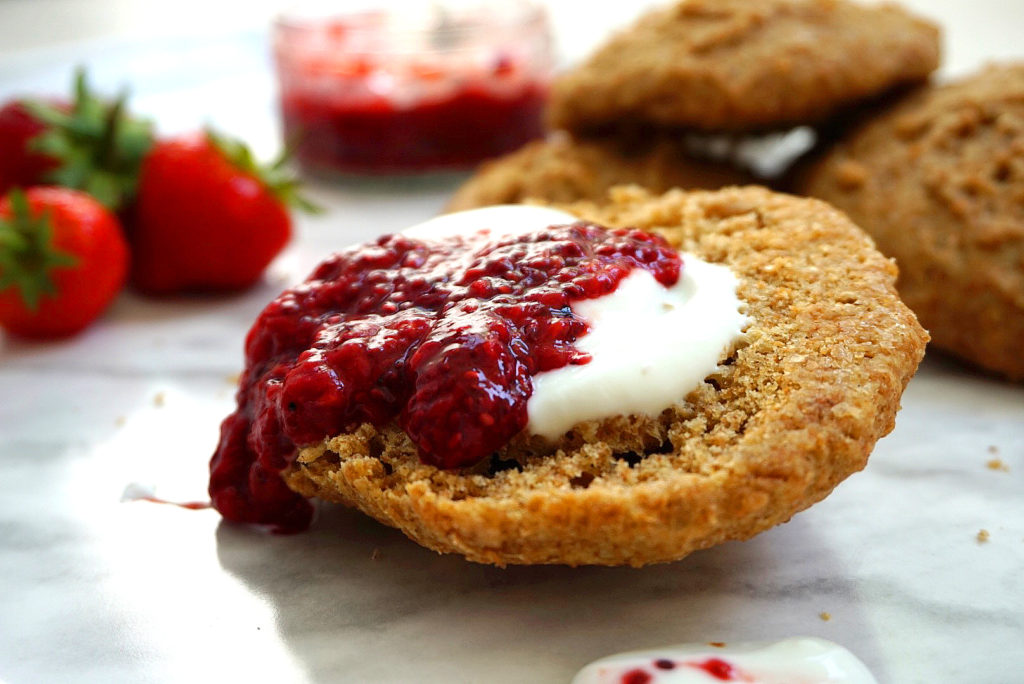 I'm going to be honest though, when I got my bake on last weekend, these weren't quite what I had in mind. In fact, I had a delicious healthy jam doughnut recipe planned but ultimately it turned into one big fail. Not good guys. I wanted my jam doughnuts!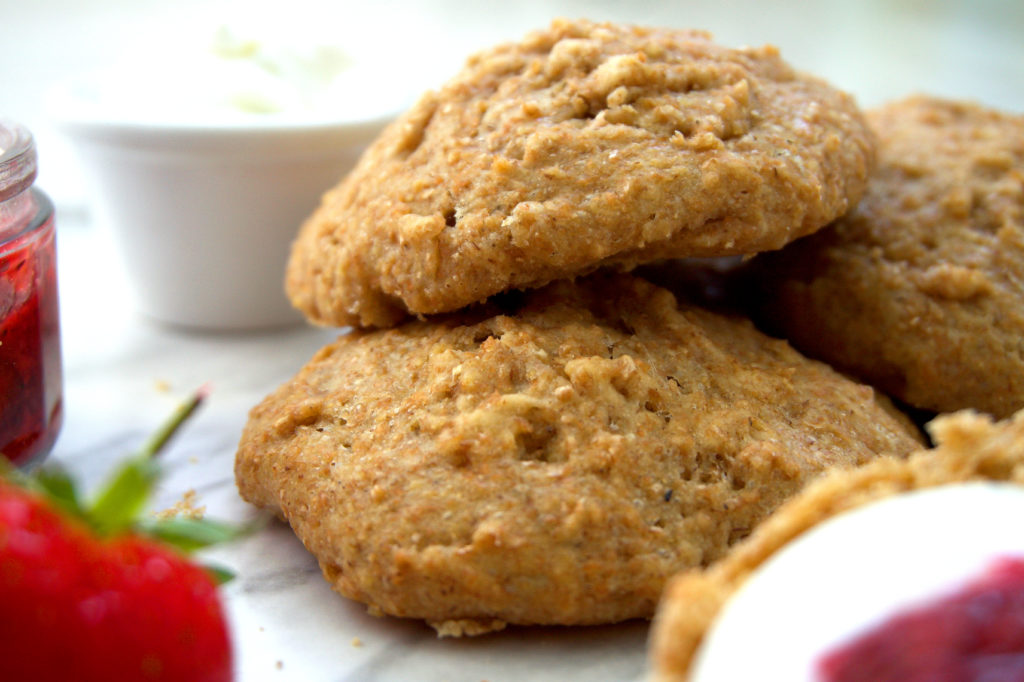 Anyway, I figured these buns were too good to throw away (I devoured the first tasting in under 30 seconds) so I've decided to take a unique twist on the classic ol' scones recipe. We all love a scone here, right?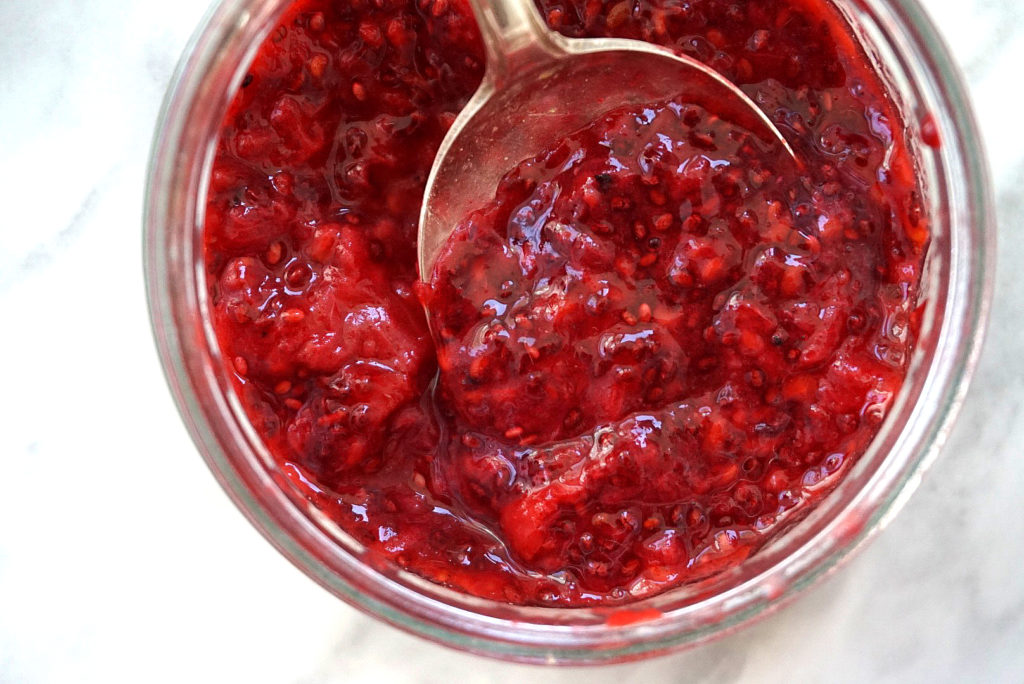 This recipe is so easy to make, given that you allow yourself some time for the dough to rise in-between stages. I'm also pretty adamant that these are in fact the perfect scone texture – just in bun shape!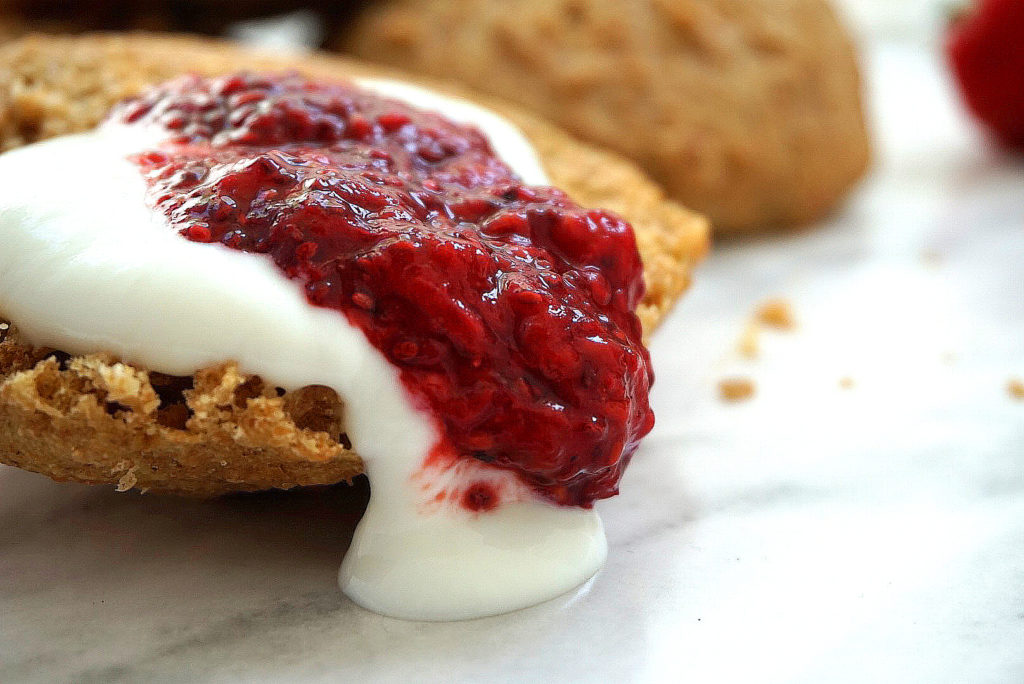 I've managed to make these sweet buns a lot healthier than the usual scone recipe by swapping out the butter and sugar for coconut oil and coconut sugar. So there's a lovely subtle hint of coconut throughout the buns which creates a lovely combination of flavours between the buns and strawberry jam.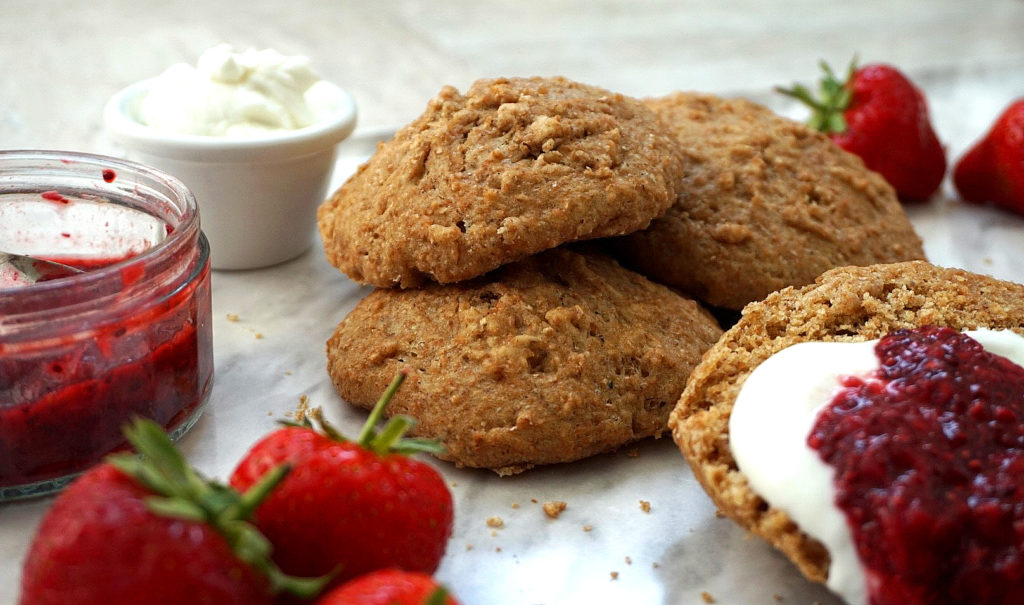 I just know you're going to love these sweet buns and strawberry chia jam. The recipe is light, summery, and full of delicate flavourings. Not to mention it's the perfect summer time treat (or snack)!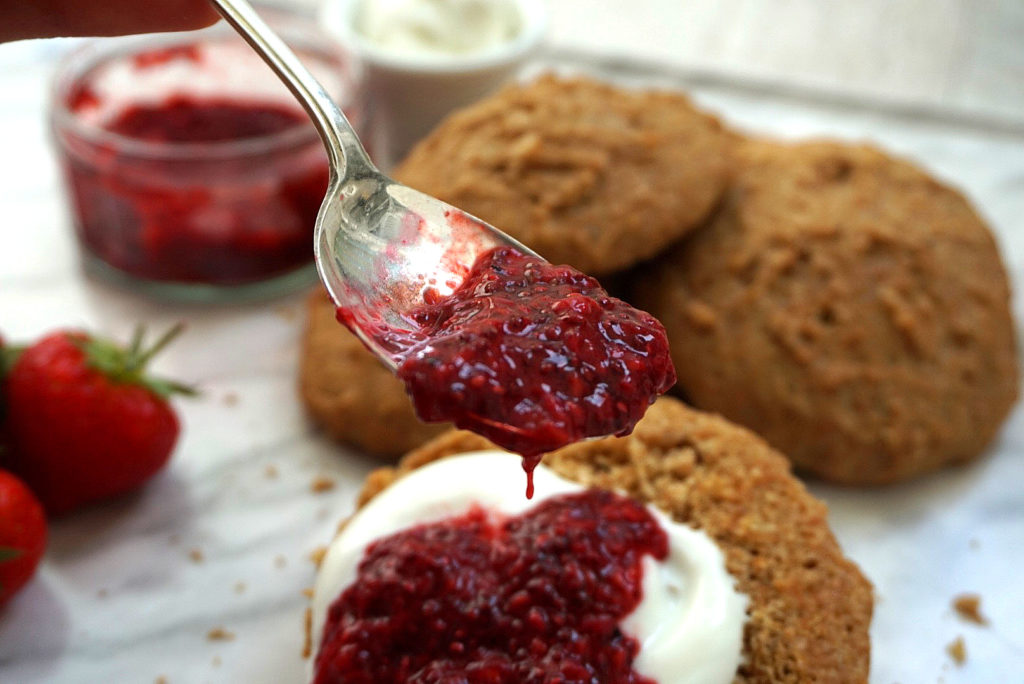 If you're not a big fan of the strawberry jam then try mixing it up by using your favourite berry/fruit. How about a mango jam? Actually, that sounds quite amazing.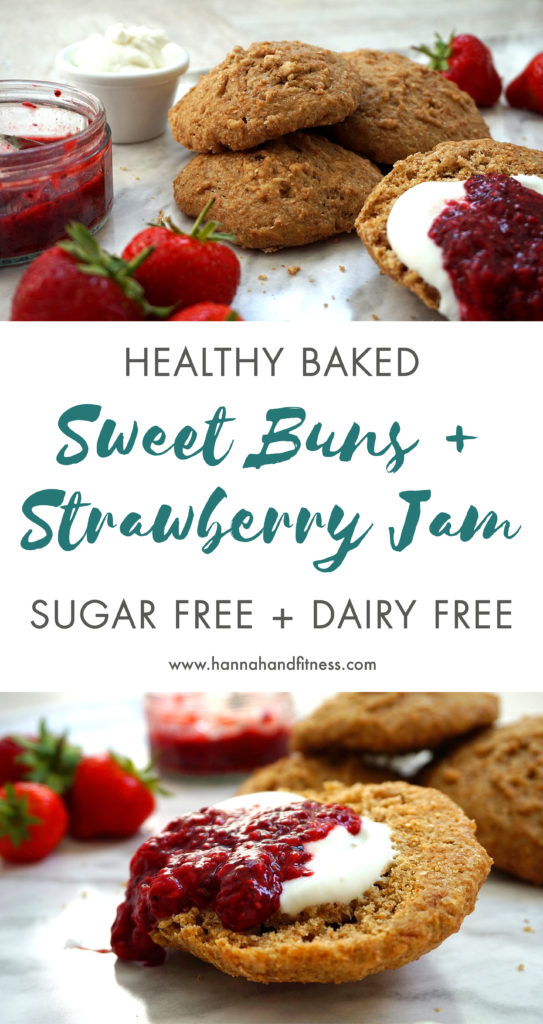 Like all my recipes, if you try them then let me know by tagging me on my Instagram #hannahandfitness. I love seeing all you creations! No, really… it makes my day!
Baked Sweet Buns With Strawberry Chia Jam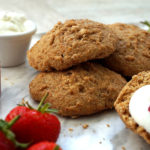 Print This
Ingredients
1/8 cup warm water

1 tsp xylitol or other sugar alternative

1 tsp dry yeast

1 1/4 cup wholemeal flour

Pinch salt

6 tbsp coconut sugar (I use Sukrin)

1 1/2 melted coconut oil

1 egg

1/4 almond milk

2 tbsp coconut oil for brushing

Strawberry chia jam (recipe for that is below)
Instructions
Begin by pre-heating your oven to gas mark 5.
You'll want to start by making your strawberry chia jam. The recipe for that can be found here (just swap the raspberries for strawberries). Once that is cooked, set aside and leave to cool.
In a small bowl mix the yeast, xylitol, and warm together and leave for 10 minutes or so until it starts to foam.
In a larger bowl, add the flour, salt and coconut sugar (I use Sukrin) and mix together. One foamy, add the yeast mixture, egg, coconut oil (I use The Natural Empire) and almond milk and mix everything together for at least 3 minutes until everything is combined. Once mixed, cover the bowl with cling film and set on top of the oven to allow the dough the rise (it will double in size).
On a well floured surface, pour the dough from the bowl and spread it out. The dough will be sticky (if too sticky add more flour) so try not to handle it too much. Line a baking tray. Using a spoon, scoop a heaped amount of dough onto the baking tray and flatten into a round dough so it's about 2cm high. Repeat this until all the dough has been used up.
You should end up with six 2cm high round buns on your tray. When you're ready, pop the tray into the middle of the oven and bake for 10-12 minutes. They cook quickly so try not to overcook them.
Once baked, remove your sweet buns from the cover and allow to cool. Top with your favourite yoghurt (I use Skyr 0%) and add a good serving of your strawberry chia jam.
Enjoy and don't forget to tag me in your creations on Instagram! 

,
x