It was about time I served up something ridiculously chocolatey, right? And these muffins are as good as they get! They're oh so ooooeyyy gooey, moist and stuffed with a gorgeous caramel sauce that I swear is better than normal caramel itself.
I've been thinking about these muffins all week. Should they be just chocolate muffins? Should they contain a hidden vegetable? Should they be gluten free? You name it and I thought it. I even asked my Instagrammers and Snapchatters what I should bake up. they had the choice of chocolate caramel muffins or chocolate and raspberry muffins. And yup, you guessed it… Chocolate caramel muffins were the real winner. So here it is… A recipe with two variations: One with a protein frosting using MissFits Nutrition or one without. I done a combination of the both and either one was a winner in the house.
As with all my recipes I like to include cupboard ingredients and try to make it as healthy as possible. Wholemeal is a much healthier alternative than your usual white flour and plus I love it's nutty flavour. As for the rest of the ingredients, well – you already know how much healthier they are for you than the normal sugar, butter etc…
What I personally love about these muffins are how gooey they are once you bite into them. I'm a sucker for muffins like this. I can't stand dry, crumbly muffins so when these babies were in the oven I kept my eye on them like a hawk! Must.not.dry.out.
The centre of the muffins contain my favourite caramel sauce made from dates. I became obsessed with this sauce ever since I made my healthy Snicker Slabs (which you can find the recipe for here) . I'm also obsessed with making other people obsessed about it, too. Do you ever get like that? Fall in love with a food of some sort and you just have to make everybody else love it too?
Anyway, these are best warmed up or eaten straight from the oven (but you didn't hear that from me) so you can really get the intensity of the gooey centre. Either way, you need these in your life… or should I say belly?
Serves 8 big muffins or 12 small muffins
Ingredients
240g Wholemeal flour
45g Cacao powder
95g Sweet Freedom fruit syrup (or maple syrup)
70g Almond milk
35g Natural Empire Coconut oil
80g Greek Yoghurt (I use 0%)
2 tbsp Apple Sauce
1/2 tsp Salt
1 tsp Vanilla extract
1 tsp Baking powder
2 squares Cocoa plus chocolate (or dairy free chocolate)
1 egg
Caramel filling
15 pitted Medjool dates
1 tsp Coconut oil
1 tsp Sweet Freedom fruit syrup
Half cup Almond milk
Pinch salt
Frosting
1 sachet MissFits Nutrition chocolate protein powder
Enough almond milk or water to cover the powder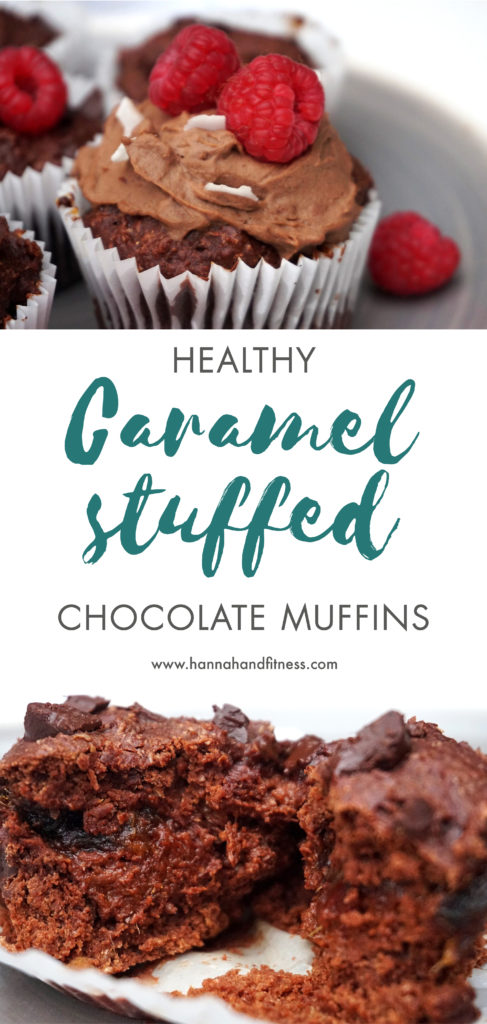 Method
Begin by pre-heating your oven to gas mark 5 and popping 8/12 muffin cups into a cupcake tin holder.
In a bowl mix the dry ingredients together (leave the chocolate until the end).
In a separate bowl blend together the wet ingredients until the mixture has combined fully.
Now you can add the wet to the dry ingredients and whizz them together until you have a fluffy batter.
Put the mixture to one side and in a pan heat your caramel ingredients together until they start to bubble. Pop this into a blender and blend until you have a sticky mixture. You may need to add more dates if the texture isn't sauce like.
Going back to your muffin mixture – you can now pop this evenly (with a tbsp) into the muffin cups filling them half way.
With a teaspoon add the caramel sauce to each muffin cup (on top of the first mixture layer) and then add the rest of the muffin mixture of top of the sauce.
Cut your chocolate into little chunks and sprinkle them onto your muffins.
With that done you can now place the muffins into the middle of the oven for 12-15 minutes.
Once the timer is done, insert a tooth pick and if it comes out clean then your muffins are ready! Leave them to cool on the side. Once cool, mix together your frosting ingredients until a mousse texture forms and with this, top the muffins. I left some without so I had a combination of different muffins. Feel free to do as you please! And finish topping with raspberries and coconut shavings (optional).
Now go stuff your face and let me know just how gooeyyyy oooeyyyy these were!

,
x