I've had my fair share of paella over the years, but I must say that my favourite has got to be the seafood version.
Since a child I've always been a lover of seafood. I'm quite grateful actually that I wasn't brought up to be a fussy eater. Place almost anything in front of me and i'll eat it – no problem. Apart from faggots, that is. Ugh, gross.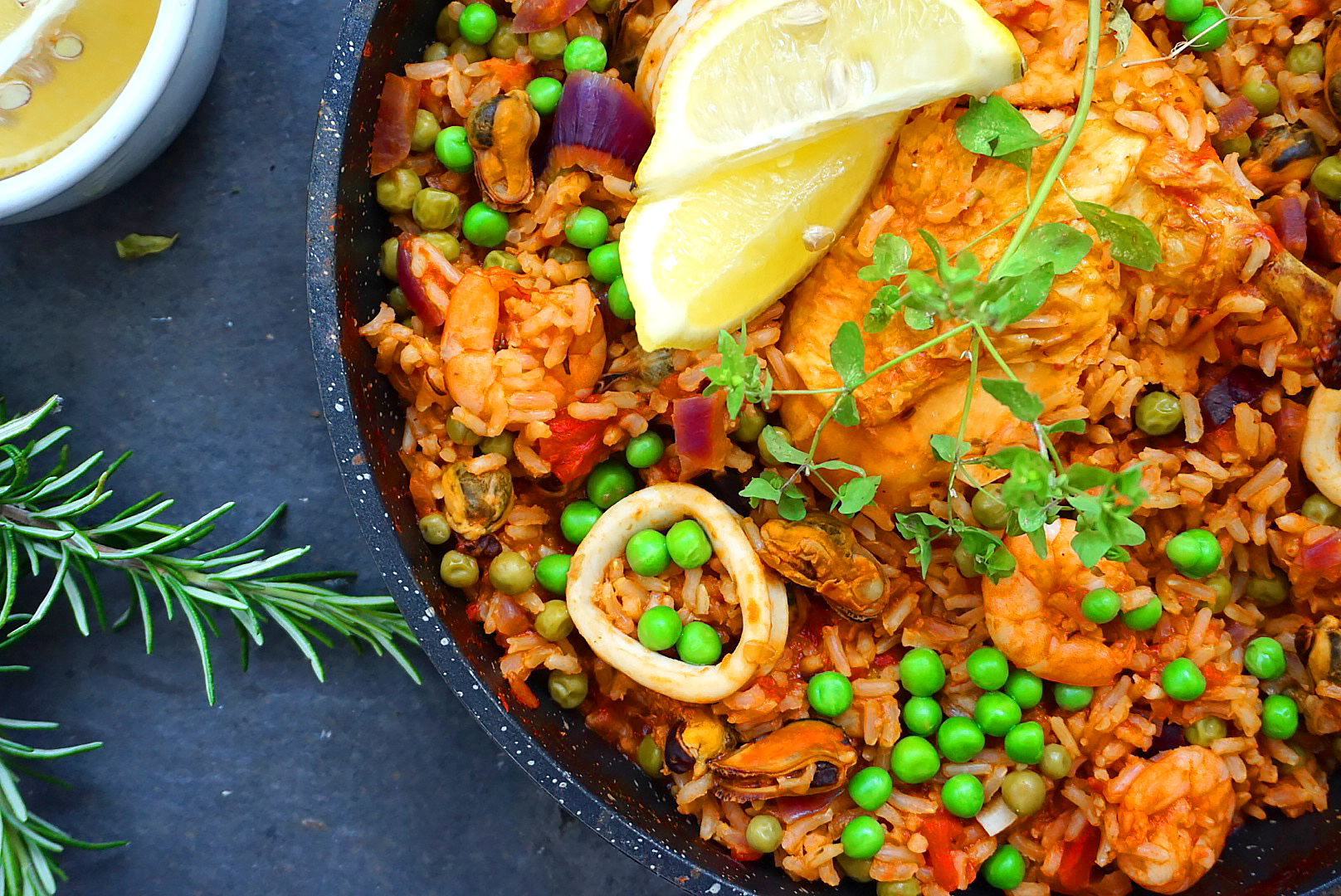 Personally, I think a proper and traditional paella should include a little bit of everything – meat and seafood. It's got to be vibrant in colour, full of flavour and packed with different meats and veg. It's safe to say that my healthy chicken and seafood paella definitely has all of that.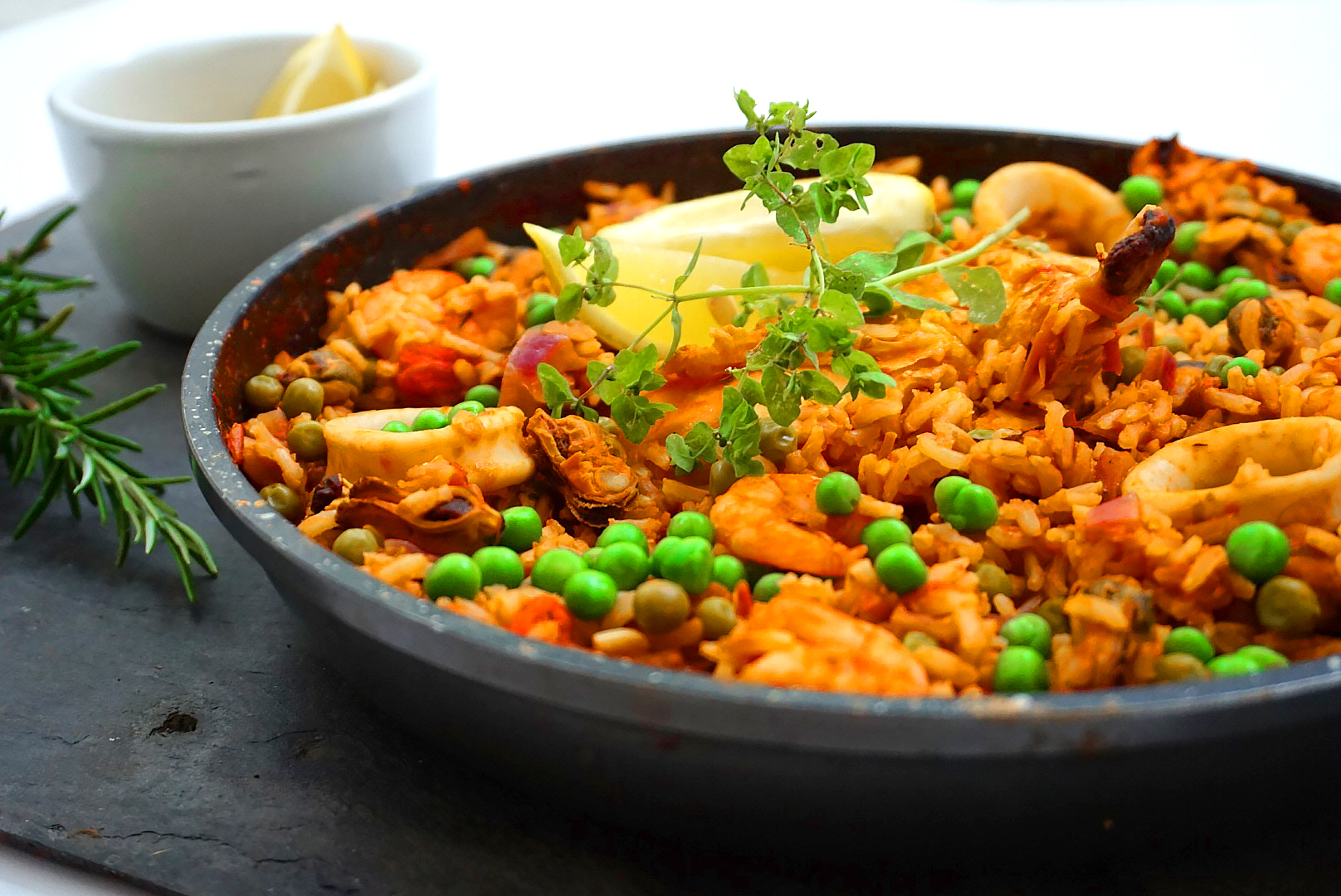 What's even better? This recipe is quick, easy and serves a comfortable sitting of 4 people. Just double the recipe if you're thinking about dinner parties. In fact, this recipe brings back fond memories of a holiday spent in Spain, Costa Del Sol when I was a child.  We would spend our evenings at a local restaurant on the beach tucking into the biggest paella skillet you had ever seen. Paired with a jug of sangria, of course.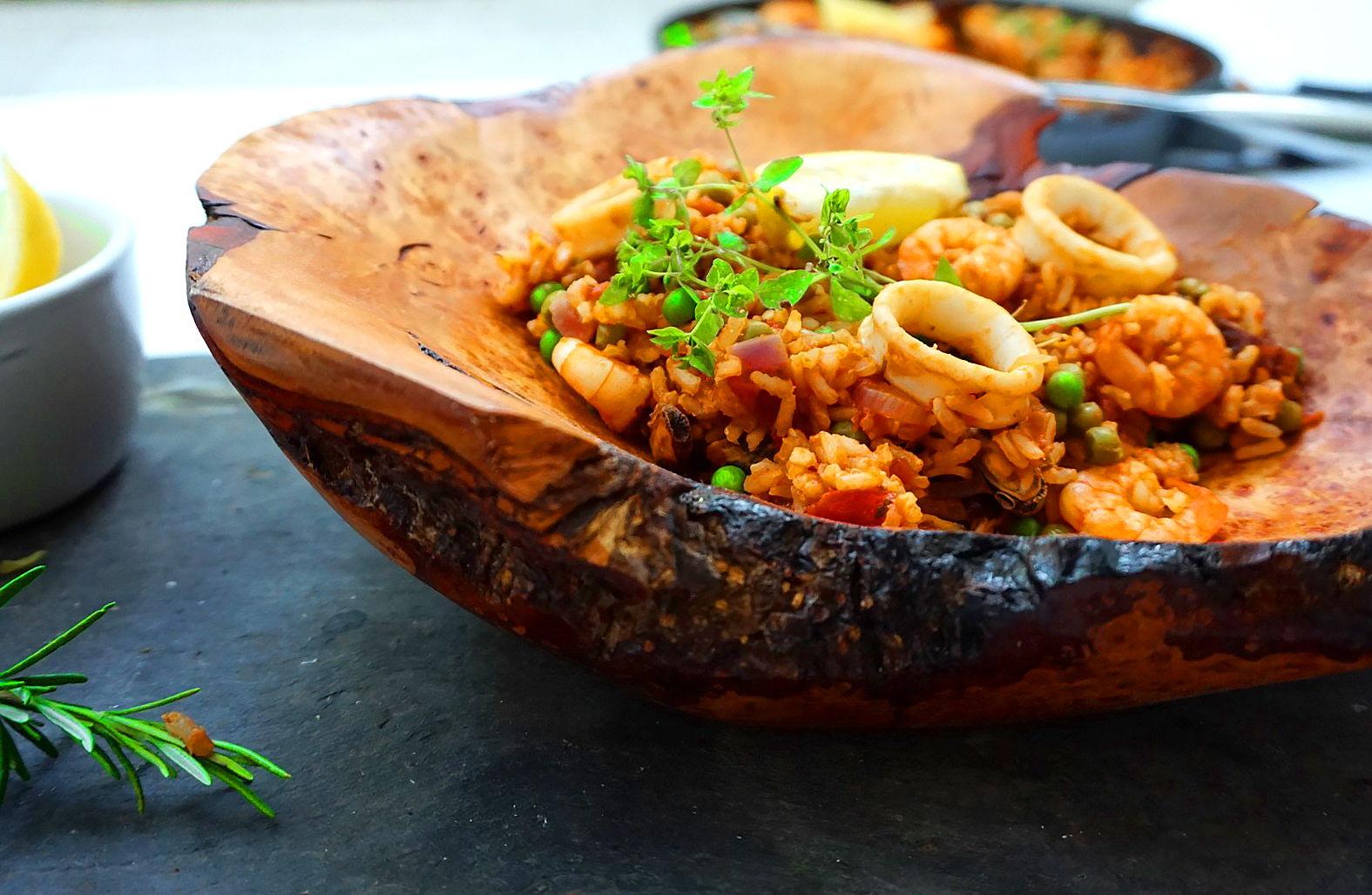 For this recipe i've used a variation of meats and seafood. For the meat i've used corn fed chicken legs from Keevil & Keevil  butchers (being corn fed really makes a difference – taste wise) and for the seafood I've used a seafood selection pack from Tesco's. The seafood pack contains a variation of squid, mussels and prawns. Unfortunately, I visited Tesco's at a silly time on a Saturday and I missed the fresh seafood selection, otherwise I would have definitely got it from the counter – the fresher, the better!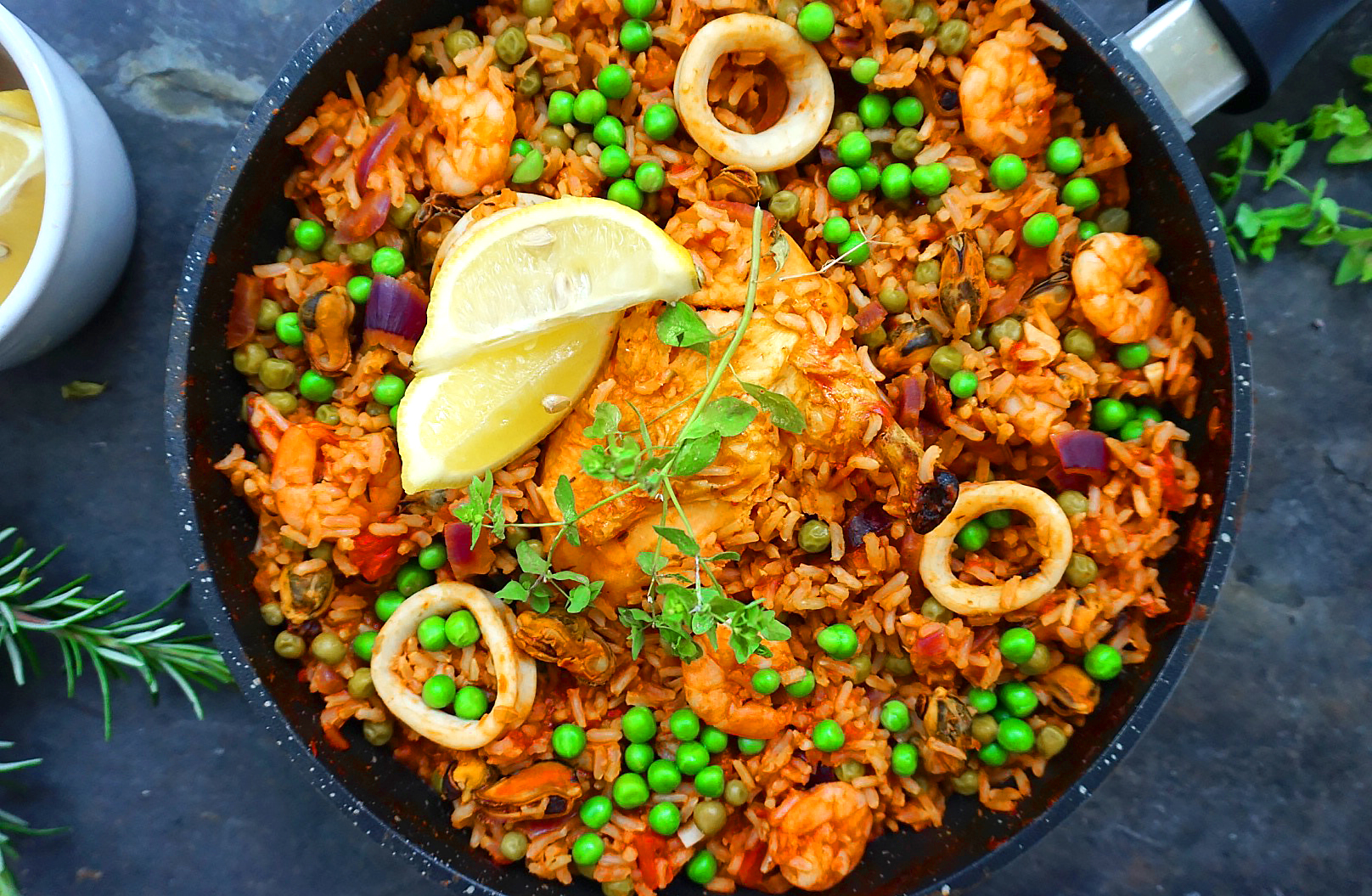 All you need is a one pan skillet, your ingredients and your best Spanish red dress. Ok, totally kidding on the latter. Maybe. Make sure you whip this up for your family/friends too, it'd be rude not to share this flavoursome dish! I served mine up in a beautiful bowl my mum got me a few weekends ago from Man & His Dog Carvings, a bespoke chainsaw carving company. The finish on the bowl itself is absolutely beautiful. The colours from both the food and the bowl went wonderfully together and it made it the perfect go to bowl for serving up my paella in!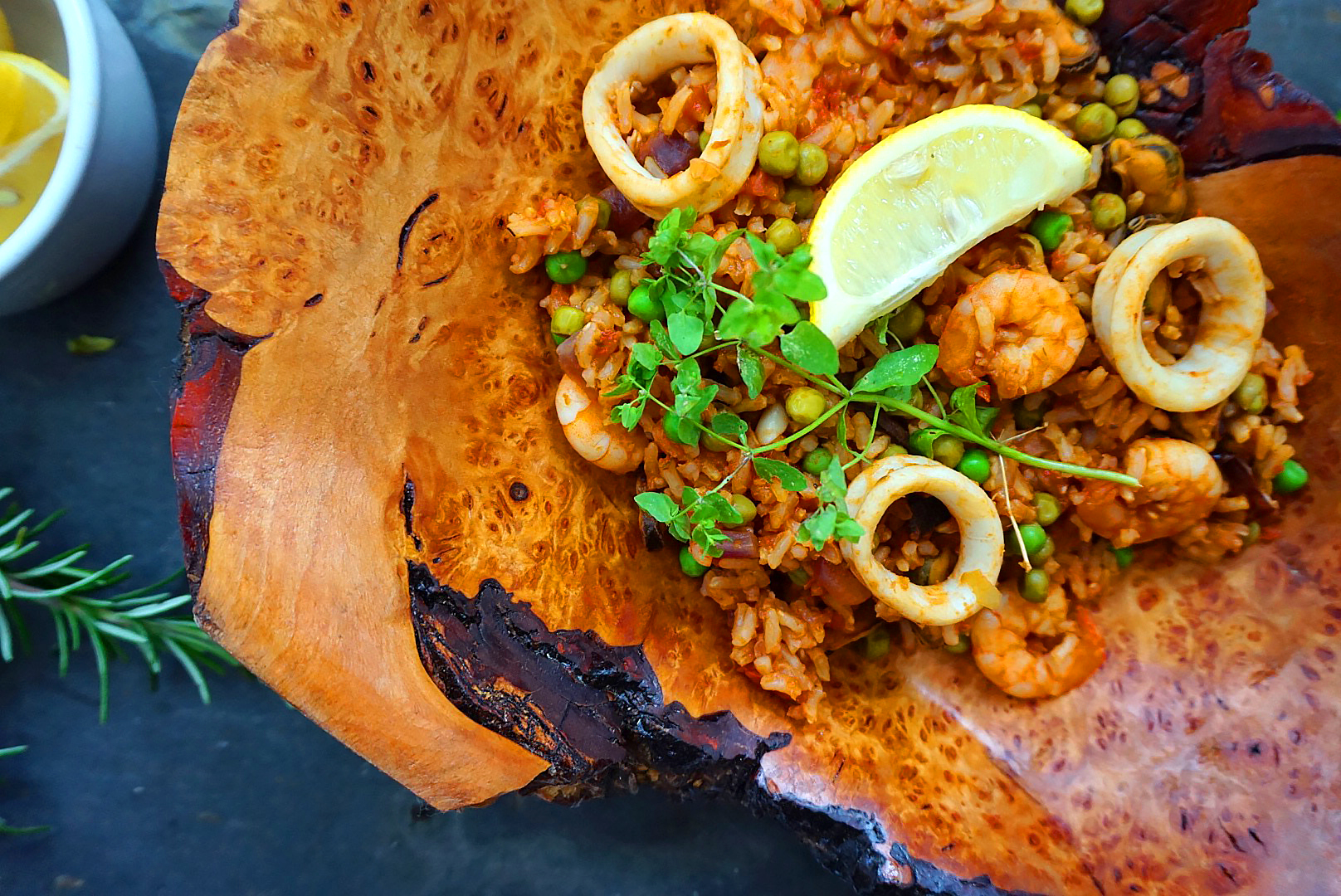 Anyway, enough blabbering on… Enjoy and make sure to tag me in your re-creations on Instagram!
Psttt, don't forget to pin the above photo to Pinterest to save the recipe for a later date!
Healthy Chicken & Seafood Paella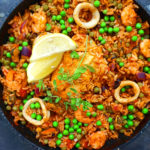 Print This
Ingredients
1 tbsp extra virgin olive oil

1 tsp paprika

1/2 tsp cayenne pepper

1 tsp dried thyme

3/4 cup brown rice

1 1/2 can tinned tomatoes

900ml chicken stock

1 red onion sliced

1 tbsp apple cider vinegar

400g mixed seafood

1 chicken leg

1 lemon cut into slices

1/2 cup frozen peas

Fresh parsley to top
Instructions
Begin by cooking your chicken in the oven at gas mark 6. You can do this whilst you prep and cook your paella.
Heat a large enough pan/skillet with olive oil and add your onion, vinegar and spices to brown. Once done, add the rice, tinned tomatoes and chicken stock and bring everything to the boil. Once boiled, cover and leave to simmer on medium heat for 25-30 minutes. Remember to stir every 10 minutes.
When your rice is tender (but not soggy) add the mixed seafood and leave to cook for an extra 10 minutes. Add the chicken leg and frozen peas, stir and cover again for another 5.
By now your paella should be cooked and ready to serve. Don't forget to top with some fresh parsley!
Enjoy… I know we did!

,
x