I've gone a little pumpkin mad these past few weeks. I made the most amazing pumpkin cookies last weekend as a little intro into the pumpkin season and since then, I've been hooked. From soups to doughnuts – just call me the crazy pumpkin lady.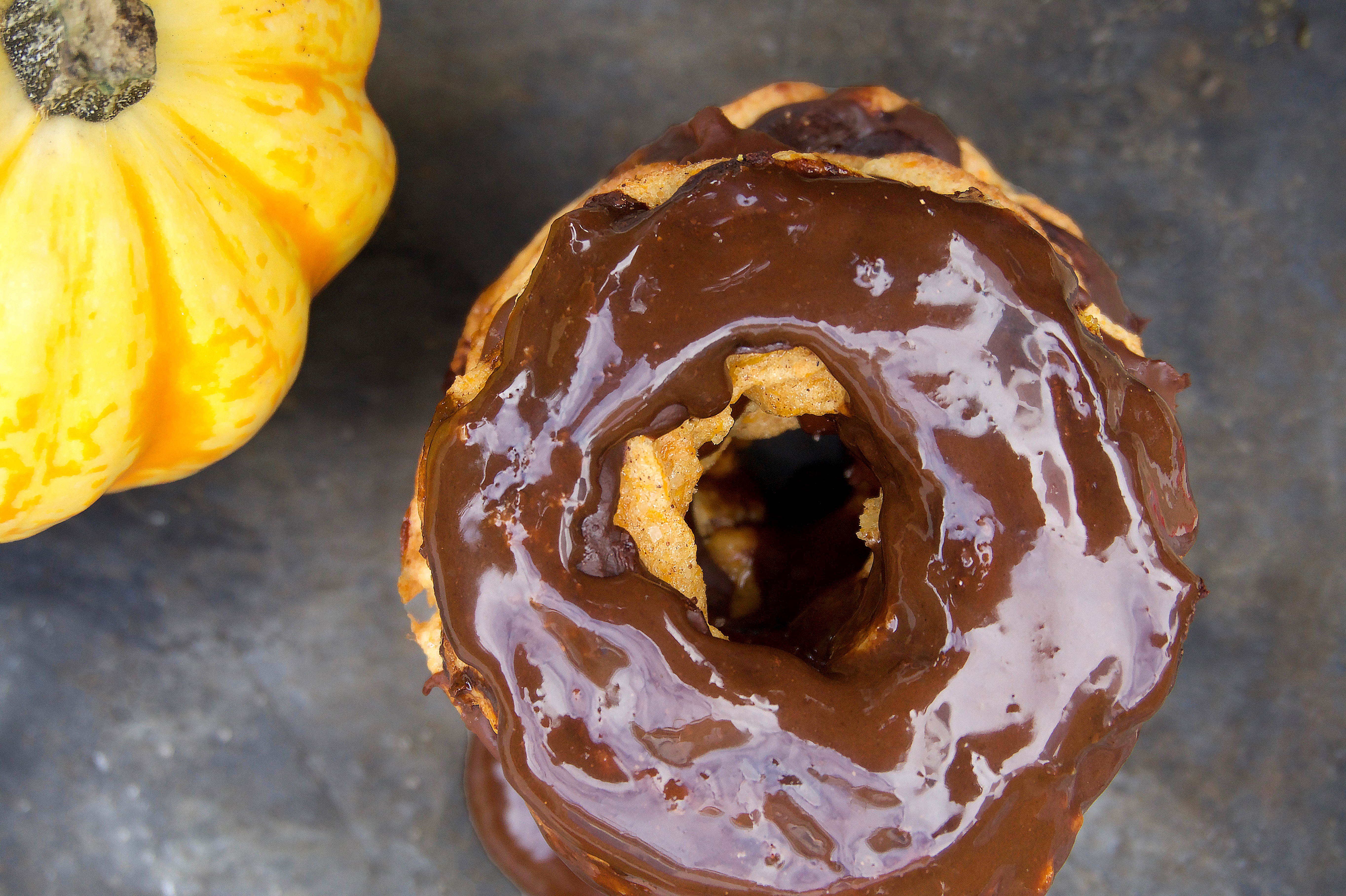 For those who aren't quite aware of the pumpkin hype going around – it's more to do with the festive spice and the pairing of the pumpkin. I'd say the obsession first started with our fellow American's and since then, it's slowly creeped it's way over to us British bloggers and bakers. So if you're yet to get on board with the slight obsession, then today's your lucky day as I'm bringing you my first doughnut recipe (I know, what sort of bakeaholic am I?) and quite frankly, it's damn delicious.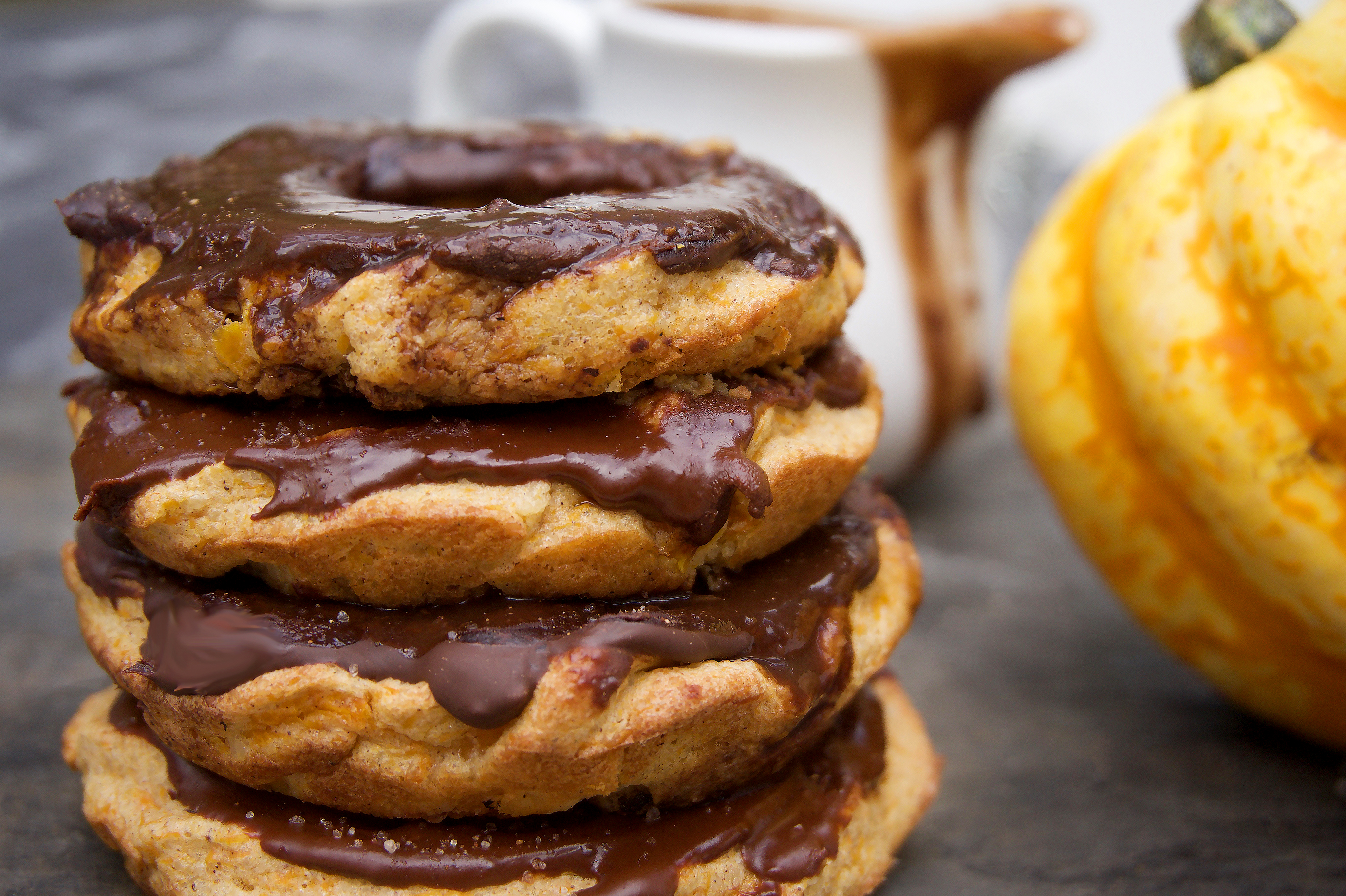 Now, I gave this recipe a lot of thought when it came to it's creation. Coconut flour was firstly out of the ingredient list. Whoah, no buddy. We've got no time for spongey doughnuts (if you know, you know). Secondly, I wanted this to be a recipe that was quick to whip up for whenever. Let's face it, nobody likes ingredient lists longer than an arm. So with that, almond flour was called in and petty ingredients were taken out.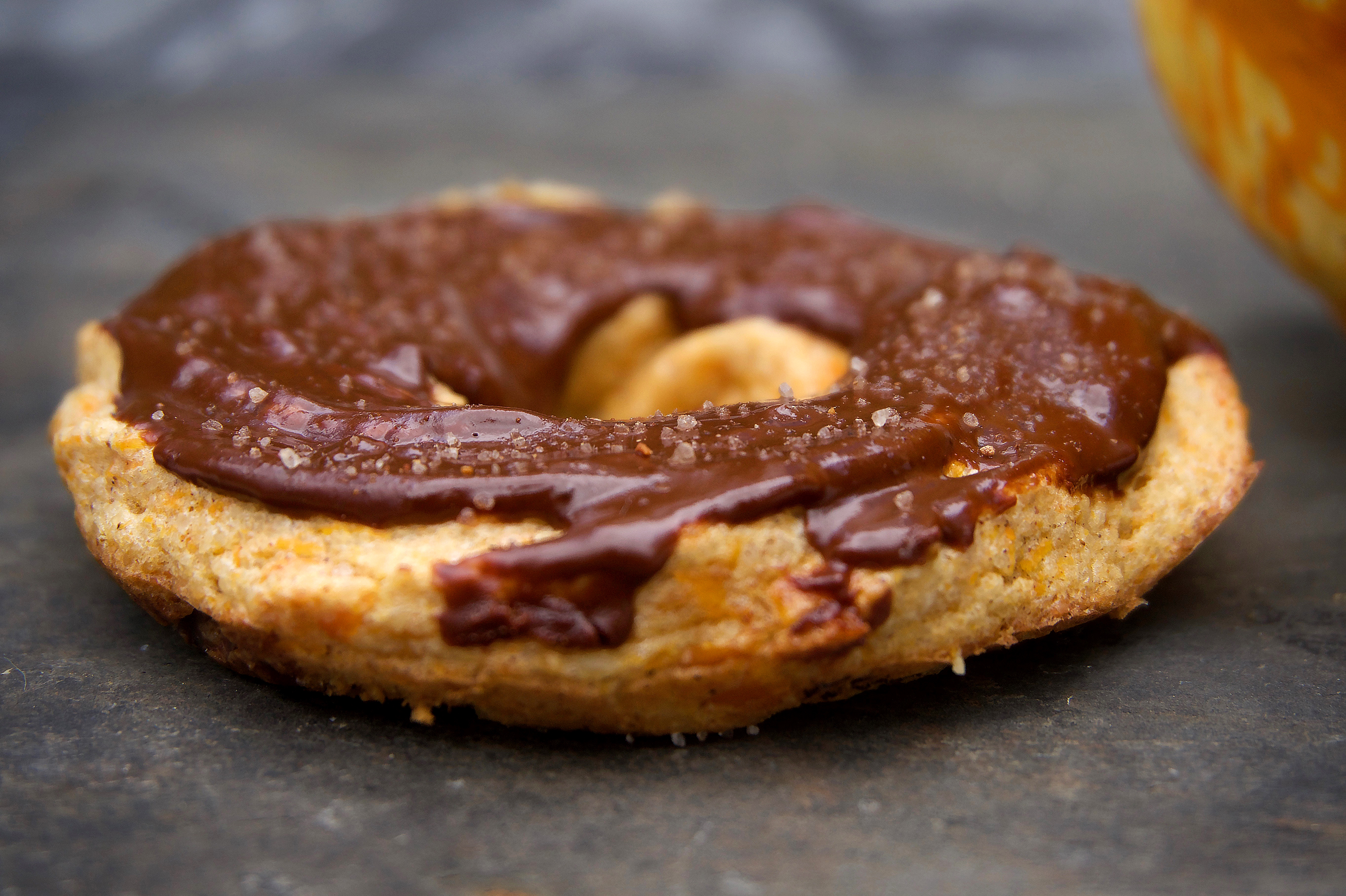 These doughnuts were exactly what I wanted. They're fluffy, airy, full of all the right autumnal spice and they're light enough to have more than one. Oh yeah. When baking these I hadn't actually planned for a chocolate frosting but after my maple glaze went a bit 'meh' I figured my next best bet was something chocolatey and boy oh boy, did it add something to the recipe. To be honest, I now can't imagine these doughnuts paired with any other frosting. A match made in pumpkin heaven, if you ask me.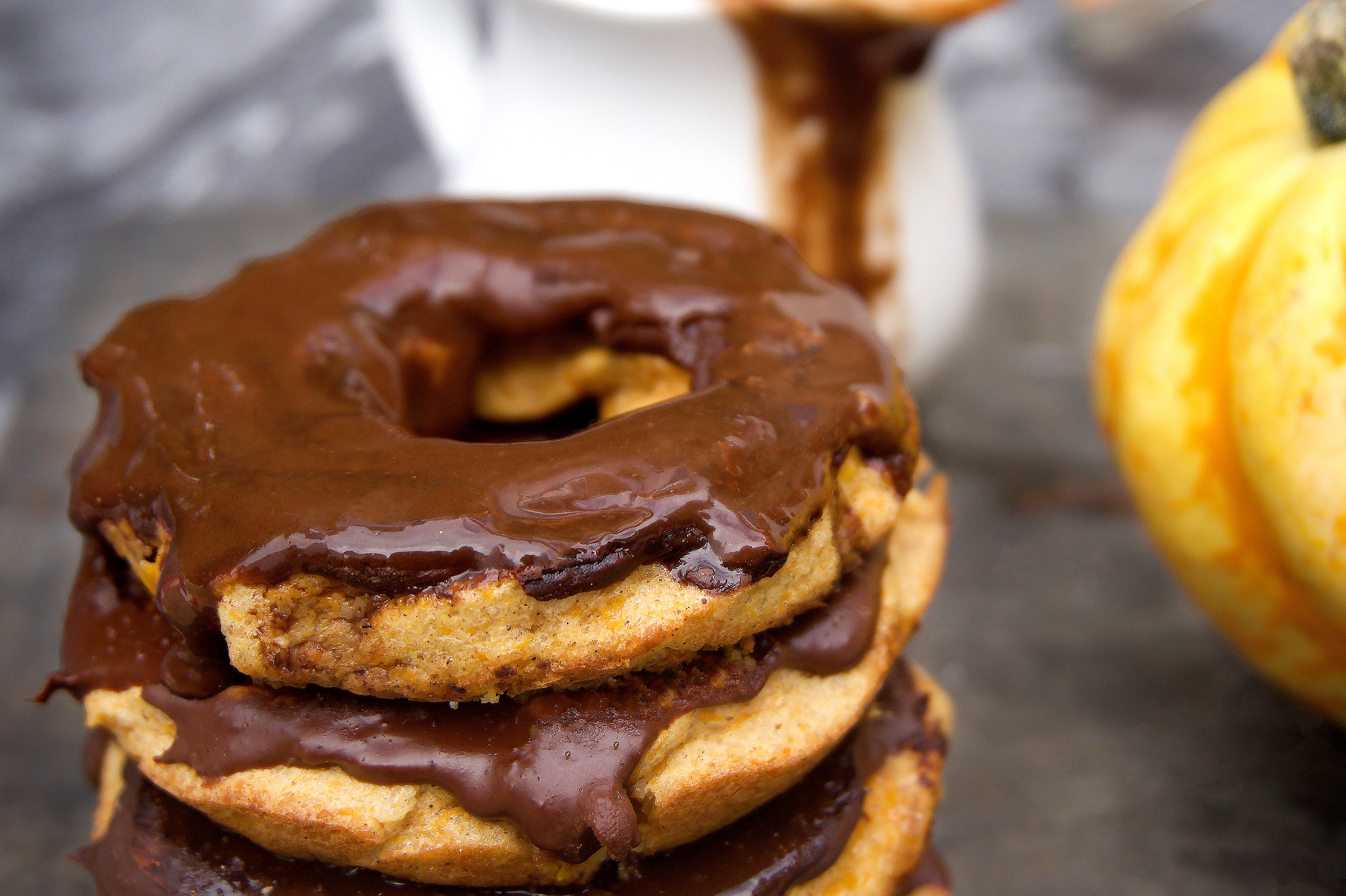 I know I'm a little early to the Halloween scene, but I'll definitely be whipping these up again for the festive holiday. I mean, with 10 minutes prep and 15 minutes in the oven it would be rude not to. Also, if you've any worry about not having a doughnut shape baking tray fear not – I simply piped my doughnuts into a shallow cupcake tray and it worked a treat!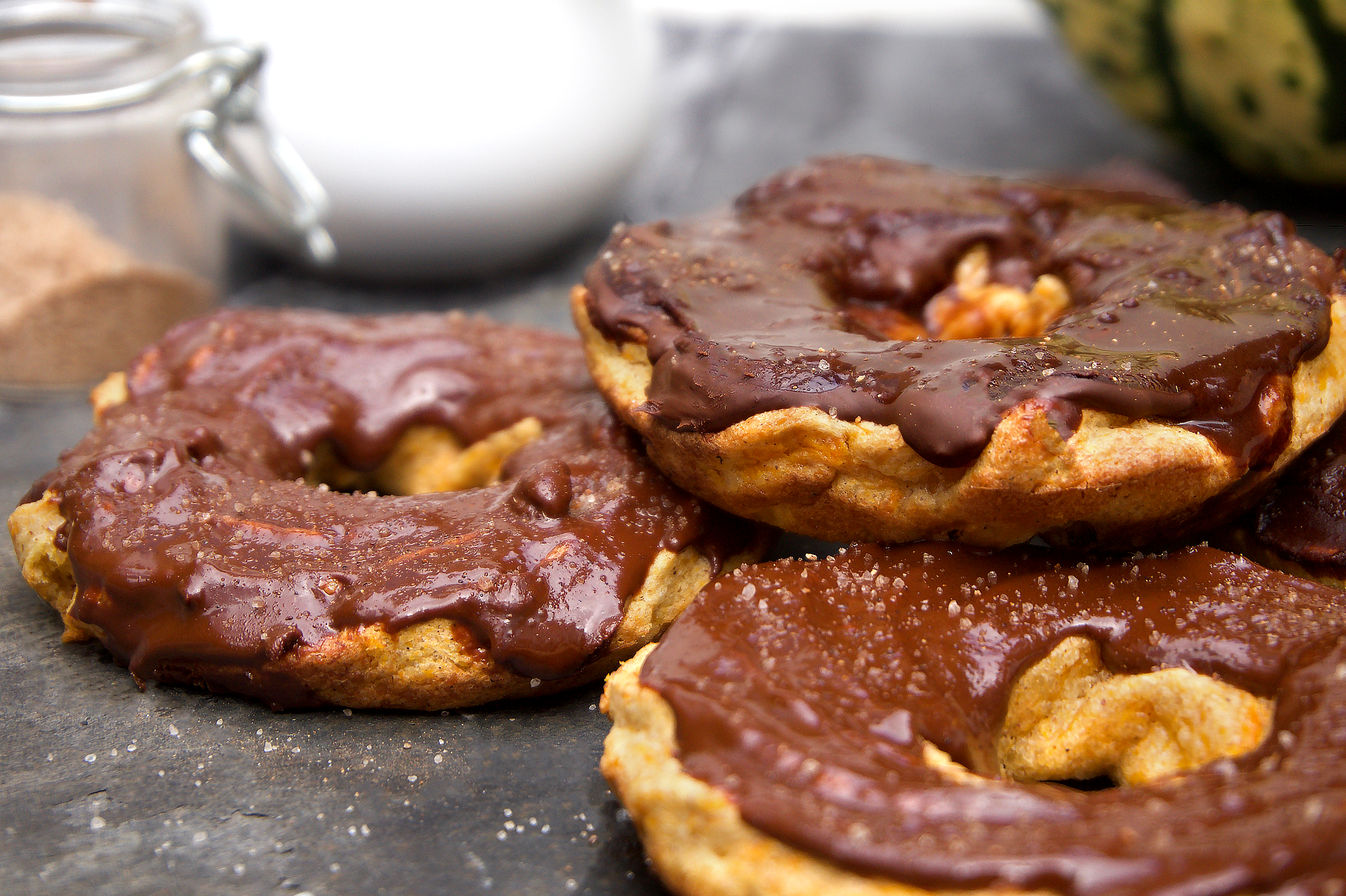 Ok, enough from me. If you're after a healthy doughnut recipe that tastes anything but healthy, then give these chocolatey delights a go. I'll warn you though – they go down quickly. Perhaps too quickly. So either gobble them up in one go or find a safe place away from those pesky fingers!
Pin this recipe for later…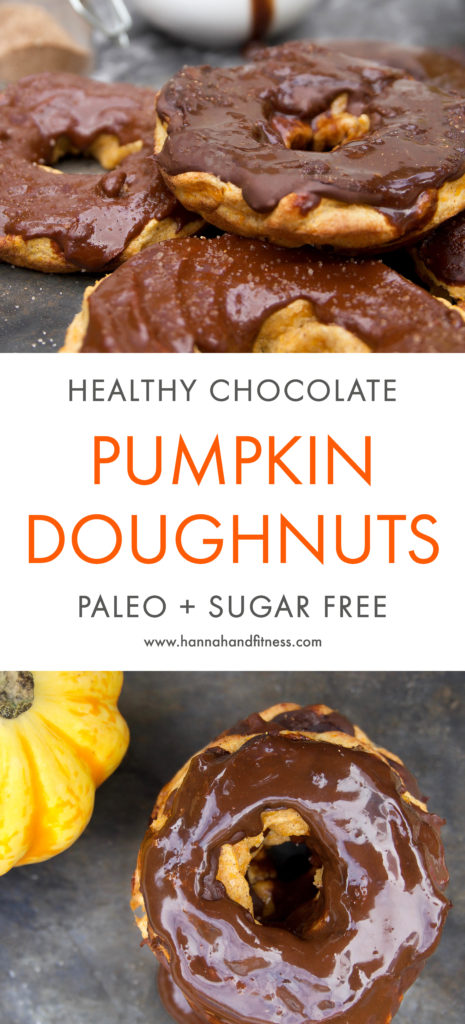 Healthy Chocolate Pumpkin Doughnuts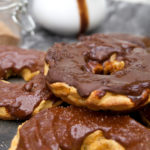 Print This
Ingredients
2 eggs

187g pumpkin puree

1 tbsp vanilla extract

60g sukrin gold (or another sugar free alternative)

120g almond flour

1 tsp xanthan gum

1 1/2 tsp baking powder

1 tbsp coconut oil (melted)

1 1/4 tsp cinnamon

1 tsp ginger

1/2 tsp nutmeg

Raw chocolate for frosting (I used Raw Halo chocolate - melted)
Instructions
Begin by pre heating your oven to gas mark 5.
In a bowl whisk together your eggs and pumpkin puree until you have a smooth mixture. Add in the Sukrin gold, vanilla extract and baking powder and mix again.
Add the flour, spice and xanthan gum to your pumpkin mixture and mix until everything is combined. Finish by adding the coconut oil and hand mix. Once you have a lump free mixture you can then add this to an oiled doughnut mould baking tray. I however, don't have a doughnut baking tray so I piped my doughnuts individually into Yorkshire pudding moulds (similar to  a cupcake baking tray but a lot shallower). Once done, place your tray into the middle of the oven and bake for 15 minutes.
Once baked, remove from the oven and leave to cool before removing. Whilst your doughnuts are cooling you can prepare the chocolate. I simply melted my favourite chocolate (Raw Halo – Dark salted caramel) and then poured the chocolate over the top of the doughnuts and sprinkled with a little excess sukrin gold.
Serve up, get messy and be prepared for a doughnut coma – because let's face it, you can't stop at one!

,
x