If you were to ask me what my favourite Christmas treat would be then I'd have to say gingerbread men – without a doubt. They have to be perfectly crunchy on the outside and a little chewy, yet firm on the inside. Mmm, yes please.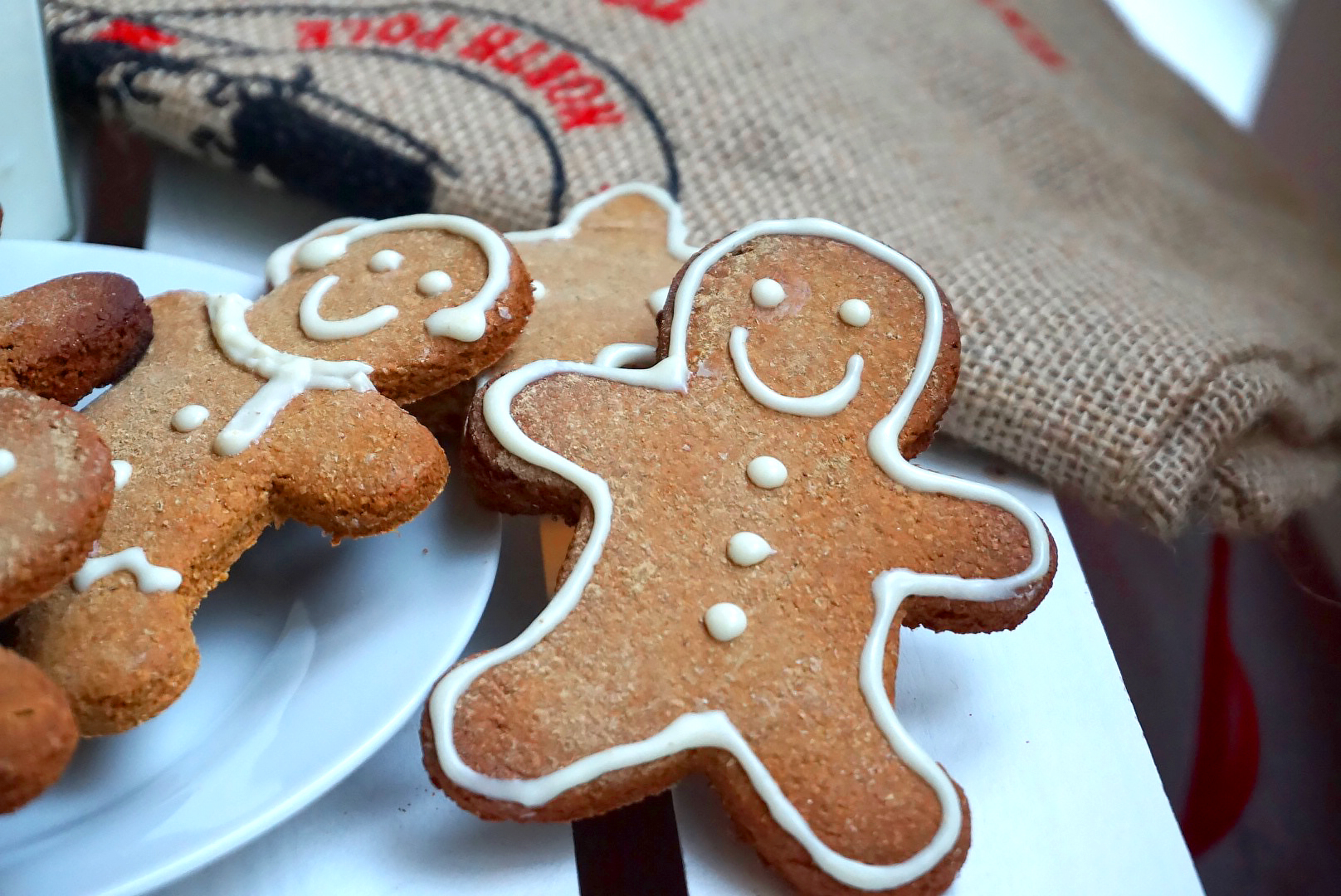 So last week, when I was planning my whole month of Christmas bakes (yes, a whole month) I decided that these gingerbread men had to be first up on my list. I mean, what better way to start Christmas baking than with these adorable little fellas? Cue the lil' guy with the scarf. He's my favourite.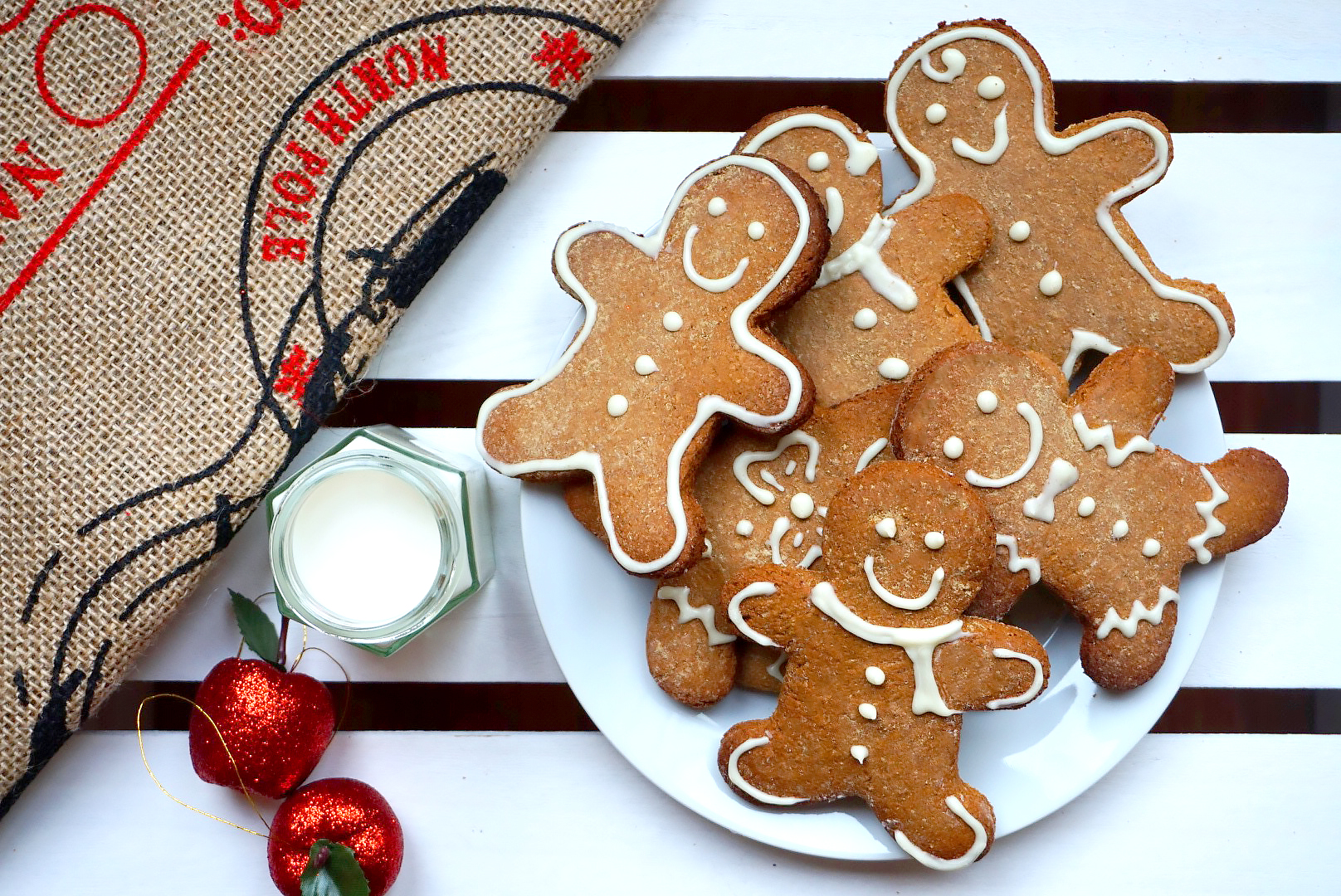 Now, with it being December, aka the time to get festive, sing all the Christmas songs, watch all the Christmas films and eat all the food, I just had to spend my first Sunday of the month in the kitchen baking these healthy and easy gingerbread men. Also, trust me when I say 'easy'. Most gingerbread men recipes require extra time for cooling the dough, however, I found that this recipe allows you to skip that part. In under an hour you'll have these healthy, yet just as delicious, gingerbread men covering your kitchen top.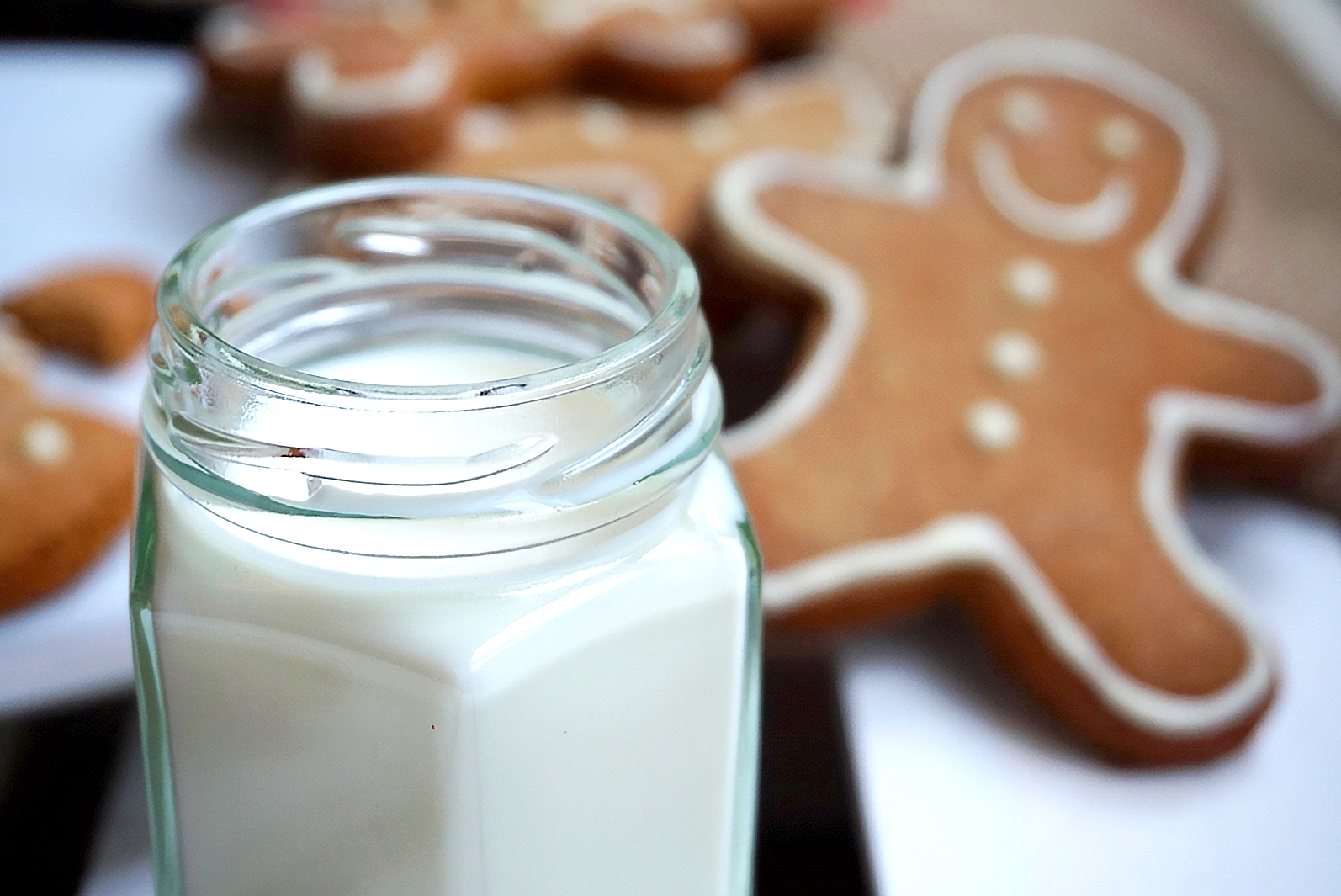 Although, whilst this recipe calls for healthy ingredients, I can assure you that it doesn't lack in flavour. These little men are full of flavour and certainly pack a punch – a gingery punch at that. In fact, I'd say that I prefer this recipe over the traditional gingerbread men recipe. Whoahhh big claim, Hannah -but really! A quick note to remember though… When mixing all the ingredients together you'll find that the ginger will taste quite strong at first, however I can assure you that the ginger soon dies down when they're baked. So if you're a fan of the the ginger taste (I mean, you're reading this so why wouldn't you be?!) then don't pull back on the ginger spice!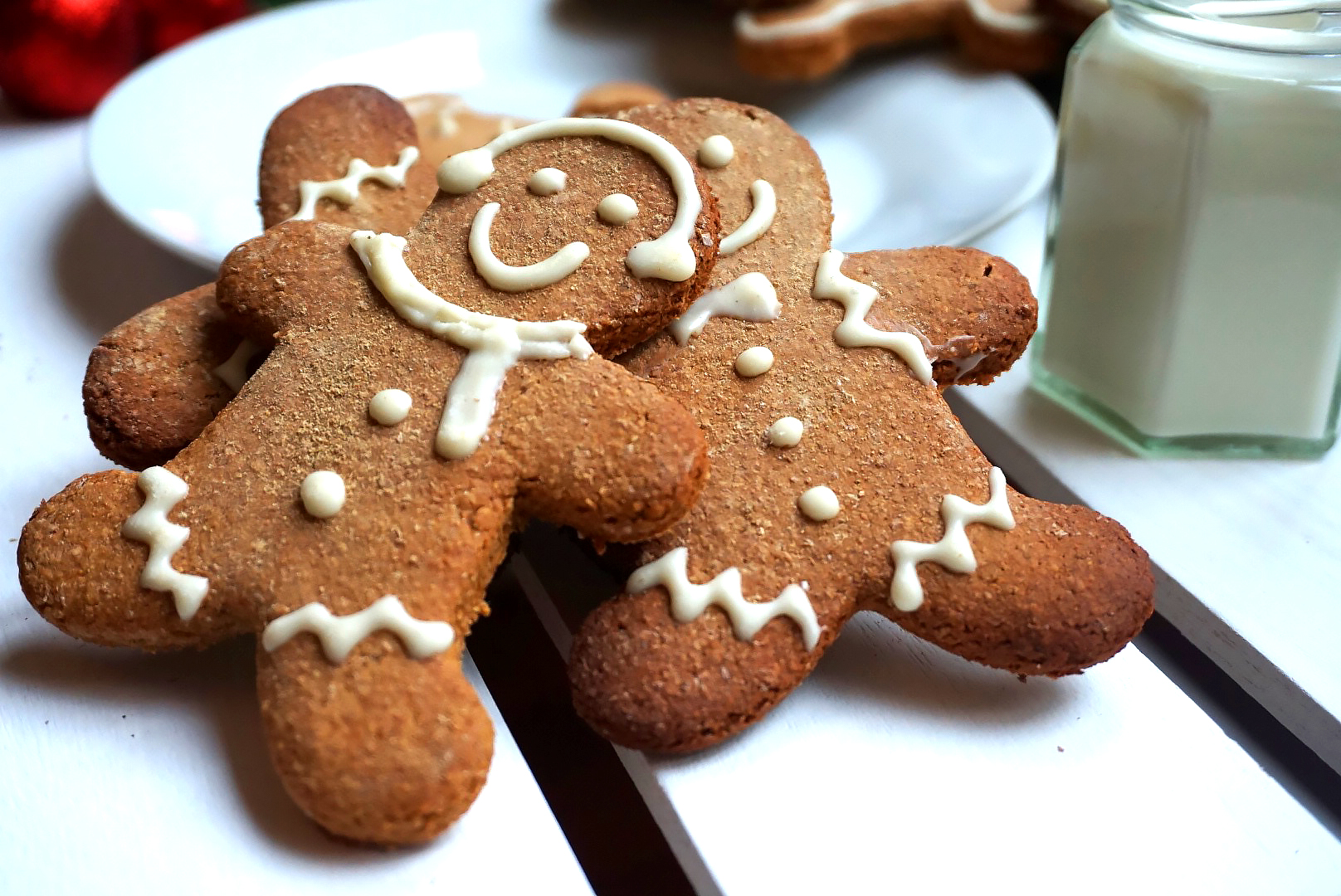 When making this recipe you'll find that it also calls for apple sauce. This is simply to replace some of the coconut oil that is used within the recipe. I found that using both (apple sauce and coconut oil) allowed the gingerbread men to have that crunchy texture on the outside and chewy texture on the inside. However, if you want your gingerbread men to be extra chewy and soft then replace the coconut oil with extra apple sauce and bake for a little less time.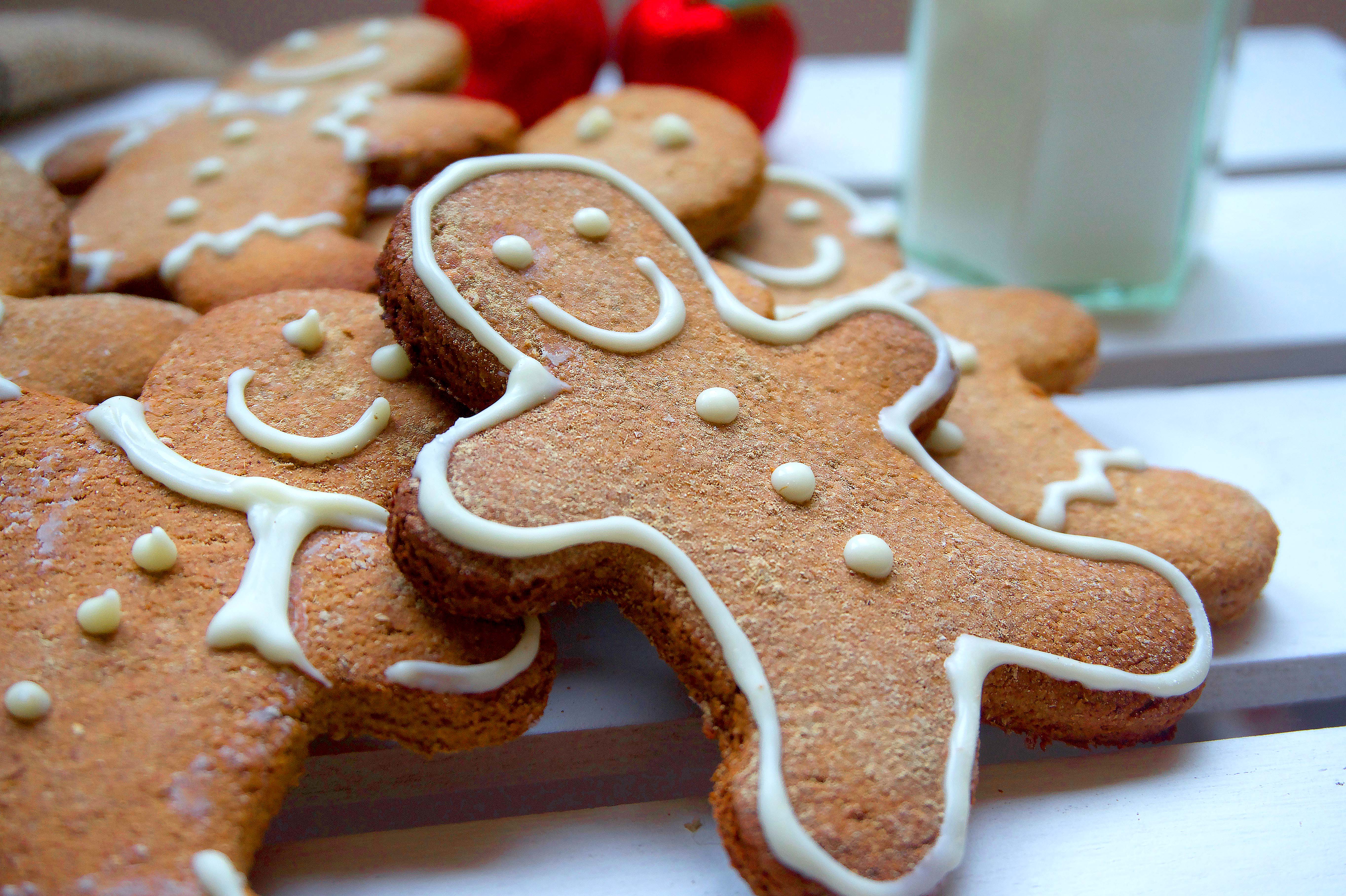 These gingerbread men, unlike most, have little fat content (if coconut oil is subbed completely) and are free from refined sugar. All in all, they make a great Christmas treat that's healthy and doesn't leave you bloated. I'll warn you though, one gingerbread man simply isn't enough so either share these with your family or be prepared to enter a food coma of many men. Many, many gingerbread men.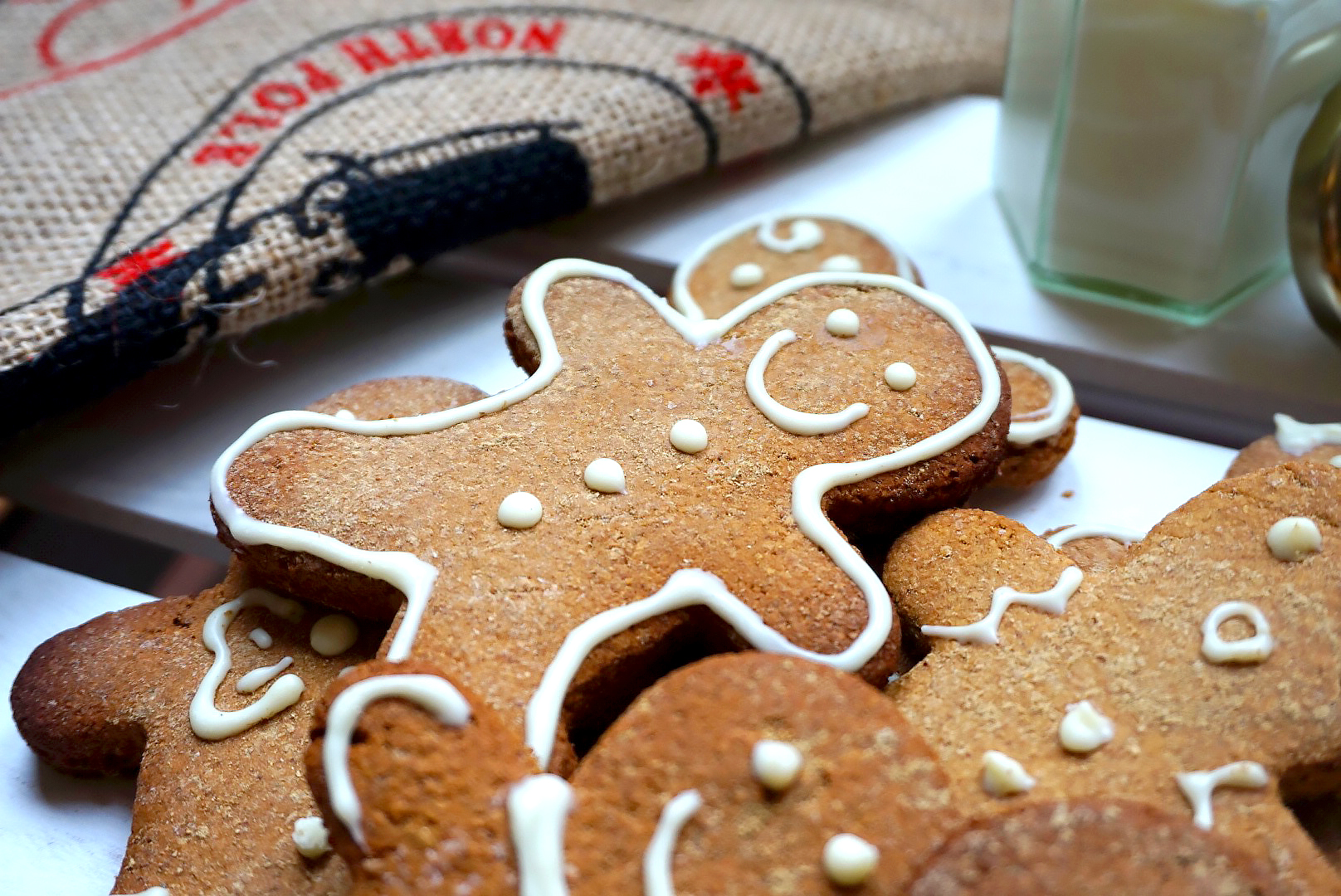 So put some Christmas music on, grab a gingerbread men cutter and get baking! Your family will love you for whipping up these lil' fella's, trust me!
Healthy And Easy Gingerbread Men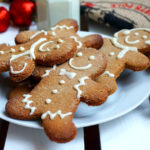 Print This
Ingredients
- 1 cup wholemeal self raising flour

- 2 cups oat flour (or continue using wholemeal)

- 1/3 cup + 2 tbsp agrave nectar

- 1 egg

- 1 tsp baking powder

- Pinch salt

- 2 1/2 tbsp ginger (will taste strong before baking but tones down after cooked - use less if you prefer a less ginger taste)

- 2 tsp cinnamon

- Melted white chocolate for icing

- 1/4 cloves

- 2 tbsp apple sauce

- 2 tbsp coconut oil

- 1 tsp vanilla extract
Instructions
Begin by pre heating your oven to gas mark 4.
In one bowl add your dry ingredients together and mix. In another, add your wet ingredients together and whisk thoroughly.
Once both bowls are mixed together, slowly add the wet ingredients to the dry, mixing with a whisk as you do so. I used a mixer for this.
Once you have a firm dough (must not be sticky – if it is then add more flour), roll the dough out onto a well floured surface. I like my gingerbread men quite thick – about 5cm. If you prefer your dough thinner then bear in mind that your gingerbread men will bake quicker, too.
Once your dough is rolled out evenly, start cutting your gingerbread men out with your cutter and continue to do so until you've up all the dough.
Pop your gingerbread men on a baking tray with parchment paper and pop in the middle of the oven to bake for 10-20 minutes. The thicker your gingerbread men are then the longer they'll take to bake so keep an eye on the time. Really, you want to bake until your gingerbread men are golden brown.
Once done, remove from the oven and leave to cool completely before decorating them – or enjoy them plain. Either way, they taste just as good!
Notes…
I use Sukrin GOLD for my sugar free alternative and have used it for roughly a year now. I love it!
I use The GroovyFood Company for my agave nectar. You can find it in your local supermarket and it's a great alternative to honey/sugar/other sweet ingredients.
Pin this recipe for later…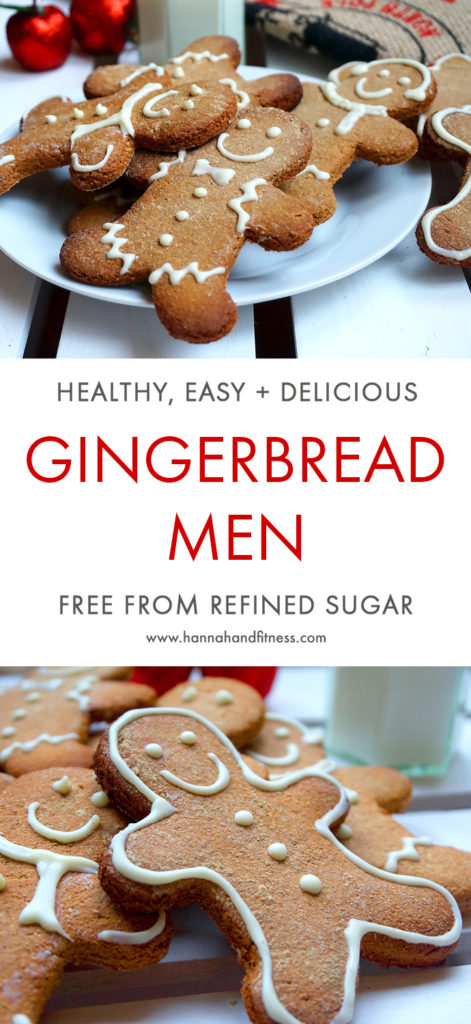 ,
x