Ever since I returned from Greece a few weeks ago I haven't been able to stop thinking about their amazing food. From the vine leaves stuffed with rice, to their delicious greek gyros.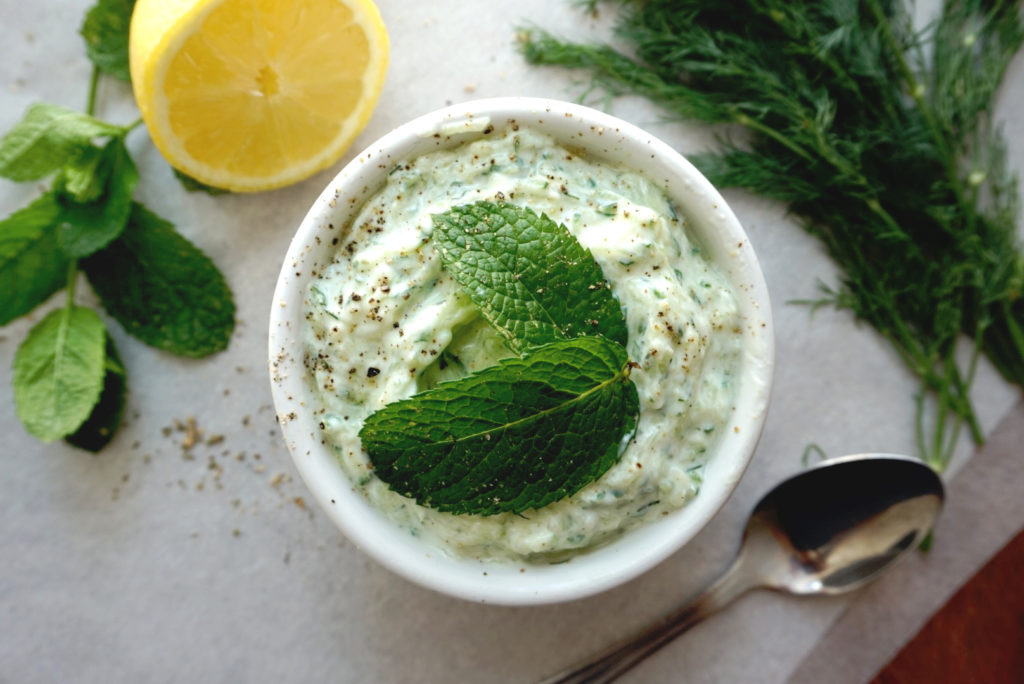 When we were walking through the beautiful village of Lindos (a place you must see when in Rhodes) I remember seeing the traditional gyros being served up everywhere. The smell of them cooking is incredible! You can really smell the meat marinating in the sauce – oh those flavours!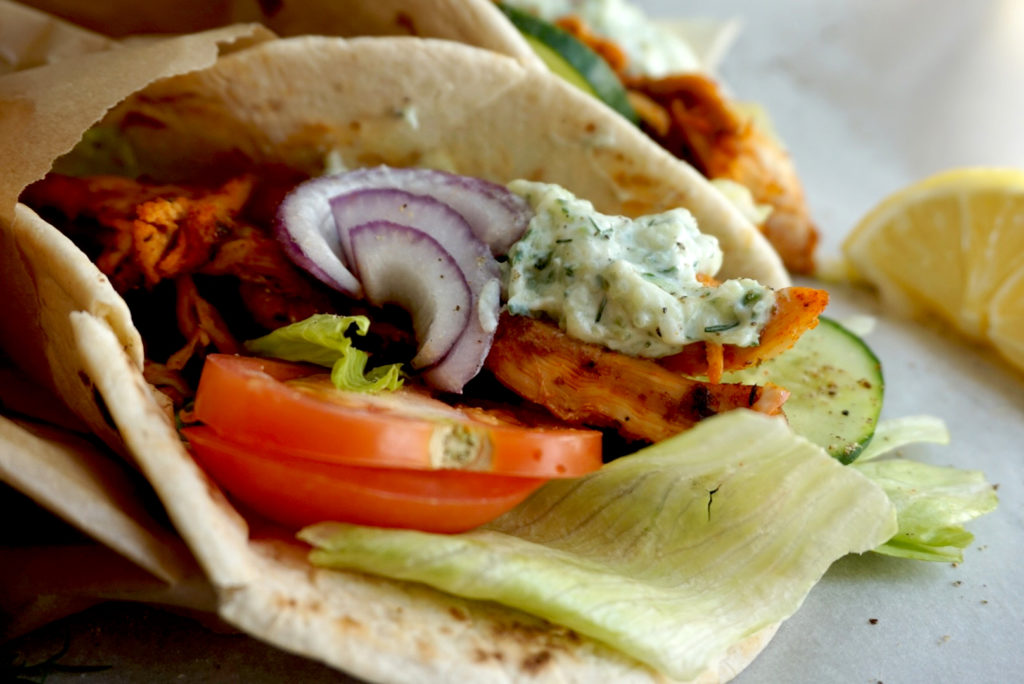 In case you didn't know, a gyro is a Greek dish made from pork or chicken and is usually wrapped in a thick and fluffy pitta bread. The filling usually consists of lettuce, onion, cucumber, tomato and the Greek's classic sauce, tzatziki. Kinda like what we would consider a kebab over here – minus the grit, dirt and level of grossness (sorry to all you kebab lovers).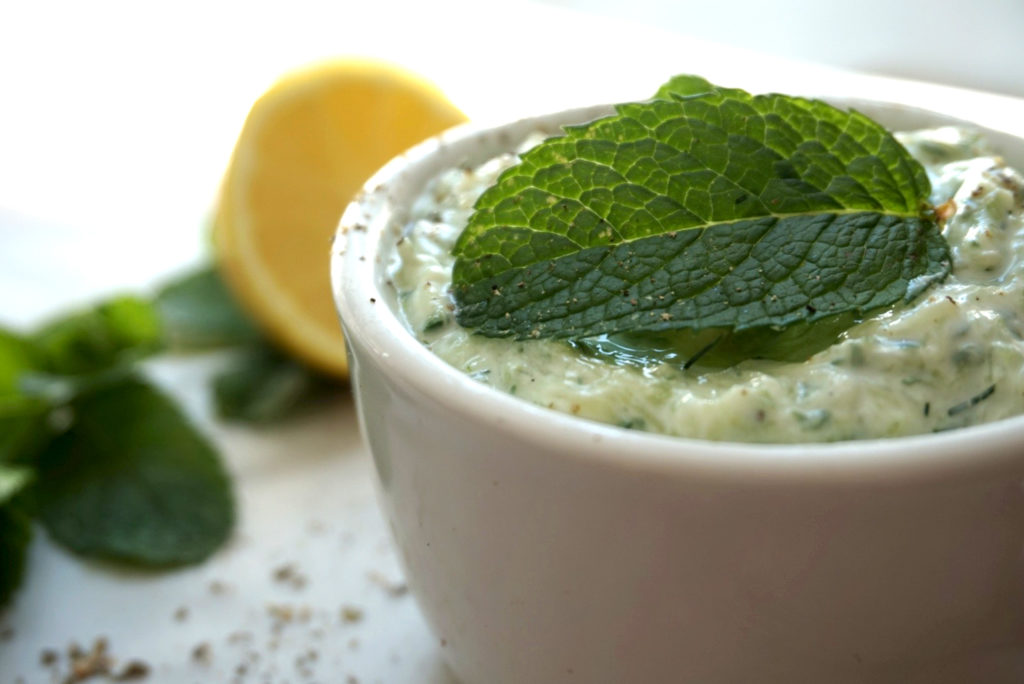 My version of the classic Greek dish is a lot lighter than the traditional, yet just as delicious. The marinade that is called for in this dish is just something else. I've never made it before but after a few minutes of it sizzling away in the pan I was sold! It's really a mix of ingredients but it's creates the most amazing flavour's when paired with the tzatziki.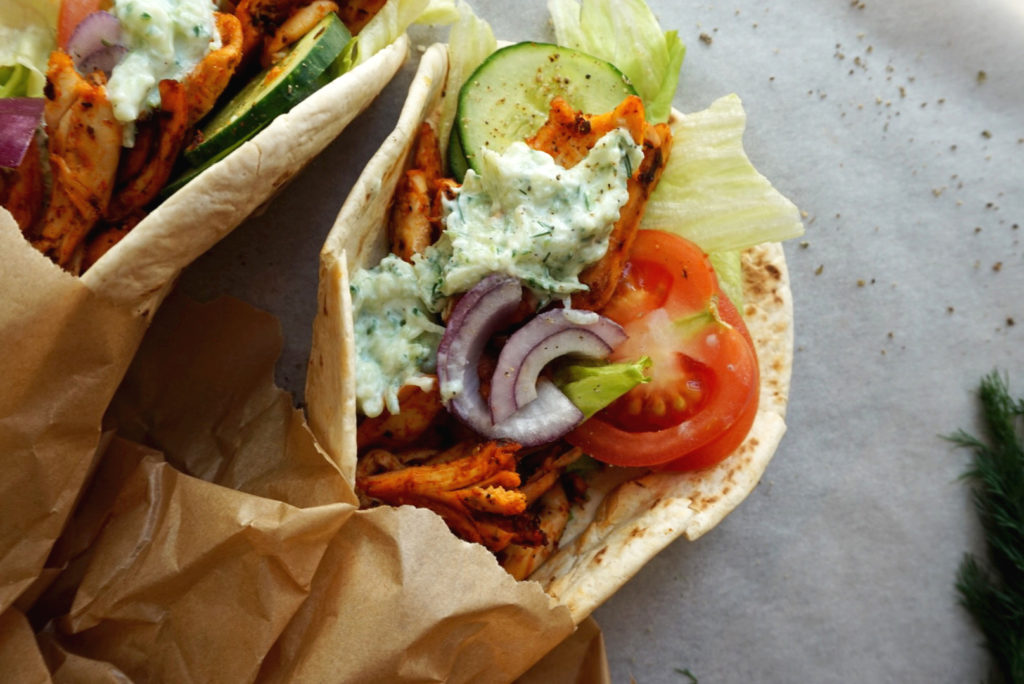 You also have the choice to make your own tzatziki sauce with my recipe or you can simply buy one from in store. Although, I can't guarantee it will be as healthy and fresh! But I must say this: It's a Necessity for this recipe! My opinion? Make your own! It's not difficult and you'll probably surprise yourself  how making your own sauce tastes so much better!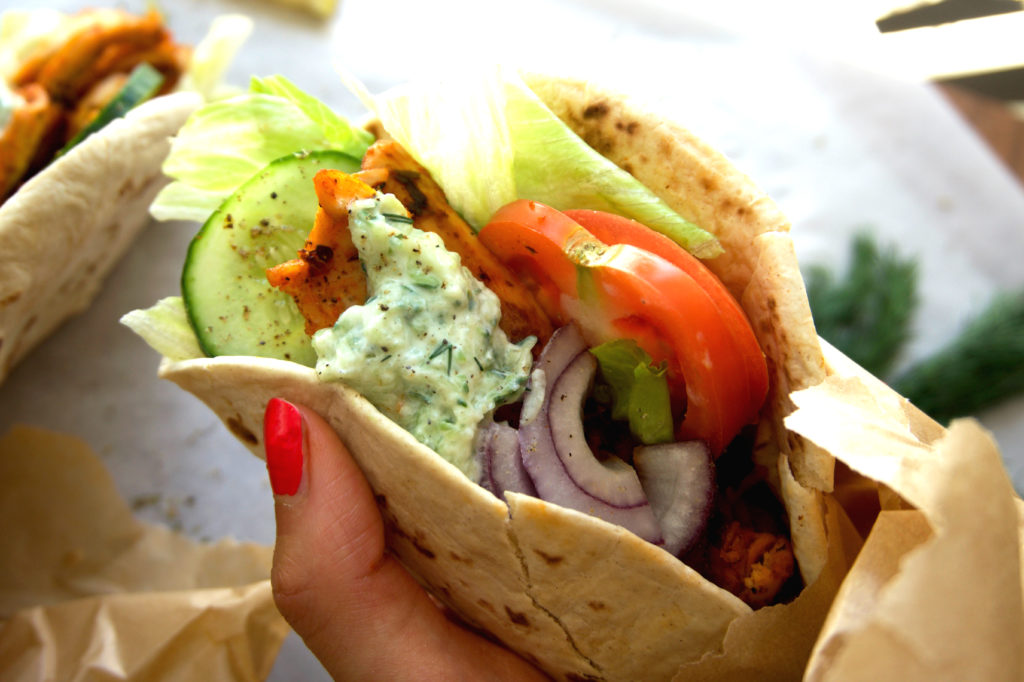 After cooking and preparing the filling for my greek gyros I then popped everything in a Deli Kitchen Tacotilla. These wraps from the Deli Kitchen range are soft, flexible and full of fibre and taste. They're a mix between a taco and tortilla but for this recipe they were simply perfect! I popped mine under a griddle for a few minutes to warm through and bam, they were ready to be filled to the brim.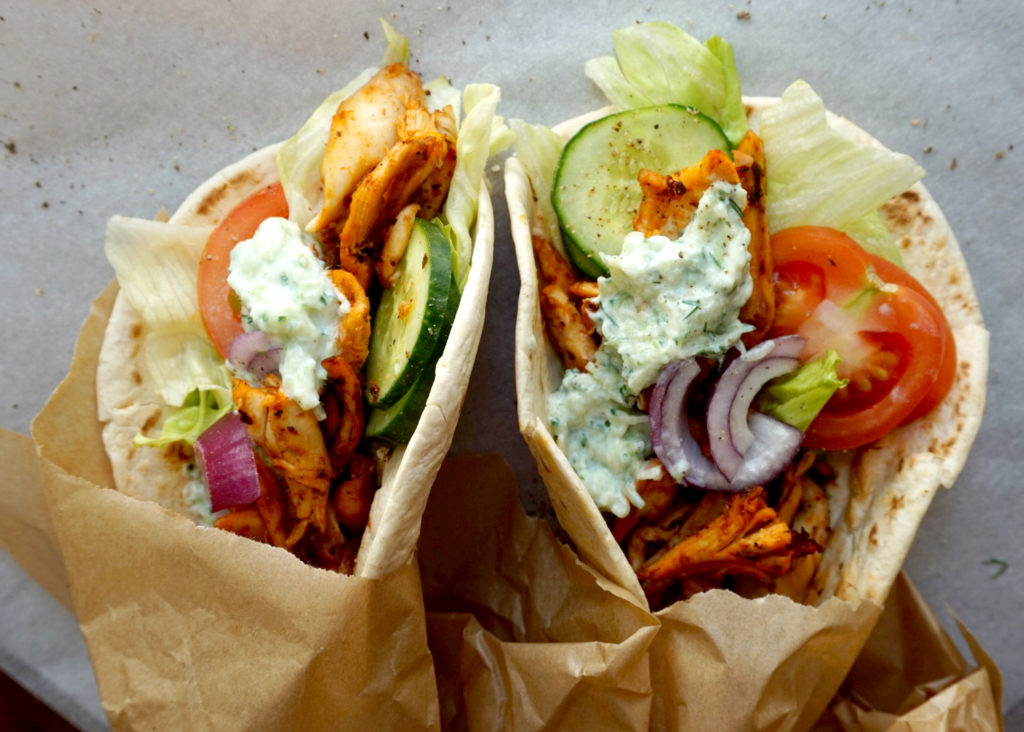 I've been using Deli Kitchen range for quite a few months now and I've really become a fan of their products. You can find a recipe of mine using their high protein wraps here. Their products are low calorie, high in fibre and high in protein (using their high protein wrap) however, I must say the Tacotilla wrap (used in this recipe) has become my favourite for its thickness! What can I say, I'm a bread kinda gal.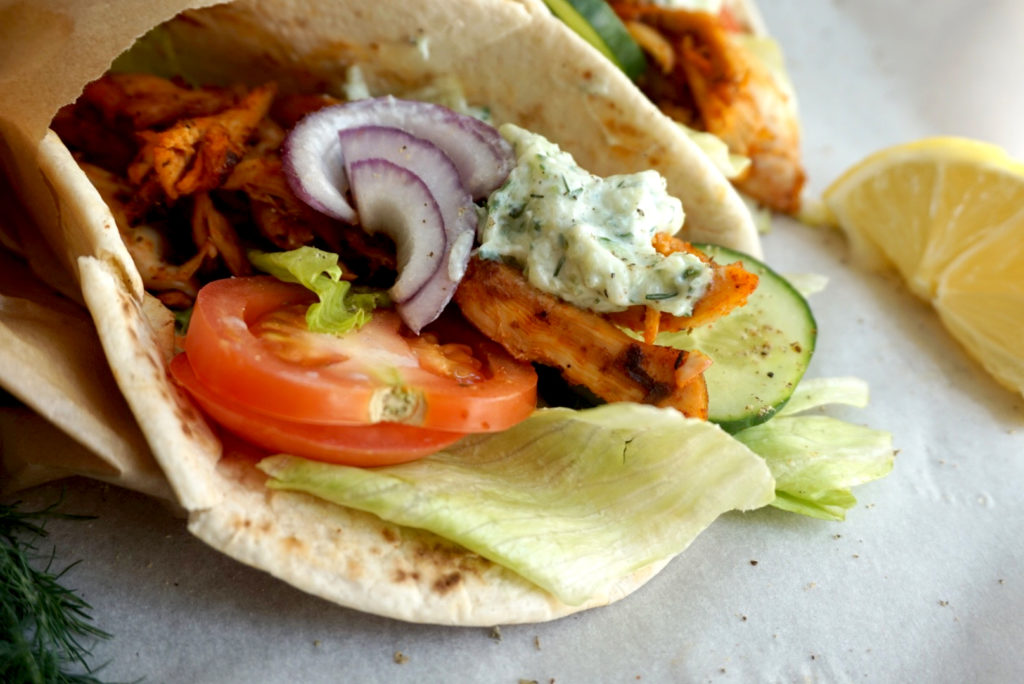 Overall, it was safe to say that these greek gyros were the perfect option for our BBQ this weekend. But that's not to say you can't prep these for the week ahead and have them for quick and convenient lunches. Simply cook the chicken, make the sauce, prep the filling and pop them into separate containers. Easy peasy (and incredibly delicious)! Enjoy!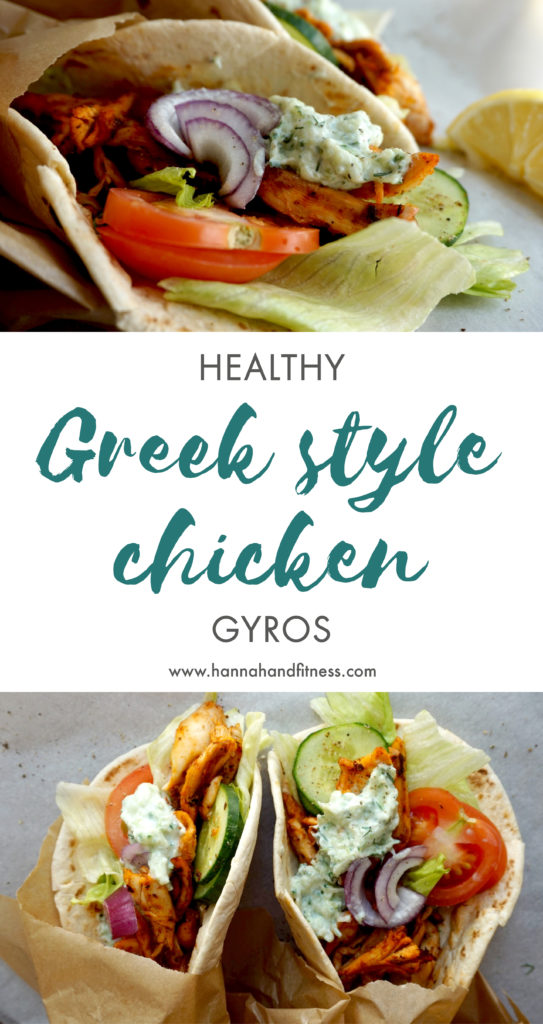 This post is Sponsored by DeliKitchen.
Healthy Greek Gyros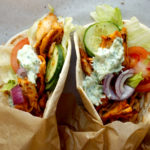 Print This
Ingredients
4 chicken skinless chicken legs

4 Deli Kitchen Tacotilla wraps

FILLING

1 sliced cucumber

3 large tomatoes

2 cups lettuce shredded

1 finely sliced red onion

MARINADE

2 garlic cloves crushed

3 tbsp lemon juice

1 tsp extra virgin olive oil

1 tbsp greek yoghurt

1 tsp coriander

1 tbsp dried oregano

pinch salt

black pepper

1 tsp paprika

TZATZIKI - or buy from store

3/4 cup greek yoghurt

1 cucumbers peeled and seeded (make sure the watery seeds are removed from middle)

1 clove garlic diced

1 tbsp lemon juice

1/2 tsp salt

1 tbsp fresh dill

a few sprigs fresh mint
Instructions
Begin by preparing your filling. Slice the cucumber and tomatoes into coins, shred the lettuce and also slice the onion. Leave to the side whilst you prepare everything else.
In a bowl, add your marinade ingredients and mix well. Pop your chicken legs into the marinade and mix until all the chicken pieces are covered.
Pop a pan on medium heat and add the chicken to the pan and cook for 30 minutes – this depends how crispy (or not) you like your chicken.
Whilst the chicken is cooking you can make the sauce. Grab your cucumber (which is already de-seeded by cutting it in half long ways and spooning out the seeds) and grate it using a grater. Place the grated cucumber into a tissue and squeeze out any excess water (this is important). Pop the grated cucumber and the remaining ingredients for the sauce into a bowl and mix well.
After warming up your Deli Kitchen Tacotillas (oven or microwave) place them on the side and begin filling with your salad, chicken and tzatziki sauce. Fold the Deli Kitchen Tacotilla in the middle, wrap it up from the bottom and tuck in!
Notes
Traditional greek gyros require the meat of pork or chicken however, feel free to use whatever!