Crumble. My all time favourite dessert. So of course it only made sense to create a Christmas themed crumble with my healthy mince pie crumble recipe.
Now don't get me wrong, I'm still a huge lover of my apple, pear and date crumble recipe but I fancied getting a little creative in the kitchen last weekend and seeing as social media is full of mince pie recipes, I came up with something a little different than the usual.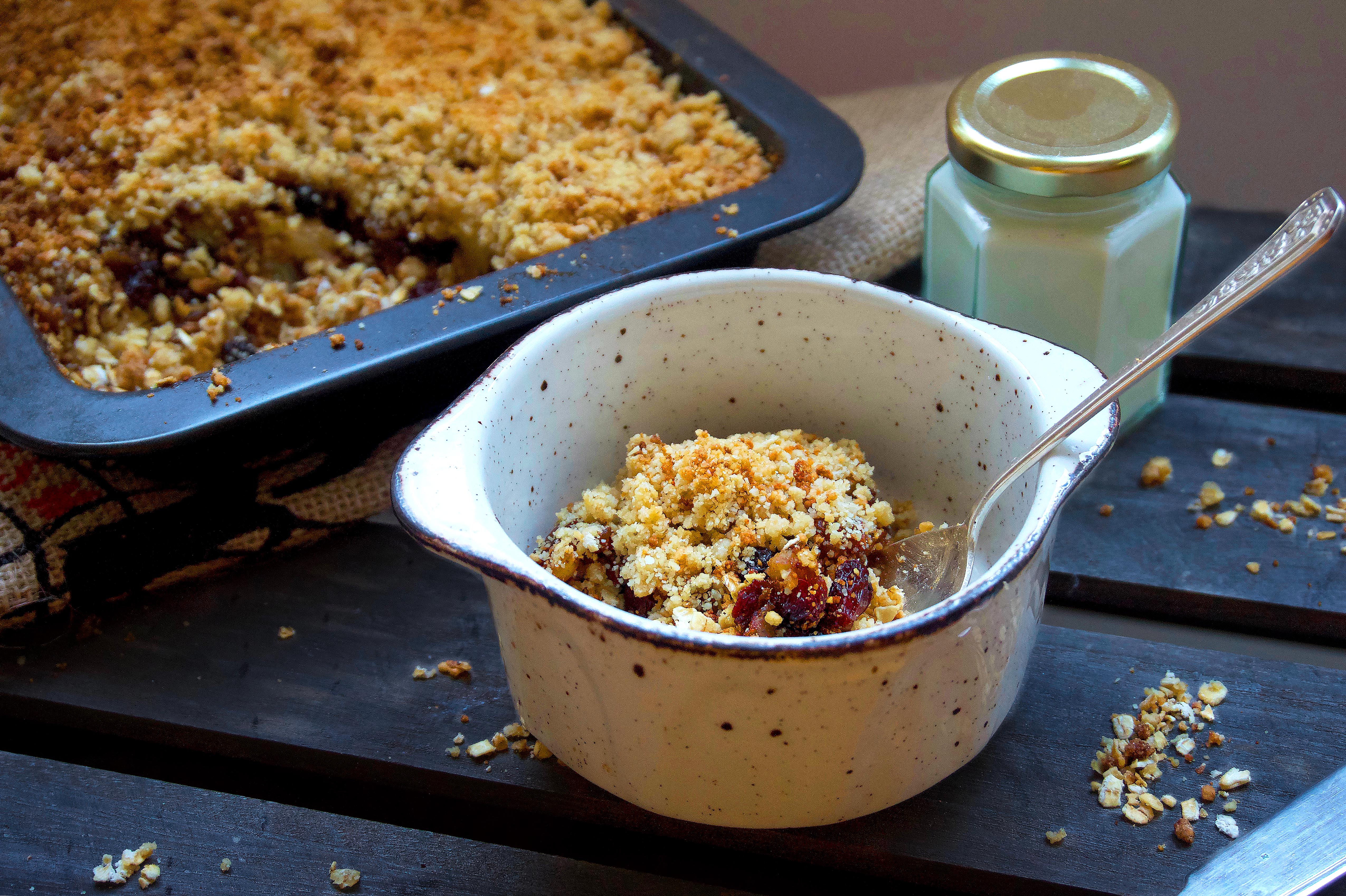 Take a mince pie, combine it with a classic crumble and wolah, you have a deliciously spiced mince pie crumble with all the rich flavours a traditional mince pie has to offer. It really is something else. I promise you!
I served this up after a good ol' roast dinner last Sunday and it went down a treat. We actually paired it with some cream and hot custard (I'm a cream kinda girl) and it really did feel like a true crumble filled with mince meat. B-e-a-utiful. Even if I do say so myself!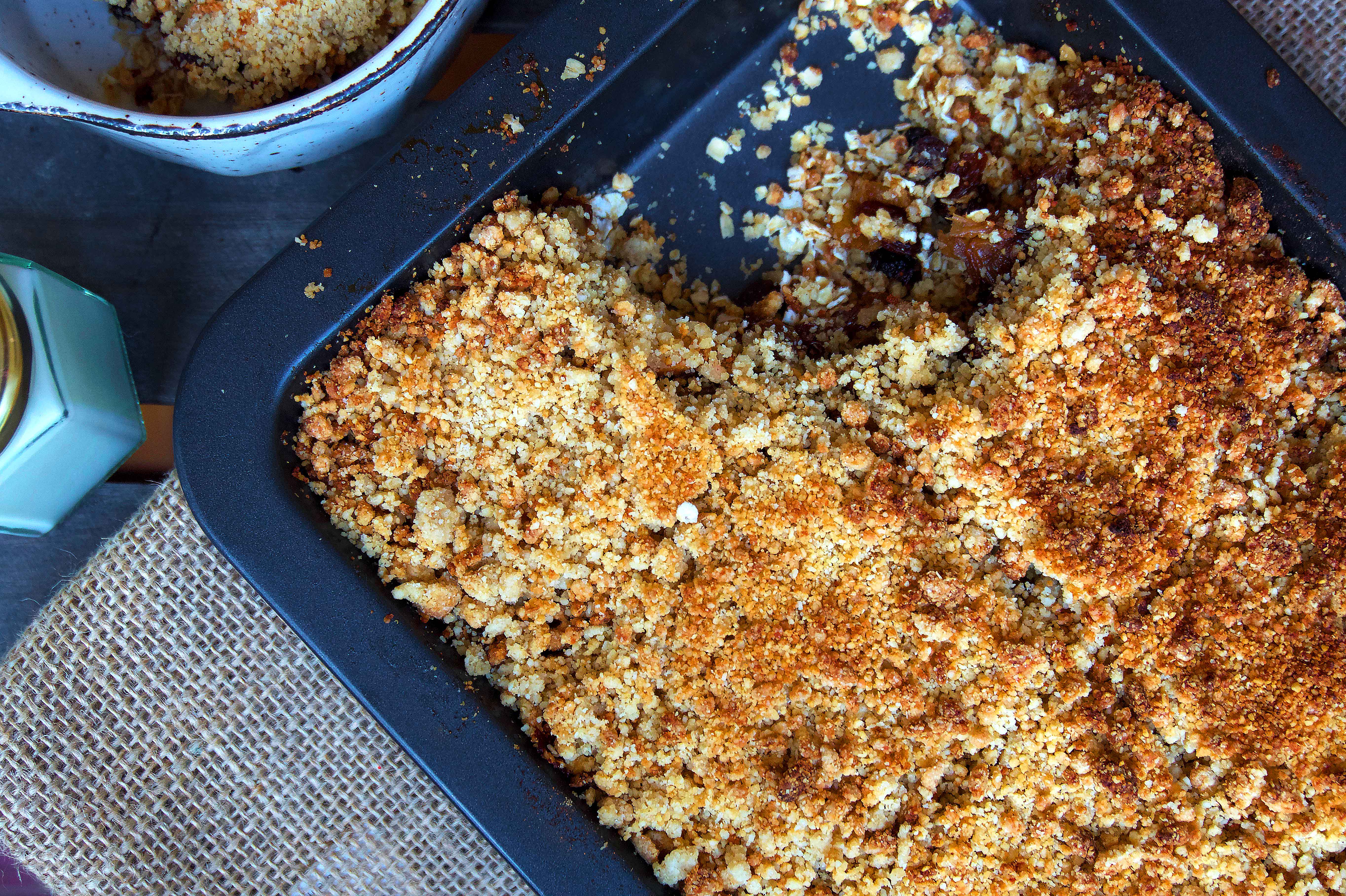 For the mince meat, you can either make your own healthy version or grab a jar from the supermarket – dependant on how healthy you want the dessert to be! As for the crumble, make it yourself because it really is delicious and the ingredients work amazingly well together. Not to mention it's incredibly easy to make. Give it a go and let me know what you think!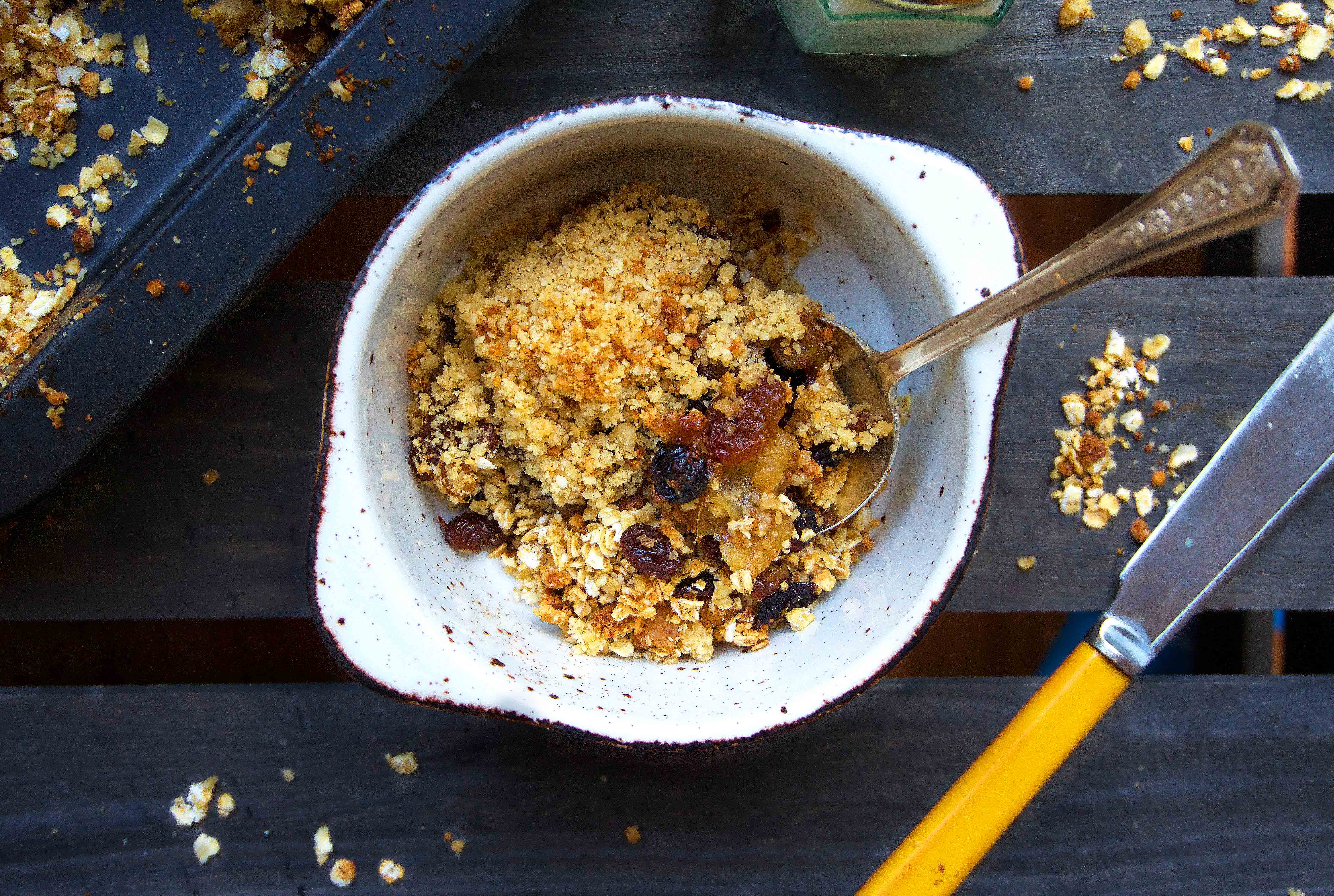 Enjoy! I'm sneaking back in the kitchen to bake next week's Christmas goodies for you all. Did you see last week's healthy gingerbread men recipe? I've already made 3 batches since then. It's so damn good!
Pin this recipe to save for later…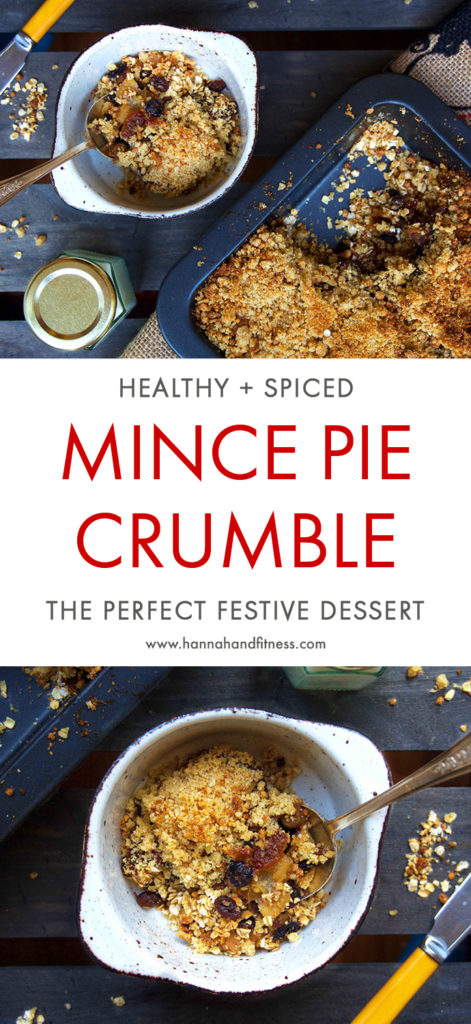 Healthy Mince Pie Crumble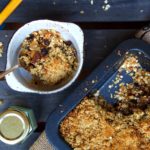 Print This
Ingredients
MINCE MEAT

- 2 cooking apples

- 400g mixed fruit (sultanas, raisins, orange peel, etc...)

- Juice of 1 large orange

- 1 tsp coconut oil

- 1 tsp apple juice

- 1 1/2 tsp cinnamon

- 1 tsp ginger

- 1 tsp vanilla extract

BOTTOM LAYER

- 200g oats

- 4 tbsp agave nectar (I use The GroovyFood Company)

- 1 tbsp coconut oil (I use Women's Best)

TOP LAYER

- 150g ground almonds

- 100g ground oats

- 1 tbsp agave nectar

- 1 egg whisked

- 3 tbsp Sukrin GOLD (or other sweetener alternative)
Instructions
Begin by pre-heating your oven to gas mark 4 and then start with making your mince meat.
For the mince meat, add all your ingredients into a pan, bring to the boil and then leave to simmer for 20 minutes.
Whilst the mince meat is cooking you can start to make the crumble base.
In a mixing bowl, add all of the ingredients and mix together.
Press the mixture evenly into a well oiled baking tray and set to the side whilst you make the crumble layer.
In the same bowl, add all of the top layer ingredients and mix together until everything is throughly combined. Set aside.
Once your mince meat is cooked, evenly layer it on top of the crumble base layer. Once done, top with the crumble top layer and again, make sure it's even.
Place into the middle of the oven and bake for 15-20 minutes. Any longer and you will risk drying out the mince meat.
Serve with your favourite crumble topping and dig in whilst it's still warm!

,
x