It's no secret that I'm a big sucker for sweet bread, especially my healthy banana bread recipe. So, it will come to no surprise to you all that I've spent my day perfecting this healthy pumpkin bread recipe. After a few trial and errors and a few mini tantrums, at approximately 1.30pm this afternoon, a delicious, spiced and moist pumpkin bread recipe was created in my kitchen.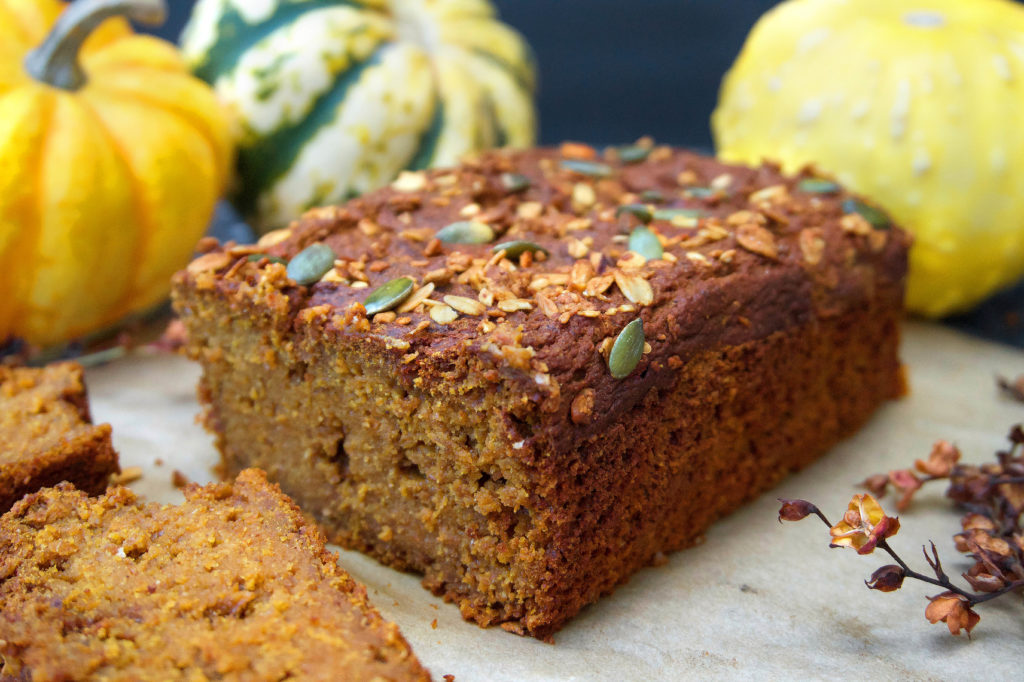 Now, I hate to use the word moist as much as the next blogger does, but what's a girl to do when no other word can simply describe the texture of this pumpkin bread? Crusty on the outside and oh so moist on the inside!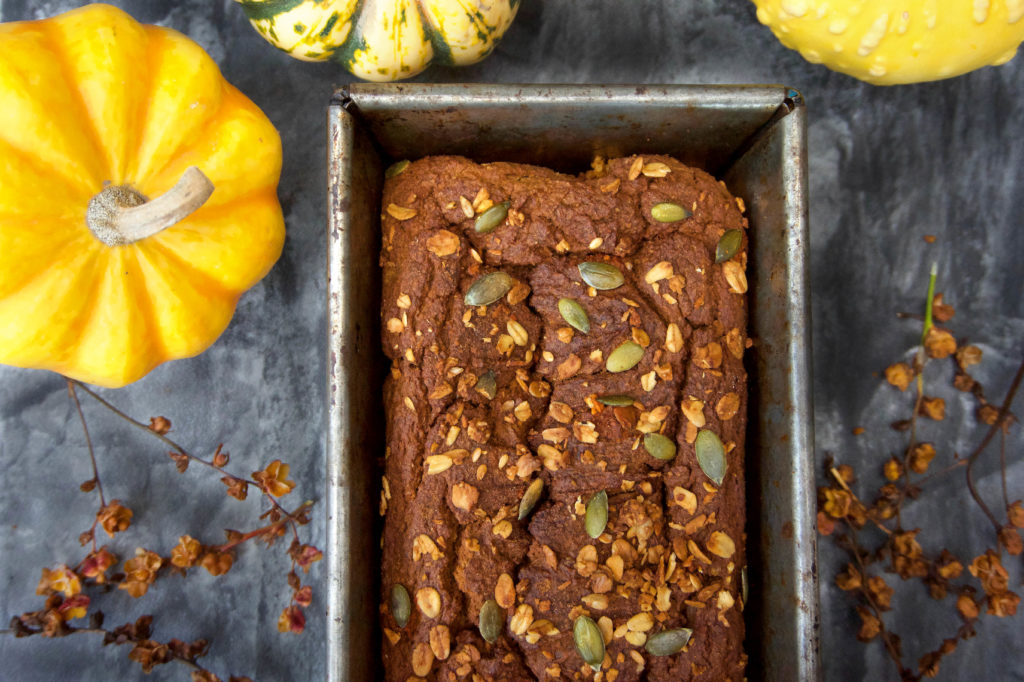 This recipe screams everything Autumn. From the colour of the bread, to the smell of the spices. If fall, like me, is your favourite season, then you may just want to have a go at my healthy pumpkin bread recipe. Like all of my recipes, this bread is incredibly easy to make – in fact, all you need is a bowl, a bread tin and your ingredients. Oh and of course your utensils but let's not be silly, shall we?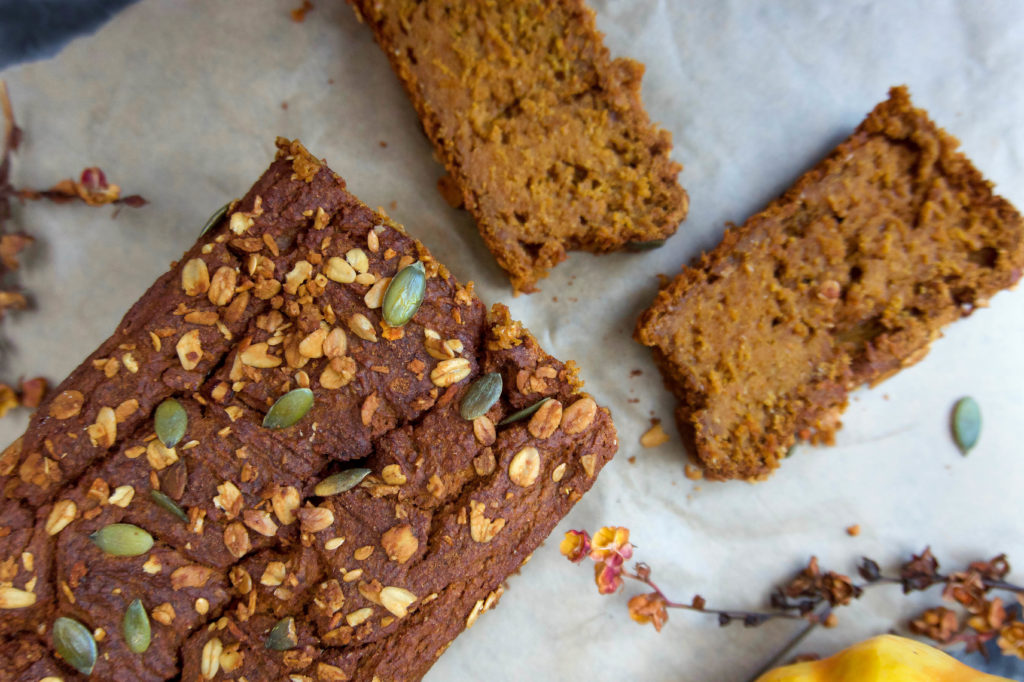 I've sweetened my pumpkin bread with coconut oil and agave syrup so it's a lot healthier than your usual recipe. As well as that, I've also replaced white flour with wholemeal and oat flour for a more wholesome and gut friendly recipe. All in all, if you're after a healthy pumpkin bread recipe this Halloween then I've got you covered.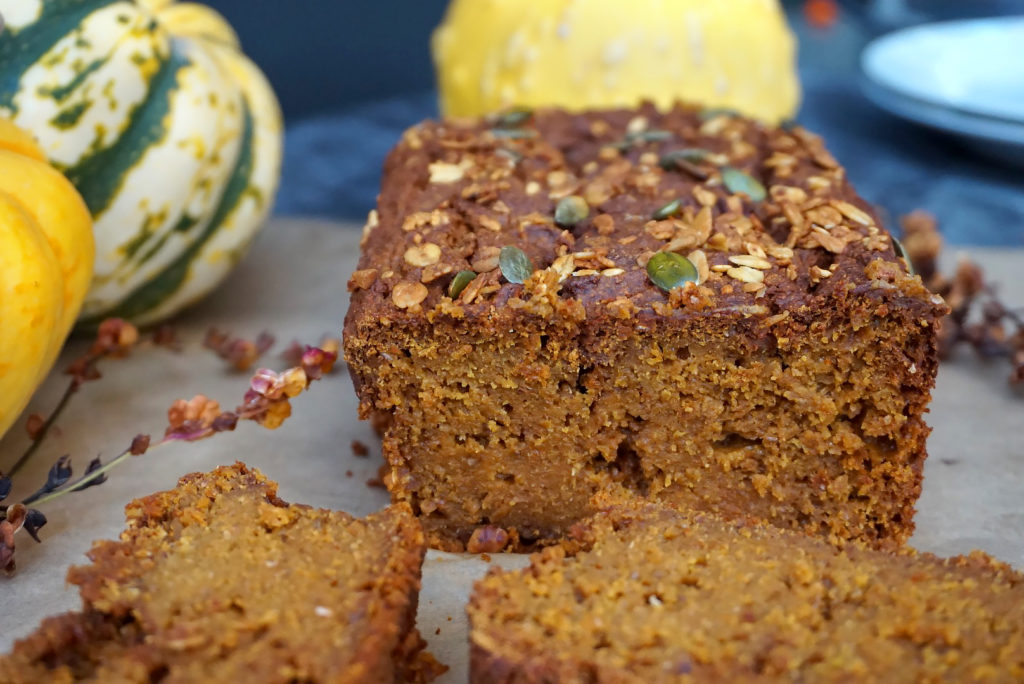 Of course this recipe calls for pumpkin puree, but being from the UK you may find it a little difficult to hunt down a can in your local supermarket. So my advice? Make your own! Honestly, it's easy as pie and once you know how to make your own then you'll never search google for a can of sodding pumpkin puree ever again! If you are however using canned pumpkin puree then you'll need to note that homemade and canned pumpkin puree can differ slightly. Homemade will be a little more watery than the canned stuff, so you may not need as much flour but you can test this out by adding your flour bit by bit and mixing in-between!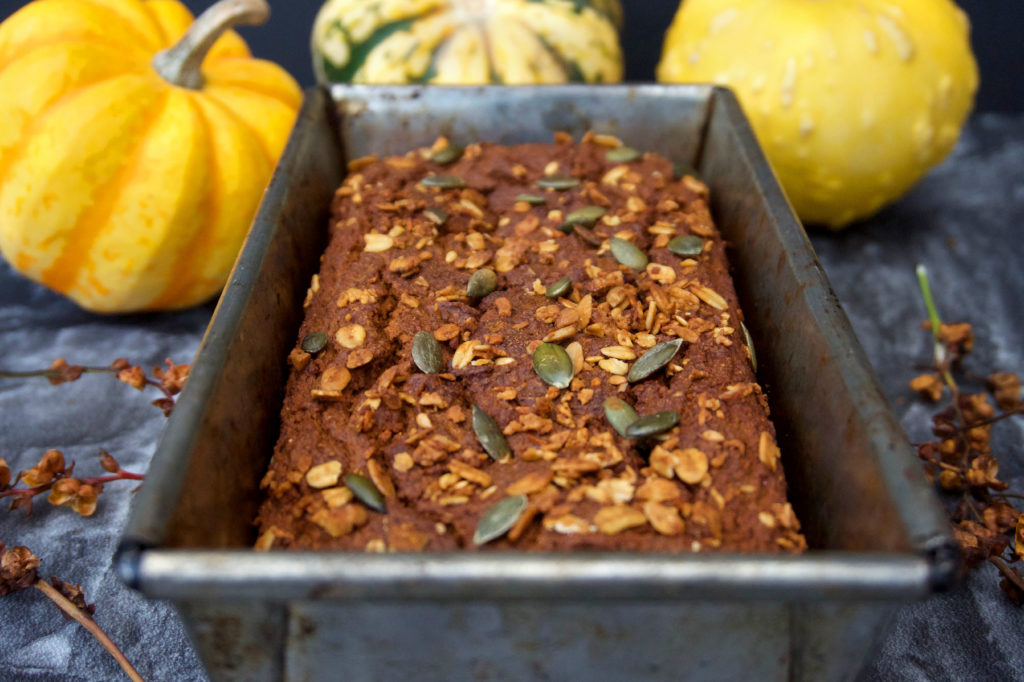 Although I love all the sweet things at this time of year, I am partial to a little bit of comfort that's sweet, moist, fluffy and that goes perfect with a cuppa. Healthy? Ha, nobody will guess so! Give this recipe a go this Halloween and thank me later.
Pin this recipe for later…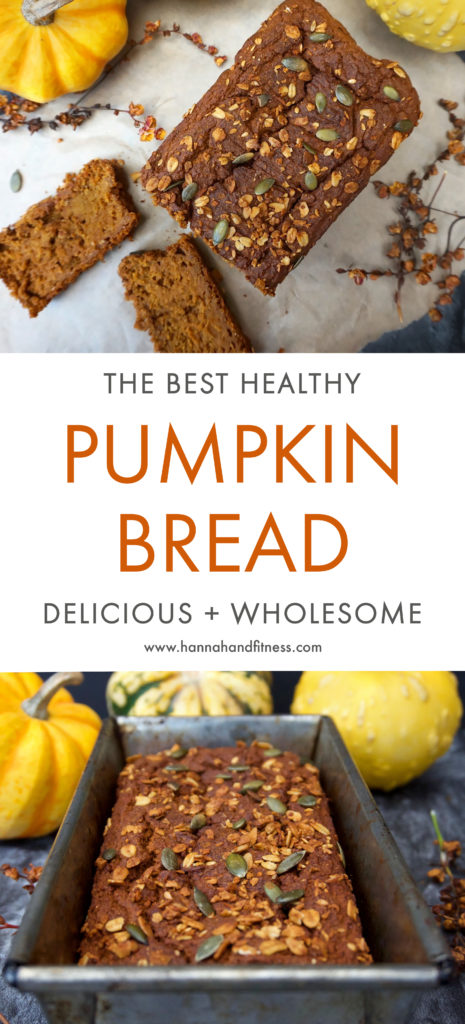 Healthy Pumpkin Bread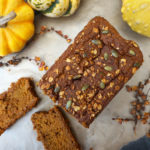 Print This
Ingredients
135g self raising wholemeal flour

95g oat flour

40g melted coconut oil

124g agave syrup (or honey)

2 eggs

75g coconut/almond milk

280g pumpkin puree (homemade)

1 tsp cinnamon

2 cloves

1/2 tsp ginger

1/4 nutmeg

1 tsp vanilla extract

1 tsp baking soda

TOPPING

Sprinkle of granola, cinnamon and pumpkin seeds
Instructions
Begin by pre heating your oven to gas mark 3 and line a bread tin with parchment paper.
In a mixing bowl add the coconut oil and agave syrup together and whisk. Once combined, add the eggs and whisk again.
Add the pumpkin puree, milk, spices, baking soda and vanilla extract and once again, whisk everything together.
Using a wooden spoon, slowly mix in your flours (I do half and half) without over mixing. Once everything is combined, pour your pumpkin mixture into the bread tin and top with granola, pumpkin seeds and a sprinkle of cinnamon (this is optional).
Place your bread in the middle of the oven to bake for 1 hour. The timing however, may depend on your oven and can perhaps take up to an hour and a half to bake.
Once baked, remove from the oven and leave to cool before cutting. This is extremely important otherwise cutting your bread at a warm temperature will make it crumble!
Serve up toasted, with a cup of tea or with a big dollop of almond butter. Go on, go crazy.
Enjoy!

,
x
Notes
MILK: You can use regular milk if there's no need for almond/coconut. FLOURS: If you don't have oat flour then simply replace the oat flour with wholemeal flour. PUMPKIN PUREE: I've used homemade pumpkin puree which can be more waterier than canned pumpkin puree. If you're using canned pumpkin puree then bare this in mind - you may not need as much flour. COCONUT OIL: If you're not a fan of coconut oil then simply replace this with extra virgin olive oil or apple sauce.