It's not often I'm lost for words but when it comes to this Snickers inspired ice cream, I find myself struggling.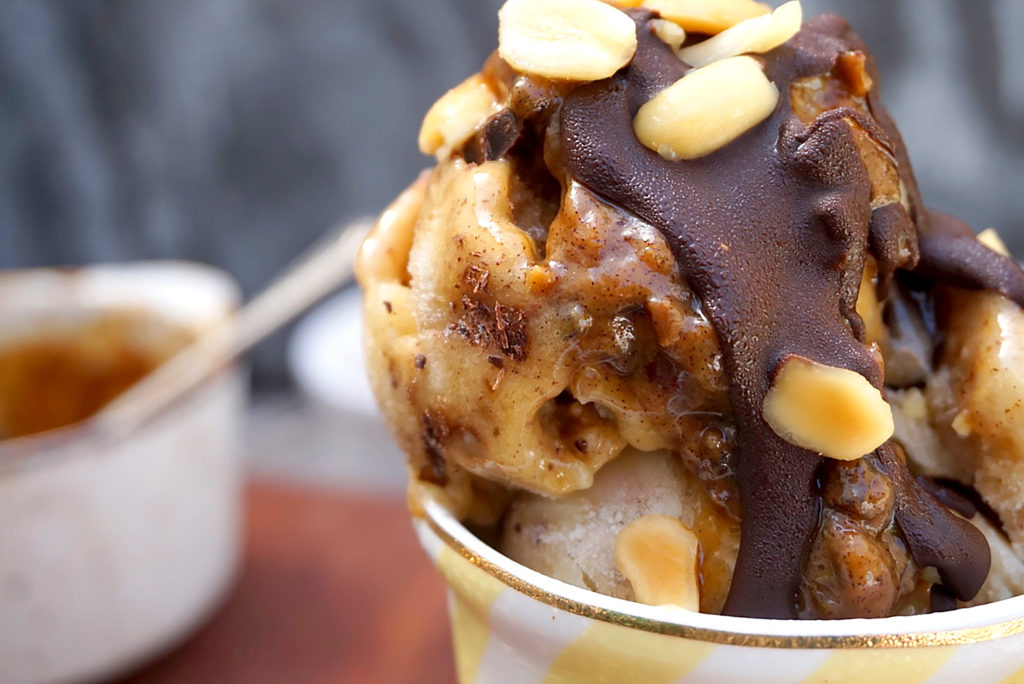 You see, I'm struggling because I want to produce a post that does this ice cream justice. I want to write something so beautifully written that it manages to describe the taste sensation that happens when you take your first lick.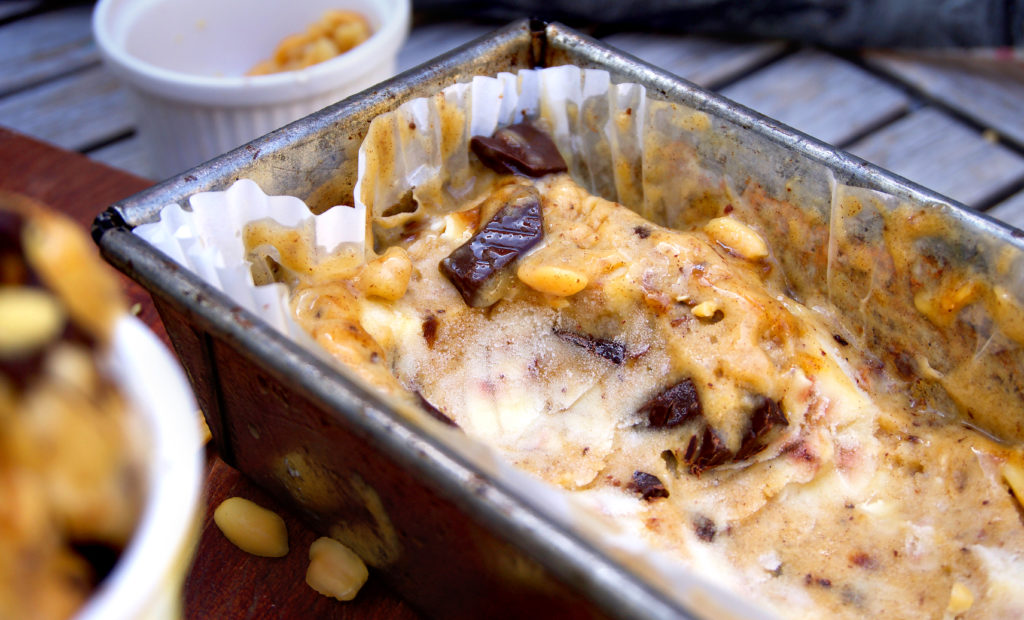 This ice cream isn't just your ordinary healthy banana styled ice cream that's floating around on the web now. No, no, no. It's so much more than that. This snickers ice cream is not only rich but it's deliciously satisfying with its thick and creamy waves of caramel running through it. But it doesn't just stop there… It also has a generous amount of crunch from the peanuts and chocolate chunks. I mean, I had to give Snickers a good run for their money, didn't I?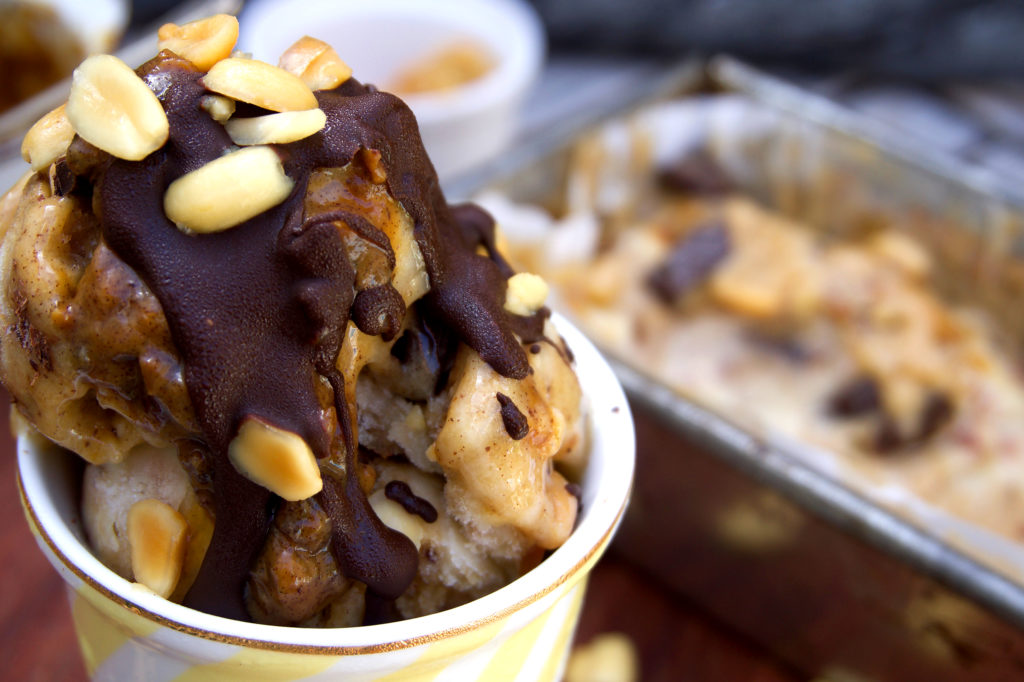 I really hope by now that you understand my style of writing and that I'm not in fact a witty, ego filled recipe creator. If from that last sentence you didn't understand my sarcasm then shall we just get straight back to the caramel talk? Yes, let's.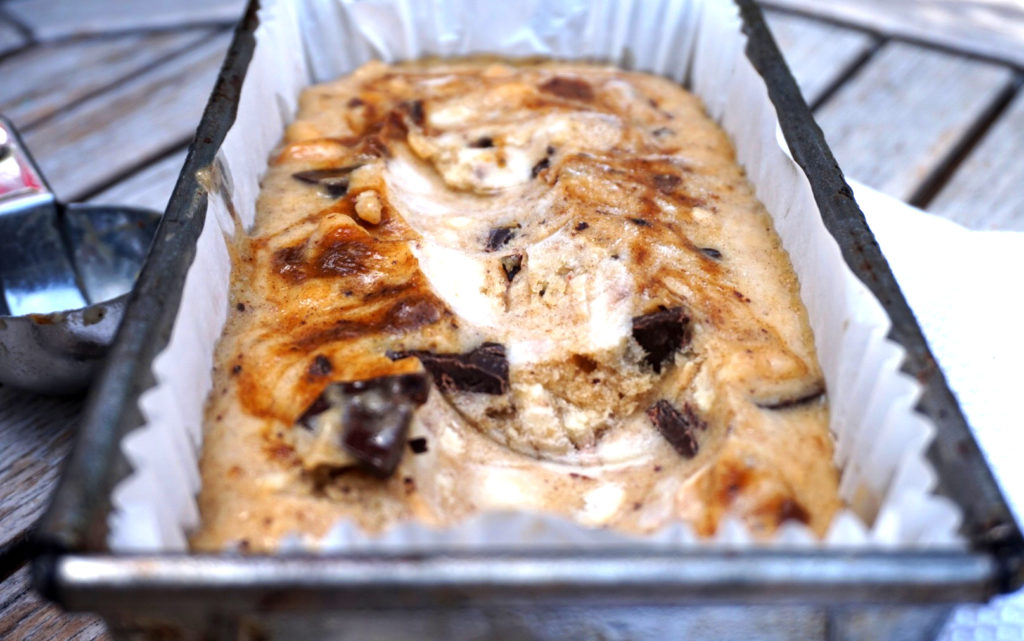 The caramel used in this recipe is not only refined sugar-free but it's stupidly easy to make and was first used in my Snicker Slab recipe (a very, very early recipe from the blog). I was after a caramel sauce that was thick in texture but incredibly rich in taste. This sauce does all of that and more.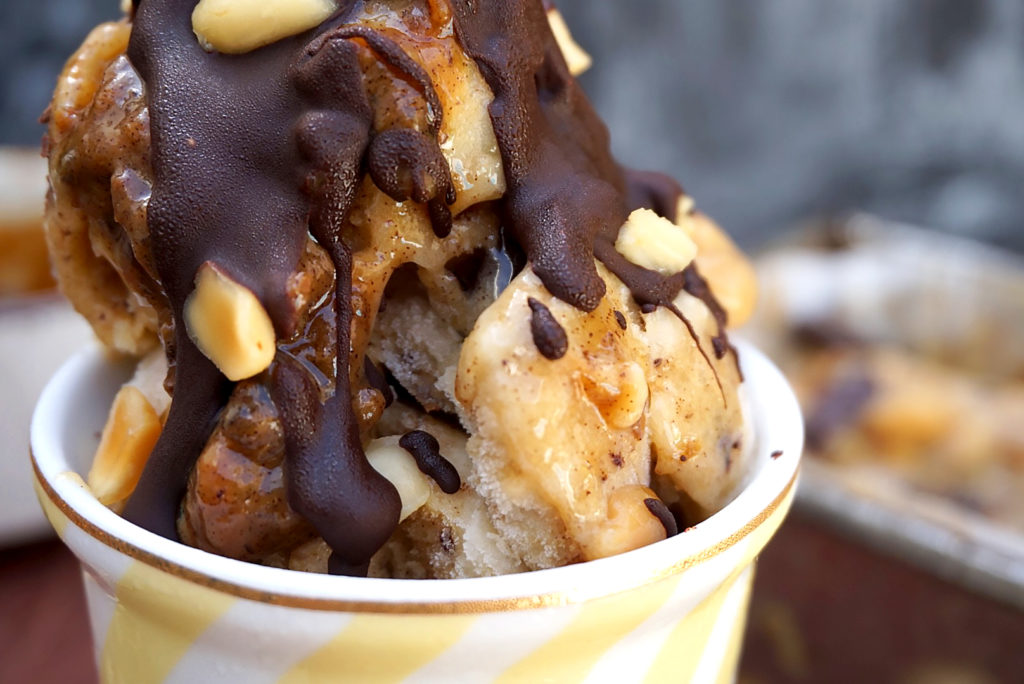 When developing my Snickers inspired ice cream I knew I wanted three things: Taste, crunch and food envy. I wanted people to look at my bowl of ice cream and think 'Damn, I need some of that'. Did I manage to do just that? You betcha but i'll let you be the judge of that.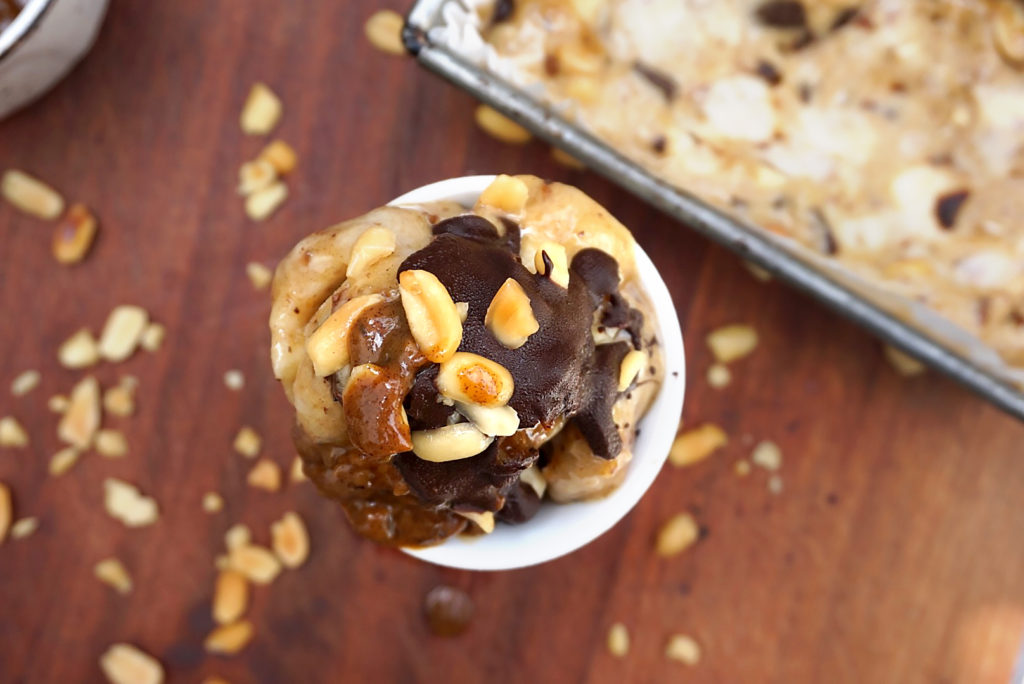 With the three main ingredients: peanuts, chocolate and caramel, it made perfect sense to name this ice cream recipe after one of my favourite chocolate bars, Snickers. I'll admit, I'm a sucker for anything with peanuts in it.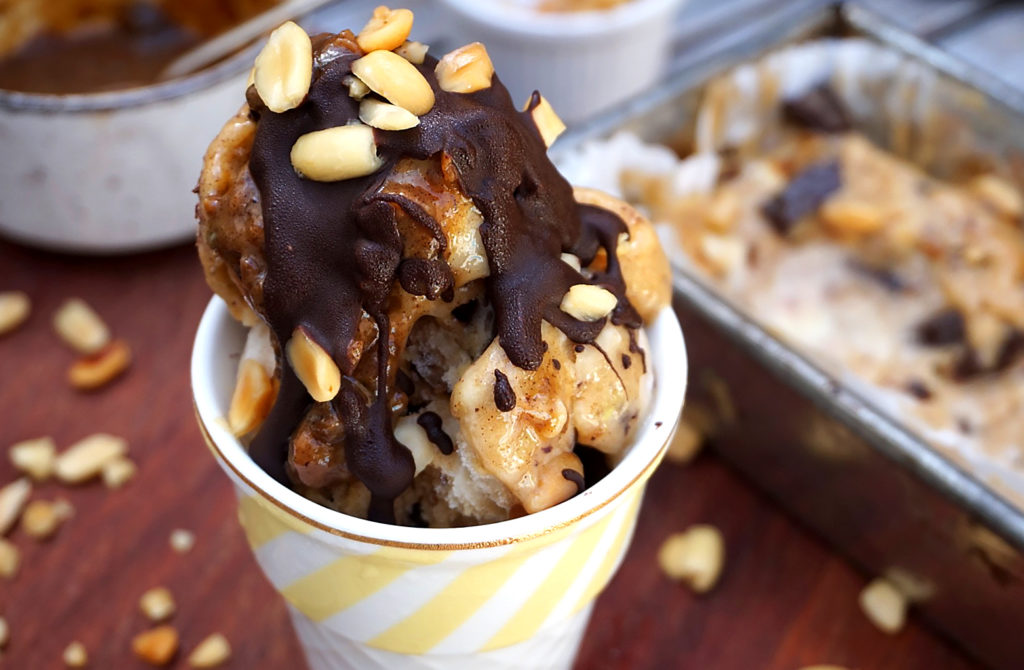 With all that said, when you dig your spoon into this chocolate and peanut filled ice cream which has a delicate swirl of caramel running through it, then you'll know that you have just entered a place called food heaven.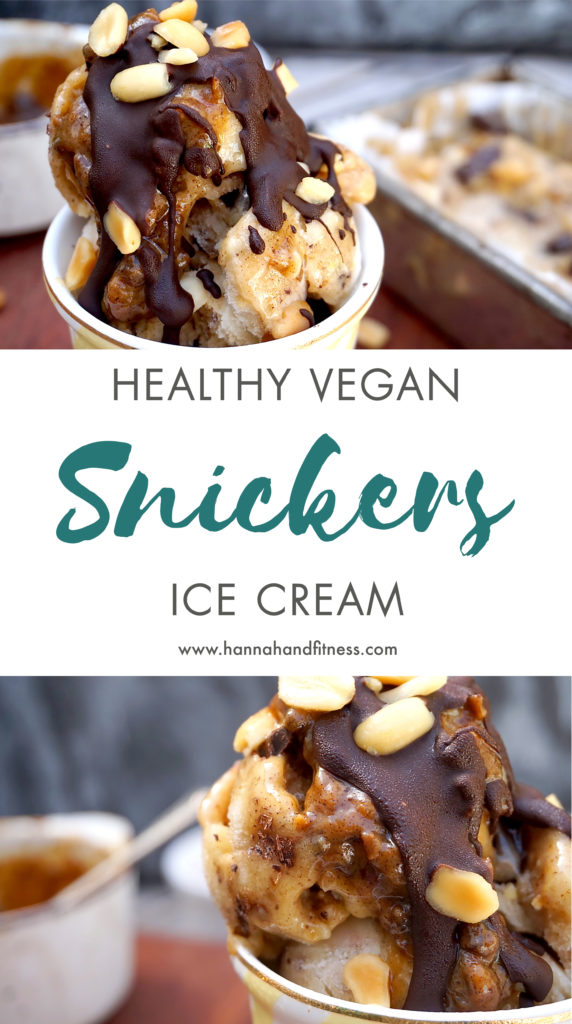 Healthy Vegan Snickers Ice Cream
Print This
Ingredients
4 large cut up frozen bananas

1 1/2 tsp vanilla extract

3 tbsp coconut sugar (I use The GroovyFood Company)

1 tsp xanthan gum

1 cup caramel sauce

100g roasted peanuts

6 squares 70% dark chocolate (cacao for non-dairy)

CARAMEL SAUCE

15 pitted dates

1/2 cup almond milk

1 tsp coconut sugar
Instructions
Begin by making your caramel sauce by heating a pan with almond milk and coconut sugar. Dice your dates up and add them to the pan. Cook on medium heat until you have a sauce like texture. Leave to the side and allow to cool (you can then pop it in the fridge whilst you make the ice-cream).
To make your ice cream, add your frozen bananas to a vitamix/blender and whizz until you have a smooth texture.
Add the vanilla extract, coconut sugar and xanthan gum to the banana mixture and mix again until everything is combined. Once mixed, add half of the chilled caramel sauce, 50g peanuts and 4 blocks of dark chocolate and with a spoon mix everything together. You will need to have caramel sauce, peanuts and dark chocolate left over for the topping.
Pour your ice cream mixture into a tin and place in the freezer to set. I left my ice cream for 4 hours to make sure it was completely frozen.
When your snickers ice cream is ready to serve, remove from the freezer and scoop out with an ice cream scoop. You can then top your ice cream with the remaining dark chocolate, peanuts and caramel sauce.
Enjoy and be prepared for all the 'oooh's' and 'ahhh's'.

 ,
x