After my most recent post 'Is you HIIT workout really a HIIT workout?' I quickly became aware to the fact that many people are casting a confusion between HIIT (High Intensisty Training) and TABATA. Yes, they're just as ridiculously intense as each other but trust me, they are in fact very different.  
What is 

TABATA

?
A lot of people are unaware of the fact that TABATA is actually an equation. It stands for: 20/10 x 8 = 4. I'll cut this down for you in fitness terms: 20 seconds of active exercise followed by 10 seconds of complete rest. You then repeat this for a total of 8 rounds which altogether results in 4 minutes of TABATA. Interesting, huh? 4 minutes may sound quick and easy but in that time you need to make sure that your body is pushed to it's absolute limits. Ya know, the 'gasping for air', cursing every second, kind of limits. 
TABATA first came from a Japanese Scientist, Izumi Tabata where he and his colleagues compared the data of moderate intensity training and high intensity training. For his six week long study, Izumi compared and evaluated two groups of speed-skating athletes. His first group of skaters trained at moderate intensity for one hour, five days a week over the course of the six weeks. His second group however took a completely different approach. Instead of dedicating one hour of their time each day like group one, they instead completed 4 minutes worth of high intensity workouts by doing 8 rounds of pure intense training – 20 seconds of exercise, 10 seconds of rest. Again, this was for five days a week over the course of six weeks. 
The result? Izumi found that group two who trained at a high intensity level saw increases in not only their aerobic capabilities but their anaerobic system too. Group one however, who trained at a moderate intensity did not improve their anaerobic performance. From this, the TABATA training method formed.
Are you doing 

TABATA

 the right way?
Originally TABATA was designed with only one exercise in mind. The idea was to pick one high intensity move, such as burpees and focus solely on that movement for the next 4 minutes. By the end of the workout you shouldn't be able to breathe, let alone have the energy to do more.
Today however, people are treating TABATA a little bit like HIIT or worse – cardio. If you find yourself working out longer than the suggested 4 minutes (let's say 15 minutes), picking exercises such as ab crunches and finding yourself dry to a T at the end of your workout… then damn, you're doing it wrong!
TABATA training is designed to test your body in ways you've never been tested. It's aimed to push you to your limits and stress your body under a short amount of time. Just like HIIT, TABATA is designed with intervals. When you're performing each active interval you're using up a lot of energy and because of this you need to dedicate your 10 seconds of rest to just that – rest. If, in-between intervals you're not resting properly then you're not allowing your body to acclimate over and over again between two very different states of cardio – high intensity and low intensity.
The benefits
Overall, the aim of TABATA is to use as many muscle groups as possible whilst using a greater work load in a short amount of time compared to traditional cardio. TABATA means you need to work above your lactate threshold which in turn means that your effort needs to be ridiculously intense. Hello sweaty!
Fat loss: The sound of TABATA may sound easy (I mean, it's 4 minutes, right?) but don't judge a book by it's cover. It's anything but easy. If done correctly (4 minutes a day, 5 times a week) then TABATA can be great for obliterating fat. TABATA training, for 4 minutes burns more calories per minute than traditional cardio. It also helps to improve bone mass density and increases your post-workout calorie burn (bonus) which in turn doubles your metabolic rate.
No excuses: No time to workout? How about 4 minutes a day? The great thing about TABATA is that if you're new to this fitness malarkey and you're slowly wanting to ease yourself into it then i'd say 4 minutes a day is pretty damn good. If however, you're an avid fitness goer wanting to include some kind of cardio into your fitness schedule, then TABATA could become your new best friend. Like I said, no excuses!
Increase Aerobic and Anaerobic levels: As we saw earlier, Izumi's study found that group two who trained at a high intensity level saw increases in not only their aerobic capabilities but their anaerobic system too. Aerobic capacity is the largest amount of oxygen your body can consume during exercising. Anaerobic capacity on the other hand, is the largest amount of energy your body can produce by burning carbs in the absence of oxygen. Pair this with TABATA training and your aerobic and anaerobic levels are sure to increase with it's intensity. 
The perfect 

TABATA

 workout
If you've tried TABATA before and found it challenging but not challenging enough to finish at the recommended 4 minutes then I suggest reverting back to the original TABATA workout. Yup, i'm telling you to pick just one exercise and stick with it. Trust me on this one.
Pick the most hated exercise in the fitness industry –  burpees (i'm giving you no choice here) and complete your TABATA workout for 20 seconds on, 10 seconds off for a total of 4 minutes (8 rounds). It sounds easy, in fact it sounds kind of a breeze but by the time you finish your eighth round you'll be cursing my name out loud. That my friend, is a true TABATA workout. 
However, dependant on your fitness levels you may need to turn it down a notch. Although the suggested TABATA workout typically call's for one exercise I however like to switch mine up every now and then. I know, I know, it's not exactly TABATA protocol but i'm all about making workouts work for me. If that means i'm still hitting the criteria of a TABATA workout (aka not being able to breath at the end of it) in those 4 minutes of hell then I say perfect.
To create the perfect TABATA workout you need to focus on one thing: Intensity. Ask yourself what exercises challenge you? Or better yet, what exercises do you hate? Personally, if I hate a workout then it must mean it's pretty challenging. Burpees? Yup, they're the devil.
So next time you hit up TABATA make sure you're putting yourself in for one heck of an intense ride. If you're in need of some inspiration then try one of my favourite TABATA workouts below. I've been sure to include all plyometric moves which exercises in which your muscles exert maximum force in short intervals of time, with the goal of speed strength. (Remember to pin it and save for later!)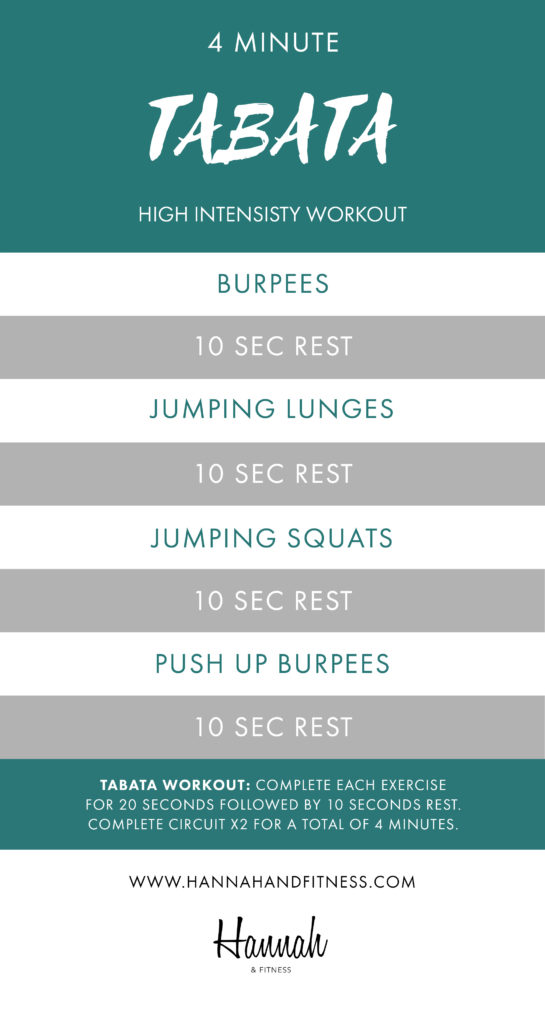 Want to know the difference between HIIT and TABATA then take a look at these two blog posts below.
Is Your HIIT Workout Really A HIIT Workout?
References: Study. I, Tabata. "Metabolic profile of high intensity intermittent exercises". Med Sci Sports Exerc. 1997 Mar;29(3):390-5.