I love sleep. You know why? Because it's like a time machine to breakfast – aka, my favourite meal of the day. I've never been one of those people who skip breakfast or go without thinking about food until 11am. Oh no no. 
I'm quite a creature of comfort actually when it comes to breakfast. Up until recently I've always had my go to breakfast – protein oats or pancakes. That was until I decided to experiment a little with my diet when I was hit by the big bad sugar tooth a month or so ago. Seriously guys, the sugar craving is real. Oh so real. So, I decided to start some of my days off with a savoury breakfast to help curb my sweet tooth and avoid afternoon sugar cravings.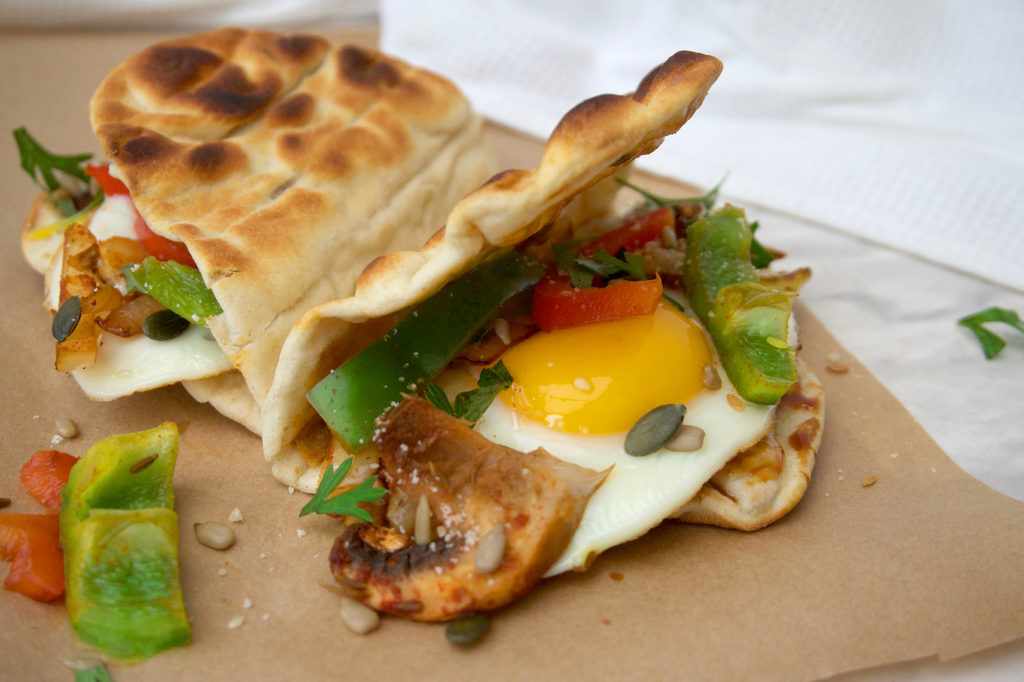 Besides my aubergine baked eggs recipe, I've been a huge fan of flatbread sandwiches for a nutritious and energy packed breakfast. So friends, all hail my new concoction – my marmite and smoked pepper breakfast flatbread recipe. Gah, what a mouthful but trust me, the flavours in this recipe is absolutely smoking. See what I did there?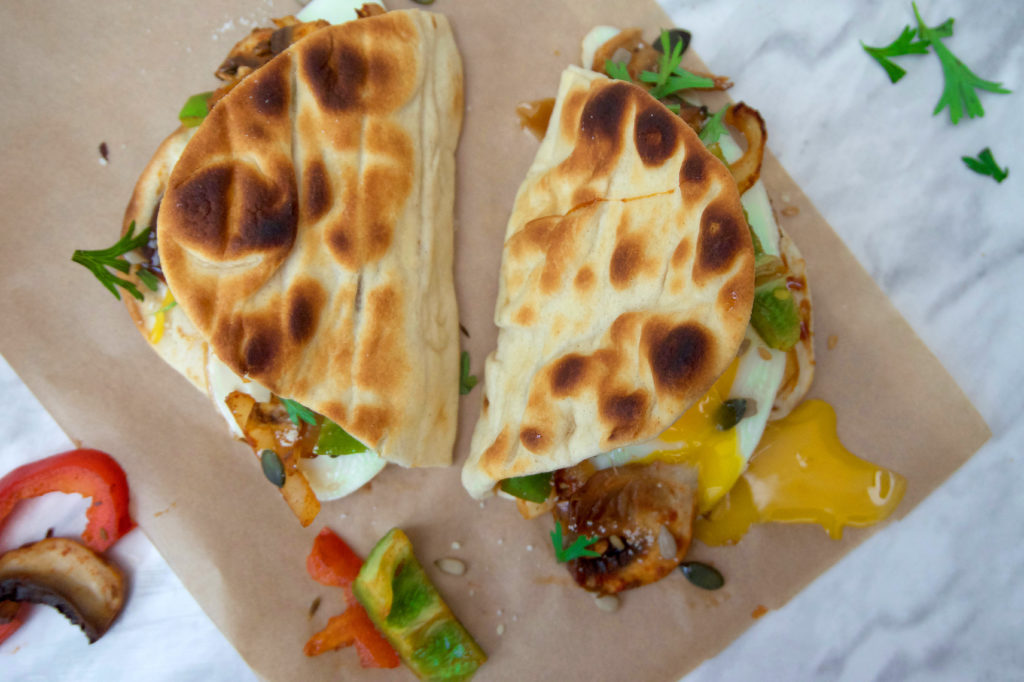 Now, whether you're a marmite lover or hater (there's no in-between, right?) this breakfast flatbread recipe is for you. If you're a lover then great, if you're a hater then simply switch out the marmite for a healthy spread or some avocado mixed with some black pepper to give the base some kick that it needs.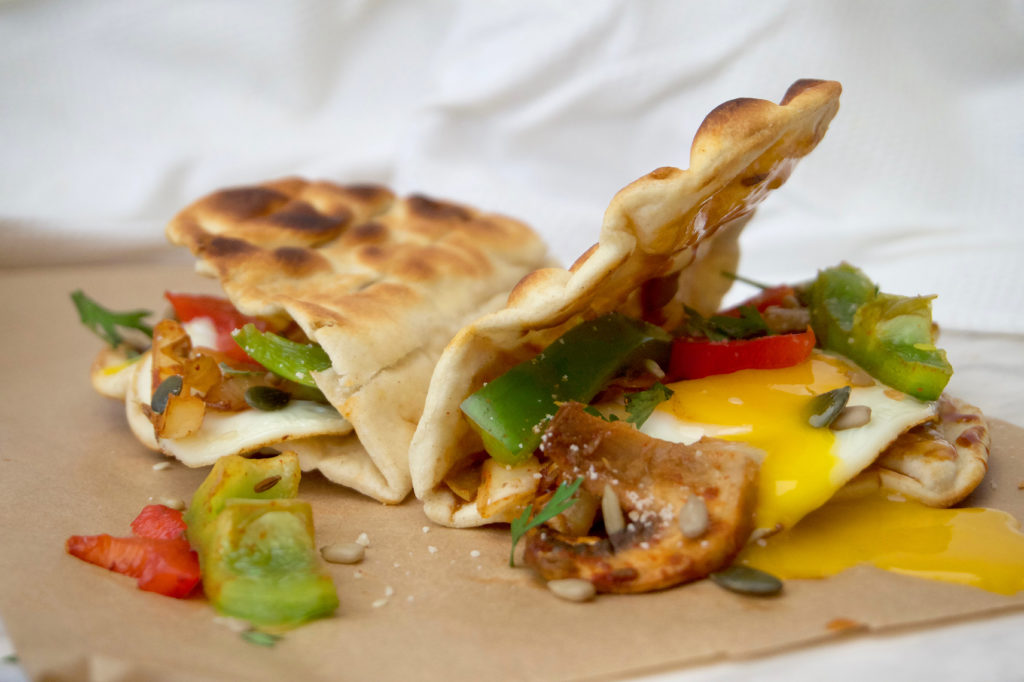 I've used my favourite wrap brand for this recipe, Deli Kitchen and have gone with their plain flatbread thin product – which by the way, turned out to be phenomenal. Yes, that's a big word to give a food product, but trust me. These flatbread thins – when toasted – remind me of a fluffy naan bread. They're light, low in fat and have a perfectly healthy amount of carbs for a breakfast meal – perfect for starting your day.  However, it's the texture and fluffiness of these flatbread thins that gives them that 'mmm' factor. So pair that with the flavours from the marmite, the smokey spice from the peppers and the creamy yolk from the egg and you'll find that it is indeed, pretty phenomenal.
This recipe is simple, quick to prepare and can be made in preparation for the week ahead. If you're after something a little different than your usual go to breakfast then try this and I bet ya bottom dollar that you won't regret it.
Pin this recipe for later…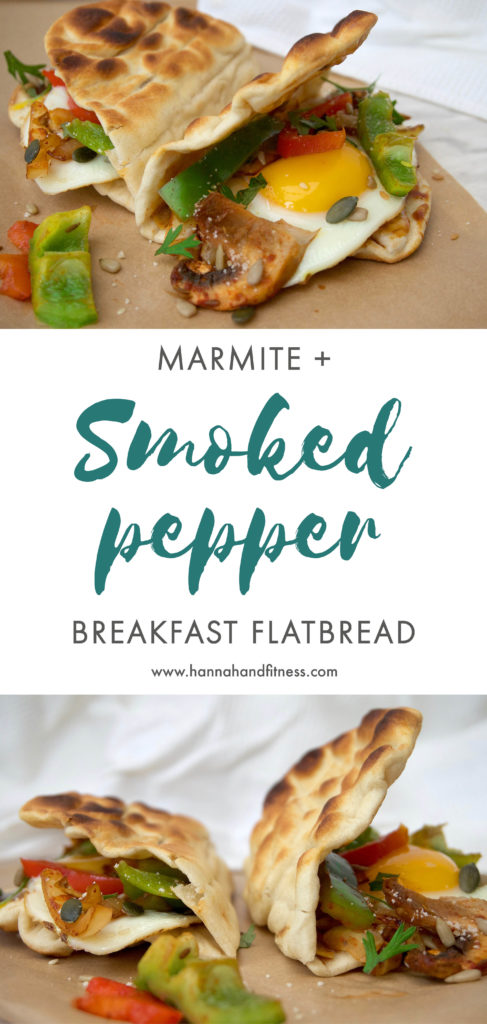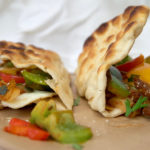 Print This
Ingredients
2 plain Deli Kitchen flatbreads

1 bell pepper/1 cup peppers

Half an onion

1 large mushrooms - sliced

1 tsp paprika

1/2 tsp chilli powder

1 tsp cumin seeds

Marmite for spreading

2 eggs

1 tsp coconut oil for frying

Parsley for topping

Salt and pepper
Instructions
In a pan, add your coconut oil and heat on high until hot. Add in your peppers, onion and mushrooms and fry until golden. Once golden, add the spices and fry for a few minutes longer. Remove from the pan and place in a separate bowl.
Crack both of your eggs in the heated pan (I use a non stick pan) and fry on medium heat until the eggs white's are no longer runny to touch. Whilst your eggs are cooking, place both of your flatbreads in the toaster and heat until you reach a desired toasting level. I usually use setting 3 for flatbreads. Once toasted, remove from the toaster and spread marmite on one side of both flatbreads. Place an egg in each, and top with the peppers, onions, mushrooms and a few fresh parsley leaves. I then sprinkled each flatbread with some pepper and salt to finish off and closed up the flatbread to make a sandwich.
Serve up and enjoy!

,
x