And i'm back! 
Apologises for my absence  last week but I was actually soaking up the sun in Kolymbia, Rhodes and my oh my was it blimmin' beautiful! I stayed in the beautiful Sensimar Atlantica Imperial hotel and was treated like a true princess (this post isn't sponsored AT ALL). Firstly, we were upgraded to a swim up room which was incredible and then the hotel turned out to be more than we ever expected. The food was amazing. The drinks were unlimited. The sun stuck around the whole time and the scenery was breath taking – we were surrounded by the hills and mountains of Kolymbia. All in all it's safe to say that seven days was not enough!
As well as holidaying, my website was down for a day for it's re-development (if you haven't noticed already). Now that it's up i'm so happy to say that I'm in love with the design! It's fresh, it's clean and it's so much more professional then my previous little blog. My baby is all grown up now.
Never in a million years did I think at the beginning of 2016 (the start of my blog) that I would need to transfer my blogs domain to a new host for more benefits and possibilities, let alone go under a whole new transformation!
Anyway, now that holiday mode is over it's (unfortunately) time to get back to reality and this week i'm coming at you with a guest blog post from Luke Douglas who recently wrote for my blog  with his post, 4 practical tips and how to reduce weight for summer.
This time Luke will be sharing his 5 tips for taking fitness outside…


Why should you work out outside?
If you're not convinced that working out outside will benefit you, you'll change your mind after hearing that it comes with several benefits. Apart from spending more time working out, being in nature can lower the blood pressure, increase the cancer-fighting cells due to the inhalation of compounds from plants and improve your mental health. In addition, working out outdoors is definitely more fun and, thus, stimulating, and it can increase your savings.

Take a walk
If you want to take things slow, you can start with walking. It will help you become generally more active and eventually you can start running. To make it more fun, you can always ask a friend to join you and enjoy a beautiful day outside. In addition, avoid taking a bus when going somewhere, especially if it's a short distance away.
Start running
If you really want to get fit, then cardio should definitely be a part of your workout routine. Running is a great way to get yourself to break a sweat, especially if you start running uphill. However, if you feel that you aren't really in shape, then you can start with jogging, or running short distance. To spice things up, vary your routine – hills, beaches or parks all come with a unique natural vibe.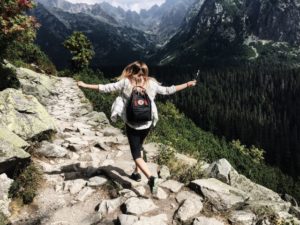 Go hiking
If you want to explore a nearby region, then put on your backpack and take a hike. Not only will you explore natural beauties, but you'll also build your muscles and increase your strength. To make hiking more intense, you can add some extra weight to you backpack. If you're ready for an adventure, then you can try some of the most challenging hiking trails in the world. You can explore the world's most beautiful regions, but make sure that you're in shape because some of them can be really dangerous.

Practice yoga
Yoga is a perfect way to create a balance between your body and mind while simultaneously reconnecting with nature. You can find your inner peace, relieve stress and improve your fitness. Yoga offers a lot of benefits, including better flexibility, increased muscle strength, weight loss, cardio and circulatory health, improved respiration, etc. If you haven't practiced yoga before, you can easily find classes to join. The important thing is that you take advantage of the beautiful weather conditions and practice it outside. Whether you'll go to a park, nearby forest or by the river, you'll notice how relaxing and satisfying practicing yoga outdoors can be.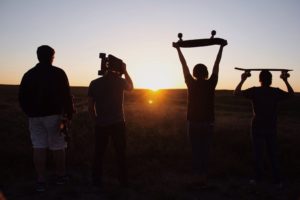 Ride a skateboard
If you want to have fun, acquire new skills and improve your fitness, then why not learn to ride a skateboard? Skateboarding actually comes with a fair share of health benefits that will get you in shape before you know it. This fun activity can help you increase your physical endurance because, once you start skateboarding, you'll hit the streets every single day. While skateboarding, you'll engage almost every muscle in your body, increasing your flexibility, burning calories and improving your overall fitness. There's a range of fun skateboarding tricks that you can learn and that will gradually enhance your precision. Finally, you'll boost your pain tolerance – you'll fall, trip and bruise, but you'll get up every time and try again. Skateboarding has definitely made a comeback, so wait no more and head to an online skate shop and then hit the streets. Not only will you get in shape, but you'll also have fun doing it.
Overall, working out in nature will give you more energy and inspiration, so break out from your old routine and head outside. Whether you run, hike or skateboard, getting fit was never easier.
Images resources – pexels.com