Last weekend I stirred up quite a storm on my Instagram and Snapchat. I baked the best banana bread and I didn't share the recipe. Whoah. Jee. Hold your horses. I did what?
Don't get me wrong… I had all intention of sharing the recipe with you guys but I missed the daylight photography window last Sunday (to get some good pictures) and truth is, my family and I just couldn't control ourselves. We just had to eat that banana bread! So, come Monday morning all that was left was a mere crumb – barely any evidence that I had in fact baked a banana bread the night before! Yeah, sorry about that.
The recipe itself was inspired and altered from CookieandKate's healthy banana bread recipe. As soon as I saw Kate's recipe I knew I had to get my baking head on!
This banana bread could practically be the doppelgänger of the classic. It's light, it's airy, it's moist, and the sweet flavour of the banana is incredible. Although, this isn't quite like the original recipe. Nope, it's 10x more healthy and there isn't one bad ingredient. Therefore, there's no excuse not to try it and you want to know the best thing? Nobody will be able tell that this recipe is indeed, healthy. Words from my mother "How much sugar is in this? It's too good – it must be bad!" My friend, I think we have a winner.
This recipe is easily adaptable so if you're not a fan of wholemeal then simply replace it with more oat flour. Or, you could sub the oat for all wholemeal which is my favourite option. Sure, it's not as healthy as oat flour but it creates more of a nutty/grainy flavour. Whatever you do… Just make sure you try this recipe and while you're at it – send me some more in the post. I can't get enough of this stuff.


Ingredients
50g Melted coconut oil (I use NaturalEmpire's oil)
85g Oat flour (just whizz some oats up!)
160g Wholemeal flour
270g Mashed banana (with lots of spots)
1 Banana for topping (optional)
190g Sweet Freedom fruit syrup
2 Eggs
1 tsp Baking powder
3/4 tsp Cinnamon
Pinch Nutmeg
1/4 tsp Salt
80g Almond milk
Method
Begin by pre heating your oven to gas mark 3 and line a bread tin with parchment paper.
In a bowl beat together the eggs and milk. Once done, add the coconut oil, fruit syrup and mashed banana and whizz all together.
Once the mixture has been well combined (some lumps will occur) add the salt, cinnamon and baking powder and whizz together. Now, add both the flours and gently hand stir with a spoon until everything is combined.
With the mixture done you can now spoon it into the tin, making sure you leave a little mixture so you have the bowl to lick clean. I mean, it would be rude not to – right?
If you're topping the bread with a banana then slit the banana in half and gently pop on top (pictured above) and sprinkle with some cinnamon.
Finally, place the tin in the centre of the oven to bake for 60-70 minutes. I've tried this recipe two times now and both the cooking times have varied so make sure you keep an eye on it!
Make sure the bread is fully baked by inserting a knife into the middle of the bread. If it comes out clean then it's done. If not, back in it goes! Although, once it is cooked remove from the oven and leave to cool in it's tin for 10 minutes and then remove and allow to cool further.
I keep my bread in a sealed box for a few days and then pop it in the fridge. It will last for almost a week so it's a great idea for snacking on during the week – or demolishing in a whole day. But you didn't hear that from me.
I WANT to see you all trying this recipe so leave a comment, tag me on Instagram (@hannahandfitness) or repost your bake. I know you will just absolutely love this recipe – so try it and thank me later!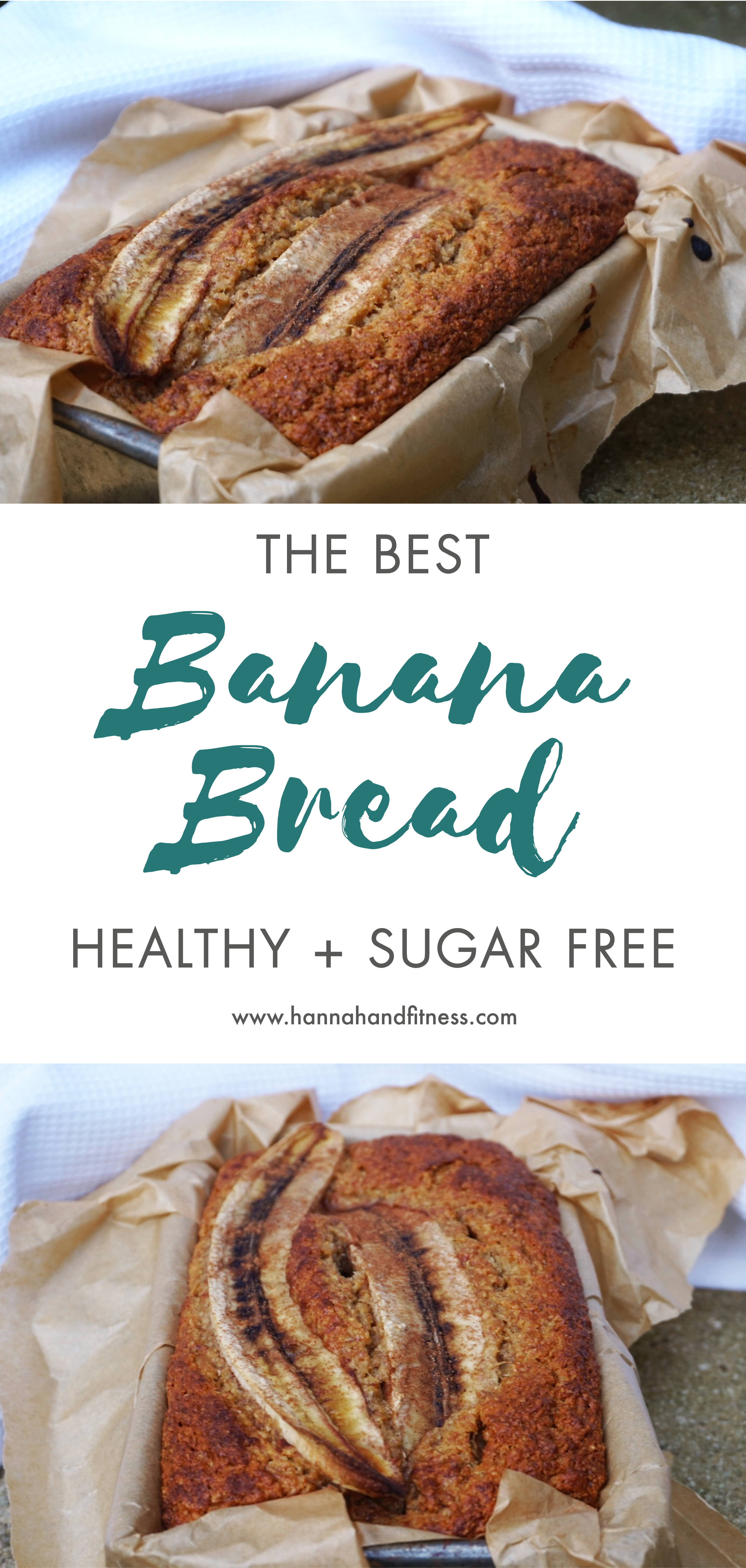 Again, a big thanks to CookieandKate's Healthy Banana Bread recipe for the inspiration!
 ,
x