Thursday 20th April I was given the opportunity to attend an exclusive event with Tefal. The event itself was presented by The Only Way Is Essex Star, Frankie Essex and focused on creating healthy recipes with their product, the Actifry smart XL.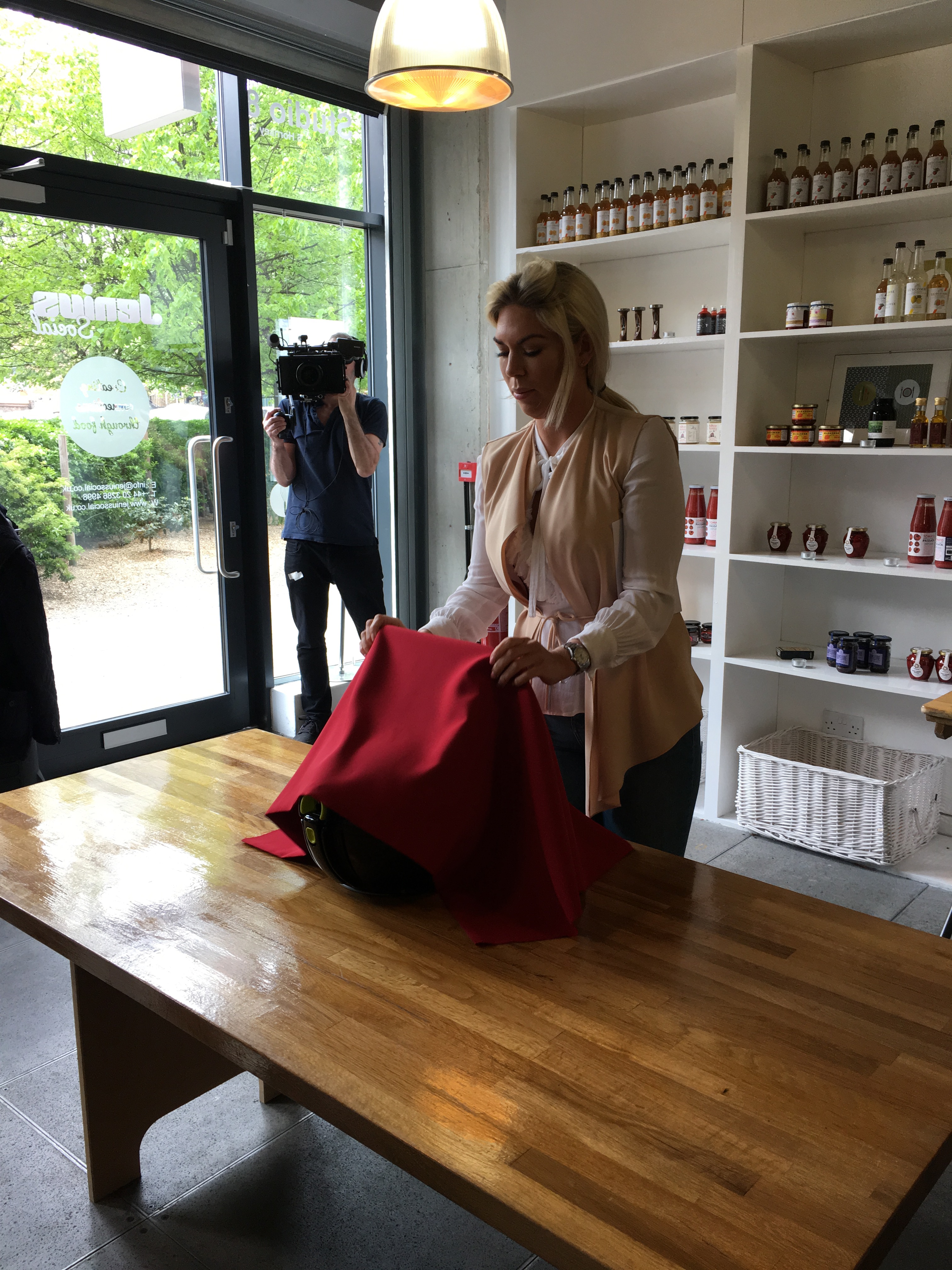 The Actifry is the UK's leading low-fat fryer brand, offering a healthier way to fry your favourite foods. You only need to use a max of 1 tbsp of oil to make tasty and delicious meals. Best yet? Their crispy chips only have 3% fat! Compare that to your normal fried chips and woooahh.
The activfry itself has an automatic timing system (you literally press the minutes you want and press go), temperature control and stirring, for amazing cooking results. Plus, it's easy to clean and dishwasher safe – bonus!
Not only this but the Actifry smart XL has bluetooth so you can send hundreds of easy recipes and smart new cooking modes straight to your fryer from your phone. How cool is that?
During the event I paired with another blogger named Heidi and together we cooked up the Sesame Salmon recipe.  I say 'cooked' but what I really mean is we chucked all the pre-prepared ingredients into the Actifry, turned it on and away it went. In 9 minutes (including heating up the Actifry) our salmon was cooked, crisp and smelling delicious.
I'll admit, we were a little cheeky and had a pre taster before it was taken to the tables for lunchtime but my wholly, the salmon tasted amazing – and no I'm not saying that because I made it! I feared the salmon would flake up and break away during the cooking process as the Actifry rotates the food around in a circle whilst cooking however, the salmon remained diced up and crisped in it's diced form. The taste, the smell and the texture was mouth watering. All for less calories and less fat than your usual creation with a normal fryer.
I'll be honest, out of all the other recipes created during the event my favourite was the sesame Salmon – with the chicken tikka coming up in second place. I just loved how the dish tasted the exact same as your typical takeaway dish – yet so much better for you! In my eyes, the product is a great and it will definitely become a staple in my kitchen. If you're looking for a way to cook your favourite meals but in a healthier way then this is your new friend, trust me.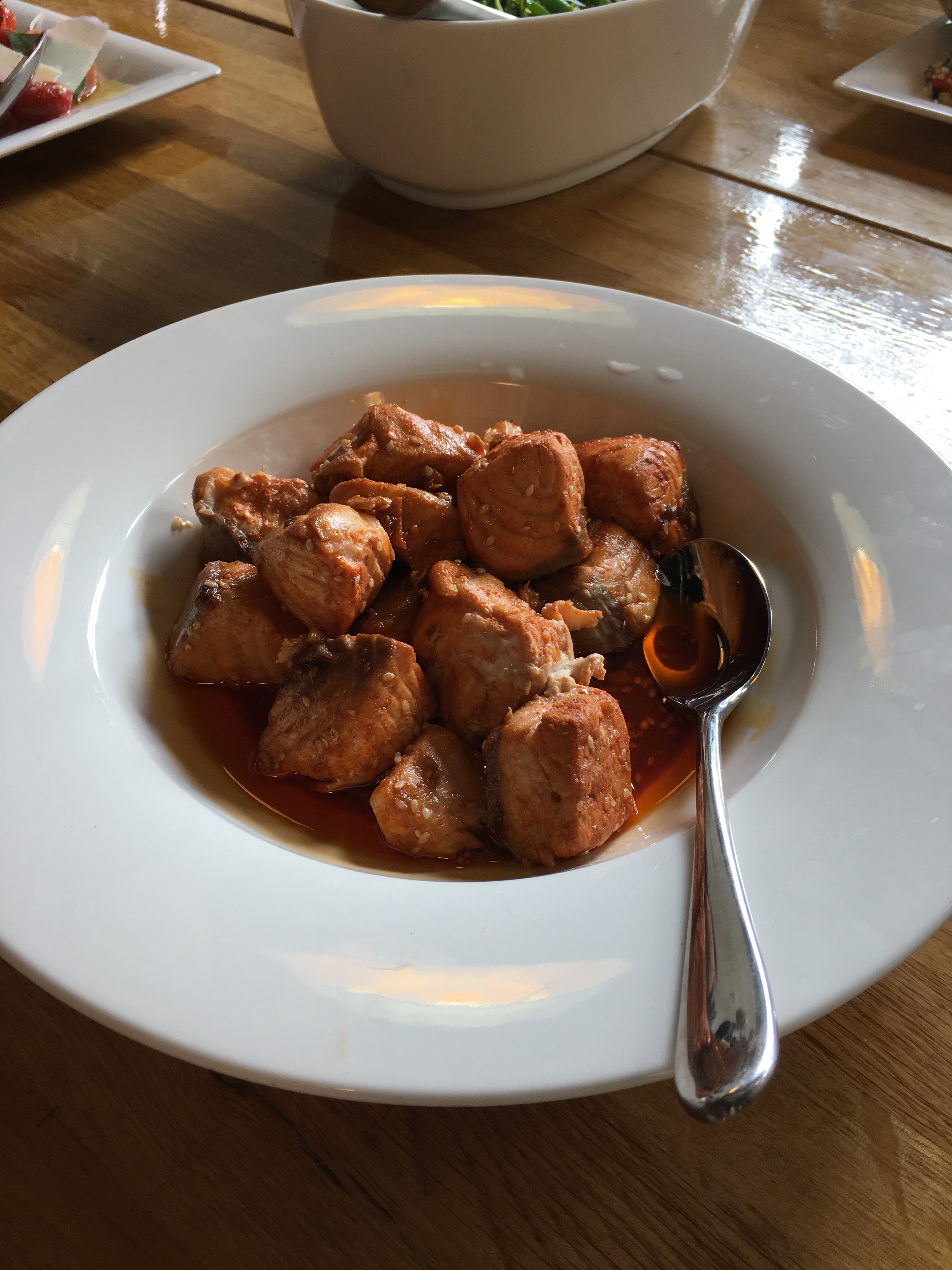 After the event I was kindly delievered my own Actifry and I've been experimenting with it ever since! First up were some homemade sweet potato chips…
Whilst this recipe isn't on the Tefal app, you can still find another version of homemade white potato chips. However, with my love for sweet potato fries I was determined to make my very own version that would be just as crispy and crunchy as the restaurant kind.
These fries are not only healthy with only 1 tsp of olive oil but they're full of incredibly flavour (not too spicy) and have got that perfect crunch.
Top with some spring onions and salsa and you've got the perfect side dish for any dinner time meal.
Serves 1-2
Ingredients 
1 large sweet potato (cut up into chips)
1 tsp chilli powder
1/2 tsp cayenne powder
1/4 ground pepper
Pinch Salt
1 tsp Olive oil (or 1 tbsp for extra crisp)
Method
Using the ActiFry 
Pre-heat your ActiFry by running the fryer for 2 minutes with your olive oil.
After this, simply add all your ingredients into the fryer allow the ActiFry to work its magic for 20 minutes.
Using a pan/skillet
Begin by pre-heating your pan with olive oil.
Add the spices and cook for a few minutes. Add the sweet potato and fry for 15-20 minutes on low/medium heat. Remember to shuffle and toss throughout.
Serve up in a bowl and top with your favourites. I chose spring onion and salsa for mine. A perfect Mexican inspired dish!
,
x