With pancake day just around the corner (February 13th – you're welcome) I thought it would be rude not to start whipping up unacceptable amounts of pancakes and these 4 ingredient protein pancakes of buckwheat banana and blueberry are my latest breakfast/snack obsession. Please tell me I'm not the only one to whip up a stack to snack on throughout the day?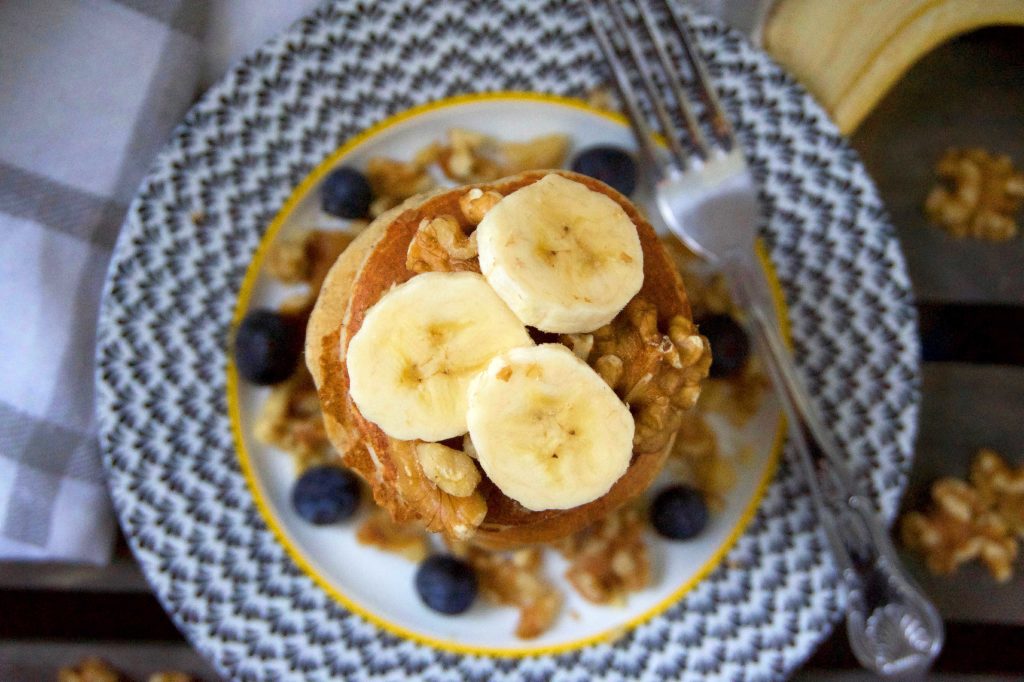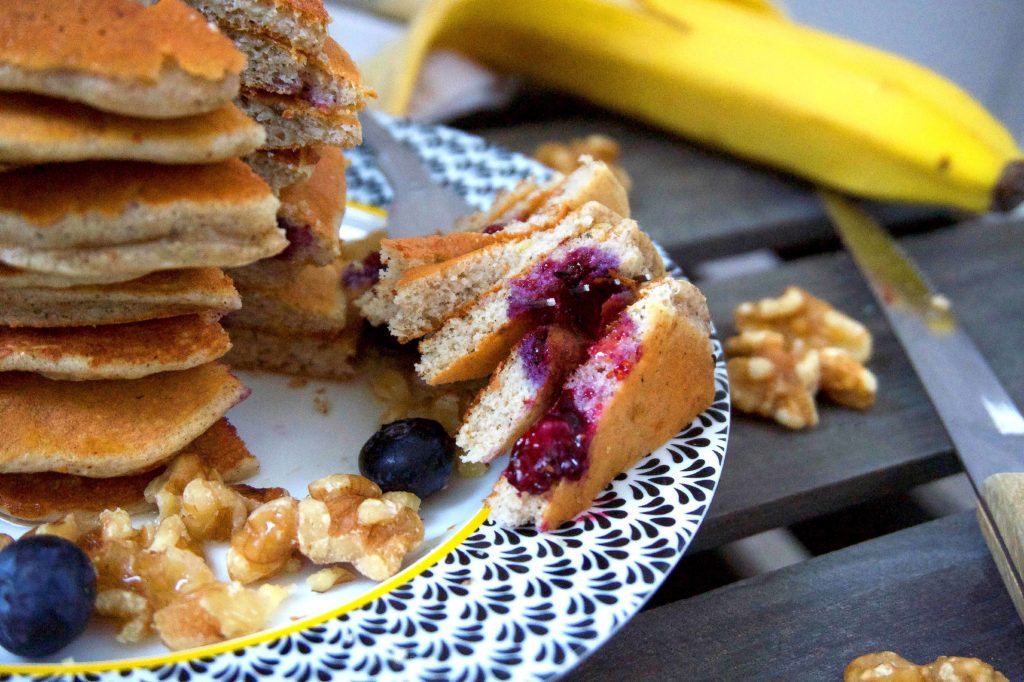 This recipe is adapted from my extremely popular, fat& fluffy healthy pancake recipe and boy, has it been a while! I've definitely missed flipping up some good ol' pancakes. The best thing about this recipe, though? It's a single serve recipe so yes my friends, that entire stack is yours and heck, is it big! I won't begin to tell you how many times I had to re-arrange the leaning tower of Pisa pancakes when it came to photographing.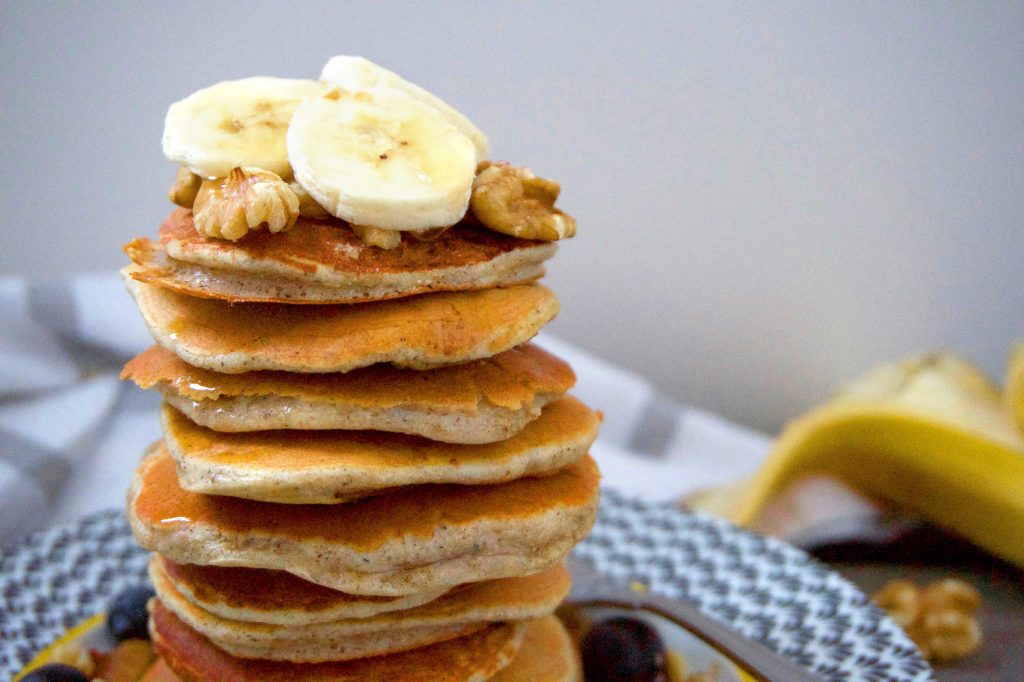 When it comes to baking with buckwheat many people often question it's use and flavour. Buckwheat, a gluten and grain free relative of rhubarb, has a delicate and very slight nutty flavour that works amazingly well in your baked goods. In fact, buckwheat is a lot healthier than people think and it may just be one of the healthiest foods you're missing out on! Say wha? Buckwheat is packed with incredible health benefits such as, having a high trace of B vitamins: B6, pantothenic acid, niacin, folate, thiamin and choline. Plus, this little seed is full of resistant fibre which helps to lower blood sugar after meals, help weight loss, reduce food cravings and improve diabetes. The perfect way to start the day? I think so!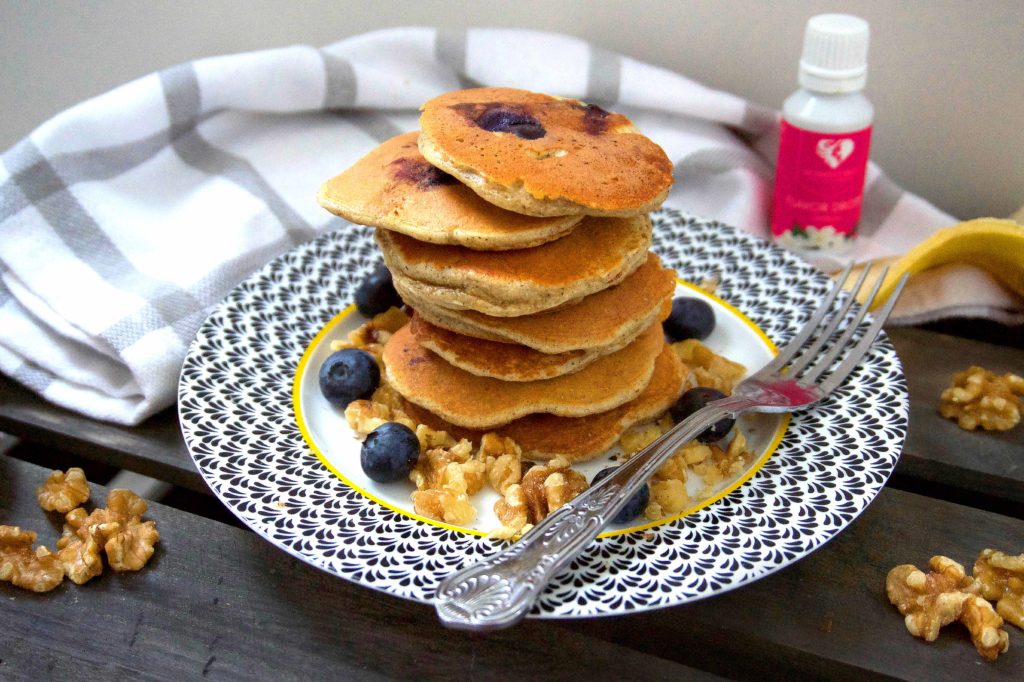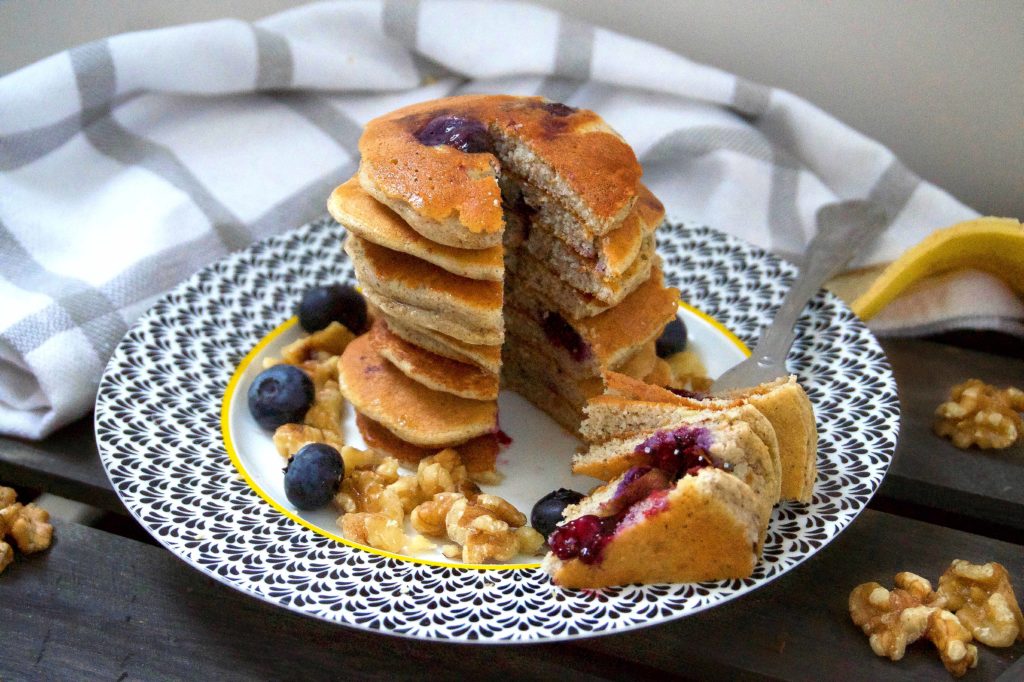 Planning this recipe wasn't easy. I was stuck between a ridiculously indulgent (yet still healthy) chocolatey and peanut buttery type of pancake or a pancake that was light, fluffy and full of subtle flavours. The buckwheat, banana and blueberry pancakes won of course, and truth be told, I'm kind of glad that they did!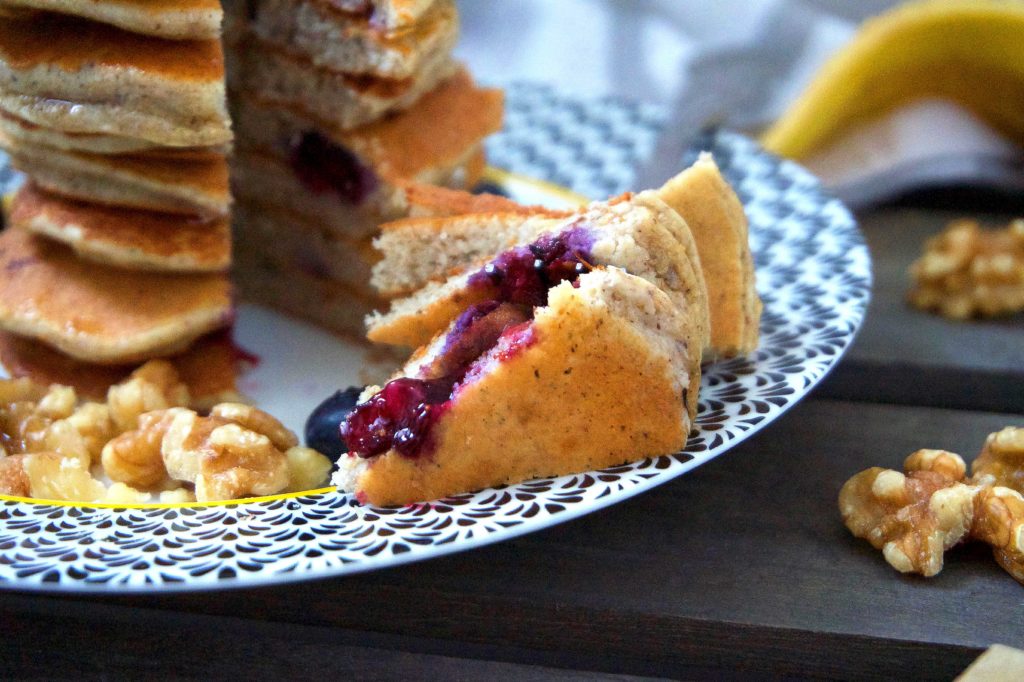 These 4 ingredient protein pancakes are everything I wanted them to be. They're creamy, light, fluffy and boast a delicate and subtle nutty flavour throughout with a burst of blueberry every now and then. On top of that, these pancakes are 100% healthy as they're free from refined sugar, as I've only sweetened the recipe by using the natural sweetness from the banana, vanilla drops and creamy protein powder.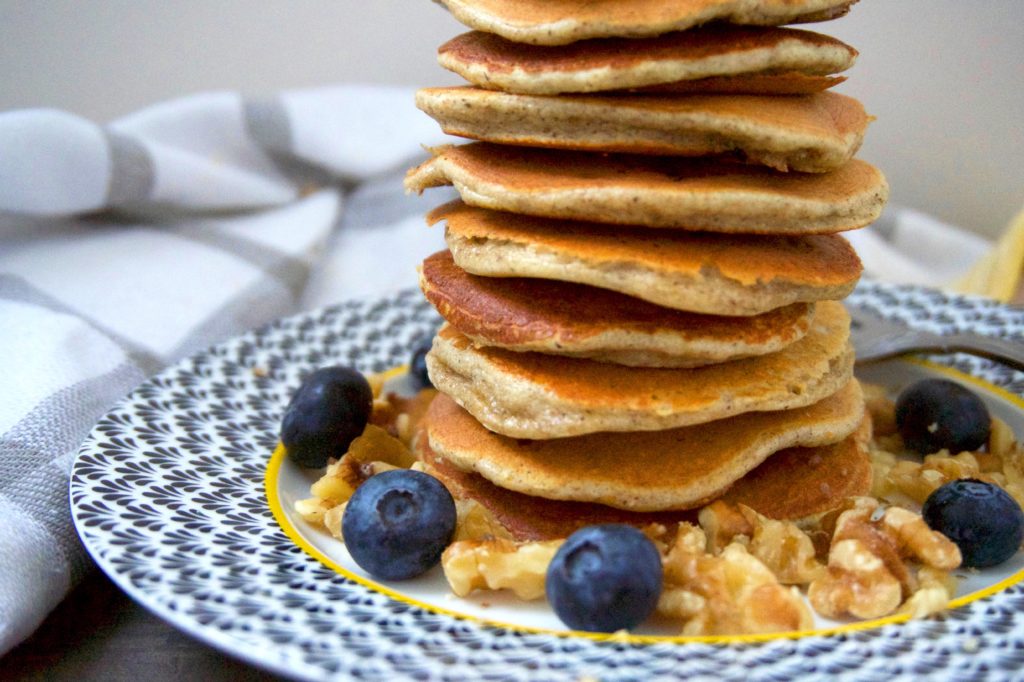 A great thing I love about this recipe is that it's so adaptable. If you're not a fan of buckwheat then simply replace it with oat or almond flour. Trust me though, the buckwheat really does bring out the flavour in these pancakes. Also, if you're crazy enough not to like banana then simply swap it out for homemade apple sauce (or store brought – but be careful of the sugar levels). See notes for all that extra jazz.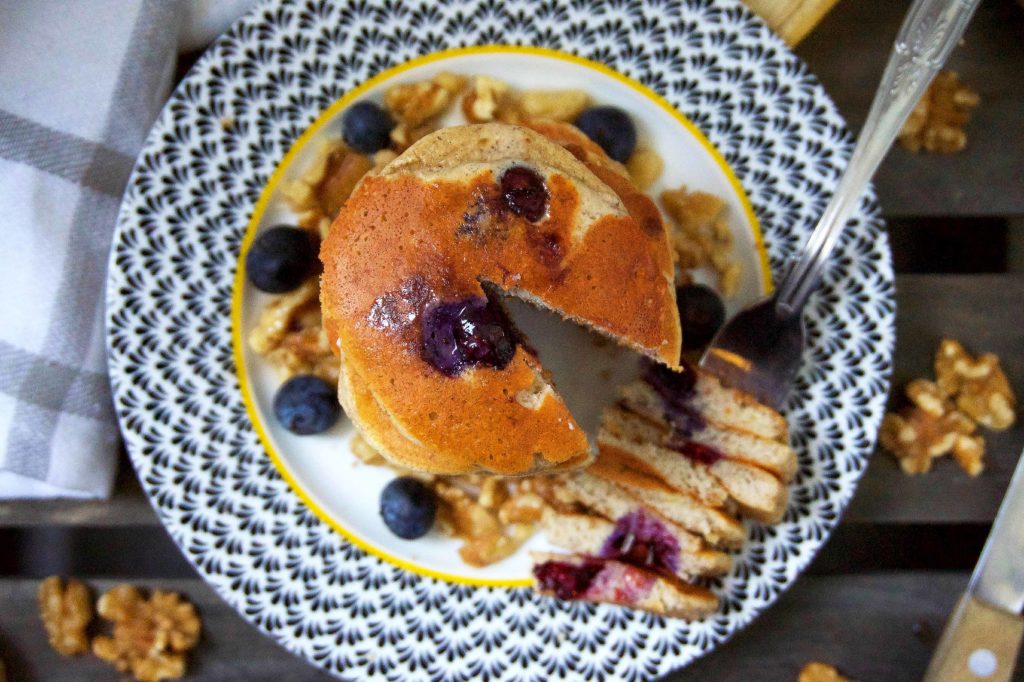 All you need are 4 main ingredients – excluding the toppings because they're completely optional but totally recommend – a bowl, pan and a good ol' flipping hand.
And lastly… my top tip for cooking lovely, golden brown and extremely fluffy pancakes? Heat the pan with plenty of coconut oil, knock the oven knob back to medium heat, pour a tbsp of pancake mixture and continue to cook on medium heat for both sides. Soon as the bubbles start to form, you flip! Rinse and repeat until you have a beautiful stack of protein pancakes and keep them on low in the oven until the rest of the mixture is flipped up!
4 Ingredient Protein Pancakes - Buckwheat, Banana and Blueberry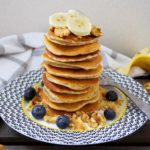 Print This
Ingredients
- 1 sliced banana

- 30g buckwheat flour

- 20g WHEY unflavoured protein powder (unflavoured or vanilla - if using vanilla then skip the extract)

- 2 eggs

- OPTIONAL: 1/2 drops Women's Best vanilla drops (or 1/2 tsp vanilla extract)

- OPTIONAL TOPPINGS: 1 cup blueberries, 1/4 cup crushed walnuts and a few banana coins.
Instructions
In a bowl whisk together your eggs until foamy. Add the sliced banana and mix the egg and banana together until you have almost no banana lumps.
Add the flour and protein powder and whisk everything together once again. If using drops or extract then add this in now.
Heat a frying pan with a tsp of coconut oil and make sure that the entire pan is well greased with a tissue. Using a tbsp, add a dollop of pancake mixture to the pan and then add a few blueberries on top of the pancake (I use 2/3) and cook on medium heat until bubbles start to appear and then quickly flip. Cook for another minute or two on the other side and then repeat this process until you've used up all your pancake mixture.
I keep my pancakes in the oven on a warm plate whilst cooking the rest of my pancakes. Once done, stack your pancakes high and top with banana, crushed walnuts and a little syrup.
Enjoy!

,
x
Notes
SUBSTITUTIONS 30g buckwheat flour for: 30g almond flour or 30g oats 1 banana: 1/2 cup homemade apple sauce (or shop brought)
Pin this recipe to save for later…