Ok, so i'm going to admit something i'm not exactly proud of: I'm absolutely stinking awful at foam rolling – pre and post workout.
There I said. What kind of fitness blogger am I? I mean, do I even fitspo? 
However, the past month or two i've been making it my mission in life (seriously) to get in a good foam roll session – every.single.day. Do I enjoy it? Nope. Do I despise it? Absolutely. Again, do I even fitspo? But, a girls gotta do what a girls gotta do and alas, that means stretching and foam rolling daily to keep my muscles in tack and to help prevent injury.
Foam rolling
Foam rolling is also known as self-myofascial release and is used by millions – from professional athletes to people like you and me. The fancy term, self-myofascial release basically means self-massage and we all know the purpose of a massage, right? To release muscle tightness and/or knots. Of course, the self-massage comes from your trusty old friend, the foam roller and is used by applying specific parts of your body on the foam roller to release tightness and tension.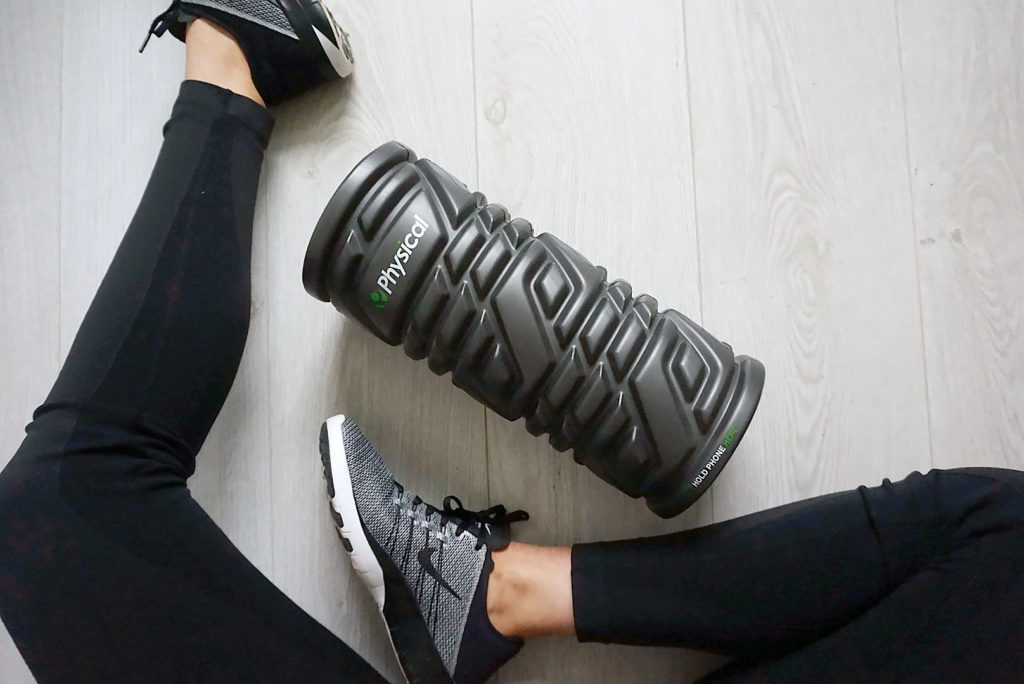 Tightness and tension
Tightness and tension (tension also known as 'knots')  are important to take care of if you're a physically active person in general. Lot's of people associate foam rolling with fitness and those who are physically active day to day, however I couldn't disagree more. Yes sally, you should look after your body still, despite having a desk job. 
I'll be honest with you all though… foam rolling can hurt. Actually, scrap that. It can be a hell of a b*tch at times. That's usually because you're foam rolling over certain areas of your body that have knots – AKA, trigger points and these little beauties can cause a lot of discomfort but just hang in there and foam roll it out!
The benefits
Although it's not my favourite thing to do in the world (go figure), foam rolling is hugely beneficial to your body. By foam rolling you're able to release trigger points to help increase proper and pain free motions. As a result this means you're able to enhance not only your fitness performance but your everyday performance too. Ever tried sitting down with ultimate muscle soreness? Uh huh. I feel you. 
Now, you may think you already do enough for your muscles by stretching pre and post workout however, stretching alone is not always enough to help release muscle tightness as you're not able to get deep into those knots. A stretch simply creates tension by stretching the muscle and attachment points, however, a stretch cannot access knots and tensions and instead stretches the knot even further and ultimately, even tighter. Ever been told to stretch out a knot? Ha, you've been fooled. 
Foam rolling actually helps in breaking up the muscle (and it's knots) and helps resume blood flow. Which is exactly why you'll feel some discomfort during a foam rolling session.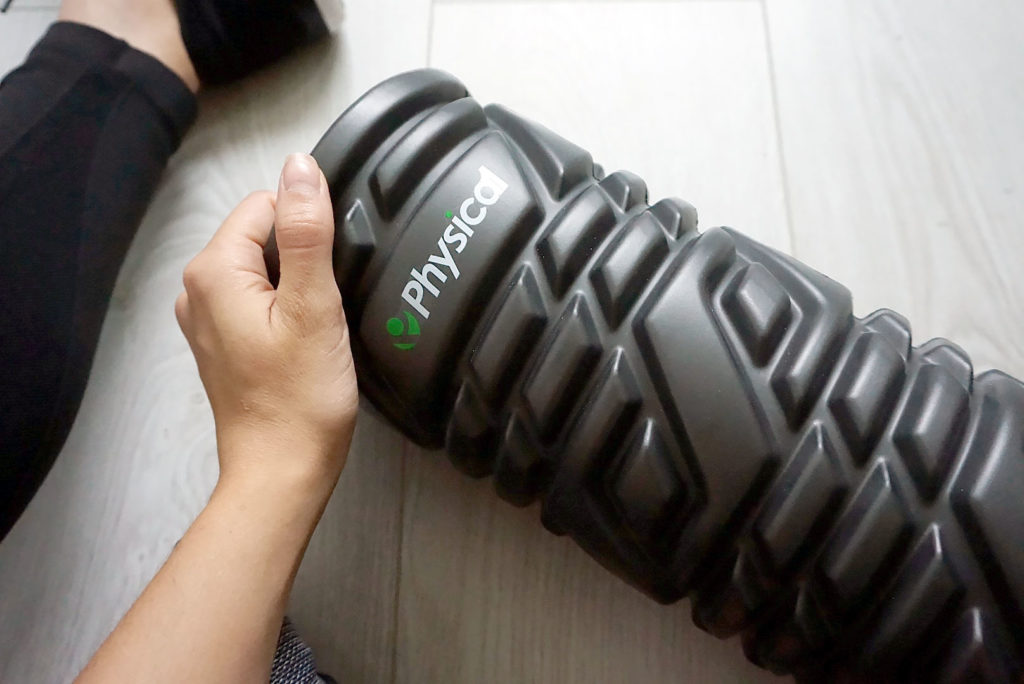 Causes
If I had a pound for every time I'm asked how to prevent muscle soreness, tightness or knots then I swear i'd be a millionaire by now. But alas, here I am, typing up this post instead of lying on a sunny beach somewhere. It's a hard life, huh?
Anyway, every once in a while you'll be hit (like a bus) with sore muscles and quite possibly, knots. I mean, how many times have you had a sweaty ass workout and stretched like you've never stretched before and yet, the next day you're still hit with sore and tight muscles that leave you waddling around like a penguin for the rest of the week? Yup. Been there, done that. Basically, our bodies will learn to compensate for what we put it through everyday – e.g, lifting heavy things, walking, working out, running… you get it. However, sometimes we throw a little bit too much at our bodies and this in turn means we will sometimes (or often) suffer with muscle problems and if we're not careful this can lead to poor flexibility (guilty), knots, and painful motions in the body.
My foam rolling routine
So, like I said earlier, daily foam rolling has been on my schedule for a few weeks now. You probably don't need to foam roll every single day, however, due to improper stretching and rehabilitation – my body has been begging for it!
My routine at the moment means I lift weights in the morning, go to work, come home, eat, blog and then go outside and get in either a walk or some kind of HIIT/cardio workout. Now, before I fool you into thinking that I workout two times a time let me say this: I don't. I simply split up what used to be my morning workout of weights (and sometimes) HIIT/cardio and that's it. This is purely to get me out and off my computer screen in the evenings! I'm not a crazy fitness meathead, promise. 
So yes, after my evening walk/cardio/HIIT workout I will come home, stretch a little and then finish off with a good ol' foam rolling session with my foam roller from Physical.
Now, let me tell you a little bit about this Physical foam roller…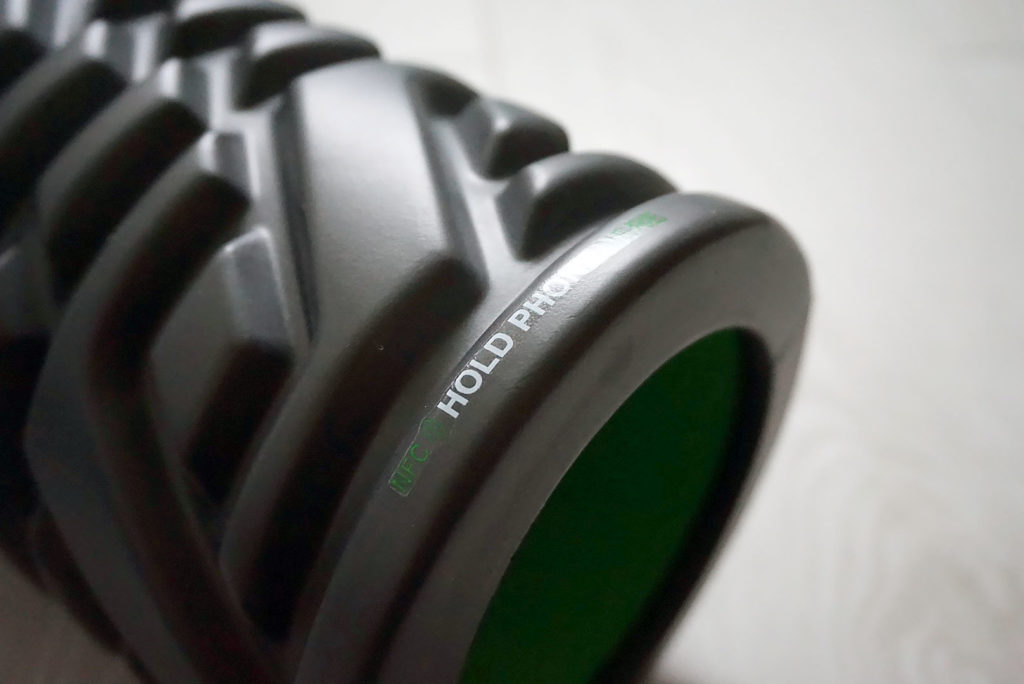 You can get different types of foam rollers out there. You can get balls, you can get smooth rollers, or you can get the rollers with the lumps and bumps – my favourite one, but this Physical roller here goes that little bit further…
It actually comes smart phone proof – meaning you can connect your phone to the foam roller via NFC technology. In the NFC app you'll then be able to access an extensive online library with exercise tips and expert knowledge – all through your phone. Pretty cool, huh?  I learnt a few new tips and moves from the app itself and have since been using those exercises.
Out of all the foam rollers out there (trust me, there's quite a few) this Physical foam roller has got to be my favourite. The deep grooves and zig zag design of the roller means it's extremely beneficial for getting out those tight knots and tightness. It's been designed by experts to deliver a personal targeted and deep tissue massage. Yes, it hurts and yes, it's uncomfortable but damn it works! Also, because of it's angular pattern you're able to get a consistent and controlled rolling session when it's in contact with your muscle and floor. That may sound strange if you're a newbie, but trust me… it's an important factor!
I've been using this roller everyday for the past few or so and already i've felt a notable difference in not only my muscles but my flexibility too. Would I recommend it? Definitely. I'll also note that I usually start rolling out from the bottom of my body e.g, calves, hamstrings, quads, hips etc and work my way upwards towards my shoulders and arms. Although, truth be told, you can create your own routine that suits you.
All you need is one foam roller and 10 minutes a day. Just grab a roller, perch in front of the TV (or don't) and get rolling!

,
x
I was kind enough to receive this foam roller from the guys at Physical. However, all opinions are my own. You can find out more about the Physical foam roller from www.physicalcompany.co.uk