Now this may come as quite a shock to some, but this is indeed my first ever brownie recipe on H&F. I know, what kind of food blogger am I?! You see the thing is, I'm a big brownie lover (the full fat, full dairy kind) and I can't quite justify turning the most delicious, most mouth watering dessert, into something that just isn't like the real thing. Sweet potato brownies? No, thank you. Courgette brownies? No, thank you. Almond butter brownies? No, thank you. Brownies that are crunchy on the outside but warm and gooey in the middle? Yes, please!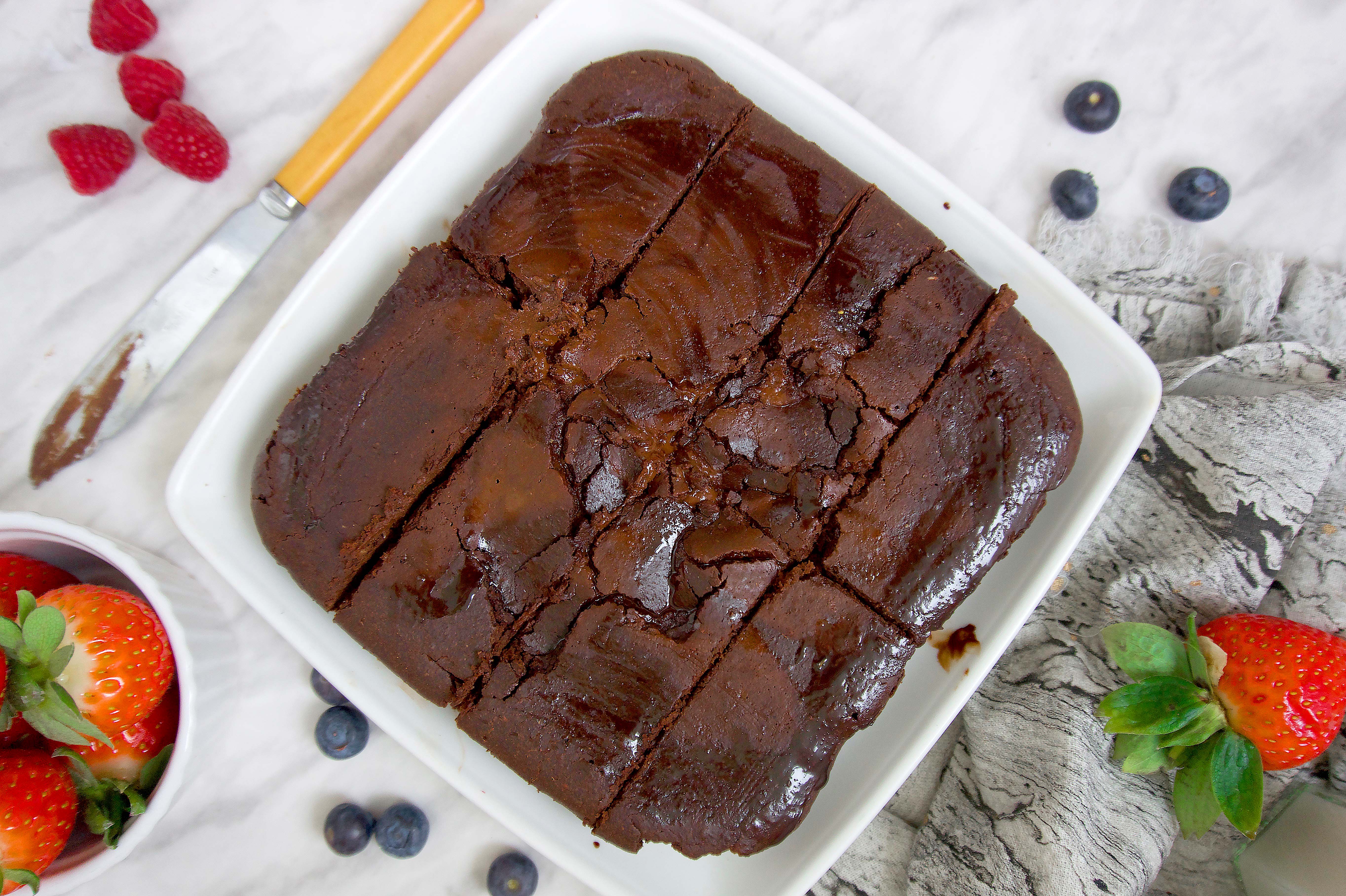 So after many failed attempts (messy and expensive I'll have you know) at creating a brownie recipe that tastes almost like the real thing, I think I finally nailed it on the head yesterday afternoon after grabbing some inspiration from Jamie Oliver's vegan chocolate brownie recipe.
I always find that when creating a healthy brownie recipe, it's so damn hard to avoid a cake texture. Now, that's perfect for all you cakey brownie fans, but for the 'gooey in the middle' lovers (like me), then it's not so great. I have to say though, the brownie debate that went down on my Instagram a few days ago left me in a bit of a pickle. Half of my followers were 'cakey' brownie fans and half of them were 'gooey in the middle' brownie fans. So I was left with no choice (I'm a people pleaser) to create a healthier chocolate brownie recipe that suited both brownie parties – cakey and gooey. So what do we have my chocolatey friends? A brownie that's crunchy on the outside, cakey on the inside and gooey in the middle – and when I say gooey, I mean gooey.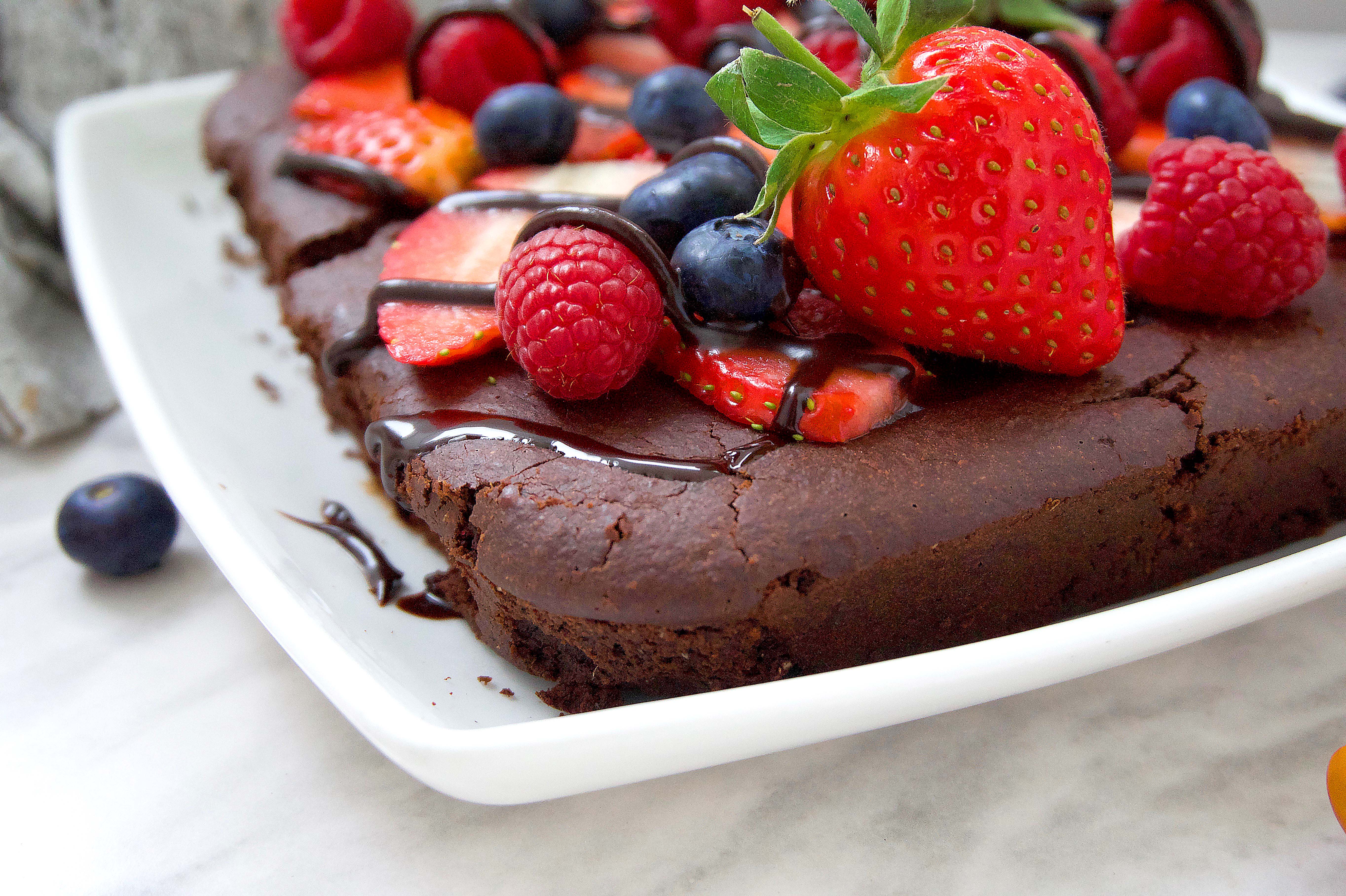 I have to say though, although this recipe does have that cakey texture on the outside, it's totally made up for by the ULTIMATE gooey middle. Please do put more emphasis on the word, ultimate. I just can't begin to tell you how heavenly this brownie slab is – which means you just have to make it!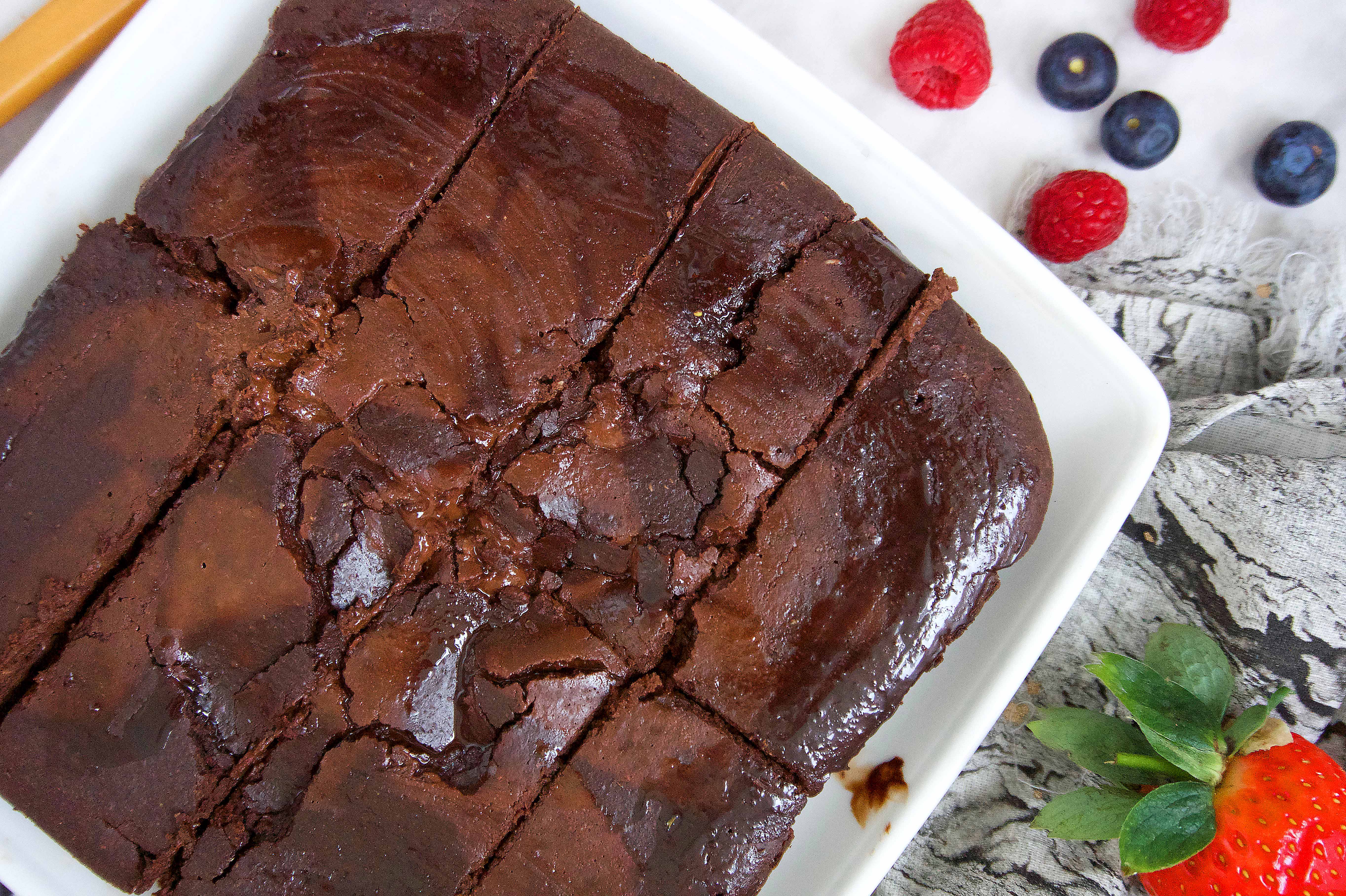 To make this brownie recipe a lot healthier than your classic brownie, I've simply ditched the butter and reduced the sugar. The chocolate? Oh don't worry I kept that! Instead, I used my favourite 85% dark chocolate (healthier than milk chocolate) and it worked swimmingly well (swimmingly well in chocolate).
This healthier chocolate brownie recipe is;
Dairy free
Chocolately
Crunchy/cakey and gooey
Rich
Fudge like
Indulgent
With Valentines Day fast approaching too, why not impress your loved ones with a freshly baked brownie slab. I mean, nothing says love more than chocolate, chocolate and more chocolate, right? Aka, let's get fat together. 
Let me know if you give these brownies a try! I always love seeing you guys try my recipes. Just don't forget to tag me on Instagram and use the hashtag, #hannahandfitness.
Happy chocolatey baking my brownie friends! Time to get messy. 
Healthier Chocolate Brownies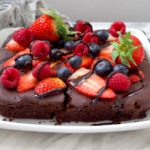 Print This
Ingredients
- 4 tbsp coconut oil (or extra virgin olive oil)

- 200g chopped dark chocolate (dairy free if needed)

- 1 beaten egg

- 150g self raising wholemeal flour

- 90g sugar

- Pinch salt

- 3 tbsp cacao powder

- 230ml almond milk

- 1 tsp vanilla extract
Instructions
Begin by pre-heating your oven to gas mark 4 and oil a square brownie tin with coconut oil (or use parchment paper).
Put a saucepan on boil with a heatproof bowl over the top of it (not touching the water) and place your chopped dark chocolate in the bowl to melt over low/medium heat. Do not burn the chocolate!
Whilst your chocolate is melting, mix together your flour, cacao powder, salt and sugar in a bowl.
Add the vanilla, oil and egg to the bowl of dry ingredients and mix together. Once the chocolate is melted add this too.
Slowly (and whilst mixing), add the milk to your bowl. You may find that you won't need the exact amount of milk (dependant on your flour) so add this as you stir.
Once everything is combined and mixed together, pour your brownie mixture (which should be a cake mixture consistency) into your pan and bake for 25 minutes. You can bake for a few minutes longer if you don't wish for a gooey middle.
Once your brownie has cooked on the outside and is firm, remove from the oven and leave to cool.
I served mine with lots of fruit and a drizzle of extra chocolate but the choice is entirely yours! Word on the street is that vanilla ice cream is a match made in heaven.
Enjoy!

,
x
Pin this recipe to save for later…