I think I could quite happily live off Mexican food for the rest of my life if I had too. I mean, just look at these nachos.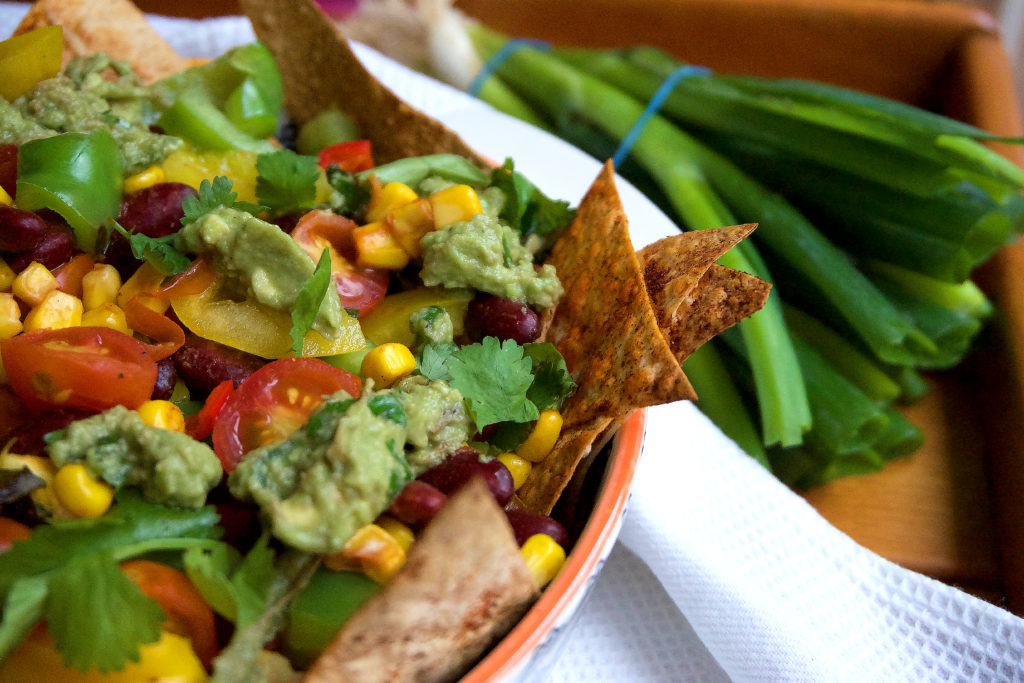 Now I don't know about you but nachos, one of my pleasures in life, remind me of childhood sleepover sat in front of the tv fighting for the part which was fully loaded with the cheese and goods.

I have never been one for the processed cheese kind of nacho's. You know, the type of nachos you'd get in the cinema where you have to dip your tortilla chips into a separate container… oh no-no. I'm all about the real deal. Cheese, spice, guacamole, spiced tortilla chips and anything else that screams Mexican.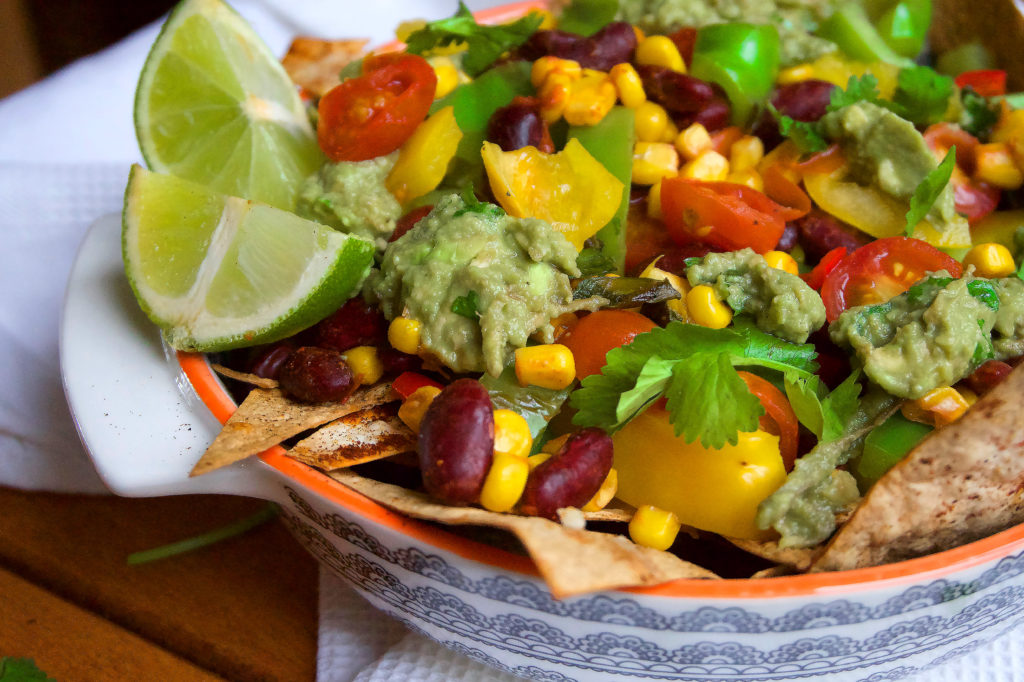 Using one of my favourite products from Deli Kitchen, their High Protein Wraps, I've managed to create a high protein dish – minus the meat. Don't get me wrong, I love meat (for sure) but now and then it's nice to experiment with something a little different. So if you're after a healthier alternative to the traditional calorific nachos dish, then keep on reading (and drooling).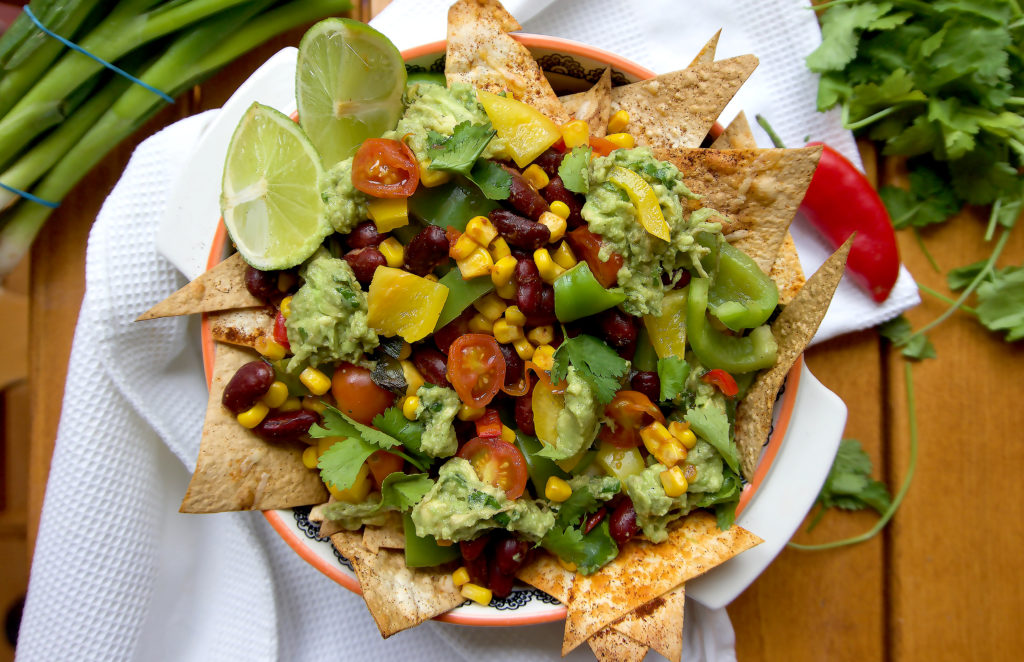 One of my goals with this dish was to make it as colourful as possible. When eating healthy I like to think of one thing to avoid boredom and a lack of flavour and that is: eat the rainbow.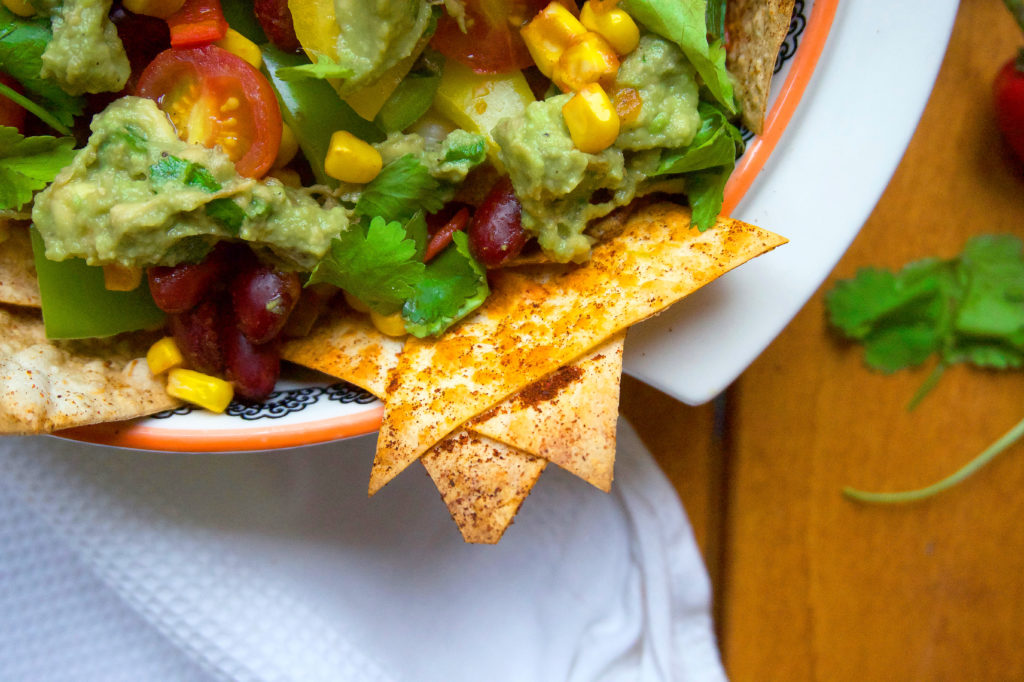 I'll admit, the dish is a little spicy with some bites but that's not to say you can't control it – just turn it down a notch on the tabasco sauce. However, I will add that the spice and other ingredients used throughout this recipe are what really makes it pop. Let's just say it's anything but boring.

This recipe is made completely from scratch but don't let that scare you. It's quick, easy and simply delicious. Plus, once you serve this up to friends and family you'll most probably be a bit damn chuffed with yourself. More so because you've created something so flavoursome, yet so simple. 
The best bit about this dish? It's got to be the guacamole. It easily finishes the dish off when it's paired with all the other flavours. So grab a tortilla, scoop up as much of guac as possible and thank me later. Creamy guac? Mmm, yes please!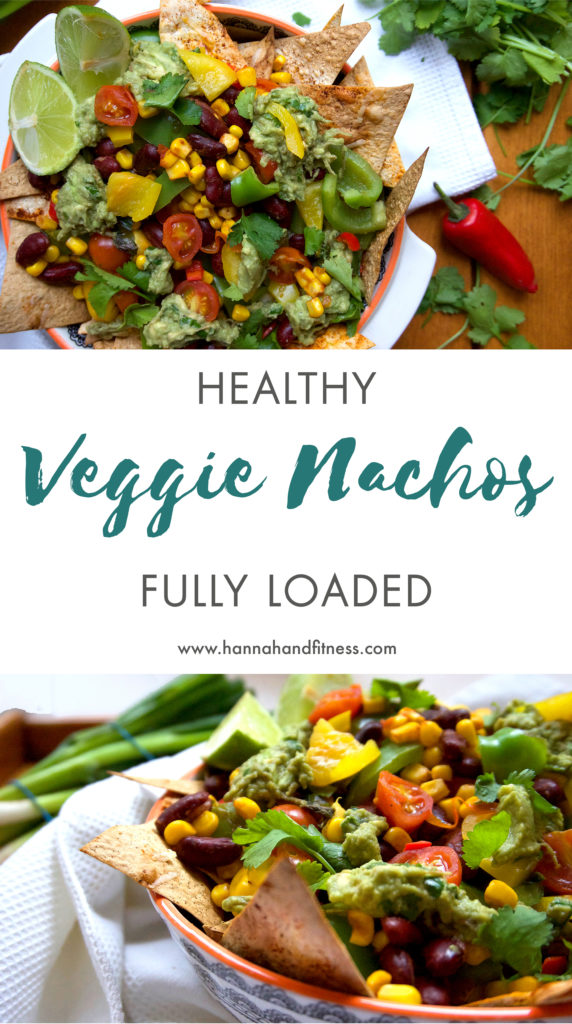 Healthy Veggie Nachos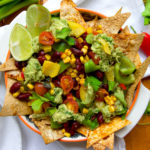 Print This
Ingredients
GUACOMOLE

1 Avocado

2 tbsp lime

1 tbsp fresh coriander

Sprinkle salt and pepper

1/2 green chilli (sliced and de-seeded)

TORTILLA CHIPS

4-5 Deli Kitchen High Protein Wraps

1 tsp chilli powder

1 tsp paprika

Spray light olive oil

TOPPINGS

1 Whole and 1 half peppers

1 Red chilli

1/2 bunch spring onions

8 Cherry tomatoes

Half tin sweetcorn

Half tin kidney beans

2 tbsp salsa

1/3 cup grated low fat cheese (optional)

Tabasco sauce
Instructions
Begin by pre-heating your oven to gas mark 4.
On a baking tray spray light olive oil and sprinkle on the chilli powder and paprika for the tortilla chips. Mix everything in.
Grab your 4-5 Deli Kitchen High Protein Wraps and cut into triangles. I put mine altogether and this worked well. Once cut, evenly place your chips onto the baking tray and mix them around until they are fully covered in spice. You may need to spray again with a little oil. Once done, place in the middle of the oven to bake for 10-15 minutes.
To make your guacamole simply slice and mash your avocado, add the rest of ingredients and mash/stir everything until combined. Set aside.
Using a griddle, add the sliced peppers, chilli and tomatoes and cook on high heat until charred. Add the lime juice and slice spring onions and set aside.
Remove the tortilla chips from the oven (if cooked) and top with your grated cheese. Pop back in the oven until melted and then remove.
Going back to the griddle, add the sweetcorn, kidney beans, a few drops of tabasco and salsa and cook on medium heat until everything becomes cooked and thick.
Go back to your bowl of peppers and finely slice and de-seed your chilli. Once done, add the bowl of ingredients to the top of your nachos and finish with the beans and guacamole and a sprinkle of coriander leaves.
Serve up and dig in!