Ok, so this isn't your usual combination for a crumble recipe but trust me, this mango and blackberry crumble is just wonderful.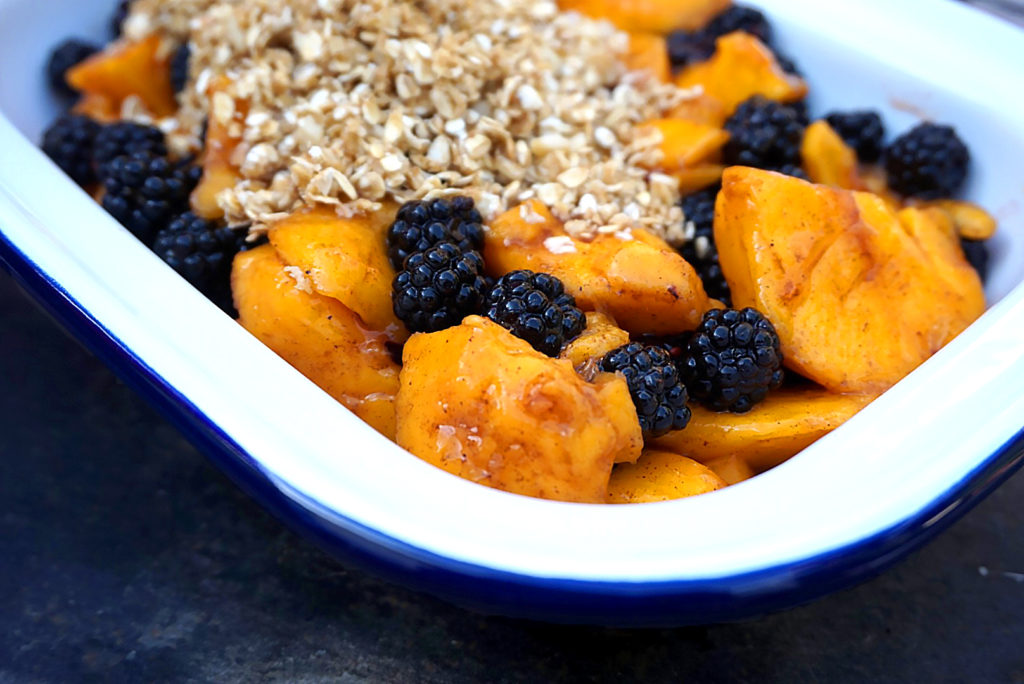 I'm not quite sure what provoked me to try this combination. I mean i'm pretty much a sucker for my traditional apple crumble recipe but maybe it was the fact Tesco's were selling mango's for 49p a go, or maybe it was the sweet smell from the blackberries that I had picked earlier that day. Either way, I ended up throwing both of them together and found myself hoping for the best.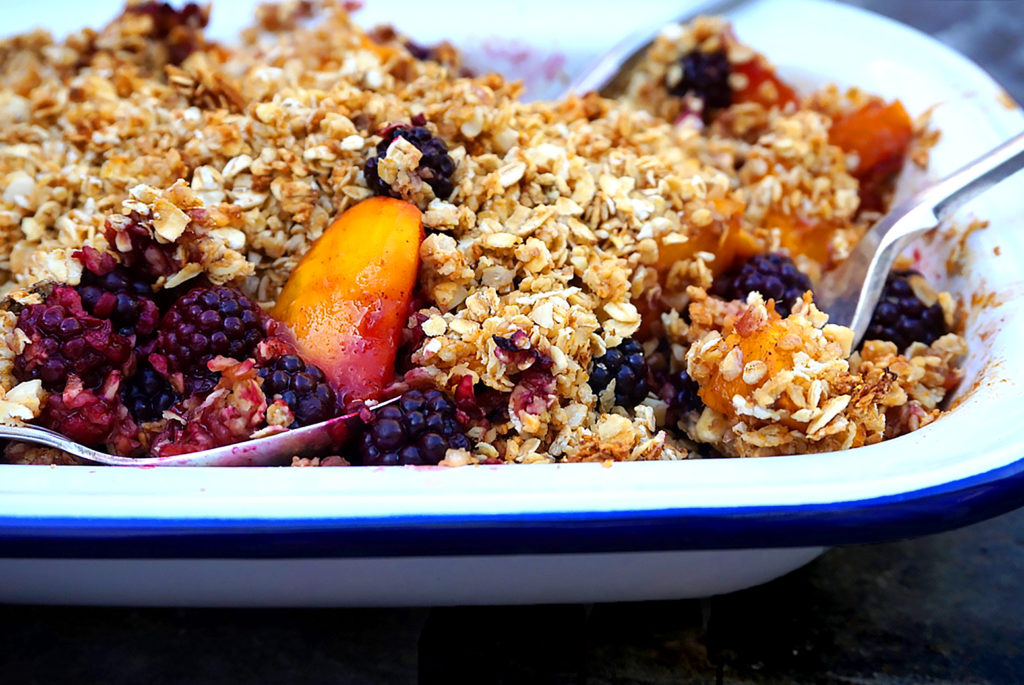 I'd also like to take some time out to recognise my new enamel bakeware set. Look at that whiteness! A few weeks ago ProCook ever so kindly sent me there enamel bakeware collection and since then I've been obsessed with finding recipes that work well with my shiny new dishes. Those of you that follow me on Pinterest may have caught sight of that – hah!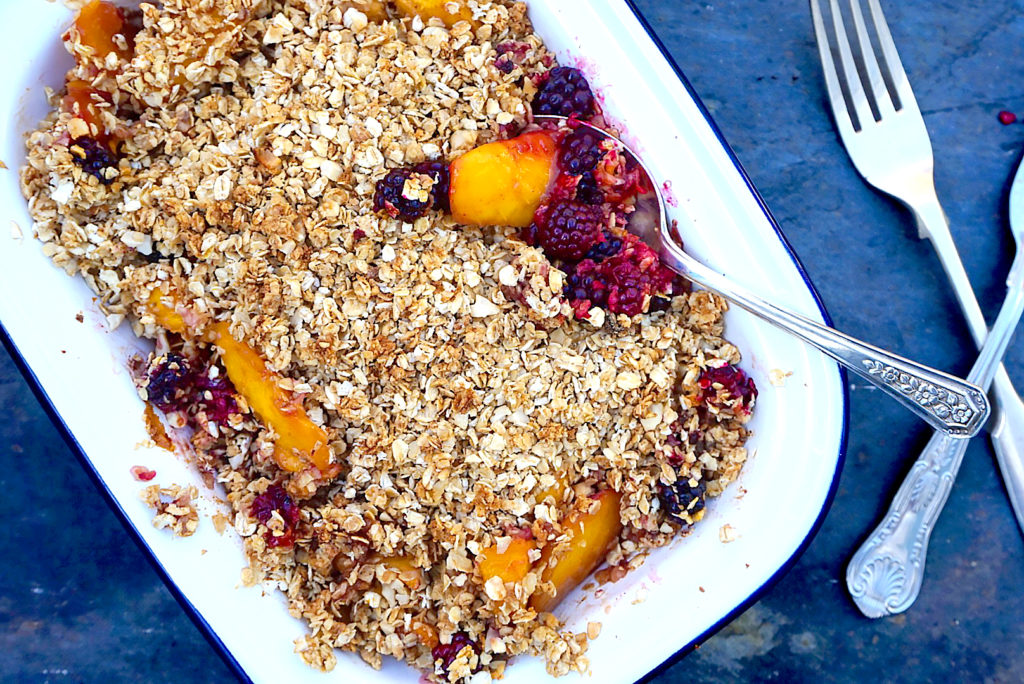 Long gone are the days I would spend my weekend pondering the shops. Now, i'm all about that bakeware, tupperware, dishware life! Gosh, how sad does that sound?! 23 going on 43, Hannah? Anyhow, i'm more than thrilled with my new enamel bakeware collection from ProCook. The dishes are lovely and light, incredibly easy to use and more importantly, easy to wash too! My last (ancient history) bakeware set would take me an least 20 minutes of scrubbing to get off the easiest (well you would think) leftover mess but not with ProCook's set. I've also got another recipe coming up using ProCook's slightly larger enamel dish but that, my friends, you'll have to wait a week or two for.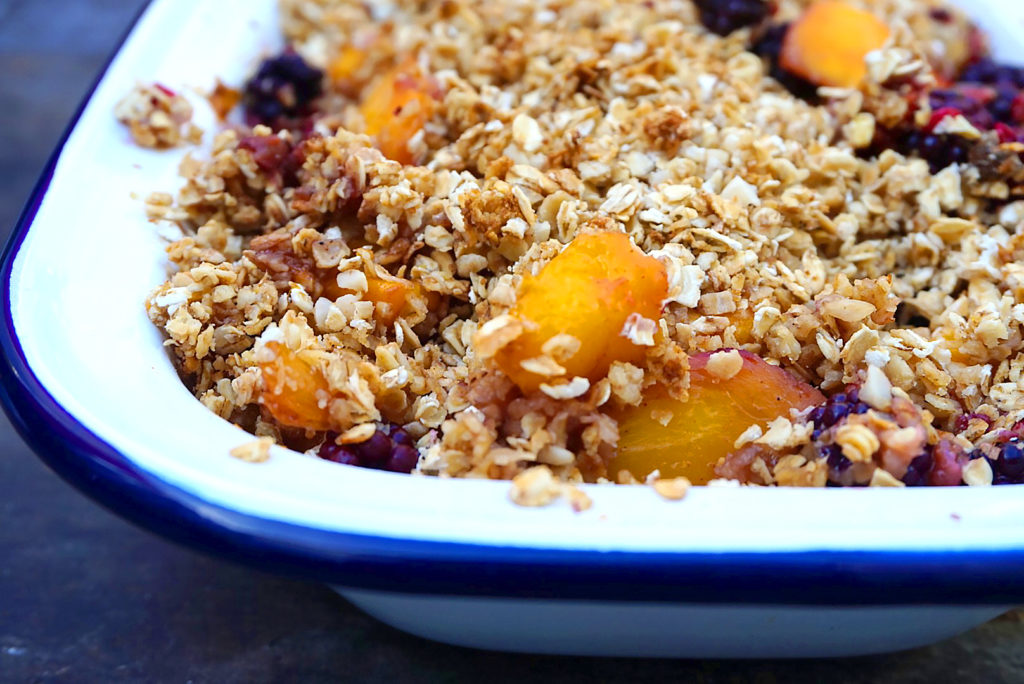 Anyway, before I digress further about bakeware sets and my incredibly sad life…
This recipe has a subtle hint of lime within it to really help bring out the sharpness in the fruits. Again, I was dubious about adding the lime to such an uncommon combination but hat's off to me… It blimmin' well worked!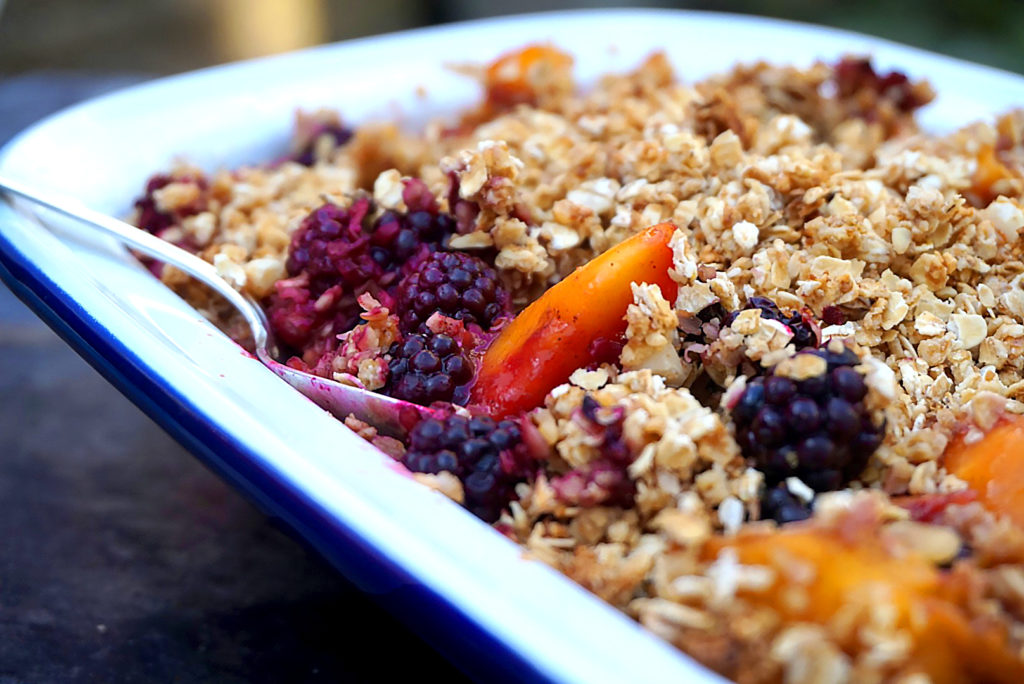 For the lime, I added 1 tbsp fresh lime juice to the fruit and then I also went against all odds (well, I thought so anyway) and decided to add Flora's new dairy free butter (avocado oil and lime) to the crumble mix. Now, trust me on this. I say I went against all odds purely because I wasn't sure about the avocado in the crumble. Just exactly how avocado(ey) would it taste? Anyhow, I bit the bullet, added the butter and damn, I liked what I tasted! The butter helped add the extra texture to the crumble and the flavour added the extra lime to the dish. Suddenly, it became a lot more flavoursome and surprisingly, light. I think guys, you may just have to trust me on this one.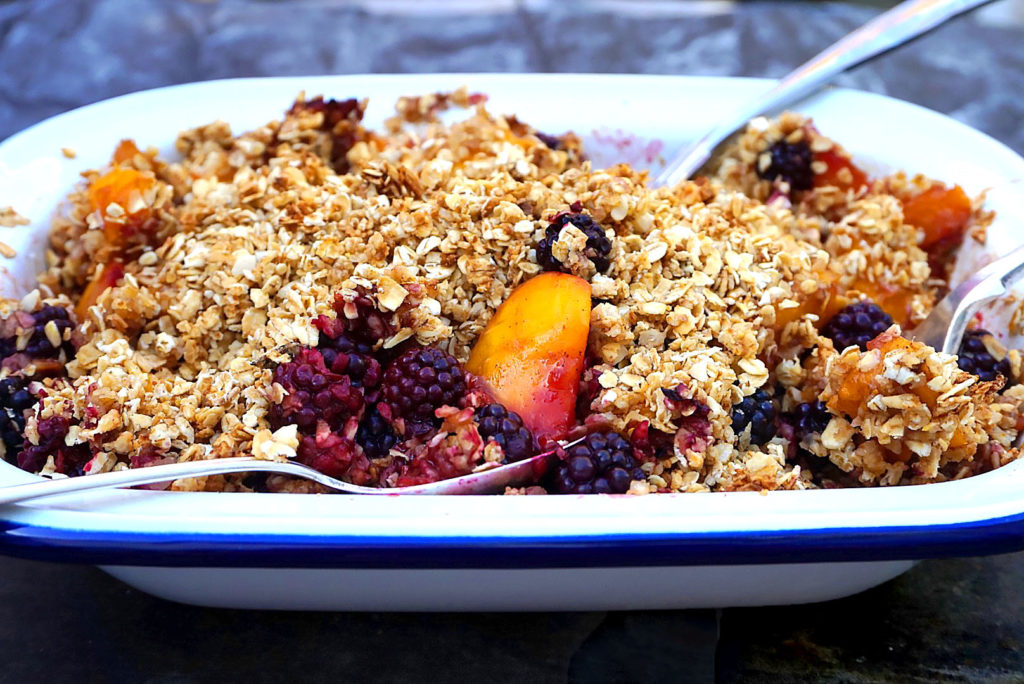 This is a wonderful recipe to say adios to summer and hello to autumn – my favourite season! Whilst the crumble is the perfect comfort dessert with it's nutty and crisp golden topping, the fruit add a sweet, yet refreshing taste to the dish which works wonderfully well.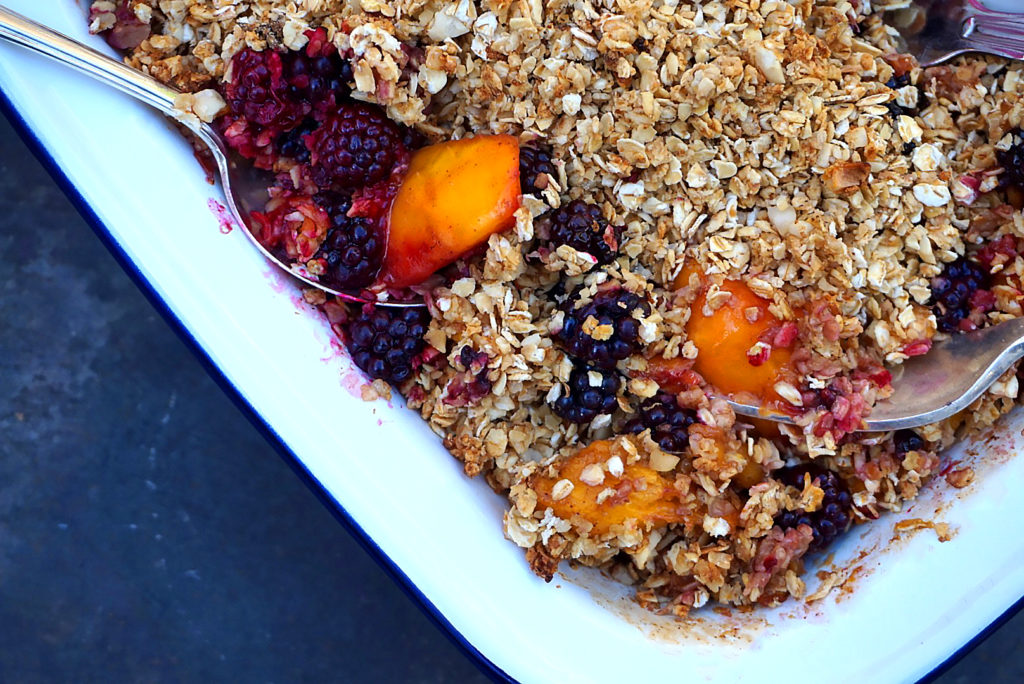 One of the best things about this recipe? It's ridiculously quick to make and turns your kitchen into the most delicious, mouth watering, bake haven. You can thank me for that later. Plus, this recipe requires no more than 10 ingredients – half of which you probably already have sitting in your cupboards!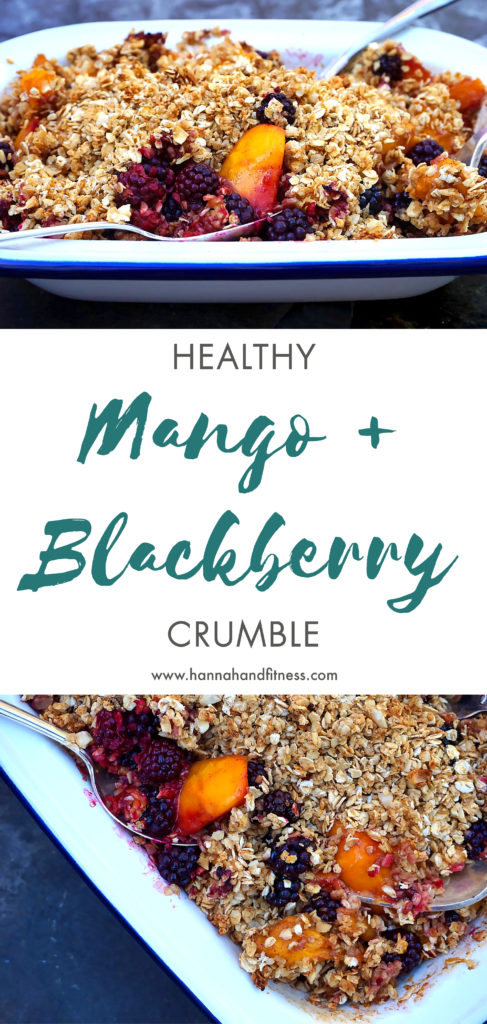 If you try this recipe then let me know your thoughts. I'm hoping it will be a recipe to add to the books thanks to the unique flavour and taste of the dish. Seriously, you gotta try this one!
Mango And Blackberry Crumble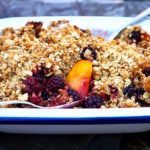 Print This
Ingredients
FILLING

3 ripe mangos cut into chunks

1 cup blackberries

3 tbsp coconut sugar (I use The Groovy Food Company)

1 tsp cinnamon

1 tbsp lime

CRUMBLE

1 cup oats

1/3 wholemeal flour

4 tbsp flora avocado oil and almond butter (or another dairy free option)

1 tbsp coconut sugar

1 tsp vanilla extract

3 tbsp fruit syrup (I use Sweet Freedom)

Handful chopped almonds (optional)
Instructions
Begin by pre-heating your oven to gas mark 4.
In a bowl toss together your mango chunks, blackberries, coconut sugar, lime juice and cinnamon. Once everything is mixed together pour your fruit into your enamel dish and set aside.
To make the crumble pour the oats, flour, butter, sugar, fruit syrup and vanilla extract into a mixing bowl and using your fingers, mix everything together. You'll want the consistency to be crumble like – feel free to add more butter/syrup to your liking for desired texture.
Once the crumble ingredients are mixed together, pour the crumble evenly on top of the fruit layer and place in the middle of the oven to bake for 20-30 minutes.
Once cooked (the crumble topping should be golden brown and the fruit should be bubbling) remove your dish from the oven and serve up straight away – the warmer the better I say!

,
x