Last year, Monday 16th September to be precise, I decided it was time for me to gain a little muscle and endured a lean bulk over the winter months. Perfect, I thought. Not only do I get to eat more but I also get to focus all of my attention on weight training. Aka, bye-bye lots of cardio, which at the time I thought I would love. Oh, how I was wrong – so very wrong.
Thankfully, I can look back over my journey as I decided to document it to everybody following my blog. My very first post states my reason for going on a bulk – I simply wanted to put on muscle in the hopes of achieving a slightly more curvier and toned physique.
If you can expect anything throughout this post then it's my honesty. Everything I say and admit to is solely through my own personal experience and emotions. I absolutely have nothing against people going on bulks to achieve their goals – in fact, I bow down to those who do, because believe me, it's not as easy as it looks.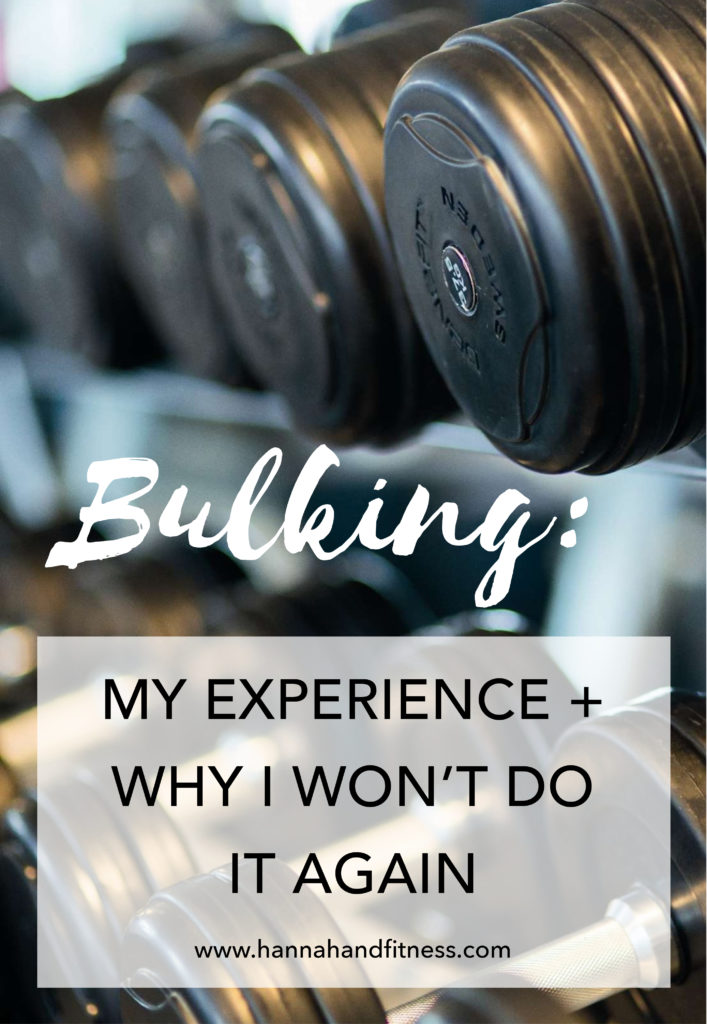 My struggle actually began on the very first day. There I was, sat at my computer, already dreaming about the endless consumption of carbs I would devour over the upcoming months, until however, my good ol' buddy, FitnessPal displayed what I thought was an error of calculations. I had simply entered my food for the day to find out that I wasn't anywhere near to reaching my calories for the day. I needed more carbs – a heck load more carbs. At first, I thought that would be no problem at all. More carbs? Sure. But by the end of the day I still hadn't reached my calorie goal and I was already suffering with cramps from all the fibre consumed throughout the day. So there we had it, day one – a complete and utter macro failure.
But alas, I wasn't a quitter and as the weeks went on I found myself slowly improving with my macro hits. Aside from this however, the image I had of bulking didn't go to plan and as I look back over my journey now, 4 months into my cut, I gather together a few things which I did not expect to experience…
Mind games are the devil
So at the beginning of the bulk you accept the fact that to grow muscle you have to lift heavier and eat a lot, right? Right. So why, in all it's acceptance, did I begin to doubt myself when I started gaining some size and of course, fat?
Within the second week of my bulk I started feeling quite low in terms of my body image. The increased amount of carbs were making me feel bloated and sluggish as hell and that in turn, wrecked havoc on how I felt in terms of body image. Let me tell you, going from a pretty lean body with visible abs to constantly being bloated isn't that easy. I know, woo is me, right? Some days I found myself feeling pretty lean and 'Wow, where did those biceps come from?' and then some days I found myself doubting everything about the bulk and truth be told, I felt like a great big elephant.
Eating until you feel sick
No, I never thought I'd be saying that either. This is probably the one I struggle the hardest with. At first, I thought it would be a breeze. Eating more food? Heck who wouldn't like that?! Seriously though, have you ever tried continuing to eat when you're already full, bloated and feeling lethargic? Yeah, it's not fun. Although, one positive effect it did have was that all those carbs made me sleep like a baby. As soon as 10pm hit I was out like a baby!
You can't spot target fat
I'll be honest here… When I began my bulk I had an image of a strong, toned women in mind with curves in all the right places. I probably have social media to blame for that stereotype but hey. So when my fat started to take homage in my upper body I began to freak out, a lot. Don't get me wrong, I held fat in my lower half too but the thing is, I didn't expect it to hit my upper body like it did.
Like everything when working out, you can't spot reduce and likewise, you can't choose where your fat goes on your body (life is so unfair). So yes, I found this part also extremely hard to deal with. I hated how my bra no longer fitted, I hated the boob fat that stuck out at the sides and I hated how broad I was becoming. The one thing I didn't hate though? How my arms looked in long sleeve tops. Hello muscles! So there I was, being a typical human being and moaning about something I had willingly put myself through. I knew 100% that I would gain a little fat throughout my bulk so why did I find this part so hard to deal with? Like I said above, your mind plays crazy tricks on you.
Tiredness
At the beginning of my bulk I was full of energy. My lifts were heavier, I was hitting personal bests and I was in fact, raving with energy. That was until the near end of my bulk where it felt like I hit a brick wall. A solid, brick heavy, wall. It physically felt like all the extra carbs and food were sending my body in a slow, yet in sight food coma. This meant I lacked motivation in the evenings to workout, I felt sluggish and yes, I had a bedtime the same of a child. My advice for those suffering with the same thing – switch your workouts to the mornings. That way you have no excuse for the evening slump.
At the end of the day though, I had one goal and that was to gain muscle and that, I achieved. Although my experience wasn't the best, you could however argue that it was because I wasn't ready for the mentality side of it, but then again, who is until you experience it for yourself?
Now that I find myself writing this down, it all sounds so silly. I mean, why on earth wouldn't fat store in my upper body and not just my lower half? Why would I think it's fun to eat when you're not hungry? It's so silly but so simple – unless you experience a bulk, I really don't think you can understand what it feels like to purposely put on weight.
So the burning question… Would I do it again? In all honestly, I don't think so. I wasn't mentally prepared for the bulk and although I've done one now, I still think I'd struggle with the same emotions. Although I done this purely for aesthetic goals, I realise now that the way I feel about myself is just as important, if not more.
Many people may however, speak differently of their experiences – or not. But that's the thing with fitness – it's a journey and it's your journey. We're all different and unique. We're all different sizes. We're all different types, and what might work/not work for me, doesn't necessarily mean it will work for you and I think it's so incredibly important to understand that.
Bulk my friend, you provided results, but I can't say I'll be seeing you in the near future
.

,
x