Ladies, have you ever had a training session go horribly wrong because you either couldn't stop pulling up your leggings that insisted on showing the rest of the gym your behind, or you had to keep removing the camel toe that ever so rudely made home during your workout? And gents, have you ever had a training session go wrong because your t-shirt was too tight and it insisted on showing the world your sweaty pits. Uh huh, I think we've all been there. 
Truth is, if we don't feel comfortable during our workout then we slack and when we slack we don't work hard enough and when we don't work hard enough we sometimes lose our motivation. See where I'm going? Having the right clothing does affect your training.


Why?
Wearing The Right Clothing Increases Performance 
In 2010, full body swimsuits made out of polyurethane were banned after receiving complaints from the top athletes about the unfair advantage they created for swimmers who wore them. Now, whether you swim or not, the point is that the right clothing can affect your performance.
Take a runner for example, if your runner is wearing the top of the range running shoes compared to another runner whose wearing a pair of USA Pro £15 running shoes, then the chances are that your top of the range runner is going to receive the maximum benefits through comfort, performance and stability.
I'd say it's common sense when it comes to dressing yourself for your workout. But for those new to the game (just like I was to CrossFit and my mishaps with what I was wearing) it's not quite so obvious just what brand, type, size and material they need to pick. Which is where I come in handy… Just keep reading.
Things that will increase your performance: Having the correct trainers, having the correct lifting shoes, having the right type of compression tights, wearing breathable clothing and wearing items of clothing that will maintain your confidence when working out – i.e, squat proof leggings!


Wearing The Right Clothing Protects + Prevents Injuries
Wearing the wrong clothes during your workout (through improper fitting) is a major no no and a big cause of sports-related injuries that can interfere with your training session.
I wear long length leggings for my CrossFit sessions because they cover and help protect my legs from the bar and rope (if used). I remember from the first time learning the rope my coach told us all that a few people injure themselves on the rope (mainly beginners) simply because they wear shorts and don't have the protection needed to avoid rope burns on their legs. Sure it may look cool roughing and braving it, but a few days after, once the adrenaline has gone, you'll soon be paying the price!
I also make sure I wear loose, breathable and little clothing when it comes to my CrossFit training. For many of my workouts I get hot, lift heavy things and need the room to move (i.e, not let anything get in my way). So the bra, vest and jumper featured below really increases my performance when I train. How does this prevent injuries? Because I'm not wearing heavy and bulky items that could get in my way when training and potentially end up with me injuring myself.
When it comes to trainers you want to make sure you're wearing the right ones. For example, the new Reebok Nano 8.0's featured in this post are suitable for us CrossFitter's. They're flat (perfect for lifting), extremely slip proof and comfortable as hell. If you're not wearing the right trainers then you run the risk of blisters, cramps, slipping and decreased performance.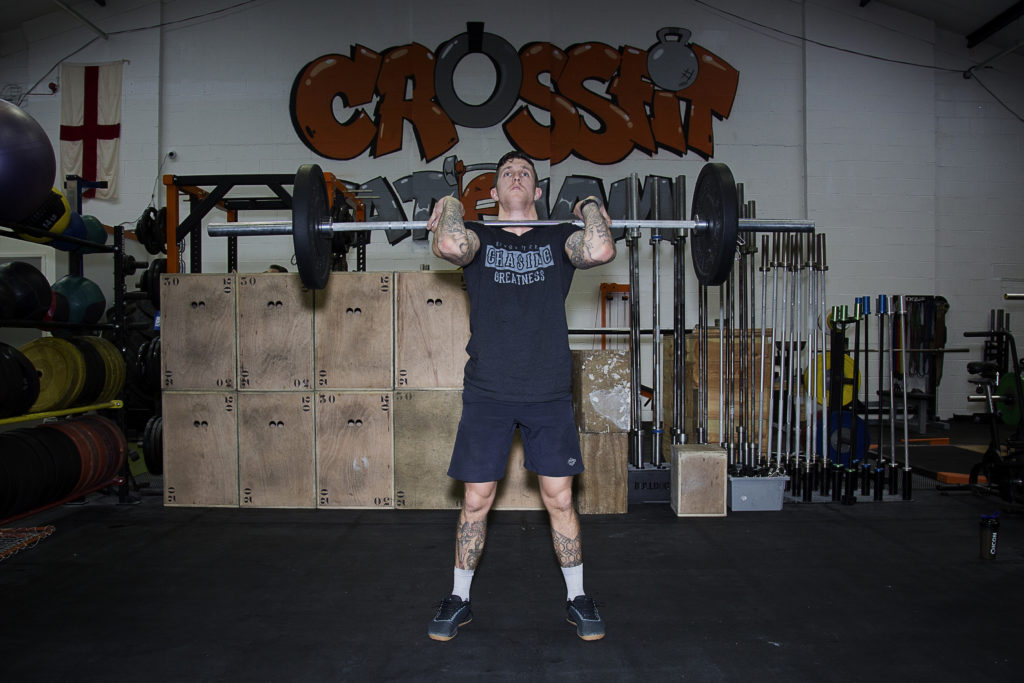 Wearing The Right Clothing Increases Motivation
There's nothing like a boost of motivation when you buy new workout clothes, right? I mean, take me for example… As soon as I received the following products (below and in the photos) from The Sports Edit, I literally couldn't wait to put them to the CrossFit test (I've also worn them in the gym too – purely for weight lifting). 12 hours later, I was at my box sweating one out and had an amazing session. All physiological? Possibly but damn, it works!
According to a study found in the Journal of Experimental Social Psychology it suggests that the clothing worn for your workouts does in fact influence your behaviour and attitude. Simply because it carries a symbolic meaning. So yes, what you wear is actually in control of how you act – whether you know it or not.
Dr. Jonathan Fader, sports psychologist for the New York Mets, says that these findings from the Journal of Experimental Social Psychology can really happen. "When you put on new fitness gear, you begin to get into character like an actor putting on a costume for a performance," says Fader. "As a result, you expect to have a better performance, making you more mentally prepared for the task."


The Sports Edit
Two weeks ago I decided to take my CrossFit training to the next level and I finally joined my local box (us CrossFitter's call it a box instead of a gym), CrossFit Fareham. So far, so good. In fact, I'm absolutely loving it. The box itself is amazing (featured in the photos), the coaches are so helpful and every single day I'm learning something new – which I love and it's incredible the kick of motivation it's given me.
After a few classes it came to my realisation that other than the fact I absolutely loathed the assault bike, you also need the right gear to workout. Now, I'm not talking about fancy clothing or your top of the notch £170 Nike trainers, I'm talking about one thing in particular… comfort. So after a few slip and slides in my old pair of Nike's, lots of pulling up of my leggings and a constant readjusting of my sports bra, it was time to invest in something a little more comfortable and practical from The Sports Edit.


Luckily, just as I started CrossFit, the new Reebok Nano's 8.0 had just launched. Now, I've never been a Reebok kind of girl – always nike, always. But, judging by the branding of what my fellow CrossFitter's wore – Reebok was the brand to go with.
The new Reebok Nano's 8.0 (I got mine from The Sports Edit Team. You can get a pair here) are the latest Nano's of the iconic series and combine the proven performance characteristics of the previous Nanos with an improved fit, through a new heel bootie construction and the addition of a compression moulded EVA midsole and sockliner. This new design helps to hold your foot in place whilst lifting, without losing any responsiveness. In my opinion, the Nano 8 is incredibly durable yet stable and lightweight and allows you to move confidently during your WODs (the grip is amazing!) Reebok have also managed to come up with a cleaner silhouette for the 8, with a stripped back, functional, yet stylish design (which I am a big fan of).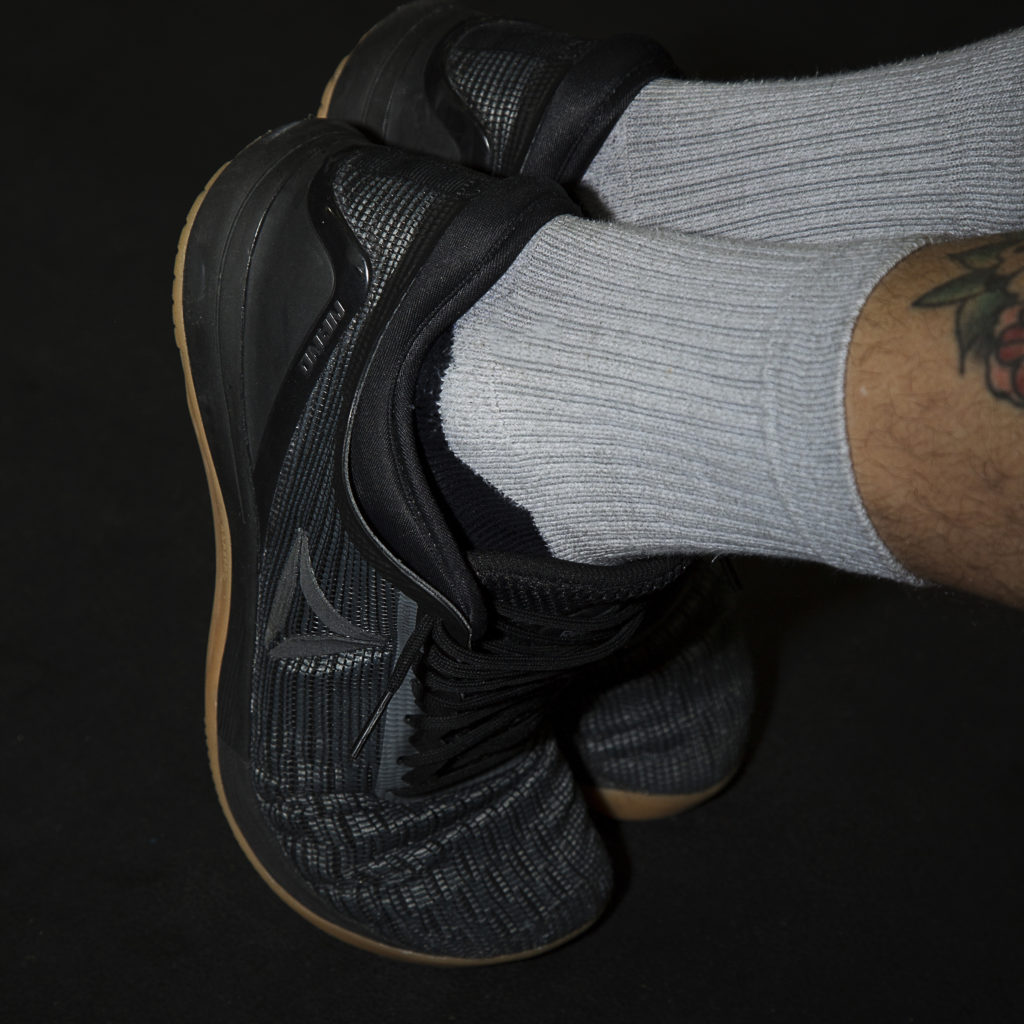 For the gents: They're pretty similar to the white Nano's, just a different colour. If I'm honest, I'm also a little tempted to get the Nano's in the black myself since I saw a girl at my box wearing them. I mean, why not? I've got a feeling I'll wear my white Nano's to death so that's a pretty valid backup excuse, right? You can get the black Nano's here.
Did the Reebok Nano's 8.0 pass the CrossFit class test? 
For sure! I absolutely love my Nano 8.0's – as weary as I was! They're comfortable, they're extremely slip proof and they're perfect for training. Since I've got them I've snatched in them, I've split jerked in them, I've learnt how to climb a rope in them and of course, I got very sweaty in them. It's safe to say they're definitely WOD proof.
As for the men's Nano's – I know a fair few guys who've given them the nod. They've certainly got one of my coaches, Shane (@saint_crossfit – seen in the photos) approval too. You can check out his IG post here to see exactly what he thinks of them!


Personally, I'm extremley fussy when it comes to vests for training. I'm either a flowey vest kind of girl, or a stick to your abs kind of vest girl.
The Under Armour vest is not only vertisle to all types of training but it's also extremely flattering on the upper body! I always find that the halter neck styled vests are the perfect vest if you want to show of your shoulders and arms. As well as that, I love the detail in the back of the top. Like I said, I like tops that are loose and flow, so to see that this vest had an open back, well it was pretty handy for my sweaty self.
I found that the draped armholes and performance mesh on the front and back panels help to maximise the airflow to your body which helps to keep you cool as you train. The sweat wicking properties also make this tank ideal for long runs or circuit training, with the open back design giving it plenty of appeal as a layering piece.
Did it pass the CrossFit class test?
Absolutely. I wore the whole outfit to my PT session the other day with CrossFit coach, Shane (pictured above – @saint_crossfit) and not only was it comfortable, but it kept me cool during my hour session of power snatching, pulls up and learning the beginnings of kipping.
You can find the vest here. I got the size in a XS – the size I always get for my vests!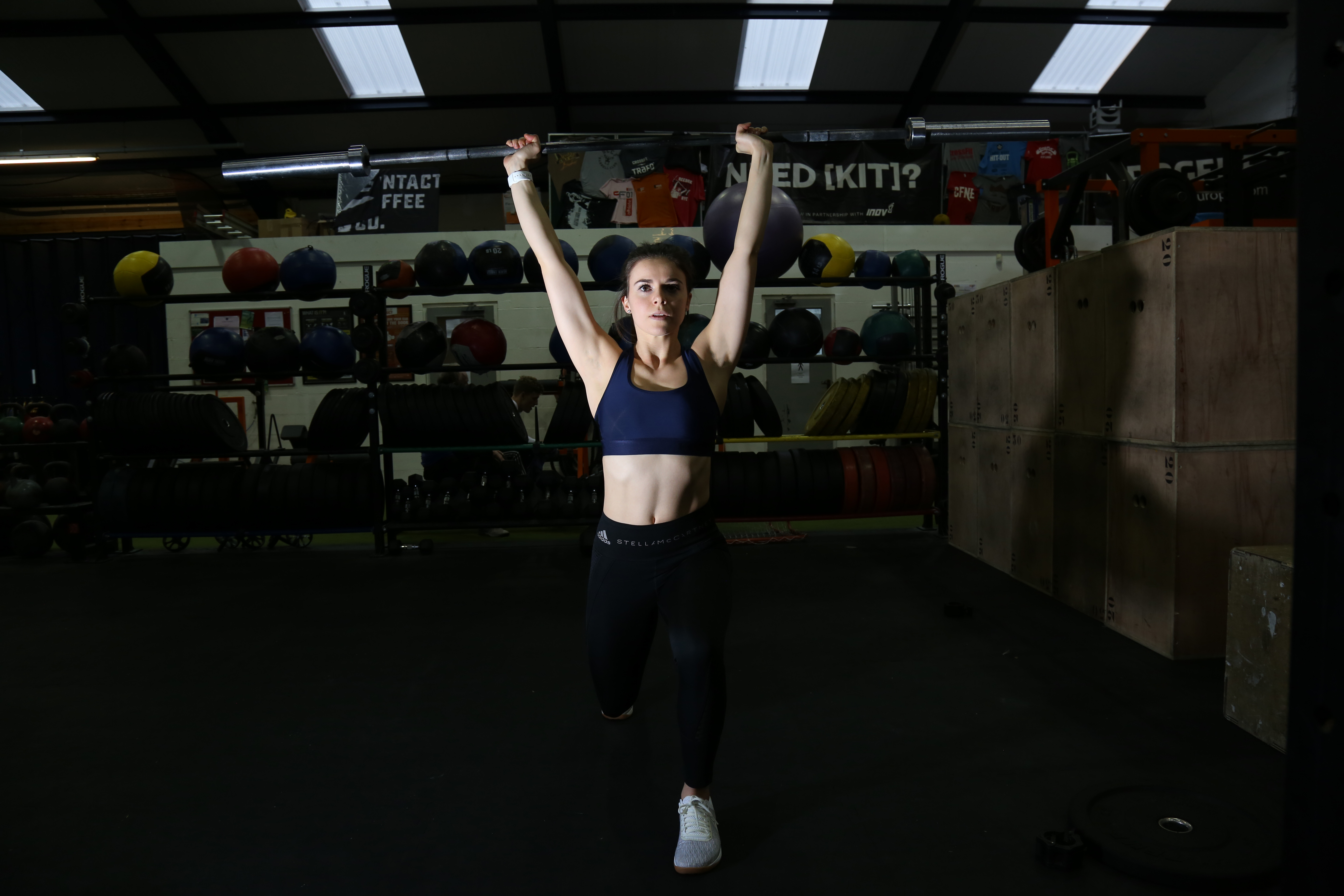 Now ladies, if you've got a good handful of boobies, then let's protect them, huh? I for one, will not wear a sports bra that's not padded and hasn't got a good amount of support. I simply find bra's that aren't padded to be unsupportive, uncomfortable and let's be honest, a little nippy. Pun intended.
So when it comes to sports bra, I'm not afraid to invest in them a little to ensure that I not only get the protection I need but also so it feels like I'm practically wearing nothing. That's when you know you're wearing a good sports bra!
I've got to say though, the Under Armour Crossback bra is probably my most favourite and most comfortable bra to date. It's supportive in all the right areas, it's flattering and it's blimmin' well comfortable. There's no side boob, there's no nip show and there's definitely no annoying back fat that no matter how skinny you are, you will always get it from uncomfortable and incorrect sized sports bra's. I also love the colour of the bra and it works amazingly well with the whole collection that I've chosen from The Sports Edit.
Did it pass the CrossFit class test?
If I say it felt like I wasn't wearing anything then does that count as a yes? I think so. I'd recommend this sports bra for absolutely any type of training – CrossFit or not.
You can find the bra here. Check the size guide for your sizing. I'm always a size S in bras and this was just right. Although, I think a M would fit me very soon as my back is slowly growing!


When it comes to leggings nowadays, I refuse to wear anything but high rise. Mid rise? No thank you. Keep those love handles away please. High rise leggings are flattering, comfortable as comfortable can be and yes, they make your bum look good – just don't get a size too small!
Truth be told, I was a little weary when it came to ordering these Adidas Stella McCartney leggings. Like most girls, leggings (and jeans) are either a size too big, or a size too small. No in-between! But based on the high waist feature and the sturdy waist band, my temptation got the better of my common sense.
When they arrived from The Sports Edit however, I 100% made the right choice. Besides my Bjorn Borg leggings, these are my second favourite to date. Due to the moisture-wicking climalite and targeted mesh panels, the leggings help to keep you dry as the heat starts to build up during your workout. I also liked the fact that these tights are made with recycled polyester to save resources and decrease emissions. Every little helps!
Things you should to know…
Climalite wicks sweat to keep you dry in every condition
Key pocket inside supportive bonded elastic waistband
adidas by Stella McCartney logo on waistband
Honeycomb mesh panels on legs
Flattering curved seams
Tight fit wears next to skin
Did it pass the CrossFit class test?
Yes. Simple as that. I didn't need to readjust them. I didn't need even need to think about them! And when you're doing 40 minutes worth of snatching, that's pretty damn good. FYI, that includes a lot of squatting, bending and thrusting. Consider the test passed.
You can find the leggings here. I went up a size in these and got a S – they fit perfectly!


I'll start off by saying that I am obsessed with this jumper already. The colour? Love it. The fabric? Love it. The thumb holes? Love it. The comfort? Love it. In fact, I would wear this jumper even when I'm not working out! I found this jumper a dream to wear over my sports bra/vest at the beginning of a training session (especially as the box is so cold to begin with). It also features a unique fabric that eliminates pressure points to enhance your training. I found that once I got a little sweaty in this jumper, I was still kept cool and didn't become flustered like you normally do when wearing a jumper during a workout.
For all types of training I would also 100% recommend getting this jumper. If like me, you live in them, then get this in your wardrobe pronto. Ya can thank me later.
Did it pass the CrossFit class test?
Yes, yes and yes. It's always a little cold when I first arrive at the box (especially in the dark winter evenings) so to have a jumper that not only covers all aspects of my upper body, then it's pretty damn handy. I don't wear gloves when I workout so the thumb holes are pretty handy – especially for my poor blood circulated hands! On top of that I've also found the jumper to be extremely sweat proof – especially considering it's a light colour, too!
You can find the jumper here. I went up a size in this and got a S.
All in all, not only has my comfort for training increased massively but my motivation to train has rocketed too. Simply because I'm wearing comfortable gear that will help me train to the best of my ability. So yes, to round things off, the right clothing does affect your training – in comfort, performance, motivation and safety. You can find more training gear from The Sports Team here. I'd 100% recommend the brands and clothing found on their site!
Photographer: @thomas_best
Location: CrossFit Fareham, @crossfitfareham
Features: Shane Vincent @saint_crossfit + myself @hannahandfitness
Pin this to read later…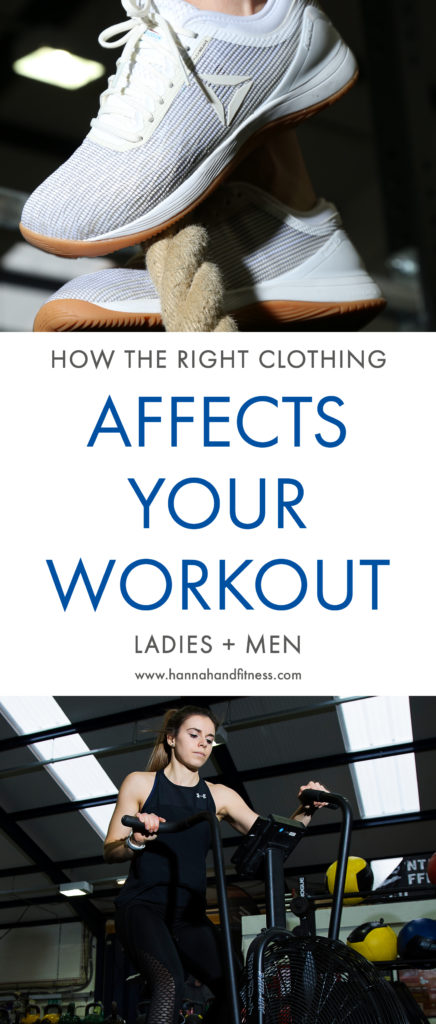 PS, this post is sponsored in return for the items however, all opinions are my own and are extremely honest. Just follow my Instagram to see how obsessed I am with this outfit! 
References: