Well, would you look at that. It's October – aka, my favourite time of year. Freshly baked cookies, crispy golden leaves on the floor, the smell of autumn spice in the kitchen, darker evenings and halloween. I'll confess, I'm an autumn obsessed freak. Give me winter jumpers and cups of hot chocolate over a beach and a bikini any day!
So today, on this gloomy October 1st, I'm bringing you my very first pumpkin recipe (because if you didn't know, us bloggers and fitness enthusiasts are stupidly obsessed with pumpkin, spice and all things nice).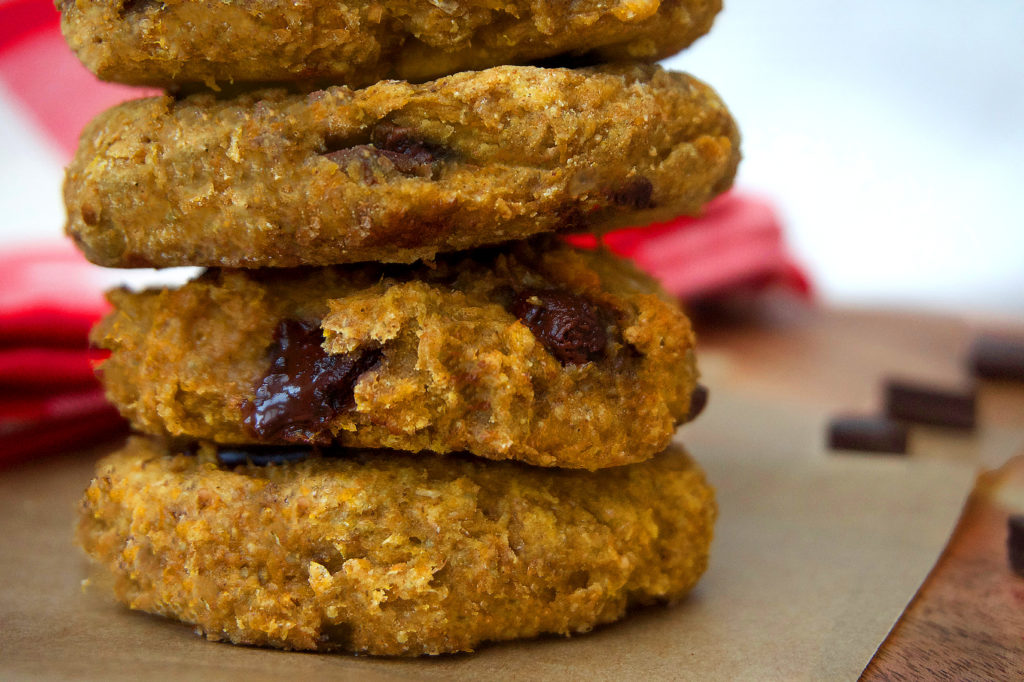 These cookies are the perfect way to settle into the new season and quite frankly, the smell that fills the kitchen when they're baking is just ridiculously mouth watering. They're soft, gooey with dark chocolate and perfectly crisp on the outside – all without being too cakey (which are a big no go for me when it comes to cookies).
Trust me when I say to leave out an egg for this cookie recipe. The pumpkin puree, xanthan gum and coconut oil already do the job of an egg. Adding an egg would simply make the cookies far too soggy and indeed, very cakey. Oh no no no.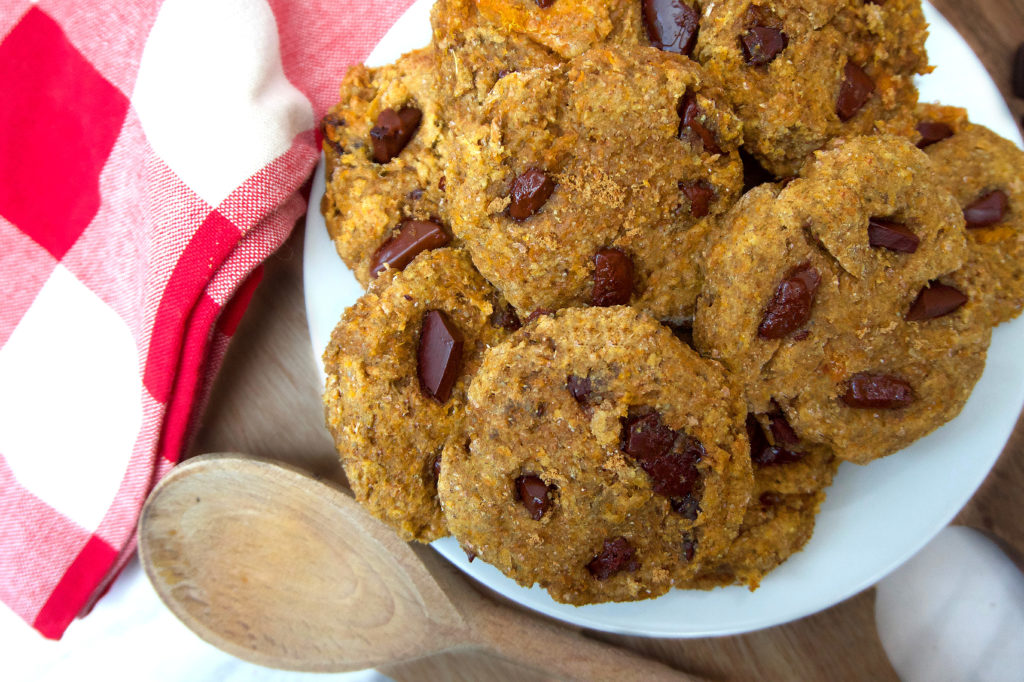 I've been trialling this recipe for a few weeks now, so you can understand the sudden giddiness I felt when I got the ingredients right. By now, you've probably seen a trillion and billion pumpkin cookie recipes online and I wanted to bring something a little different to the table. So, with the help of rye flour and dark chocolate chips, I think I've managed to create something a little magical for the pumpkin season.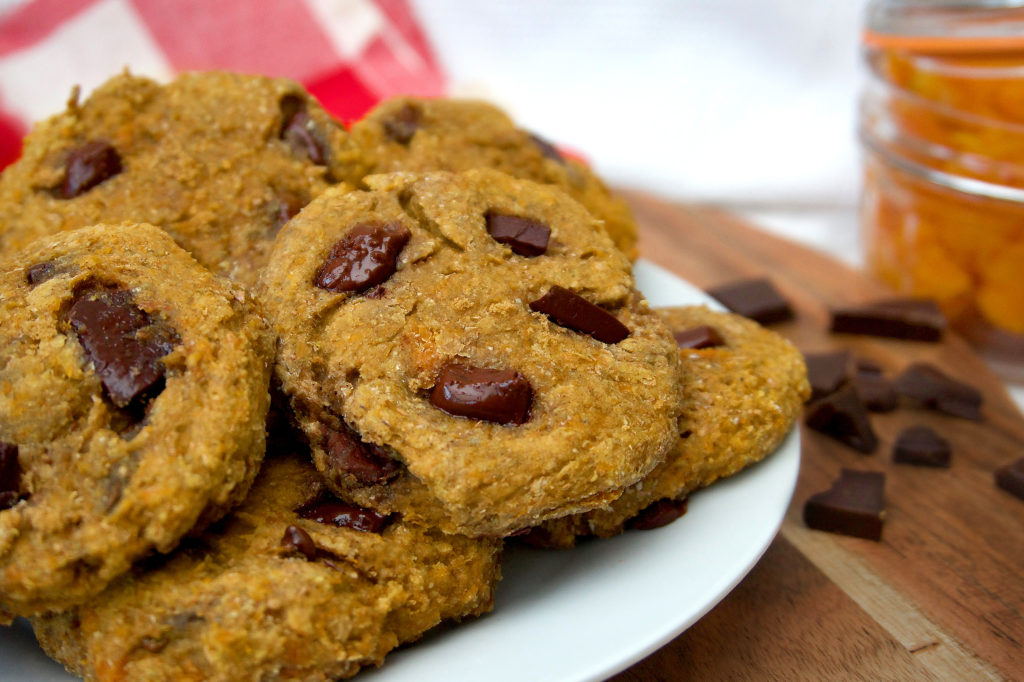 The rye actually helps create a slight nutty flavour to the cookies which works wonderfully well with the autumn spices and pumpkin flavouring. I must say, with each bite you get a little bit of everything – spice, gooey chocolate chunks, rye and of course, pumpkin. A wonderful combination of all my favourite things!
I whipped these cookies up in about 10 minutes and within another 10, they were freshly baked and out of the oven ready to serve up warm (the only way to serve cookies if you ask me). Now I'll warn you – these cookies don't last very long so either you 1) hide them from everyone or 2) eat as many as you can in one go. Either way, within an hour there was one cookie standing.
Pin this recipe for later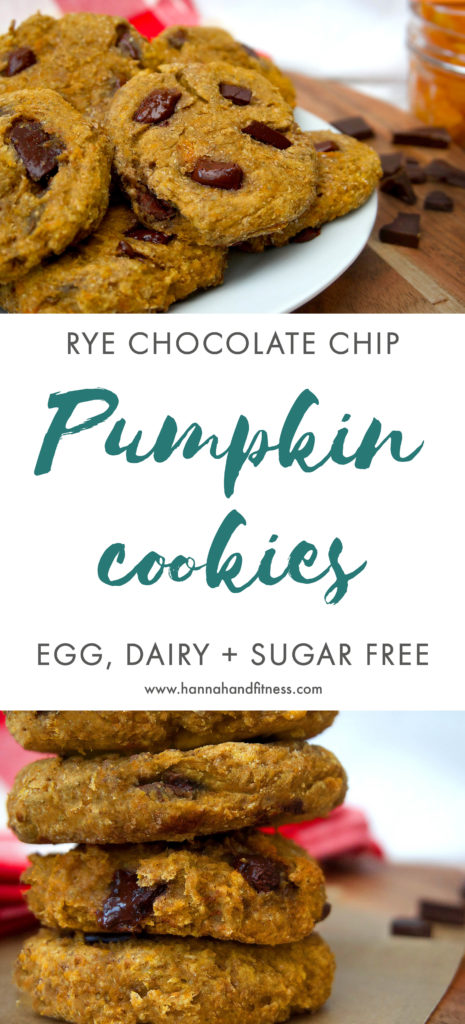 Rye Chocolate Chip Pumpkin Cookies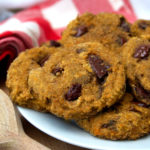 Print This
Ingredients
140g rye flour

97g wholemeal flour

Half cup dark chocolate chunks

70g coconut sugar

4 tbsp sukrin gold (or other alternative sugar free option)

2 tbsp coconut oil - melted

1 tbsp cinnamon

1 tsp ginger

1/2 tsp nutmeg

Pinch salt

1/2 tsp xanthan gum

1/2 tsp baking soda

270g pumpkin puree

1 tsp vanilla extract
Instructions
Begin by pre-heating your oven to gas mark 4.
Line a baking tray with parchment paper and set aside.
In a bowl add your flours, spices, salt and baking soda and mix together.
In another bowl, add your pumpkin puree, vanilla extract, coconut sugar (I use The Groovy Food Company), coconut oil ( I use The Natural Empire) and sukrin gold and whisk together until everything's combined.
Add the dry ingredients little by little into the wet ingredients, making sure to stir continually. Add in the chocolate chunks (I use Raw Halo dark chocolate) and stir again until mixed evenly.
Create small balls of your cookie dough and place on your baking tray. You should end up with 11-12 small balls. Once placed on your baking tray, flatten the balls into a cookie shape and place in the oven to bake for 8-10 minutes.
Once done, remove from the oven and serve up warm. Mmmm.

,
x
Notes
Your cookie dough will be sticky but firm enough to roll into a ball. If your dough is too sticky then add a little more flour.