A few weeks I attended The Health Bloggers Community summit in London and upon arrival I got to trial out the new vegan Bounce Balls. I've always been a fan of Bounce's original balls, however being lactose intolerant meant I could very rarely eat a whole ball, tummy ache free.
I wasn't quite sure what to expect with the new vegan balls but straight away I fell in love with them!  I've never been a fan of protein balls – I always find them quite stodgey and packed full of dates and nuts (y'kno, nothing too exciting) but the new bounce balls were full of unique and interesting flavours.
The new range consists of four flavours: Almond kale, cashew spirulina, beetroot cashew and coconut cumin. Instantly I was intrigued with the beetroot cashew and almond kale. I couldn't quite image what the combination of flavours would taste like but alas, to my amazement they worked perfectly! All the balls flavours work perfectly well and the texture of the balls just leave me asking for more. They're certainly not stodgy and gooey like some balls i've tried.
So when I was kindly asked by one of Bounce's team members if I would create some recipes based on the new ball flavours I couldn't reply quicker. With that, I was soon gifted an amazing package (beyond what I even expected) full of ingredients, a cute bowl and the new vegan balls themselves. Gah, ultimate blogger heaven!
So with all that said, I've decided to create a mini vegan #bounceballrecipes series. Over the next few weeks you can intend to find delicious, mouth-watering and unique recipes based on the flavours of the balls. A lot of research, taste testing and curiosity of flavours have gone into this series.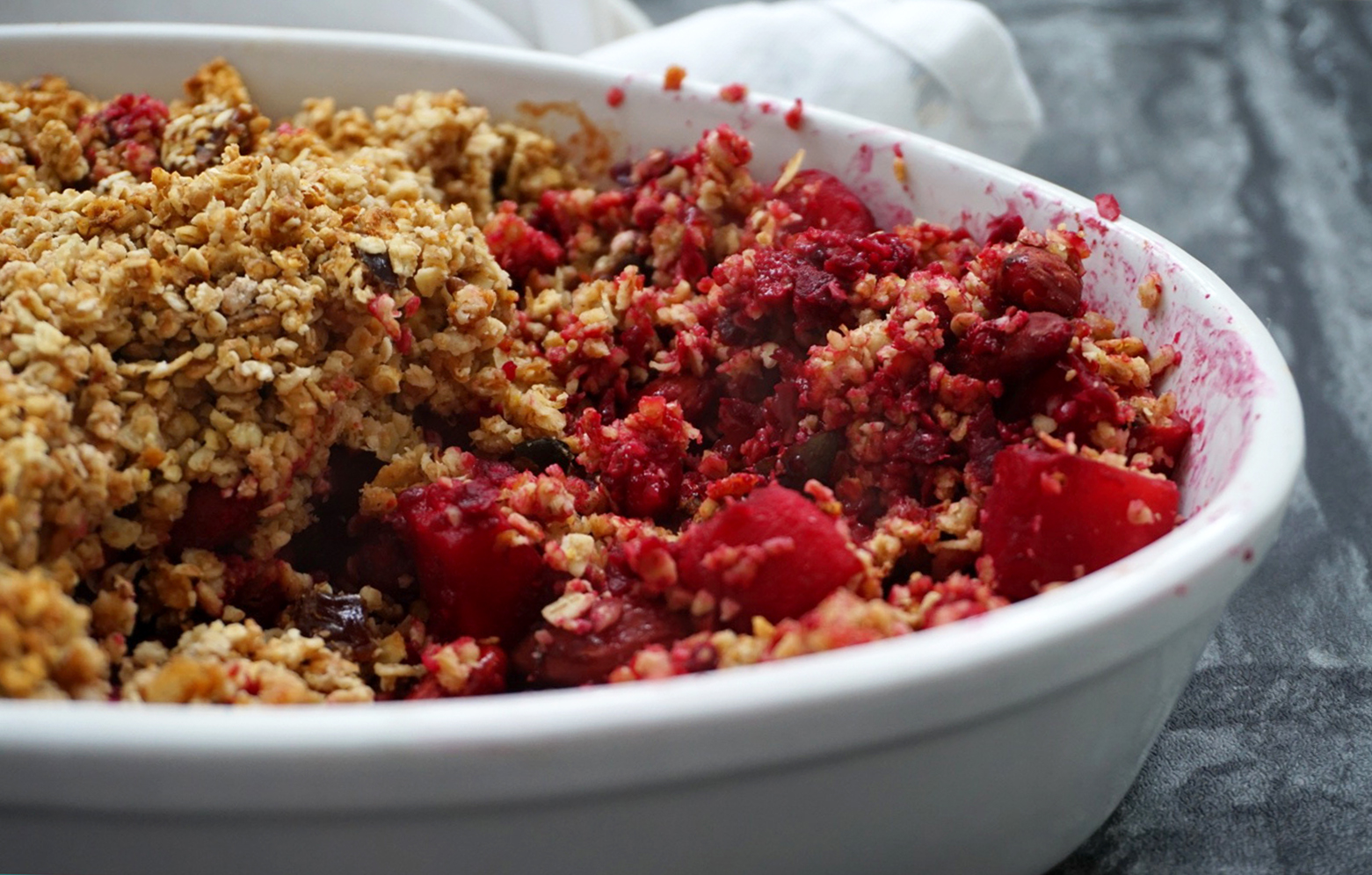 This week i'll be bringing you the first instalment of my vegan #bounceballrecipes based on the beetroot cashew ball. Before I start drooling over this recipe though, let me start by explaining my choice of combination with the beetroot and apple. Your all probably thinking i'm nuts right now, right? Well, I kid you not, this combo was designed to be a match made in heaven – food heaven that is.
As you may already know, when beetroot is cooked it intensifies its earthy sweetness, which I think when paired with tart and tangy fruits, it really brings out the flavour. It's a different twist to baking but trust me, it works (otherwise it wouldn't be on the blog!). Plus, it's a great way for sneaking in veggies whilst creating a bright and vibrant pudding.
As for the crumble, it's the crumble topping I usually make but with added yoghurt and 2 Beloved date bars (this is optional). The adding of yoghurt really adds a creamy texture to the crumble when mixing and I believe this intensifies the golden crust that is created when baking. Aka, the best bit!
So trust me on this and give it a whirl.
Ingredients
Crumble filling
2 large cooking apples – peeled and diced.
3/4 cup almond milk
1 tsp vanilla extract
3 tbsp coconut sugar (I use TheGroovyFood Company)
Pinch salt
110g cooked and peeled beetroot
100g cashews – half chopped, half whole (other nuts could be optional)
Crumble layer
1 1/3 cup oats
1/3 cup wholemeal flour
1 tsp vanilla extract
3 tbsp fruit syrup
3 tbsp coconut oil (melted and I use TheNaturalEmpire)
2 tbsp greek yoghurt (I use 0% fat – leave out if vegan)
2 Beloved date bars (optional)
Method 
Begin by pre-heating your oven to gas mark 6.
In a pan add the crumble filling ingredients (apart from the beetroot and cashews) and bring to the boil. Once the pan has come to the boil, leave to simmer for 10-15 minutes until the apples have softened.
In a blender add the beetroot and give it a whizz until you have a puree/shredded beetroot mixture.
In a bowl add the crumble ingredients and mix together.
Once your apples have cooked, add the beetroot and cashews to the pan and mix well. Add the crumble filling to a cooking dish and even out the mixture. Top with the crumble and again, even the layer.
Pop the crumble into the middle of the oven to bake for 25-30 minutes or until you have a golden top.
Once cooked, remove from the oven and dig in.
,
x