You guys. Wow. Just wow. I didn't think it could get much better than my healthy banana bread but apparently it can. Low and behold I have a new favourite bake – my caramel filled, nut topped banana bread. Aka, my healthy caramel nut banana bread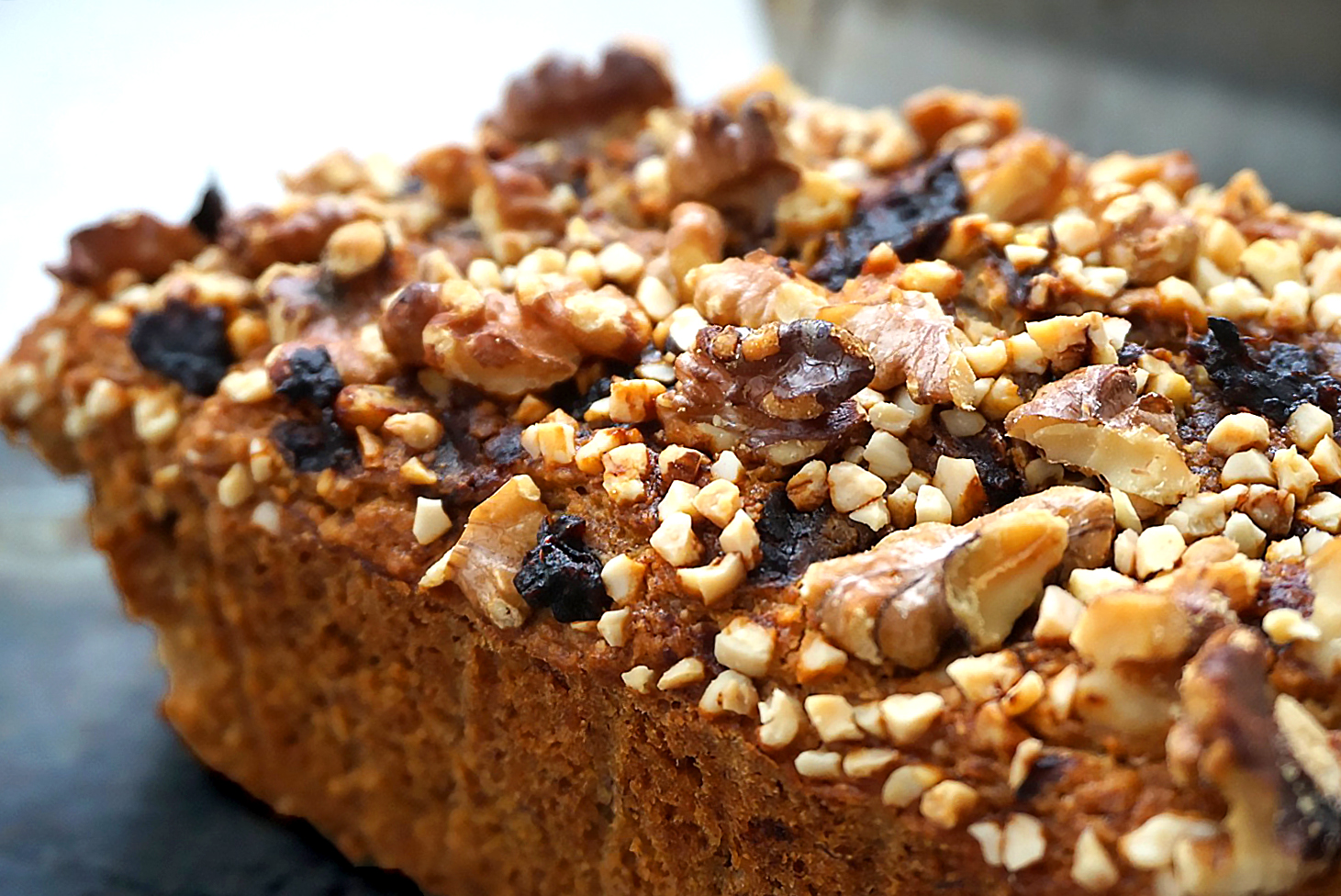 I like caramel. I like caramel a lot actually, and damn this banana bread has a serious amount of caramel action going on. I mean, banana bread has to be one of the most delicious, comforting dessert/snacks in the world and if that wasn't enough I've gone and topped it with a healthy caramel made from delicious, creamy mejdool dates. Honestly, the dates themselves are sweet enough so you really don't need the extra sugar.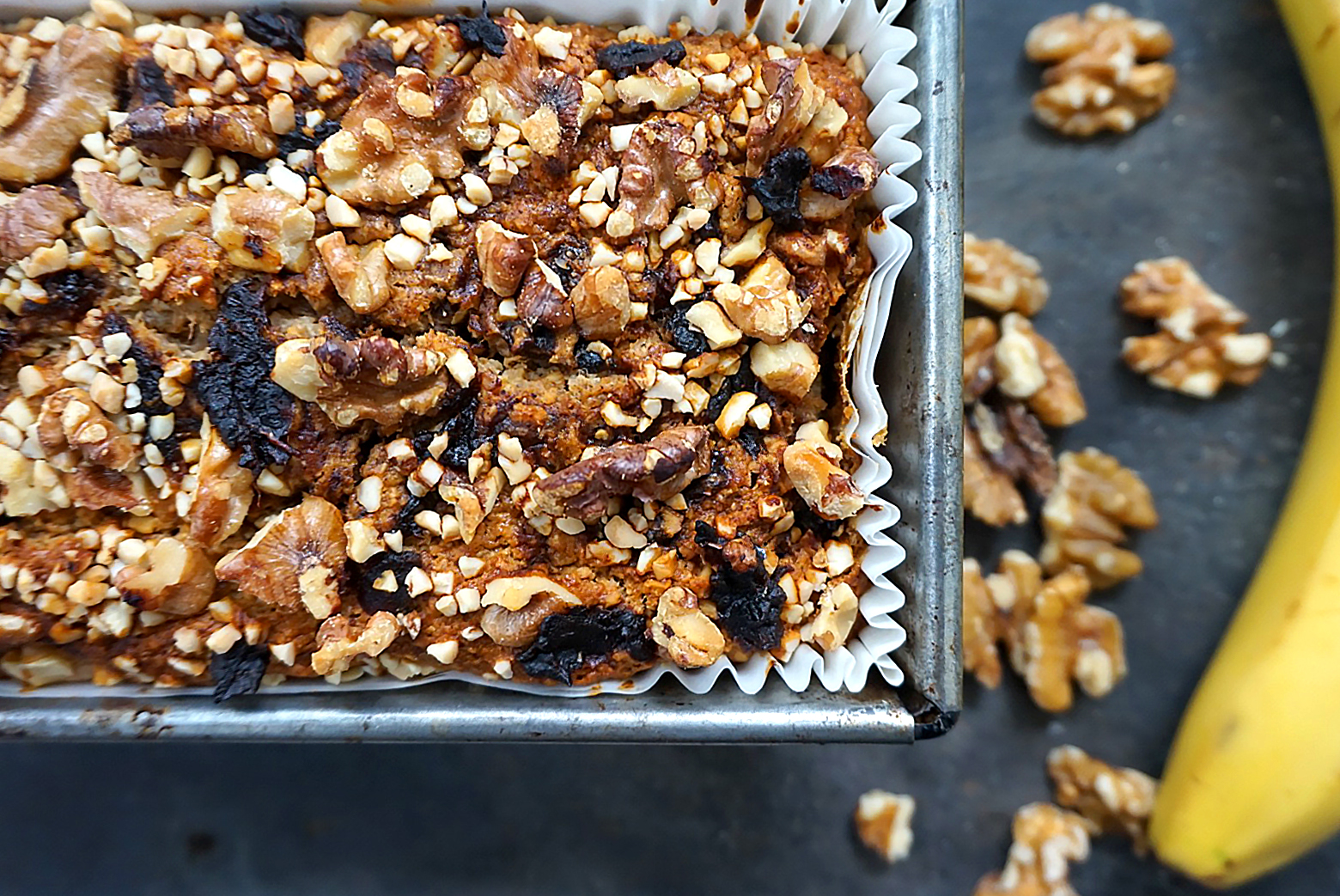 I think, out of my banana bread recipe collection, this is my favourite. Sorry to my recipes, the best healthy banana bread and healthy roasted peanut banana bread but this recipe really does it for me – It's a real treat and a half. It's light, it's sweet, it's creamy from the caramel and, love or hate the word – it's moist. If you love banana bread then you'll 100% love this treat. Trust me.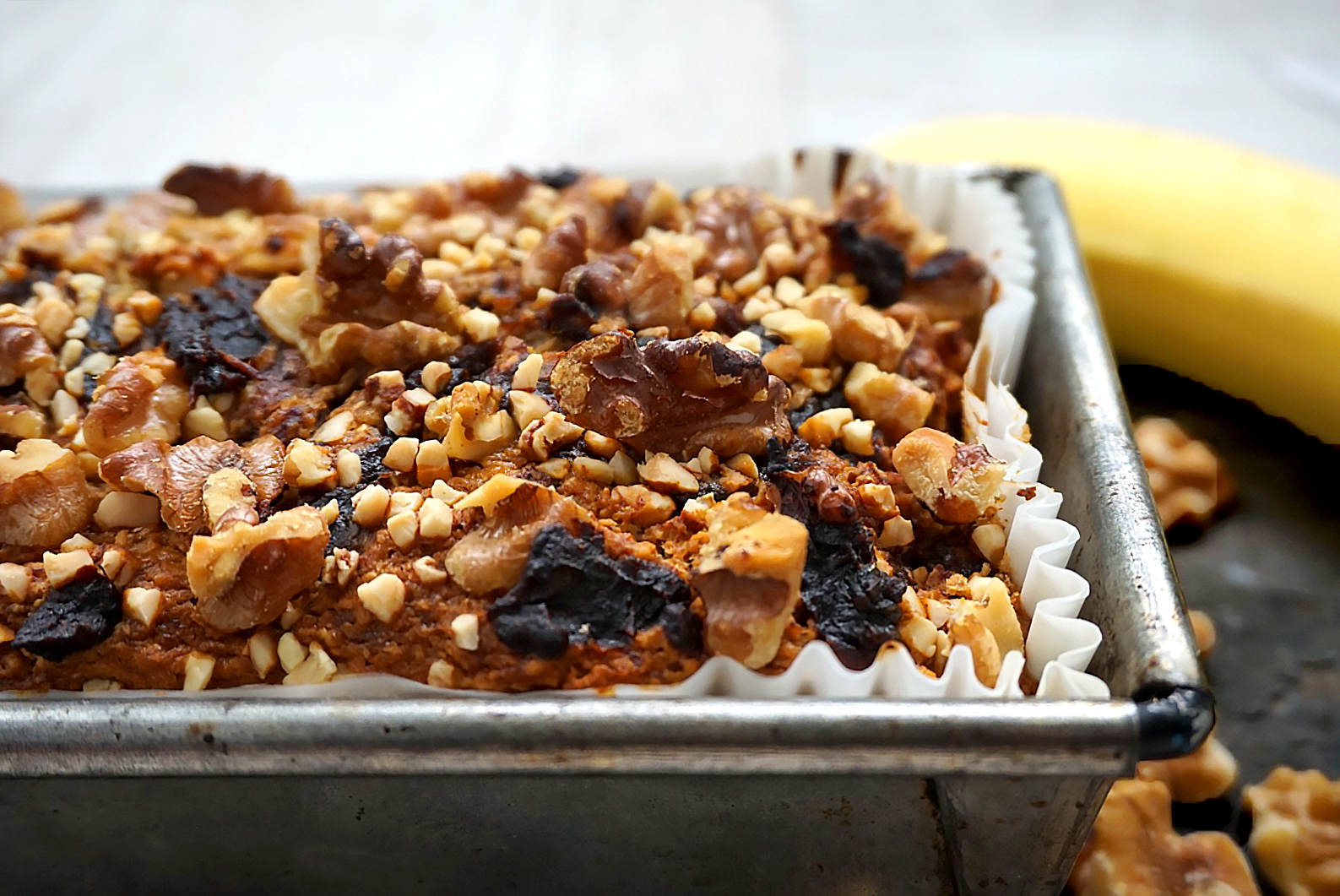 If you're yet to make your own banana bread then make sure your banana's are well and truly spotty to take advantage of their ultimate sweet flavour. The spottier the better! I always buy my banana's 3-4 days before using them in banana bread. This gives them the chance to really ripen up! Otherwise, if you're against time then pop your banana's in a brown bag overnight as this can also help them ripen quicker.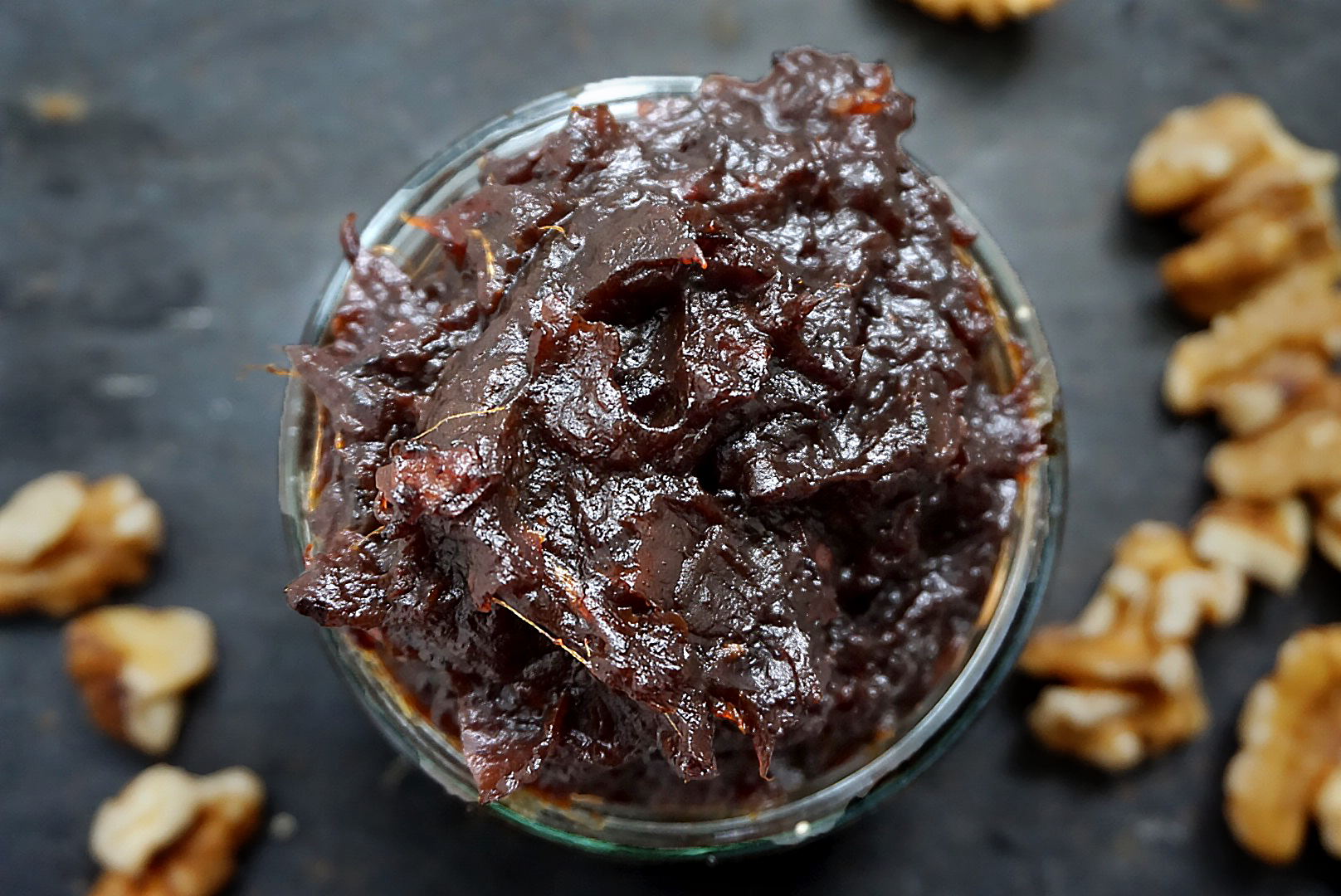 Don't be put off by making the caramel. All you need are two ingredients and that's it! It's as easy as pie. Promise. Like most of my bakes, I've made this an easy recipe to follow. Just grab the ingredients (which most are cupboard based anyway), dust off a bowl and get baking – especially as it's just in time for The Great British Bake Off tomorrow. I swear us Brit's, bakers and all food lovers live for this show? Or is that just me showing my exceptional, old before my time, personality? Yeah… maybe that. Either way, it's time to get your baking mitts on!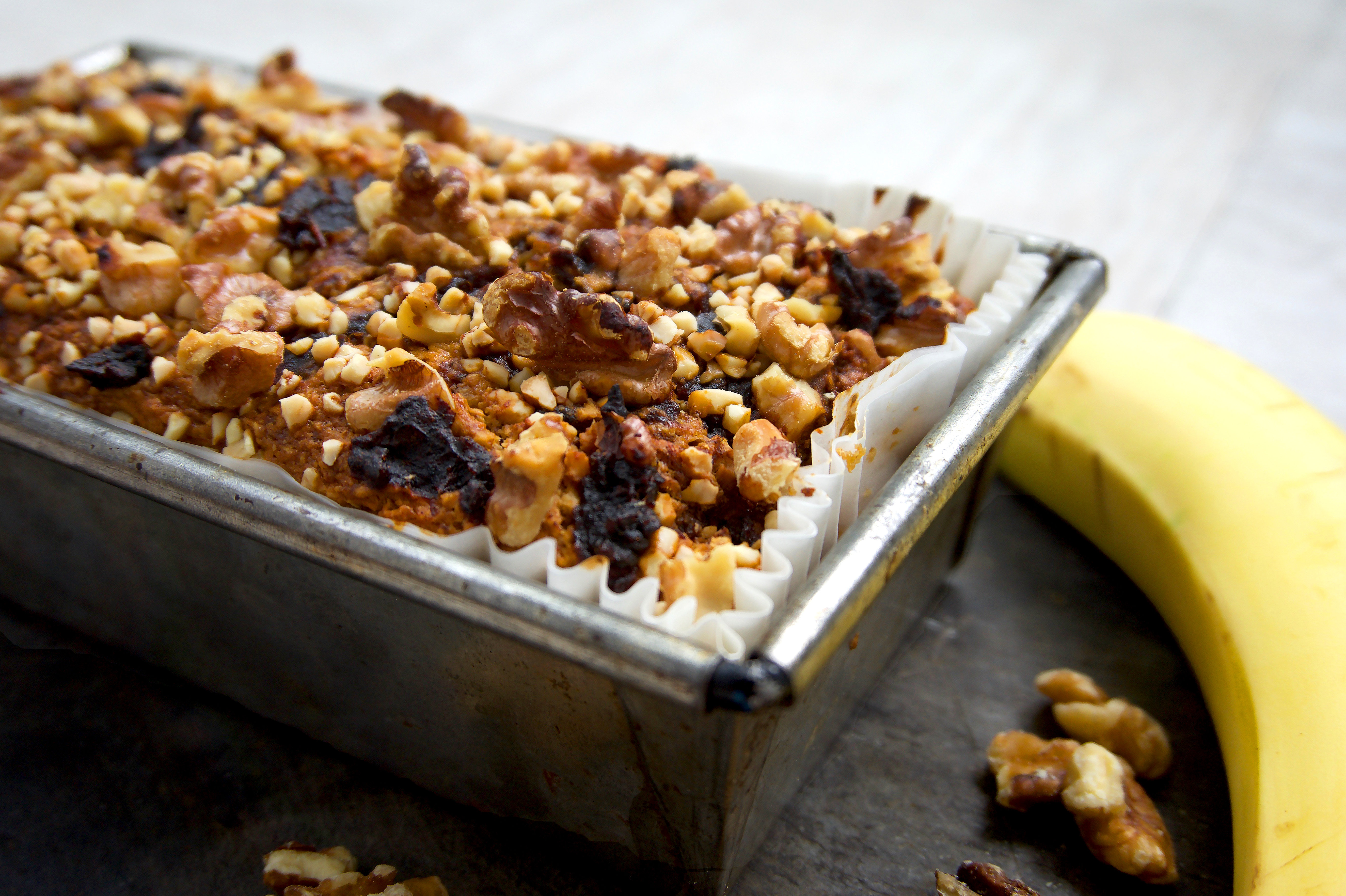 PS, don't forget to tag me in your re-creations if you pop them on Instagram! I love seeing you guys trying out my recipes!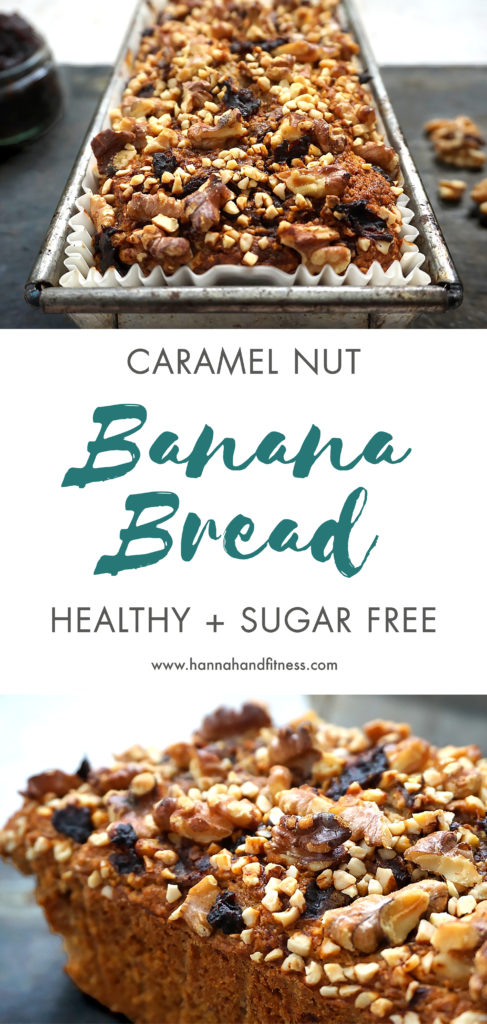 Healthy caramel nut banana bread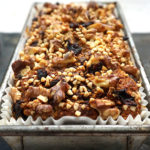 Print This
Ingredients
BANANA BREAD

40g metled coconut oil (I use Natural Empire)

85g oat flour (just whizz some oats up)

160g self raising wholemeal flour

270g mashed banana

140g fruit syrup (I use Sweet Freedom)

2 eggs

1 tsp baking powder

3/4 tsp cinnamon

Pinch nutmeg

Pinch salt

80g almond milk

1 cup mixed nuts for topping (I used quite a few walnuts)

CARAMEL SAUCE

1 cup pitted medjool dates (you can use normal dates - they just won't be as sweet)

100ml boiling water
Instructions
Begin by pre heating your oven to gas mark 3 and line a bread tin with parchment paper.
Grab a saucepan, add the dates and pour the boiling water over them. Bring to the boil and then leave to simmer for 10-15 minutes until a sauce/paste texture forms. You may need to add a little more water if the sauce is too thick. Once done, set aside whilst you make your banana bread.
In a bowl beat together the eggs and milk. Once done, add the coconut oil, fruit syrup and mashed banana and whizz all together.
Once the mixture has been well combined (some lumps will occur) add the salt, cinnamon and baking powder and whizz together. Now, add both the flours and gently hand stir with a spoon until everything is combined.
Spoon some of the mixture into the tin halfway and then with a spoon add a tbsp of the caramel sauce and mix around evenly. Then add the rest of the mixture to the top of the caramel and fill to the top of the tin.
Top the banana bread with the rest of the caramel sauce and mixed nuts.
Finally, place the tin in the centre of the oven to bake for 60-70 minutes. I've tried this recipe many times now and the cooking times tend to vary so make sure you keep an eye on it!
To make sure the bread is fully baked, insert a knife into the middle of the bread. If it comes out clean then it's done. If not, back in it goes! Although, once it is cooked remove from the oven and leave to cool in it's tin for 10 minutes and then remove and allow to cool further.
I keep my bread in a sealed box for a few days and then pop it in the fridge. It will last for a few days but like any baked goods I like to eat mine when they're pretty fresh! Or, that could just be the pig that I am? I'd go for the latter. 
I hope you enjoy this recipe as much as me! It really is a delicious, creamy, caramel filled treat. Mmm, mmm!

,
x