I'm going to start by calling this recipe a beautiful french mess, and oh how I wish I was devouring it right now!
I'm not going to lie – photographing this recipe wasn't the most easiest. Do I stack it? Do I drizzle it with fruit syrup? Do I neatly arrange it? Or heck, do I just plate it up and hope for the best? Yup, I went with the latter. I'll have to convince you with my very best food word pornography…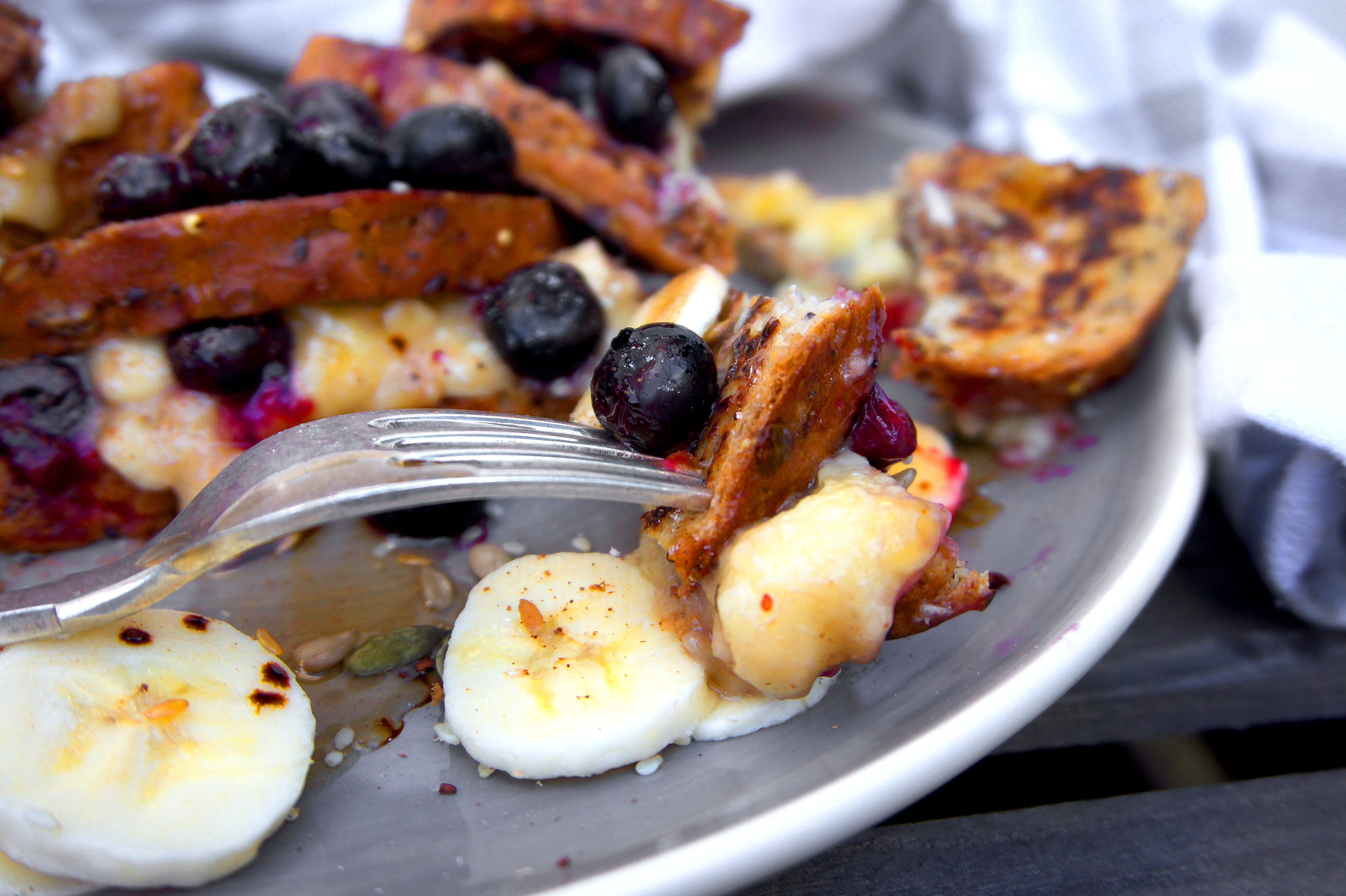 I'm also going to admit that up until few days ago I was a complete french toast virgin. Never in my 23 years of existence have I dunked my bread into a wet eggy mixture, fried it and then topped it with all the delicious toppings. Nope. Never.
This coffee, banana and warm blueberry french toast recipe, however was a blessing to break my french toast virginity. Like pancakes? Then the only best way to describe this recipe is that it tastes like big fat pancakes – only in the shape of bread. Boom. If that doesn't entice you then frankly, I don't know what will!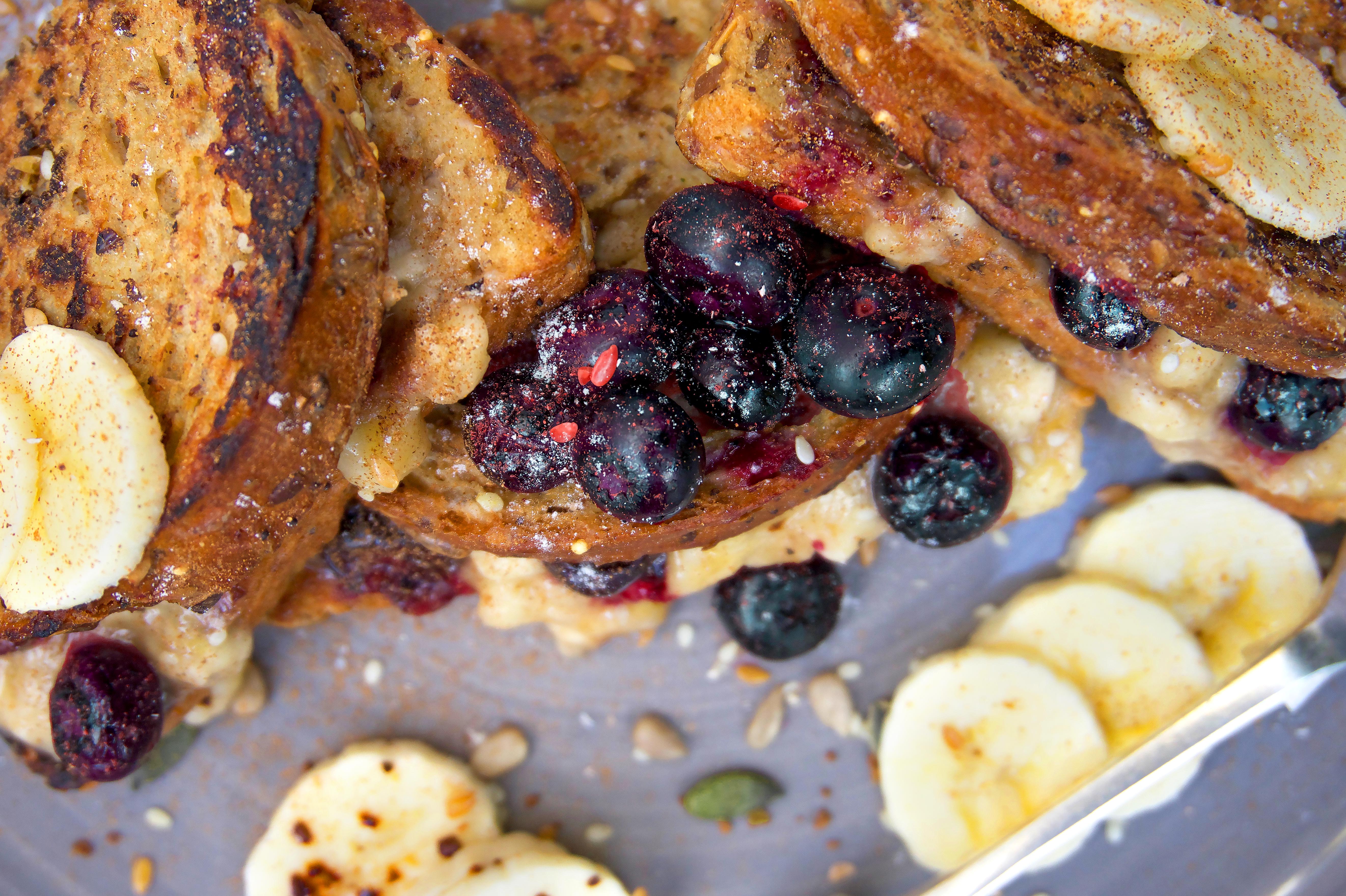 For the coffee I used a vanilla flavoured coffee from Beanies Flavour Coffee. After reviewing their coffee a week ago, I have been a big lover of their vanilla flavoured jar and I figured what's best paired with french toast? Coffee, of course! You can however, use your own coffee flavour/brand but if you're after something a little sweet then this may just be your best friend.
The sweet banana and warm blueberry's sandwiched inbetween the coffee and eggy bread literally work taste bud wonders. I promise you. Banana is probably one of my favourite fruits too, but warm it up and slather it in-between giant pancakes and wow – x10 better!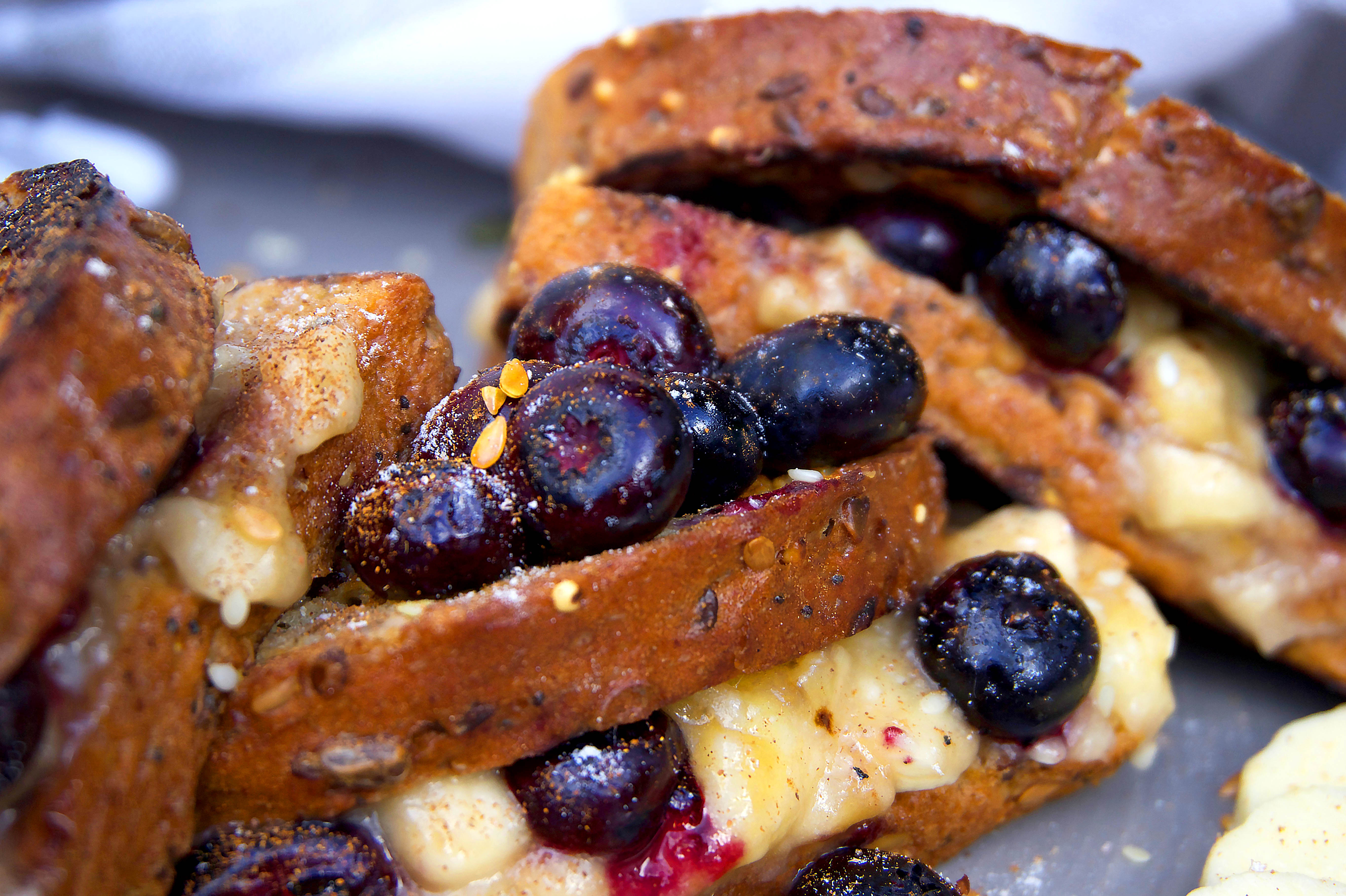 I'd like to think this recipe makes a wonderful leisurely breakfast/brunch but if you're always on the go then you can simply prepare this recipe in advance and keep it for the days ahead of you. The french toast itself can be eaten warm or cold, but I certainly suggest serving it warm with a lavish topping of warm banana and blueberries, of course.
We're probably all aware that the traditional french toast recipe isn't perhaps the most healthiest with it's thick cut stale white bread, cream, and a stupid amount of oil for frying. However, with a few tweaks (and only a few tweaks) I've made this recipe 100% healthy and incredibly easy to make, too. Plus, by using Hovis's new lower carb bread I've managed to reduce the carb percentage down a tad too – which clearly means more slices. Double whammy!
All you need are 4 ingredients (plus toppings) and a pan and you're good to go!
Healthy coffee, banana and warm blueberry french toast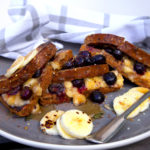 Print This
Ingredients
4 slices Hovis lower carb bread (or your own choice)

2 eggs

250ml almond milk

1 tsp Beanies Flavour Vanilla Coffee

1 banana - mashed

1 handful blueberries

Sprinkle cinnamon

Sprinkle seeds (optional)

Fruit syrup (optional)
Instructions
In a bowl whisk together the eggs, milk and coffee until everything is fluffy and combined.
Heat a large pan with a little oil until hot and then dunk one slice of bread into the wet mixture and pop in the pan to fry for 2-3 minutes on medium heat before flipping to cook the other side.
Repeat this process for each slice of bread.
When all slices are fried, stuff with banana and warm blueberries and then serve with cinnamon, seeds and fruit syrup.
Enjoy!

,
x
Pin this recipe for later…