Oh boy, where do I even start with this gooey, chocolaty, piece of cookie brownie heaven?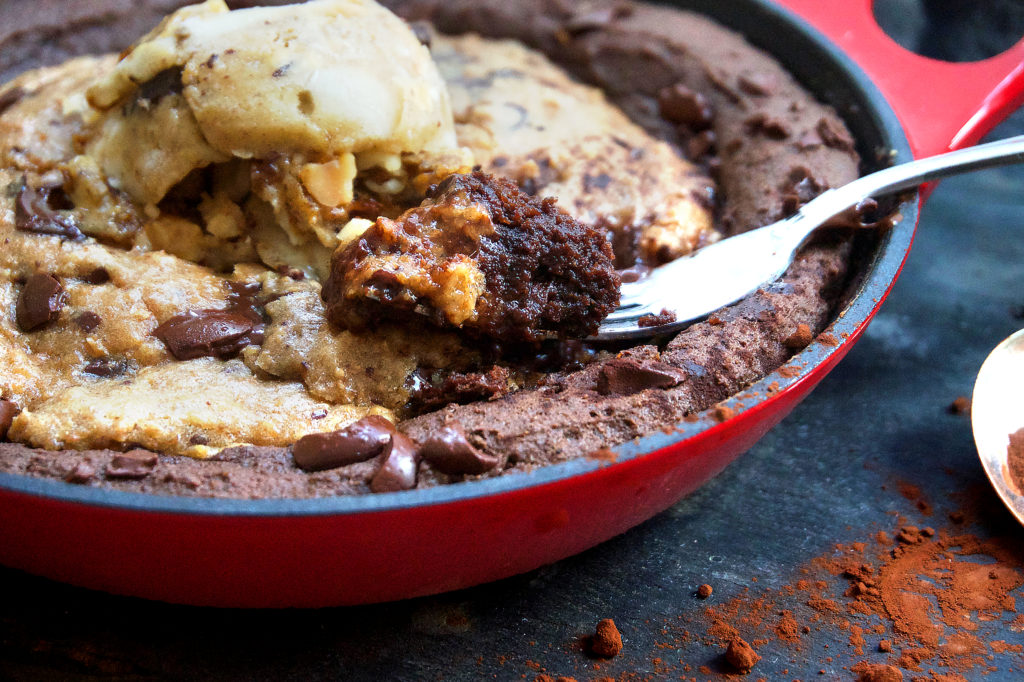 Apart from the fact that I've just whipped up the world's dreamiest dessert combining two of my favourite things, cookies and brownies, I've also managed to do so by using healthy ingredients only. Don't believe me? I don't blame you.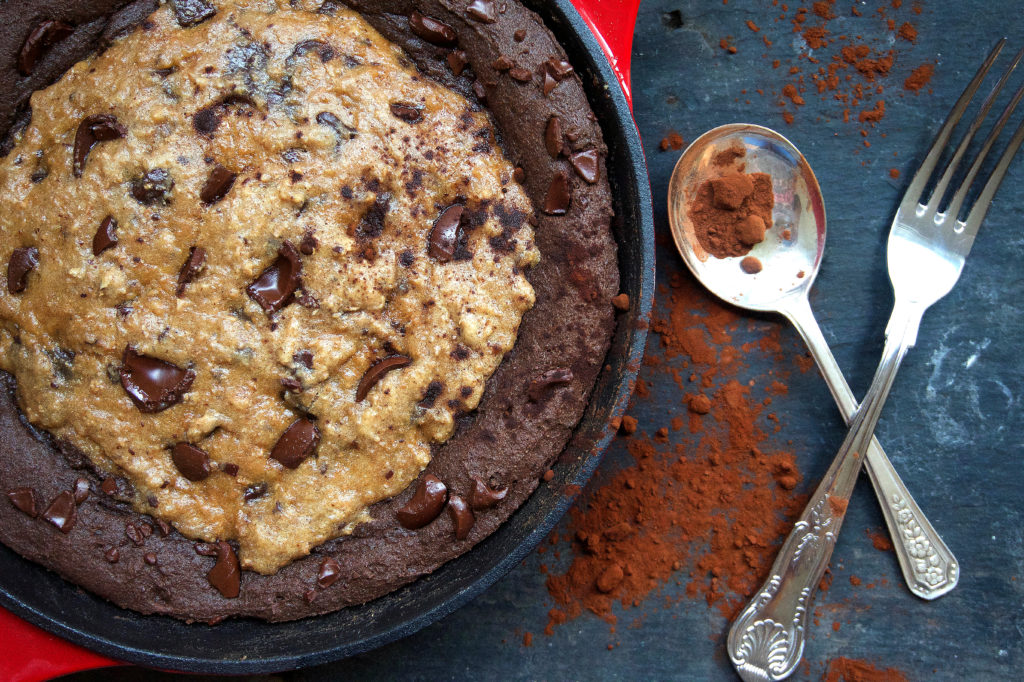 I mean, just look at that gooey brownie. Crunchy on the outside, warm and soft on the inside and mega chocolaty. That's how all brownies should be, right?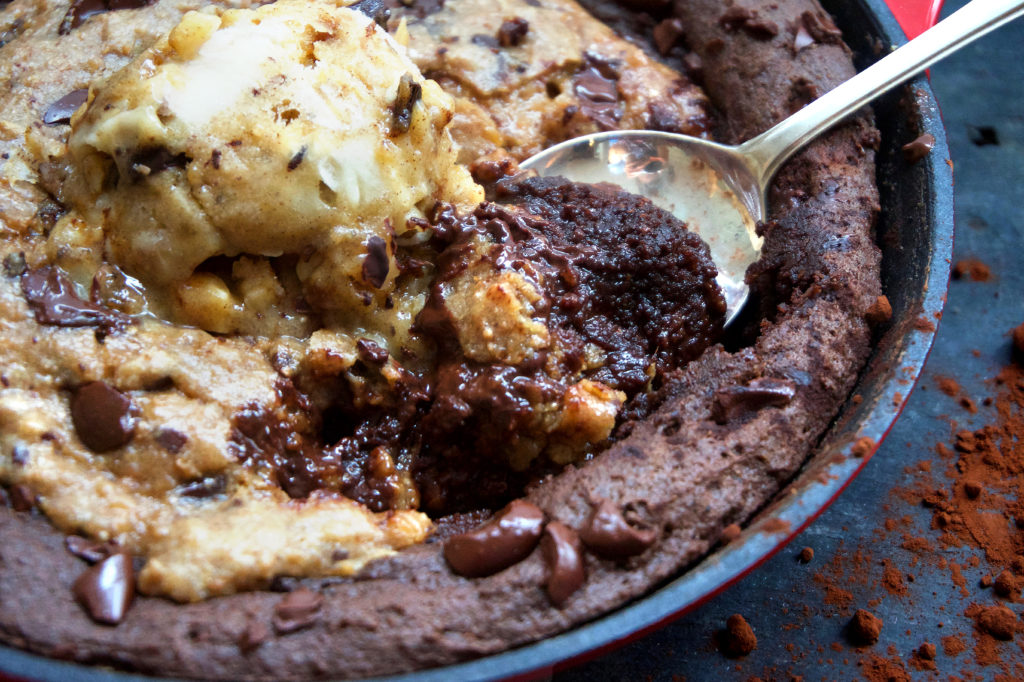 For the brownie I actually snubbed the cacao powder for some chocolate protein powder. You don't have to do this but I wanted to include some of the great vitamins and nutrients that this particular protein powder, MissFits Nutrition provides. It's vegan friendly and one of my favourites – simply because of the limited, nonsense free ingredient list.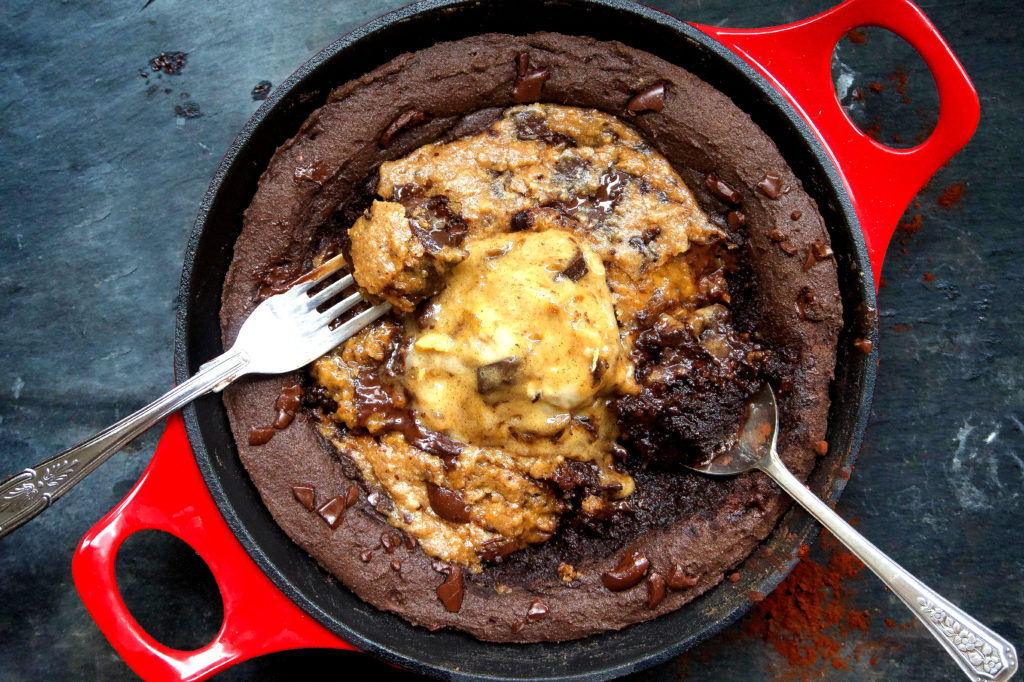 But let's not give the brownie the full credit for this recipe shall we? The cookie in this recipe is pretty damn good too. If I do say so myself. It adds a nice touch to the dish and balances out the intensity of the rich chocolate flavour. If you're a fan of vanilla and cookie dough, then you'll just love this. Just like the brownie, the cookie is firm on the outside and warm and soft on the inside. Wait until you dig into the melted chocolate chips – they're the best bit.
I won't go on though. In fact, I'm 99% sure you're only here for the recipe and not my jibber jabber. If anything, just make sure you serve this dish up warm and top it with a good dose of ice-cream and then tuck in like nobody's watching! Mmm, mmm.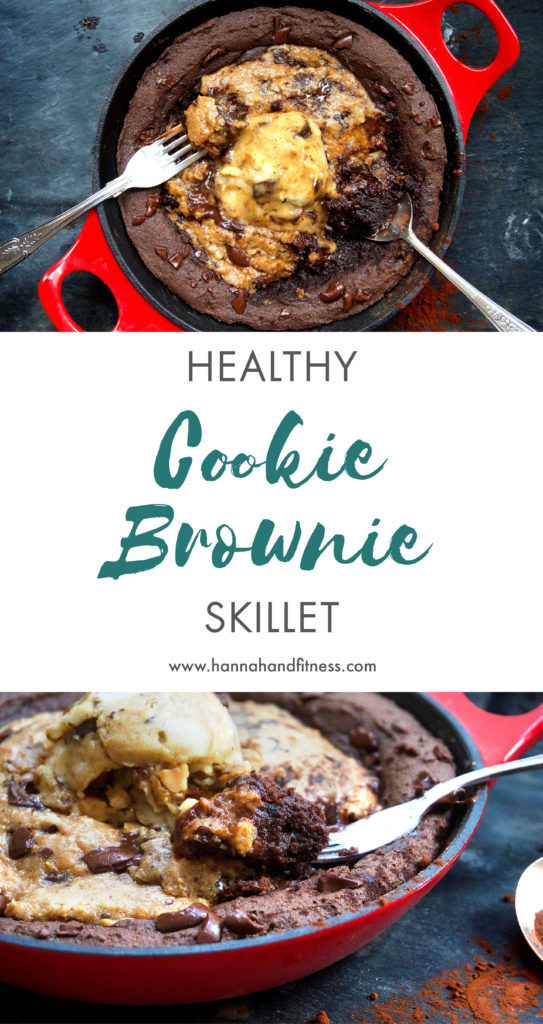 If you try this recipe then let me know! I absolutely love seeing you guys re-create my recipes. It really makes my day – seriously! Tag me @hannahandfitness on Instagram and I'll be sure to check it out!
Healthy Cookie Brownie Skillet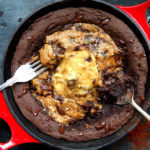 Print This
Ingredients
1 tbsp coconut oil (I use Natural Empire) to grease skillet

COOKIE

3 tbsp apple sauce

3 tbsp coconut sugar (I use The Groovy Food Company)

1 large egg

1 tsp vanilla extract

1/3 self raising flour

Pinch salt

Handful dark chocolate chips

BROWNIE

4 tbsp MissFits Nutrition chocolate protein powder

1 tbsp coconut flour (I use Sukrin)

1/4 tsp baking soda

Pinch salt

2 tbsp dark choc chips for topping

4 tbsp coconut oil

2 tbsp coconut sugar

2 large eggs
Instructions
Begin by pre-heating the oven to gas mark 4.
Grease your skillet with coconut oil and set to one side.
You'll need to start with the brownie mixture for the base. In a bowl whizz all your ingredients together (apart from the chocolate chips) until everything is combined. Once mixed, pop the mixture into the bottom of the skillet and layer evenly.
To make your cookie pop all the ingredients (apart from the chocolate chips) into a bowl and whizz together. Once mixed, stir in the chocolate chips.
The mixture for the cookie dough will be quite cake like therefore you will need to pour the mixture on top of the brownie layer. Finish by placing the leftover chocolate chips for the brownie layer on top of the brownie on the outsides.
Pop the skillet in the middle of the oven and bake for 10-12 minutes. You will need to watch your skillet very carefully in order to get the texture/moisture you want. I baked mine for exactly 10 minutes and ended up with a firm top but a moist inside – just how I like it! I suggest cooking a few minutes longer if you prefer a more firm brownie and cookie.
Serve up warm with a scoop of ice cream on top. I used my Healthy Snickers Ice Cream recipe and it was the perfect combination of flavours! Caramel, chocolate, cookie dough and peanuts… Oh the dream.
Enjoy!

,
x