Wow. Would you look at that. Another pancake recipe. Yes, I admit, pancakes and I… Well, we've got this thing going on at the moment and with Pancake day making it's big arrival soon, I think it's only going to get worse. But whose complaining?
This week's recipe inspiration come's from last week's California Prune's event which was held with celebrity chef's Rosemary Shrager, Peter Sidwell and nutritionist, Hala El-Shafie. The event took place at the Good Housekeeping Institute, London and it was all about bringing awareness to prunes and their many health benefits through the love of cooking and experimenting with different recipes. You can expect to hear more about it in Wednesday's post.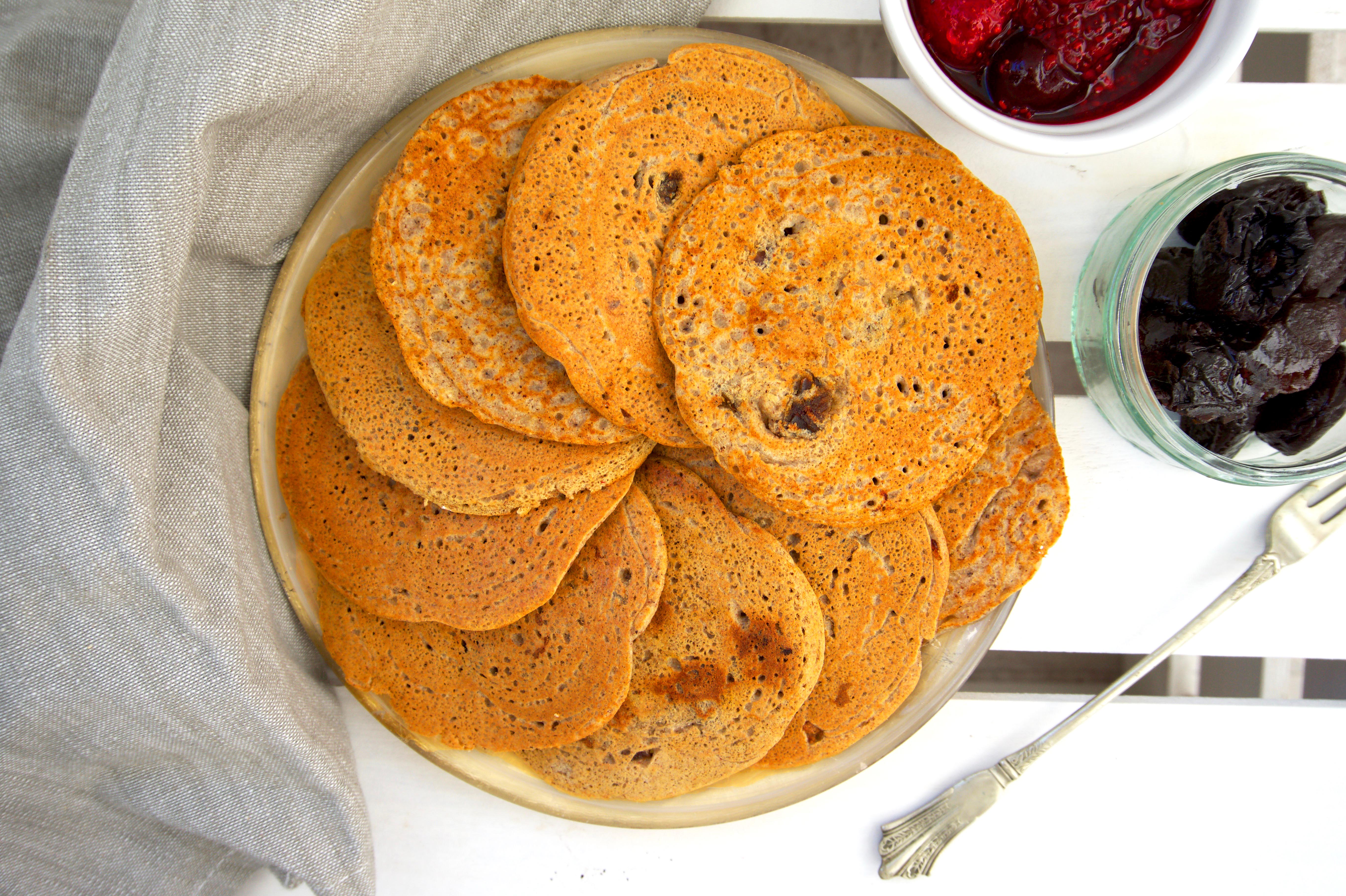 I'm a big lover of Prunes. Always have been, always will be. I remember when I was a kid and my mum would always pack a small tub of prunes to go alongside my lunch. You know the little tubs that you'd get the raisins in? Yeah those.
Nowadays, I use them a lot in my recipes (along with dates). They make a great alternative to sugar when it comes to baking and when it comes to savoury dishes, well I love popping them in Moroccan recipes. Snack wise? They're great on their own and because of their amazing health benefits and fibre quantities they can be a great option to graze on whilst your on the go.
This recipe isn't the exact recipe of Peter's spelt pancakes from last week (you can find the recipe for that here), however they're still blimmin' delicious. I simply switched out the butter for apple sauce, the milk for almond milk (for my dairy sensitive stomach) and I added the prunes to the pancake mixture instead of having them in the compote. Both recipes are just as delicious!
The key to this recipe is good quality prunes. The better the quality, the more sweet and tender the prunes will be which is extremely important for the dish. You don't want your pancakes to be filled with prunes that are tough and dry. Oh no. My prune recommendation? California prunes! And no, I'm not just saying that because I attended the event. I'm saying it because I truly was blown away by the difference in their prunes compared to other supermarket brought prunes. You honestly can taste the quality and care that goes into sourcing their prunes.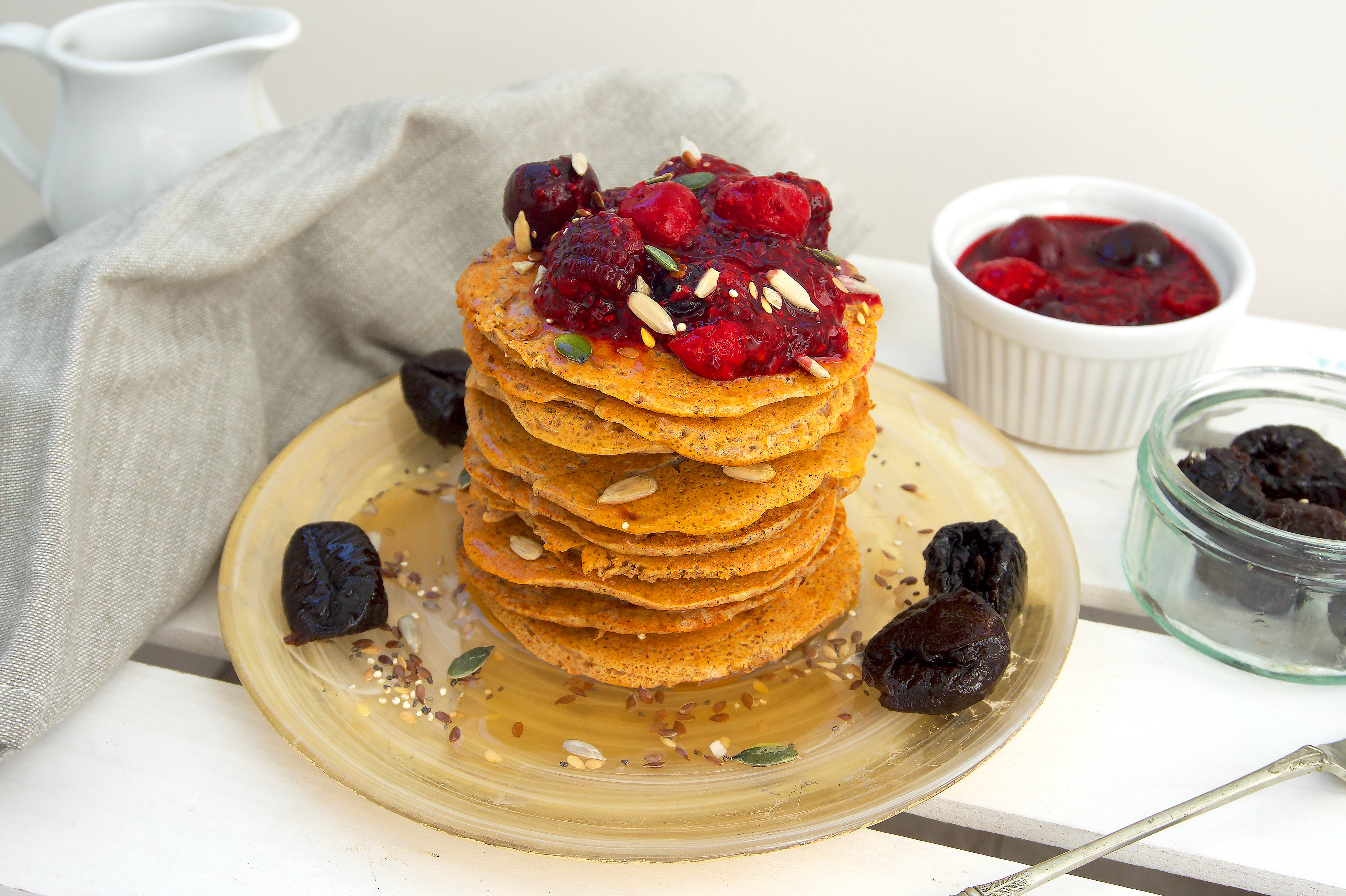 Not only is this recipe simply delicious thanks to sweet and nutty flavour from the spelt flour, but it's packed full of heart loving and tummy caring ingredients from the prunes to the spelt flour.
These pancakes are healthy, sweet, slightly (ever so slightly) nutty, wholesome and contain gooey, warm chunks of sweet prunes. They would make the perfect weekend breakfast or *cough cough*, pancake recipe for Pancake Day!
If you're a big fan of pancakes (like me) then give my other recipes a go too: 4 ingredient protein pancakes – buckwheat, banana and blueberry, fat and fluffy healthy pancakes and cacao low carb protein pancakes.
Spelt Pancakes With Stuffed Prunes - California Prunes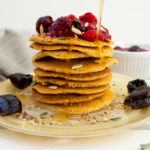 Print This
Ingredients
1 cup spelt flour

1 cup almond milk (or milk of choice)

Half cup prunes (chopped)

1 egg

1 tsp baking powder

1 tbsp apple sauce

1 tsp vanilla extract

1 tsp coconut sugar

1 tsp coconut oil
Instructions
In a bowl whisk together your egg for 1 minute (the foamer the better).
Add the flour, baking powder, coconut sugar and mix together.
Add the rest of the ingredients (excluding the coconut oil) and once again, mix everything together for the final time.
Heat a pan with 1 tsp coconut oil until warm. Add a tbsp of pancake mixture to the pan and heat on medium heat until bubbles start to appear and then flip. Cook again for another minute. Repeat this process until you have used up your entire mixture.
To keep your pancakes warm whilst cooking and flipping the rest of the mixture, stick them in the oven on low heat.
Once done, stack your pancakes high, top with some delicious warm berries and pour a healthy dose of syrup over your pancakes (I use fruit syrup).
Enjoy!

,
x
Pin this recipe to save for later…