I'll let you in on a little secret: I've never been of fan of making muffins. Most probably because I've always been rubbish at achieving the height of a ridiculously good looking muffin and instead I've always ended up with a sad cupcake looking muffin. Flat and far from photogenic. That was all up until a few days ago though…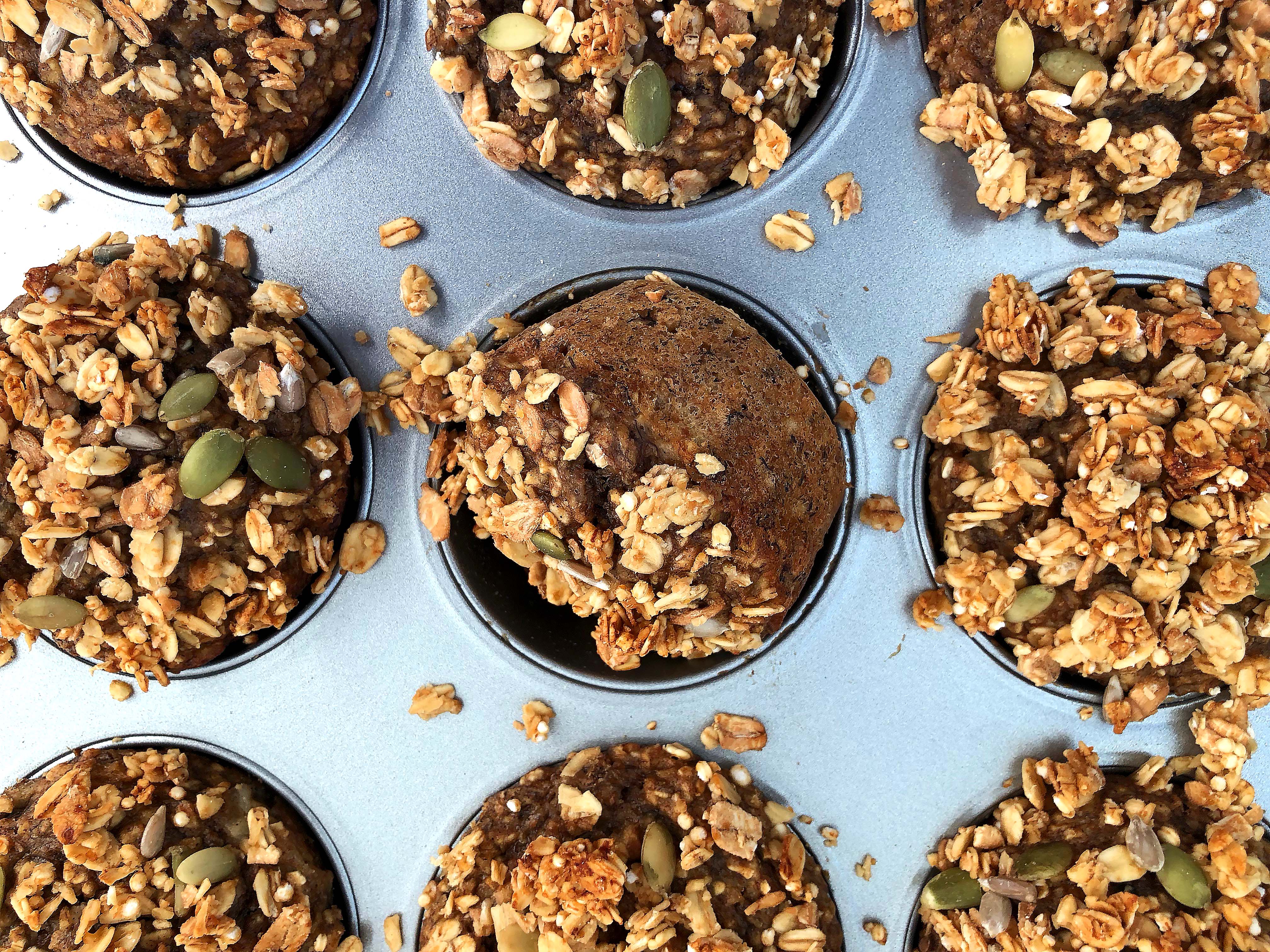 If you'd ask me what my most popular recipe on this site would be then I'd have to tell you that it's my healthy banana bread, followed closely by my caramel banana bread. So when figuring what kind of muffin I should get baking for this week's post (I was craving a muffin, badly) I thought it'd make perfect sense to turn my good ol' banana bread recipe into some fat old muffins – and fat they are!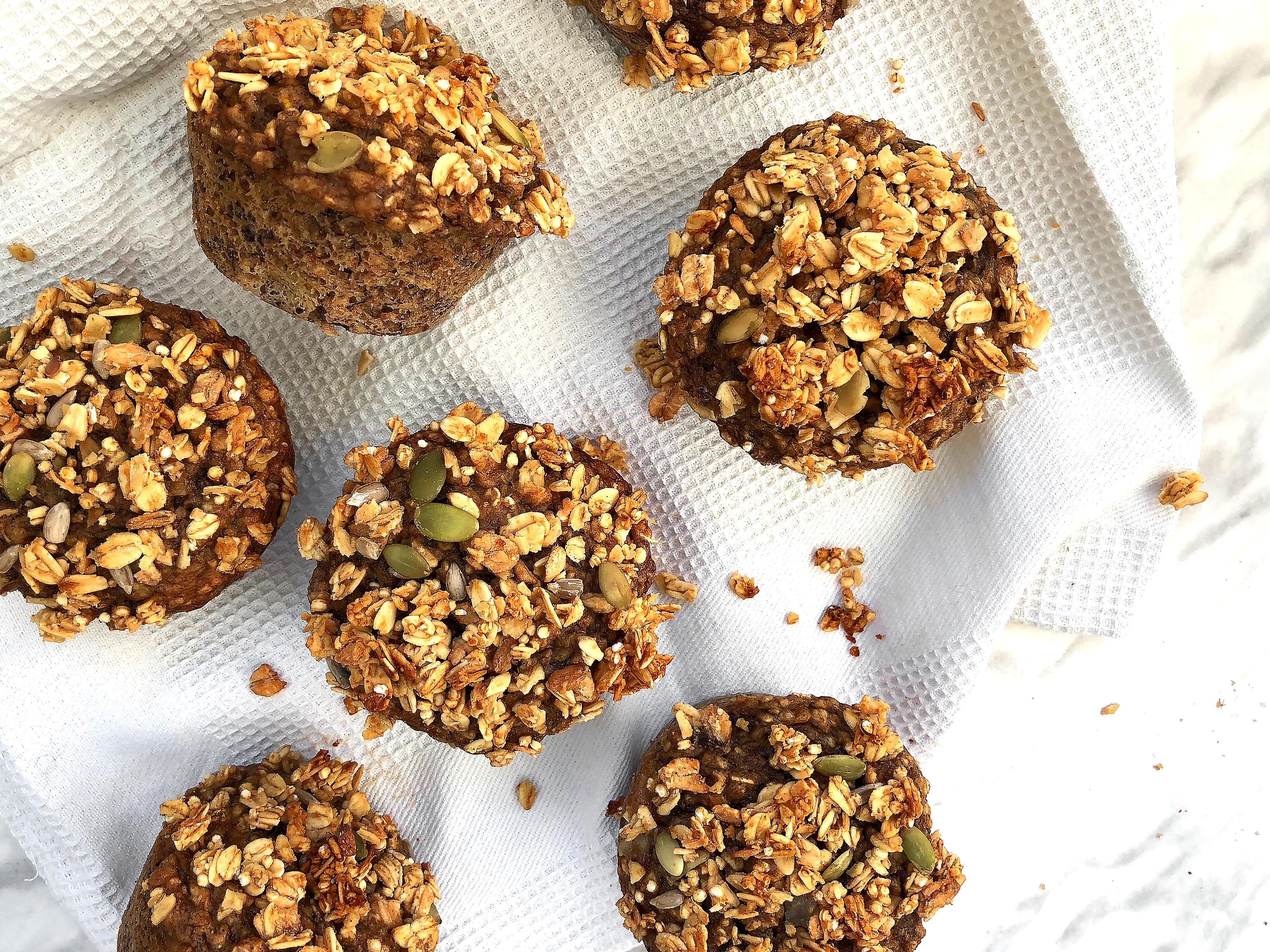 I decided from the very beginning that these muffins were going to have a crunchy topping and since they would also make the perfect morning breakfast/snack, I decided to pair it with a delicious crunchy granola crumb topping full of all the grains. You can simply make your own healthy granola topping (see this crumble recipe here) or if you're simply lazy like me then pick up a healthy granola brand (with less sugar and fat) from your local supermarket. For this recipe I used Tesco's own brand, Super Grain and Seeds Granola for a pretty nifty £1.50. In my geeky little granola search, Tesco's own brand granola turned out to be the best for nutritional value and price. Actually, comparing it to the 'healthy' brand, Lizi's Granola (£3-4), it turned out to be a lot healthier and cheaper, too! Tip of the day.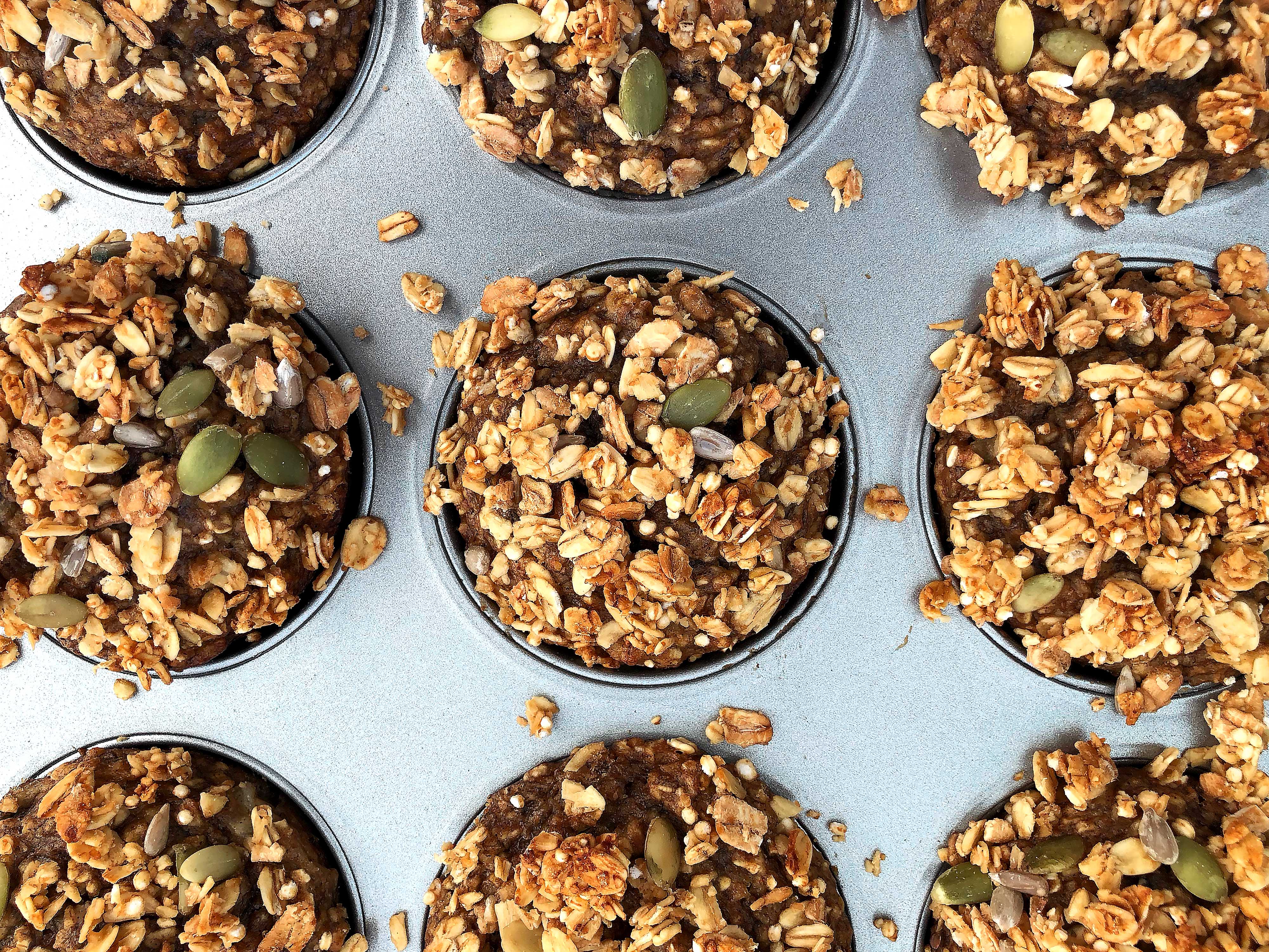 These crunchy banana and granola crumb muffins take just 30 minutes to make (and possibly eat) AND you can create them by using just one bowl. No mess, no fuss – just deliciously fat muffins. Plus, they are probably the best damn muffins I've created to date. Just saying'. They're moist, the right amount of sweet, crunchy on top and wholesome. Not to mention they're also refined sugar free and low in fat. All the things a healthy muffin should be, right?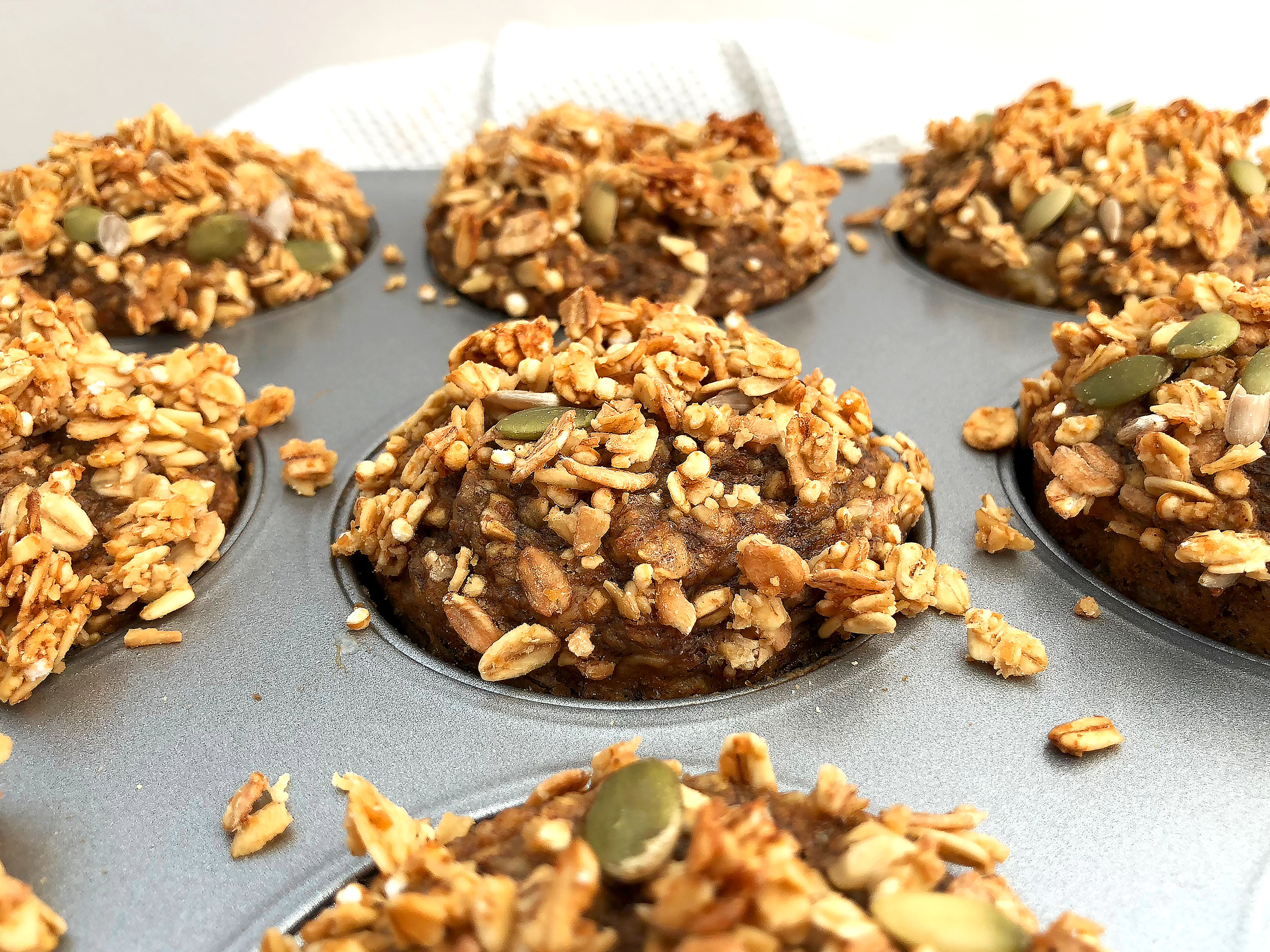 So whenever you're next in a muffin hype (pretty soon I hope) then whip these fat crunchy banana and granola crumb muffins up on your next baking adventure. You can make these for breakfast, as a healthy snack, or even bake them for somebody else like me but boy, it was hard not to eat them all to myself! Confession: I ate two. 
Crunchy Banana And Granola Muffins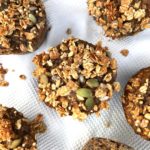 Print This
Ingredients
- 2 eggs

- 4 small + ripe bananas

- 60g coconut sugar (I used Sukrin coconut sugar)

- 70g apple sauce

- 1 + 1/4 tsp vanilla extract

- 2 tsp baking soda

- 1/4 tsp salt

- 1 tsp cinnamon (or more if desired)

- 143g oats

- 128g self raising wholemeal flour

- Granola of choice for topping (I used Tesco's super grains + seeds granola)
Instructions
Begin by pre-heating your oven to gas mark 4.
In a bowl whisk together the eggs for a minute. Add the banana (I break mine up into small pieces) and then whisk together until mushy.
Add the apple sauce, vanilla extract, baking soda and salt and again, whisk everything together.
Add the oats, flour and cinnamon and slowly mix everything together using a mixing spoon. Do not over stir.
Once done, oil a muffin tray and spoon your mixture into each muffin cup. I like to feel my cups up to the top to create that 'big fat' muffin look.
Once done, top the muffins with a good serving of granola (be careful not to use heavy clusters though) and pop in the middle of the oven to bake for 20 minutes.
Once done (an inserted knife should come out clear) remove from the oven and leave to cool. The muffins should easily fall out of the tin once cool – be patient!
Enjoy!

,
x
Notes
- If you don't have self raising wholemeal flour then just use normal wholemeal flour. However, they may not rise as much as mine!
Pin to save this recipe for later…