I'll admit – I'm not much of a savoury girl when it comes to breakfast but when I do decide to go all out (aka, making an effort) it's got to contain eggs and it's got to be my aubergine baked eggs.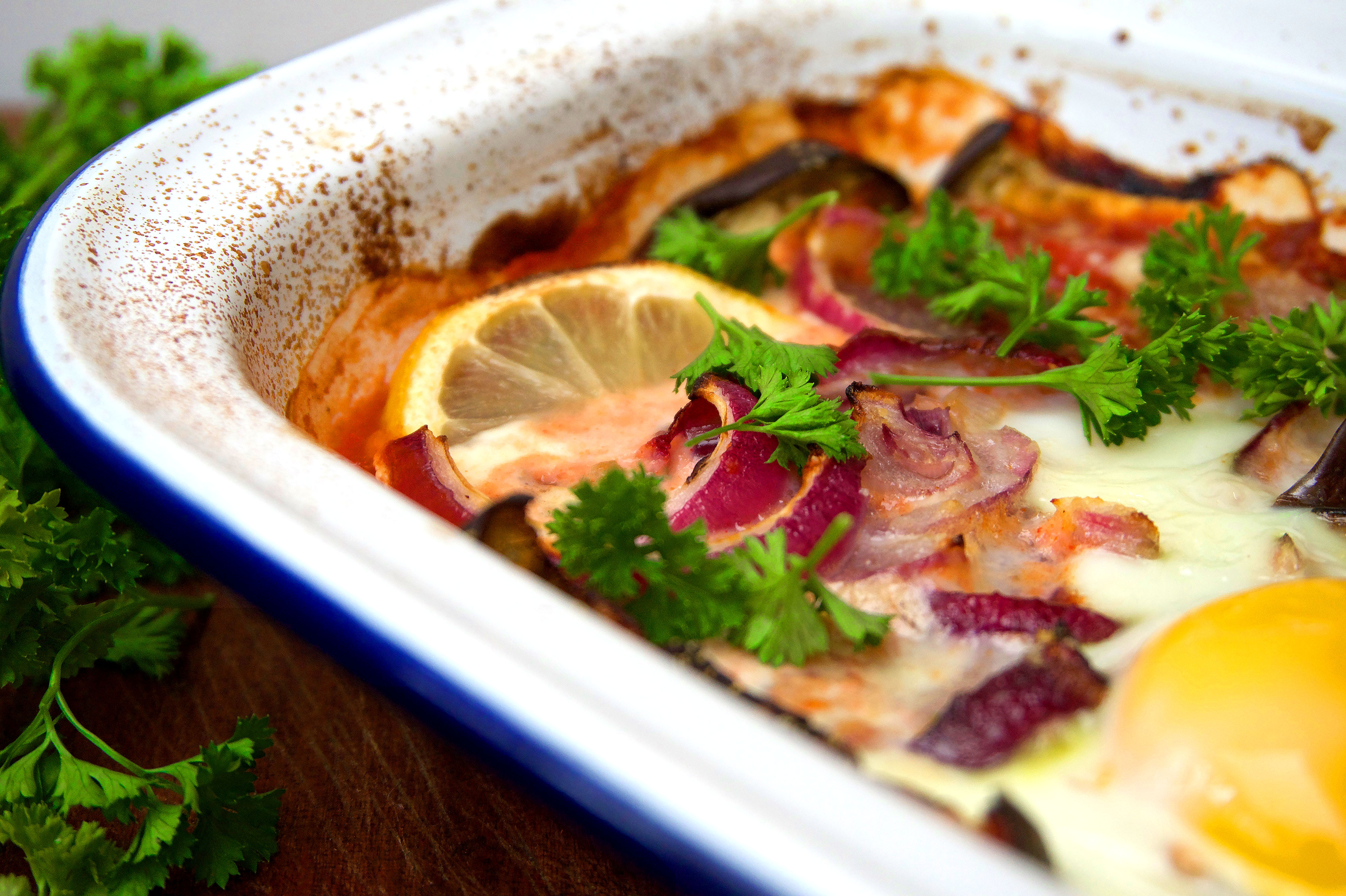 Like most things, I like my breakfast simple and exciting. It's got to be flavoursome, it's got to be colourful and most of the time, it's got to be healthy – start your day the right way, and all that jibbah jabber, eh? I say 'most of the time' because I'm partial to a big stack of pancakes from Josie's every now and then.
Whilst this breakfast may look a bit of a fuss – I can assure you that it's anything but. Simply bake your aubergine in the oven, add your spices to a bowl and mix together. Fry your onions until browned, add the tomatoes and spices and fry for a few minutes. When everything's done, simply add it all to your enamel dish (mine's from ProCook and I've done a brief review for you guys here), crack an egg and cook!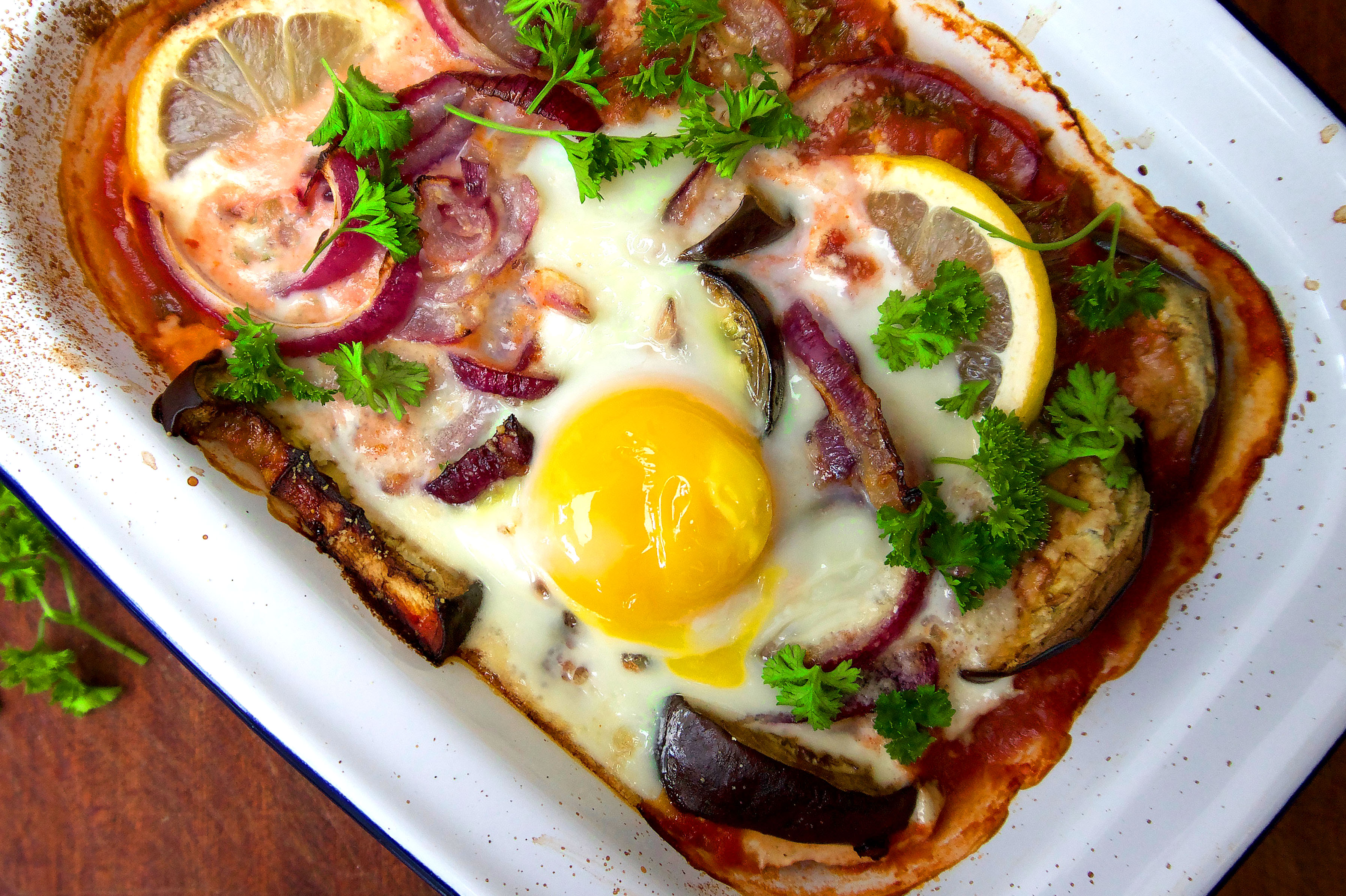 This aubergine baked eggs recipe is simply delicious. That's all I can say really. It's got a kick to it, it's creamy and it has all the goodness in. My favourite part about the dish are the flavours. The lemon throughout is subtle, yet gentle enough against the aubergine and onions and the eggs – well, the exploding yolk into the tomato sauce is just… mmm, oh so creamy!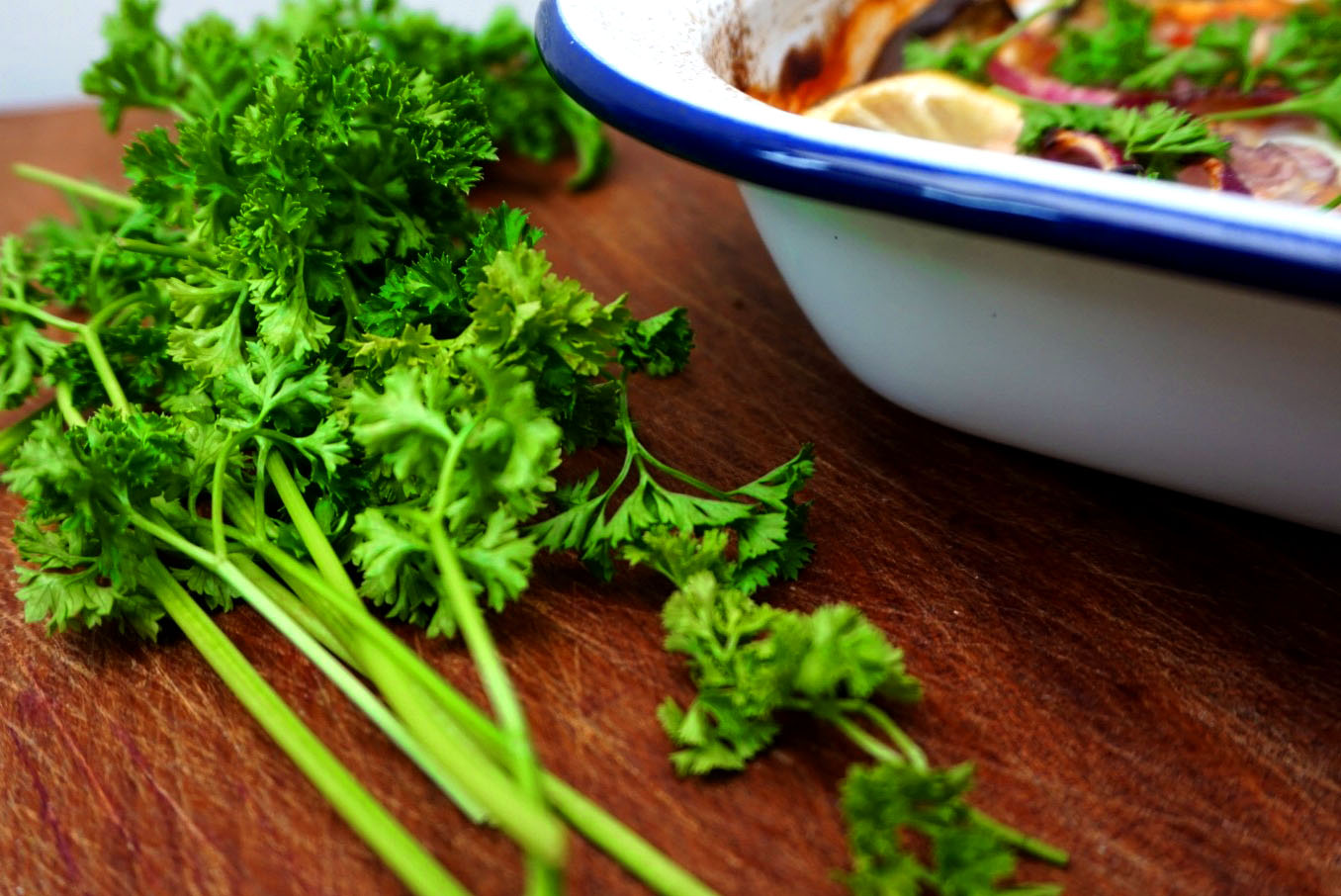 So if you're stumped on your next savoury breakfast meal then give these aubergine baked eggs a whirl. They're low carb, full of healthy fats and simply scrummy. That's a word, right?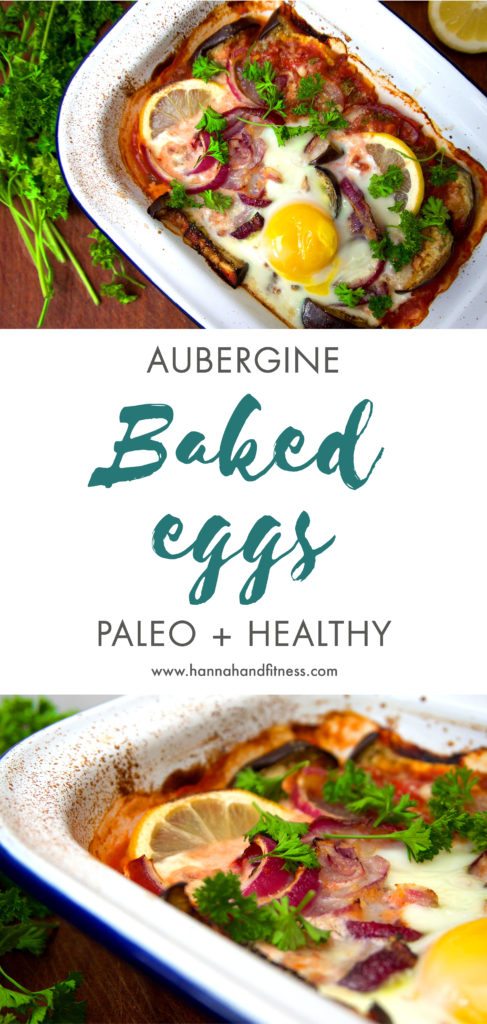 Though, if you're not a taker on the whole low carb idea then pair this dish with a slice of my favourite bread recipe – homemade rye bread. You can dip, you can dunk or you can slather in butter and enjoy a little bit of food heaven. Either way, both options sound delightful to me!
Aubergine Baked Eggs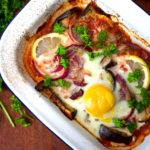 Print This
Ingredients
1 or 1/2 aubergine - olive oil to brush

1 egg

1/4 red onion - diced

1 garlic clove - crushed

Small handful coriander

1 tsp parsley

1/2 tsp pepper

1 tsp paprika

1/4 tsp cumin seeds

1 large tomato

Half can chopped tomatoes

1 tsp lemon juice

Pinch salt

Lemon wedges for topping

Feta to serve (optional)
Instructions
Pre-heat your oven to gas mark 4 and on a lined baking tray add your sliced (and brushed) aubergine and pop in the oven to bake for 15 minutes.
Whilst your aubergine bakes, mix your spices into a bowl and set aside.
In a hot frying pan, brown your onion and add the spices, salt, pepper and garlic. After a few minutes, add the tomatoes, chopped tomatoes and lemon juice. Cook for a further 5 minutes.
When you're aubergine slices are baked, remove them from the oven and add them to the tomato mix.
Oil an enamel dish and add the tomato mixture. Top with your lemon wedges and feta (if desired) and crack your egg – using the egg whites only into the dish (save the yolk for later). Place the dish into the oven and cook until your egg whites have hardened. Once done, add the yolk to the top of the egg whites and the coriander and cook for a further 5 minutes if you desire a runny yolk (a bit longer if not).
Remove from the oven when done and serve up hot!

,
x