Can I just get a hallelujah for Pancake day? Aka, the day where we can have pancakes for breakfast, lunch, dinner or as an evening snack and nobody questions our life choices. But heck, why not have them all day long? I promise I won't judge.
These past few weeks we've had my 4 ingredients protein pancakes, my spelt pancakes stuffed with prunes and my fat and fluffy healthy pancakes. So to finish off my pancake series here on H&F I thought I'd go a little bigger (and a little chocolatey) with my number one banana bread recipe. Yup, I've taken the combination of two heavenly foods and created a delicious stack of chocolate chip banana bread pancakes and boy oh boy, these little fluffers make me weak at my knees. I'm not kidding – do not expect to have portion control over this stack!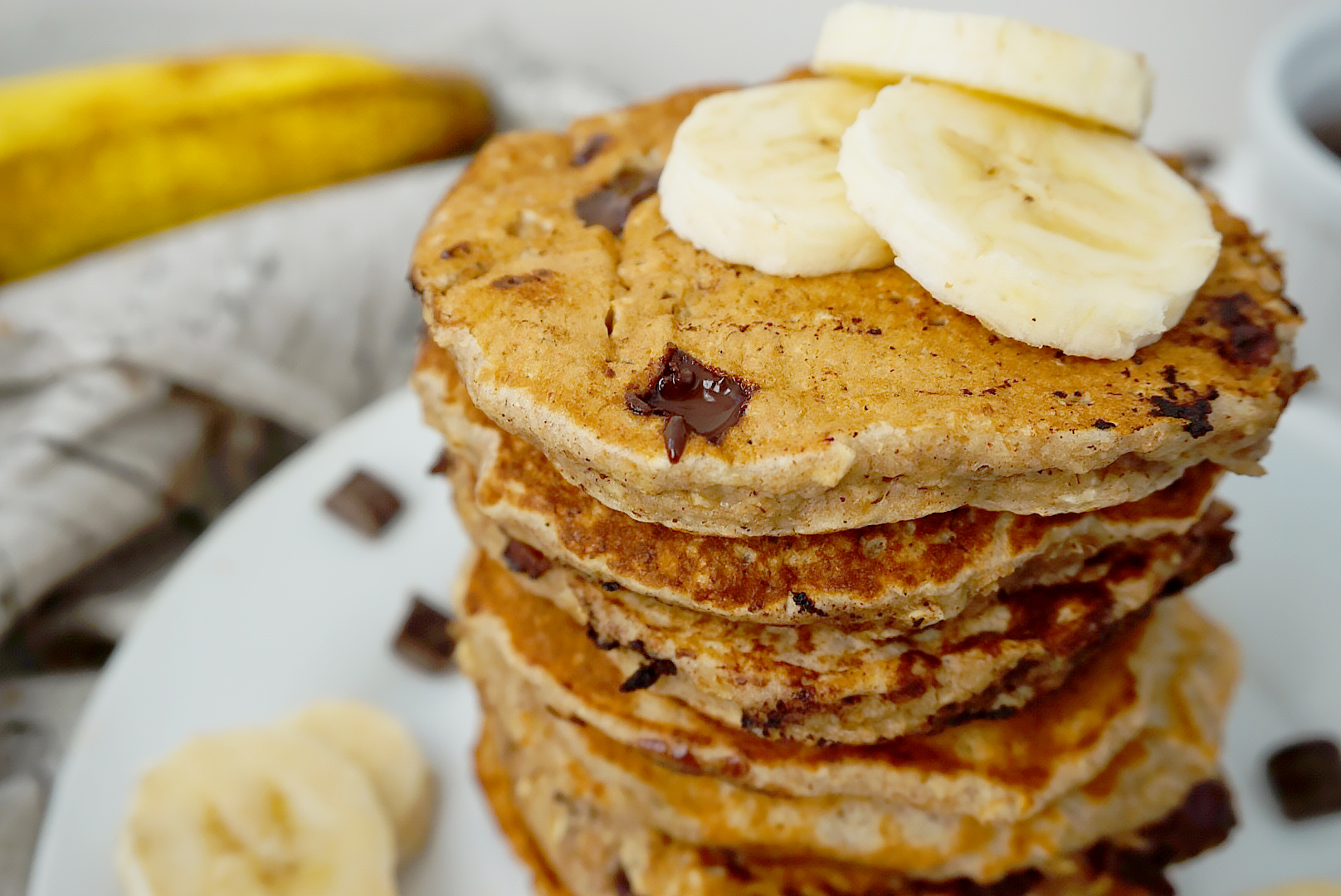 The only way to describe these pancakes would be to tell you that your eating chocolate chip banana bread – only slightly fluffier and lighter. The chocolate chips? Goodness. It's like eating warm, melted chocolate buried in a furry of fluffy pancakes.
Whilst these pancakes may appear a little indulgent with the added chocolate chips, they're actually full of healthy ingredients and contain no extra sugar! The sweetness from the banana and the dark chocolate chips already give a lovely sweet flavouring to the pancakes so trust me, no sugar is needed for us on pancake day!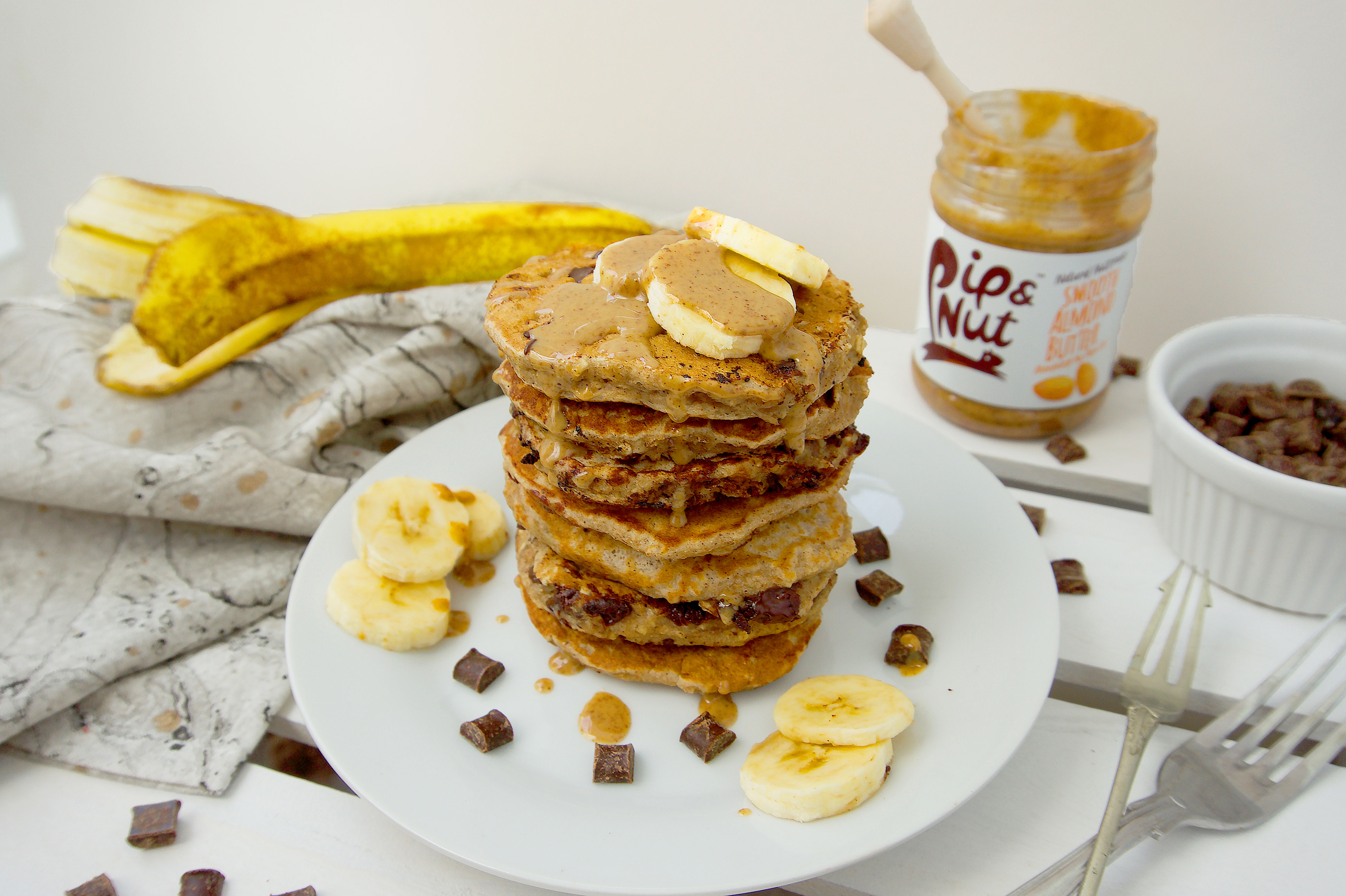 These pancakes are simply my favourite on the website. I mean, they contain two of my favourite foods so I'd be crazy for them not to be really! They're light, extremely fluffy, sweet, dairy free and of course, they've got the perfect amount of chocolate bursting through which really compliments the banana.
I also highly recommend topping your stack with a healthy dose of nut butter too. The only way to enjoy banana bread and pancakes, huh?
PS, if you want to make these even healthier then swap the chocolate chips with some blueberries!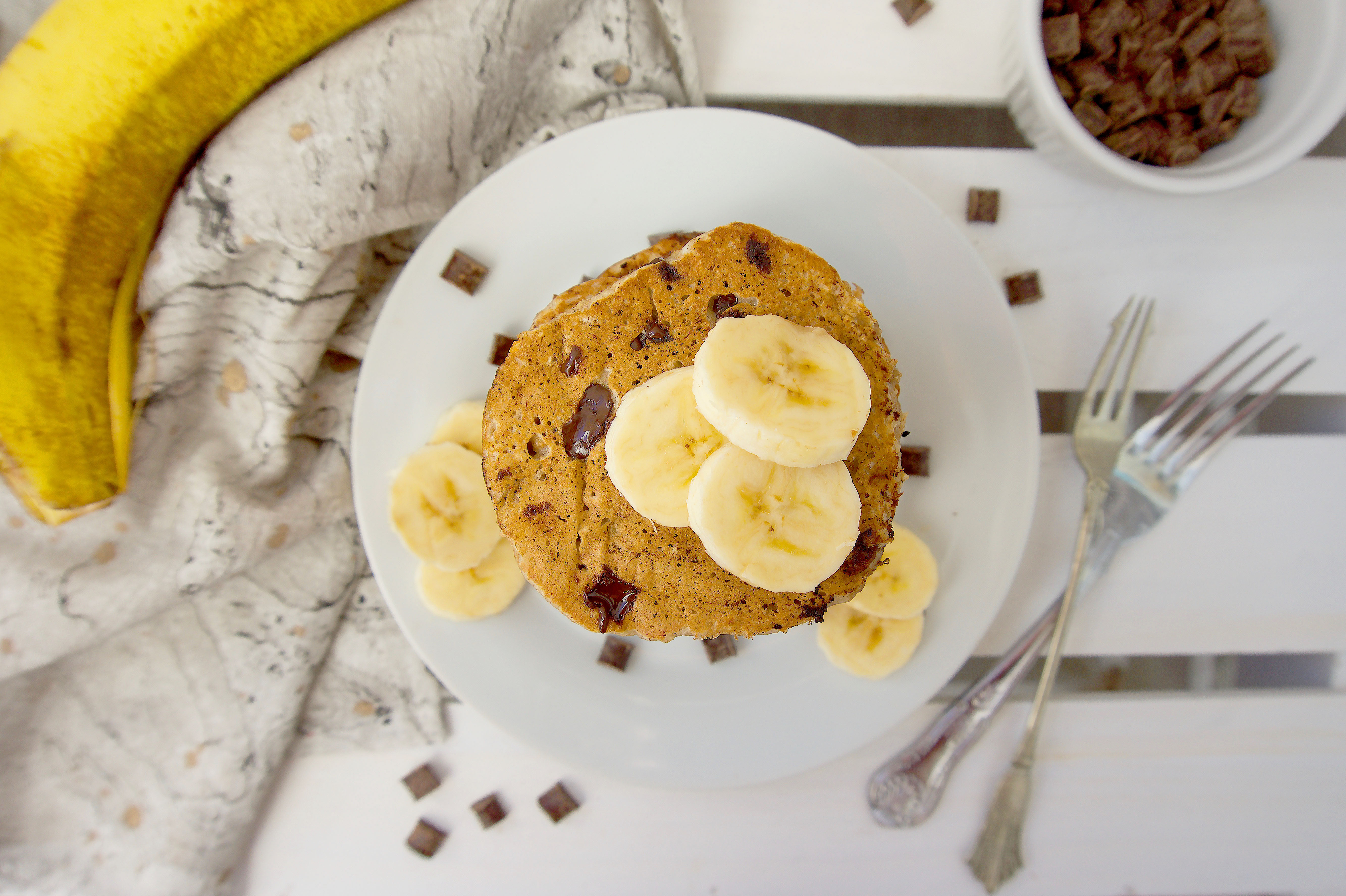 Healthy Chocolate Chip Banana Bread Pancakes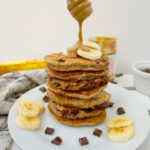 Print This
Ingredients
52g self raising wholemeal flour

50g oat flour

100ml almond milk (I use Pip & Nut)

2 medium bananas

1 1/2 tsp baking powder

1 tsp vanilla extract

1 1/4 tsp cinnamon

1/4 tsp nutmeg

1 egg

Pinch salt

80g dark chocolate chips

Tbsp Pip & Nut Almond Butter (optional + to serve)
Instructions
In one bowl, mix together your dry ingredients (leaving out the chocolate) until combined.
In a separate bowl, mash together your bananas and add the rest of your wet ingredients and whisk together until the egg is beaten.
Create a hole in your dry ingredients bowl and as you add your wet ingredients, slowly stir the mixture together. Once everything is added and mixed, add half of your chocolate chips to the bowl and stir again.
Heat a pan with a little bit of oil and wait until hot. Bring to medium heat, and add a heaped tbsp of your pancake mixture to the pan. Immediately add a few extra chocolate chips on top of the pancake. Cook until the pancake starts to bubble and then flip and continue to cook for a few more minutes. Repeat this process until you have used up your entire batch.
Whilst your pancakes are cooking keep the already cooked ones warm in the oven on a low temp. Once done, serve your pancakes with a healthy dose of almond butter. I use Pip & Nut which are 100% healthy and free from added nasties!
YUM. Enjoy and happy pancake day!

,
x
Pin this recipe to save for later…